Comics
Published March 15, 2022
Every Wolverine and Jean Grey Kiss in X-Men History
Stolen kisses in the face of death, steamy nights on Krakoa, and more!
Wolverine just survived the wildest adventure of his life. Sent back in time to protect Professor X from a time-hopping Omega Red, Wolverine clawed his way through his own storied past to protect his mentor and save the dream of Krakoa. By his side every step of the way was the woman he considers one of his greatest loves: Jean Grey. Using her telepathy in tandem with Professor X, she guided Logan's consciousness through the timestream and witnessed each of his heartbreaks and tragedies firsthand. In today's X LIVES OF WOLVERINE #5, Logan and Jean celebrated the success of this harrowing mission and their strengthened bond with a casual kiss.

One of Marvel's most iconic love affairs, the pair have come a long way from the days of lusting after each other from afar. Even while the two weren't in a formal relationship (alternate realities aside!), Logan and Jean have still had their fair share of romance. Take a trip through X-History to revisit some of their most passionate moments and discover where their relationship stands now.
"Worth waitin' for, eh, Jeanie?"
It's no surprise things got heated during the milestone X-Men crossover INFERNO. After months of questioning, Wolverine saw Jean in the flesh for the first time since her death in THE DARK PHOENIX SAGA. Influenced by the demonic invasion that had been unleashed on New York City and determined to prove she was the real deal, Wolverine wasted no time in planting a kiss when he came across her in UNCANNY X-MEN #242. Jean was quick to put an end to it, but even she couldn't deny feeling a spark…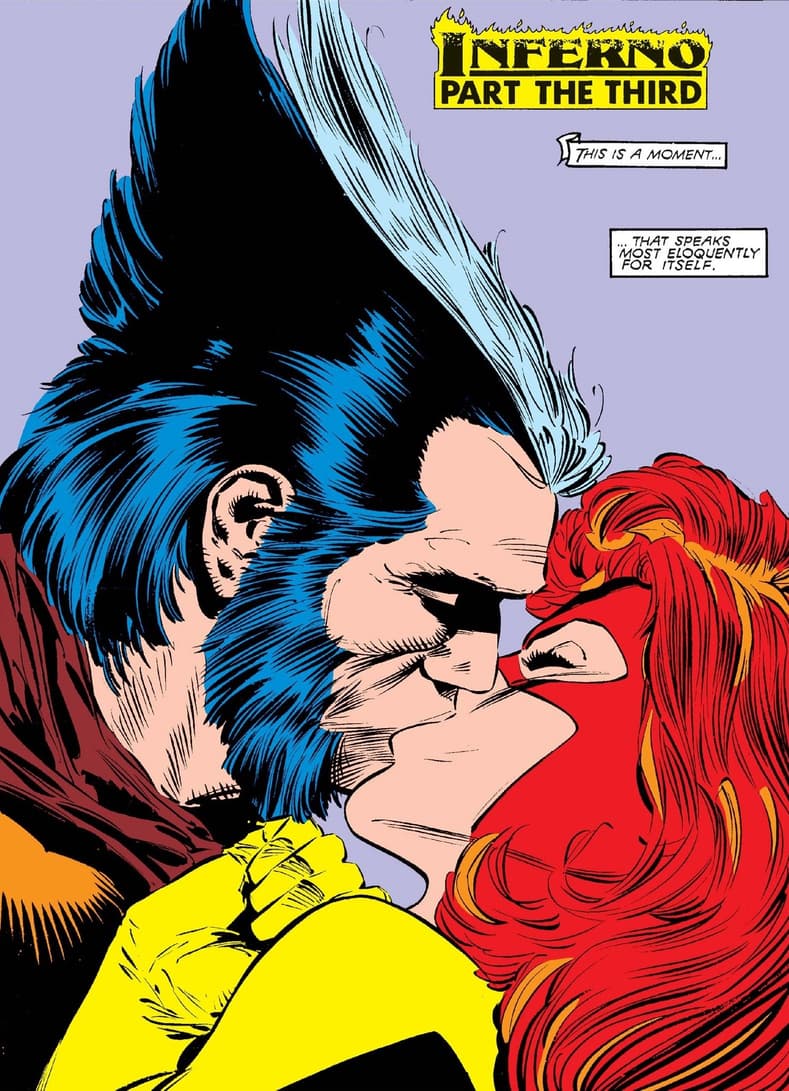 In X-FACTOR #61, part of the crossover event X-TINCTION AGENDA, the X-Men and X-Factor went to war with the mutant-enslaving nation Genosha. Logan and Jean were among many mutants captured by their bitter old foe Cameron Hodge. Ever the instigator, Hodge deliberately placed the two of them in the same cell to see if they would give in to their attraction -- and give in they did. Cut off from his healing factor, Logan was succumbing to fatal injuries when Jean took it upon herself to grant him his dying wish. (Spoiler: he got better.)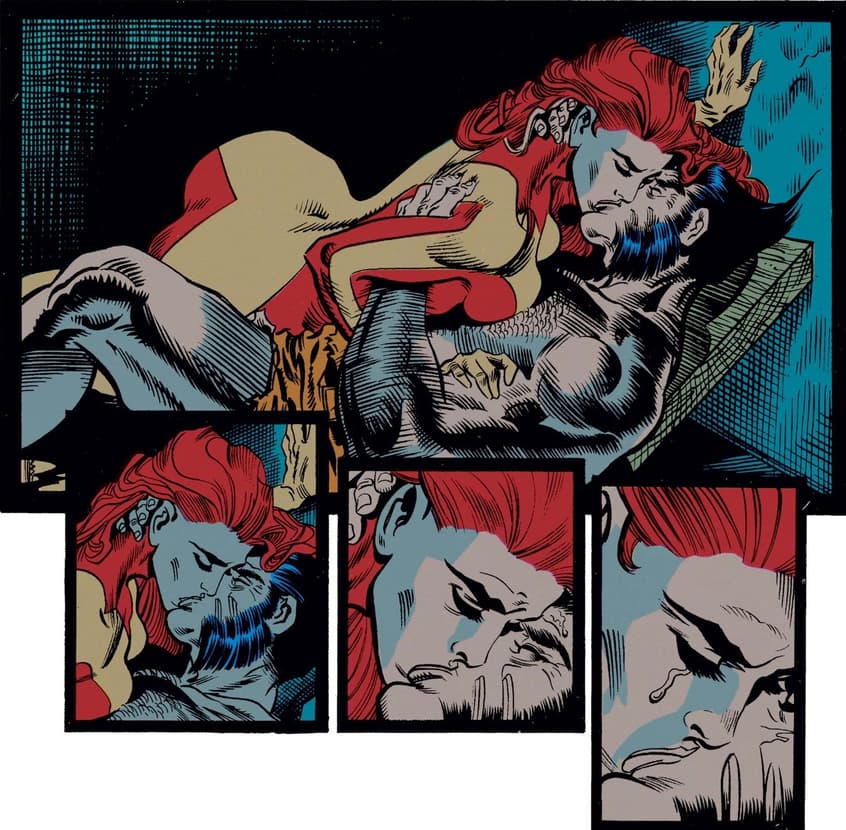 "Until we take our last breath…"
It was a long time before Logan and Jean locked lips again, but in UNCANNY X-MEN #394, they did just that when they found themselves trapped in the subconscious of a reality-warping mutant. With existence crumbling around them, the two began to accept their fate. Refusing to waste his final moments, Wolverine took Jean into his arms. They were eventually saved, having shared another affectionate encounter neither would soon forget.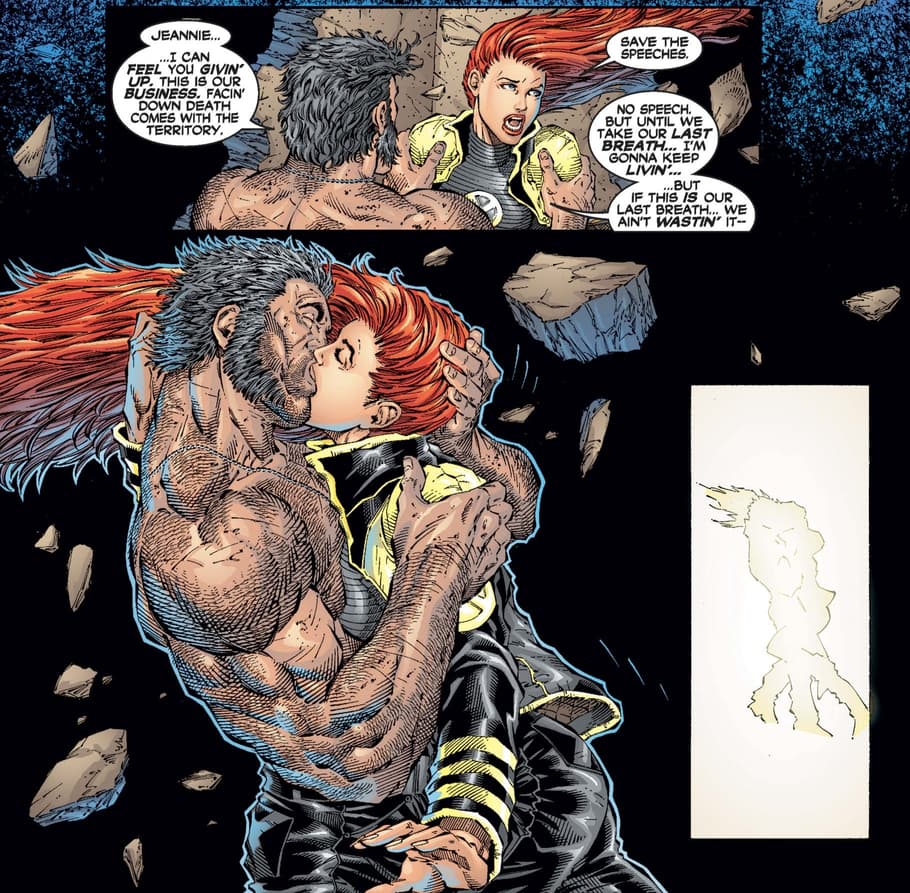 Not long after, in NEW X-MEN #117, Wolverine lent an ear to Jean's marital problems. After merging with Apocalypse, Scott Summers was a changed man, and the distance between them was too much for Jean to bear. While expressing to Logan how she was feeling, she unexpectedly kissed him. This time it was Wolverine who prevented it from going further, telling Jean it would never work between them.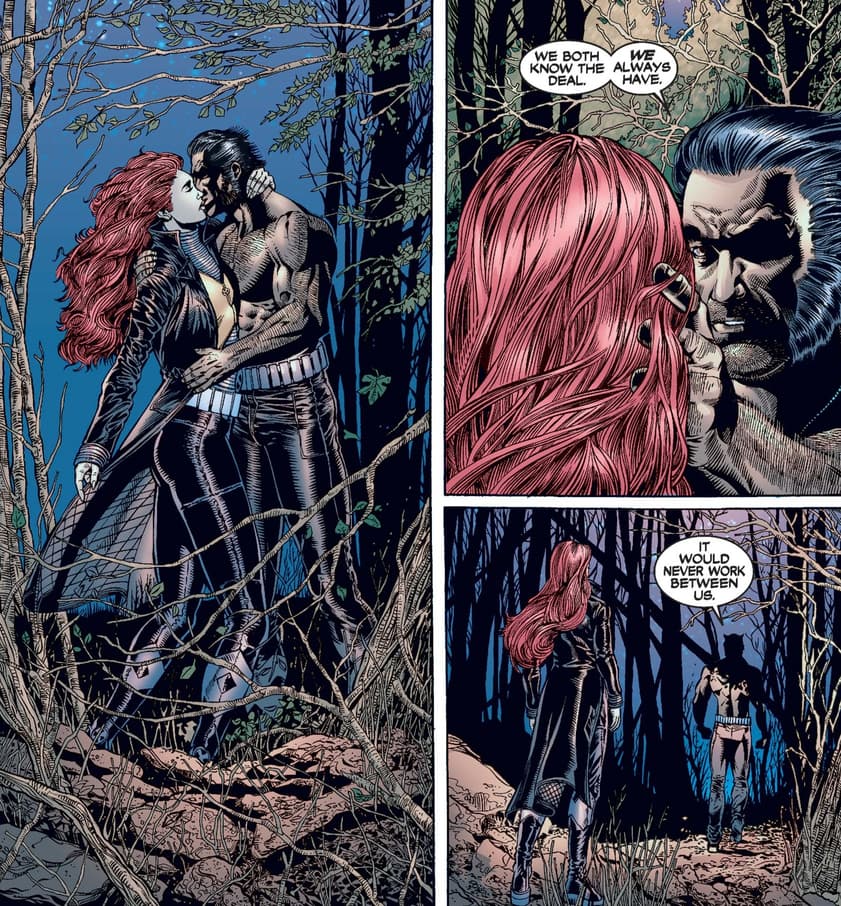 "You probably think I'm too good for you."
Fortunately, the age of Krakoa has brought an end to Wolverine and Jean's status as a will they/won't they couple. On the mutant nation, the two have finally reached a point where they can embrace their feelings for each other openly and without guilt. In X-FORCE #10, after a particularly taxing X-Force mission, they unwinded with an intimate moonlit dip in the island's Broken Baths. A few issues later, in X-FORCE #18, they were spotted kissing in the Summer House, the place they both currently call home.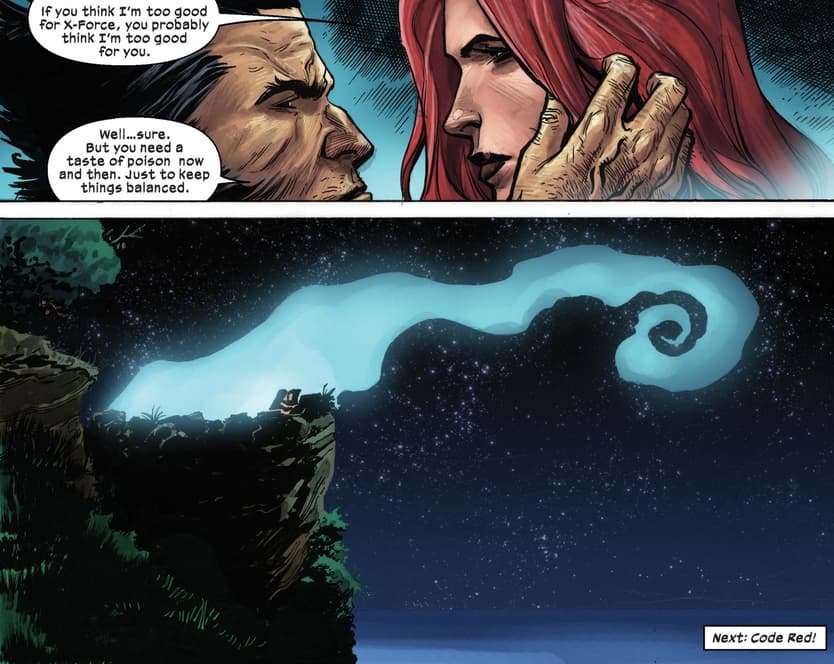 Tell us what you think the future holds for Wolverine and Jean, and read these issues and more on Marvel Unlimited today!
For digital comics, all purchases in the Marvel Comics app can be read on iPhone®, iPad® and select Android™ devices! Our smart-paneling feature provides an intuitive reader experience, ideal for all types of mobile device and tablet users! Download the app on iOS and Android now!
The Hype Box
Can't-miss news and updates from across the Marvel Universe!