Comics
Published January 6, 2021
Evil Rises Again in 'Eternals' #1
The Eternals have returned from the grave – and they're not alone.
WARNING! THIS ARTICLE CONTAINS SPOILERS FOR ETERNALS #1, SO READ ON AT YOUR OWN RISK, TRUE BELIEVERS!
Since 1976, Jack Kirby's Eternals have played a vital role in the Marvel Universe. But for the last two years, the Eternals have had a slight case of death. In AVENGERS #4, all of the Eternals destroyed themselves when they realized that they were never truly the chosen of the Celestials. Instead, the cosmic space gods favored humanity all along, and the Eternals were only meant to cultivate and protect mankind. That knowledge drove them mad. The heroic Ikaris was the last of his kind before he too passed.
To be an Eternal means having near immortality and cosmic powers. But the Eternals are not strangers to death. This is not the first occasion that the Eternals have fallen, but it's now time for them to live again. This week, writer Kieron Gillen and artist Esad Ribić's ETERNALS #1 literally brings the Homo immortalis race back from the dead. And because Ikaris was the last to die, he was also the last to live again.
Ikaris doesn't get very long to celebrate his newfound resurrection before he communes with Zuras, the Prime Eternal and leader of his people. By Zuras' command, Ikaris reluctantly frees Sprite, the child-like Eternal who was cursed to never age beyond the body of an 11-year-old child.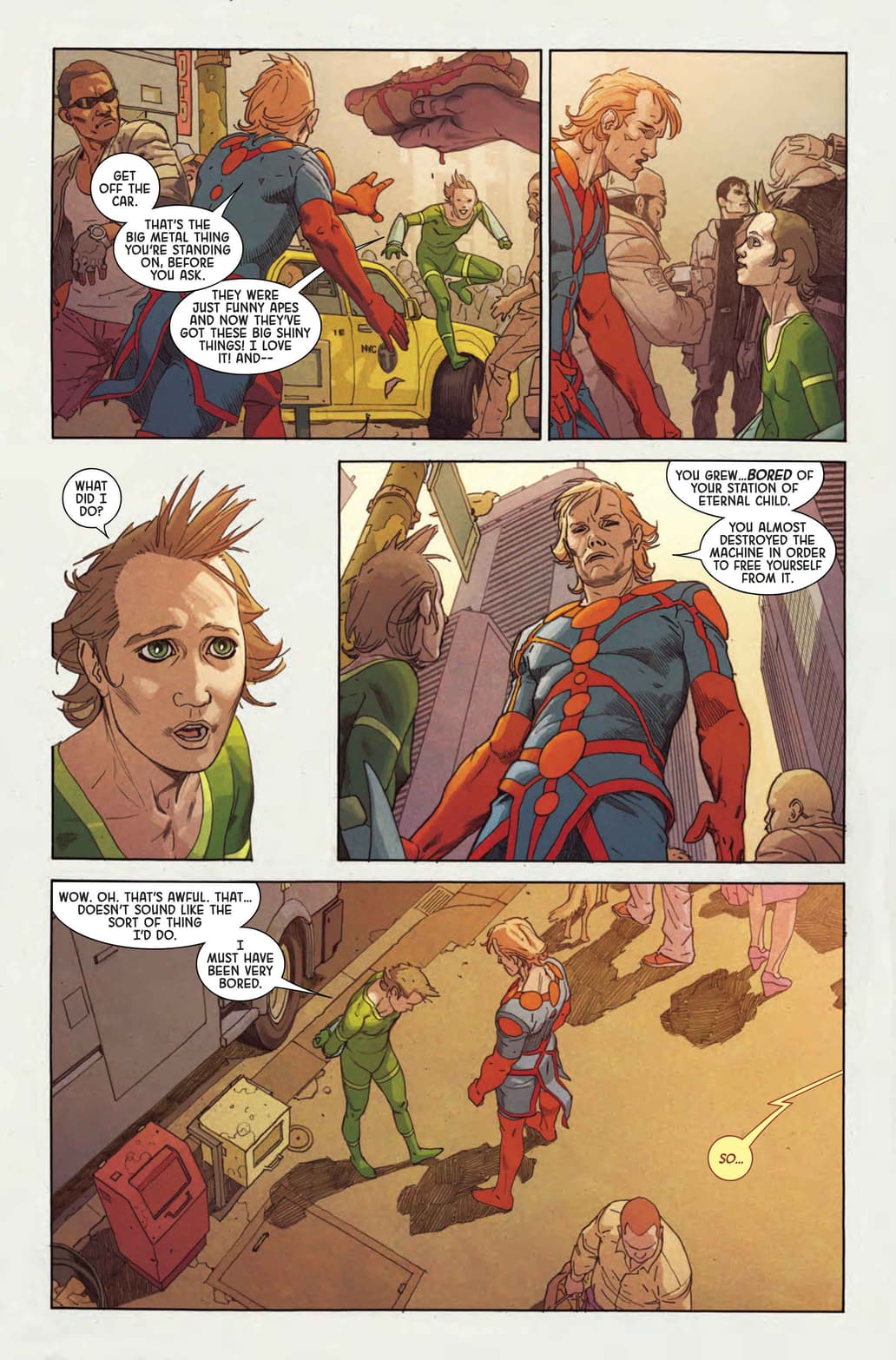 This was somewhat ironic, since Zuras himself murdered Sprite in ETERNALS (2006) #7, That was in retaliation for Sprite wiping the minds of his people and scattering them across the world in new lives. Understandably, Ikaris still carries a grudge towards Sprite, who is now a female. Swapping genders is apparently not an unusual thing for Eternals, and Sprite is not the only one whose physical body has drastically changed during the newest wave of resurrections.
Sprite quickly travels back to the scene of the crime, so to speak: New York City. However, Sprite doesn't seem to remember the actions of her previous incarnation when confronted by Ikaris. She doesn't exactly show remorse, but Sprite does suggest that she must have been very bored to make such an attempt to escape her own destiny.
Their intimate moment is broken up by the arrival of Tony Stark AKA Iron Man, one of the last two people to see Ikaris alive before his previous death. After Ikaris assures Tony that his people have recovered, Iron Man tellingly asks to see Sersi. In the mid-'90s, Sersi was the second Eternal to join the Avengers (after Eros AKA Starfox), and she proved to be a very valuable member of the team. Stark suggested that Sersi should give him a call, although she was absent from this issue.
Before leaving New York, Ikaris and Sprite have a bonding experience by teaming up against a Deviant who was menacing innocent humans from within the sewers. Much like the Eternals themselves, the Deviants were created by the experiments of the Celestials eons ago. But they tend to be more dangerous than their Eternal counterparts. And for perhaps the first time, Ikaris and Sprite seem to enjoy each other's company.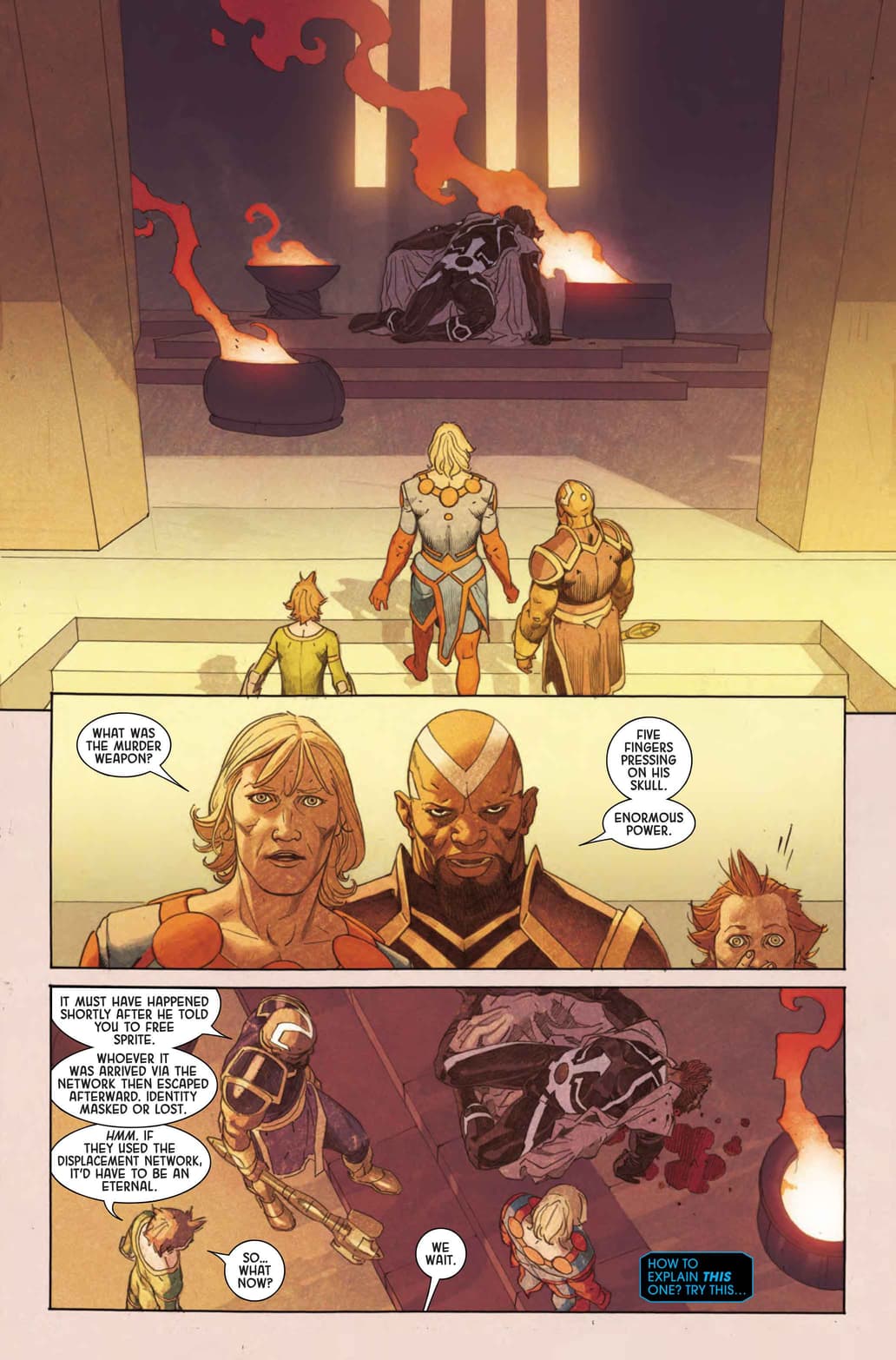 The good times only last until they return to Olympia, the home of the Eternals. In their absence, someone murdered Zuras. Someone very, very powerful. Although suspicion quickly falls upon Sprite, Ikaris is more unnerved by the fact that Zuras' killer had to be an Eternal in order to travel through the Displacement Network. Together, Ikaris and Sprite follow the killer's trial to Titanos, the Eternals' ancestral home before coming face-to-face with the culprit: Thanos!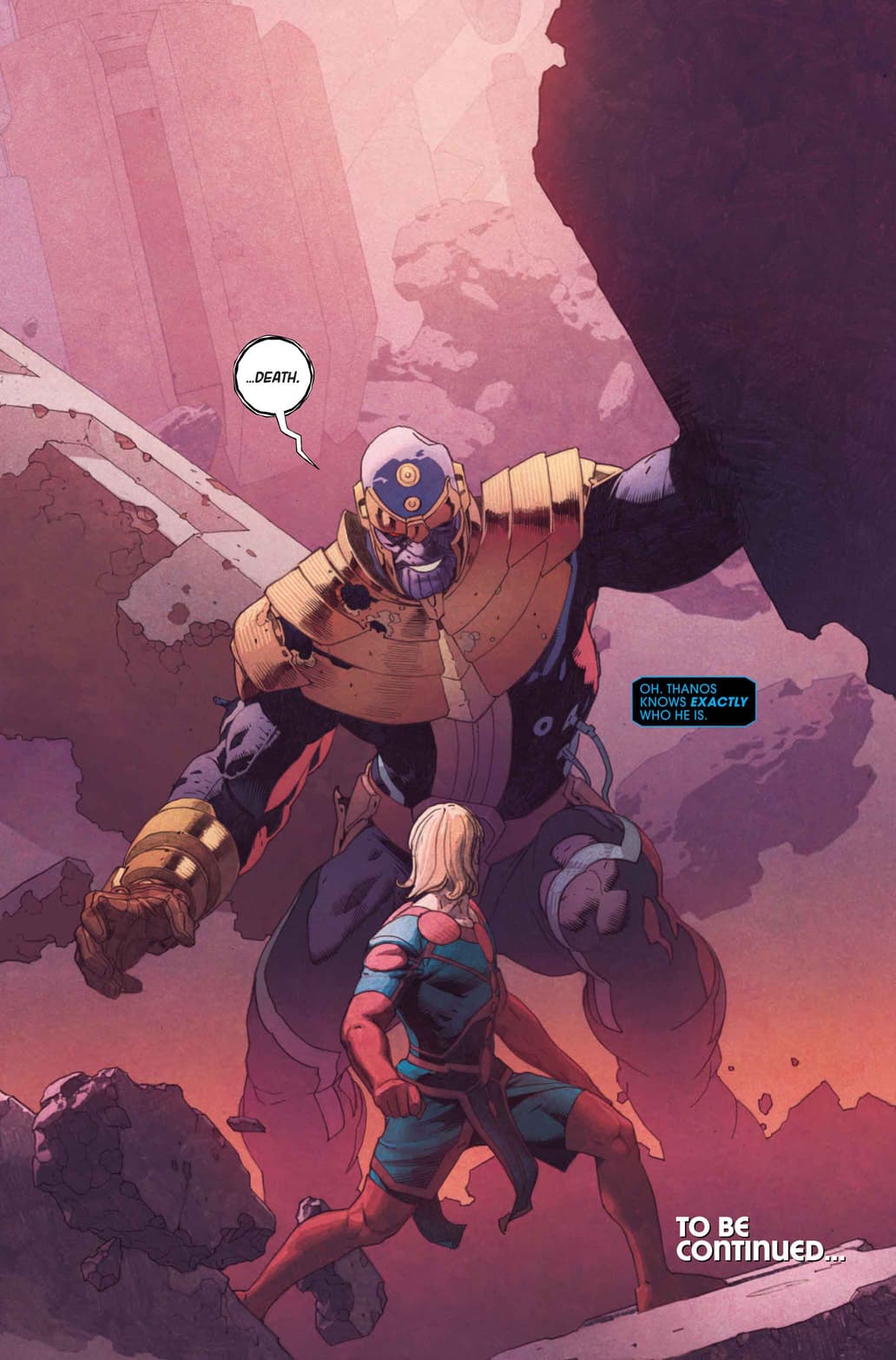 This is very, very bad news for the Marvel Universe. Given Thanos' status as one of Marvel's most dangerous bad guys, it's easy to forget that he too is an Eternal. Thanos comes from the Eternals who lived on Titan, and he was last seen in GUARDIANS OF THE GALAXY #6, following a flawed resurrection that left the Mad Titan a shadow of his former self. More recently, in THOR #6, the King of Asgard was given a vision of his own demise by the Black Winter. Thor saw Marvel's most courageous heroes transformed into zombies while Thanos' wielded the Infinity Stones on Mjolnir itself.
If Thanos truly lives again, and his full power is restored, Thor's date with destiny may be closer than we'd like to believe. In the meantime, Ikaris and Sprite are going to have their hands full when ETERNALS #2 hits comic book shops on Wednesday, February 10!
ETERNALS #1, written by Kieron Gillen with art by Esad Ribić, is on sale now online and at your local comic shop!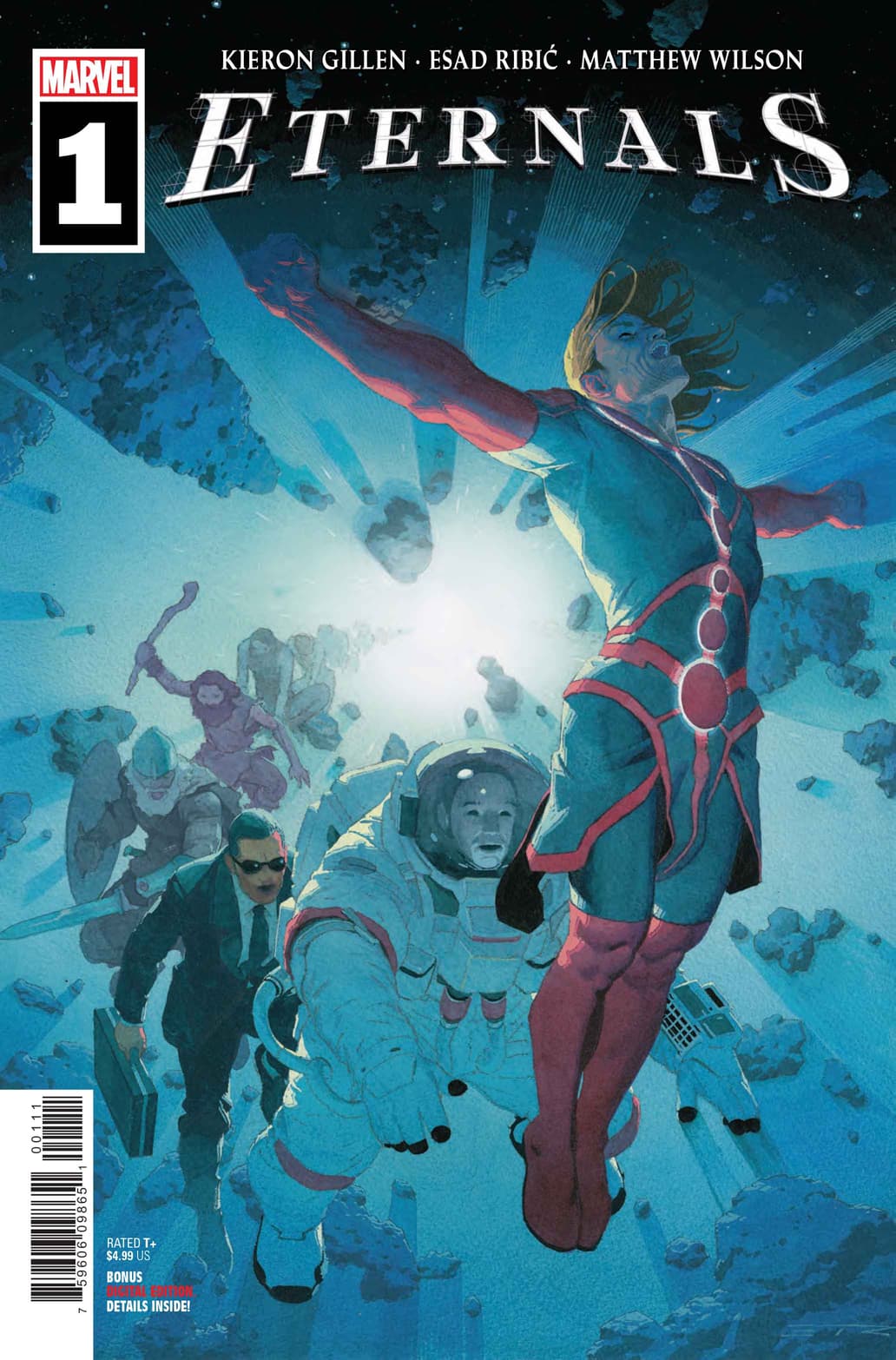 Be sure to ask your local comic book shop about their current business policies to observe social distancing or other services they may offer, including holding or creating pull lists, curbside pick-ups, special deliveries and other options to accommodate. Find and support your local comic book shop at http://comicshoplocator.com or by visiting http://marvel.com/lovecomicshops.
For digital comics, all purchases in the Marvel Comics app can be read on iPhone®, iPad® and select Android™ devices! Our smart-paneling feature provides an intuitive reader experience, ideal for all types of mobile device and tablet users!
For Marvel's most up-to-date release schedule for your favorite comics, visit http://marvel.com/newcomics.
The Hype Box
Can't-miss news and updates from across the Marvel Universe!