Comics
Published July 23, 2019
'Fearless' #1 Is the First Chapter of Marvel's Female-Driven Anthology Series
Find out more about the first issue written by Seanan McGuire, Leah Williams, and Kelly Thompson!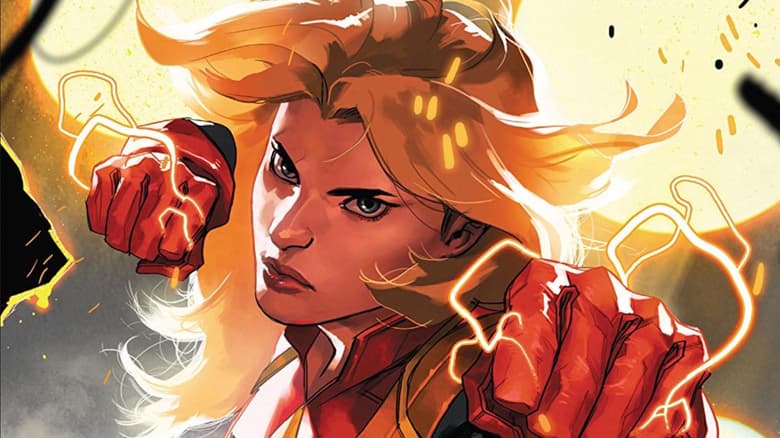 FEARLESS #1, the first issue of a female hero-driven limited series, goes on sale Wednesday, July 24 and brings together three of Marvel's fiercest women. Captain Marvel, the Invisible Woman, and Storm come together for an event way out of their comfort zones in a story written by Seanan McGuire with art by Claire Roe and Rachelle Rosenberg. But there's much more to FEARLESS in this new, four-issue series! Issue #1 also features stories starring Jessica Jones ("Unusual Suspects," written by Kelly Thompson with art by Carmen Carnero and Tamra Bonvillain) and a character very important to Marvel's 80-year history, Millie the Model ("Style High Club," written by Leah Williams with art by Nina Vakueva and Rachelle Rosenberg)! Future issues will continue the main story ("Campfire Song") by McGuire and include new stories starring the likes of Black Widow, Ms. Marvel, and more!
For more insight on the first issue of FEARLESS, Marvel.com spoke with McGuire, Roe, and Thompson to see what was in store for the (fictional) Women of Marvel!
Seanan McGuire and Claire Roe
Captain Marvel, Storm, and Invisible Woman have all been able to stand out throughout their decades in the Marvel Universe. Where are you taking them now?

SM: To summer camp!  No, seriously.  They're keynote speakers at a summer camp for women's empowerment.  It's a whole new gig for them.
CR: Somewhere way out of their comfort zone. Punching things is easy, but speaking to a camp full of impressionable teens? Oof.
 
All three of these characters have been parts of teams, but are now getting their chance to operate in a brand new trio. Is this a more liberating or a more challenging position to put them in?

SM: More challenging, at least for the writer. How do you come up with something powerful enough to be a real challenge for these three ladies without it being a crossover-level event that draws in every cape in a continent-wide radius? I mean, this is basically three living goddesses, and you need something for them to punch?  None of them has a huge ego to get in the way of doing their job, which is nice.
CR: More liberating! Because that team consists of all women! Who are the most fun to draw! But I'm biased!

What is it like to write a Captain Marvel story now that she's part of the Marvel Cinematic Universe and in front of a whole new audience?

SM: Intimidating. But then, a close friend of mine is the original #1 Carol Danvers fan, so it would have been intimidating anyway.
CR: I always live in a little bubble when I draw comics and forget that people are actually going to see it. You've just burst that bubble…. Oh god.

What qualities of each character did you enjoy focusing on the most since you basically got to give them your undivided attention in this book?

SM: I adore how practical and innovative Sue Storm is -- she's been one of my favorites since I was a kid-- and how dry and funny Carol is. And Storm is Storm. She's a gift to write.
CR: I love drawing the characters interacting together and trying to give them each a distinctive feel. Seanan writes them brilliantly, so I can only try to add to what she already brings.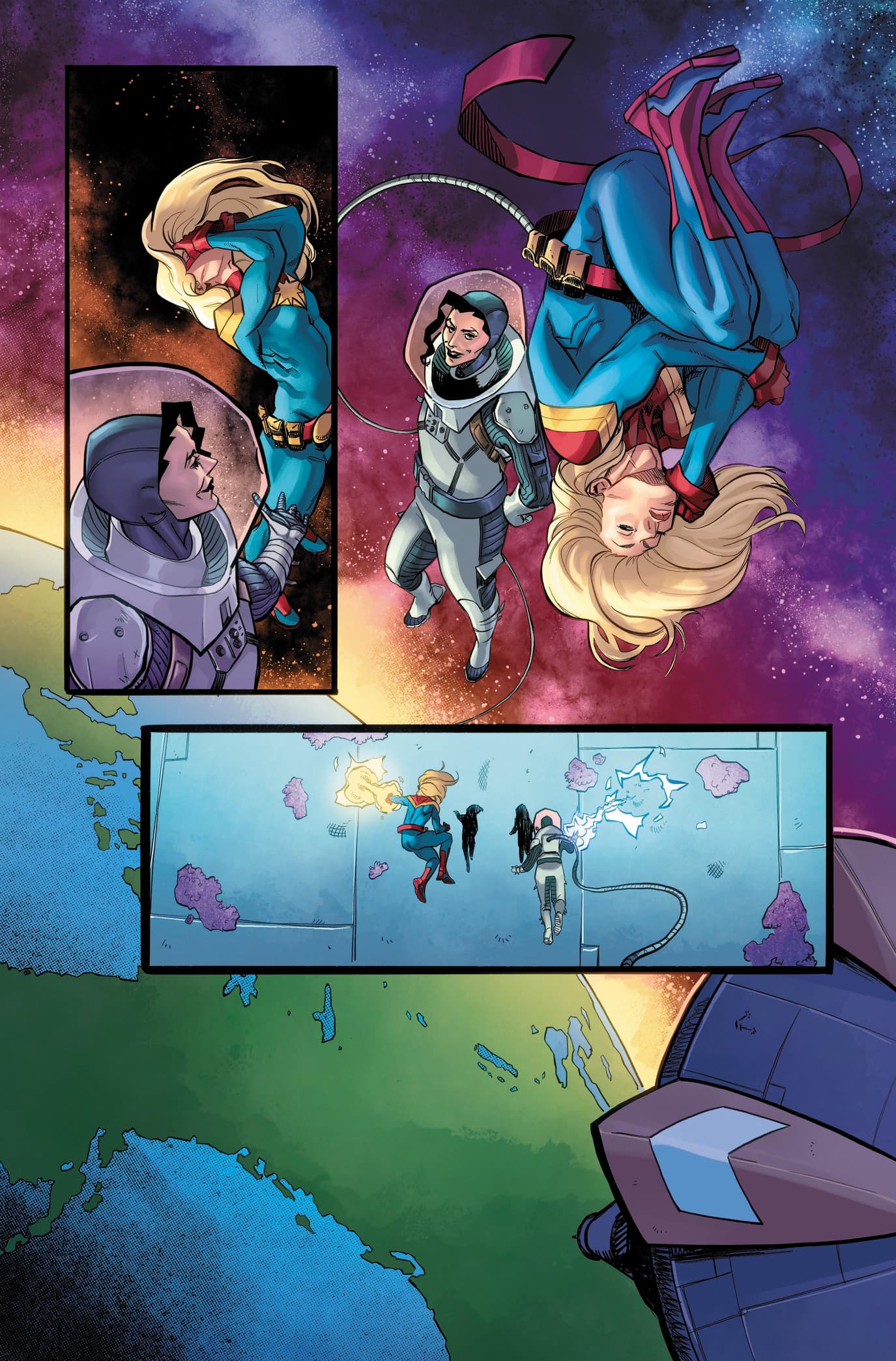 Do you have any favorite moments of Marvel "herstory" that inspired you on this series?

SM: There are some pretty huge nods to the Decimation in my story line. The way the mutants rallied when that happened has shaped a lot of how I see modern Marvel stories.
CR: I will forever love Ron Wimberly's take on She-Hulk. The way he drew her was so powerful. I love when an artist can draw women without feeling the need to sexualize or feminize them.

What does being fearless mean to you?

SM: It means knowing a thing is big and scary and pushing forward to do it anyway.
CR: Having the courage to accomplish your goal, no matter how impossible it might look.
Kelly Thompson
Kelly, you just wrapped up a really emotional story for Jessica Jones in JESSICA JONES: PURPLE DAUGHTER. What kind of story does she have in FEARLESS?
KT: Well, I'm not sure I'd call this a "Jessica Jones" story, but it does get to do a thing I love about Jessica Jones (and P.I. characters in general) which is highlight how they know everyone and everything and people are always calling on them for bizarre things.
There's always darkness surrounding Jessica Jones, but nothing can take away her power and her strength (and her messiness). What is the best part of telling Jessica's story?
KT: I love writing Jessica, and I'm especially proud of the story we got to tell with PURPLE DAUGHTER, but this is a decidedly UN-dark Jessica Jones story, which is a nice change of pace.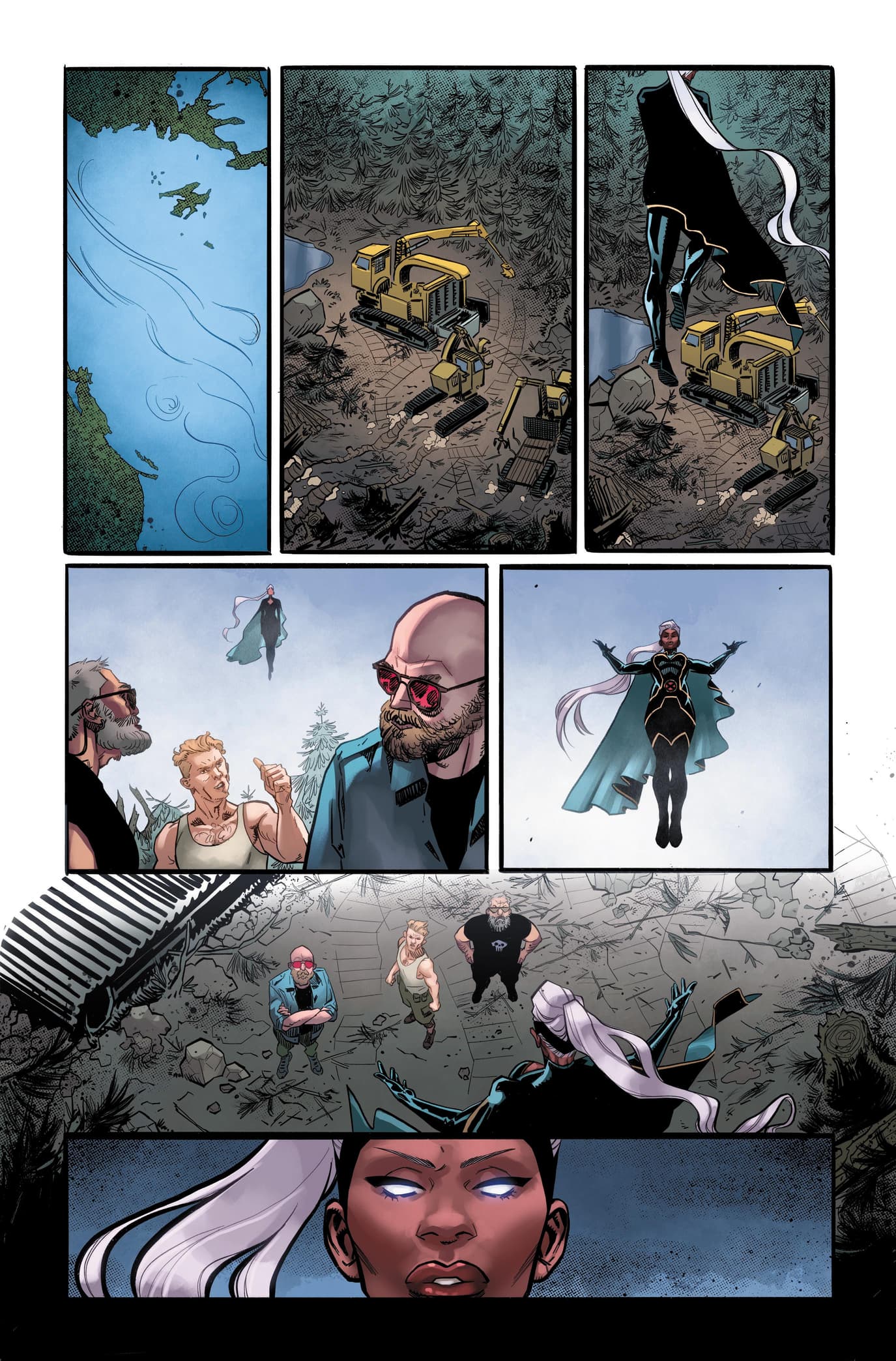 As a woman telling the stories of women, do you ever bring a part of yourself to these characters?
KT: I think it would be impossible to NOT bring ourselves to these characters. As a writer of famous characters you have to find that sweet spot between being true to the characters and their histories and also bringing something unique to their voice and story – hopefully something only YOU can bring. That's what makes it special.
What does being fearless mean to you?
KT: I'm full of fear. Most people I know are. It's hard for me to even imagine a person being truly fearless… and that's not a terribly relatable quality. I guess the more interesting idea to me is that of people overcoming fear. And there's fearlessness in that I suppose – that aspect of facing fear head on and plowing through regardless. I guess that's how I see fearlessness.
Below, view a gallery of how the art of FEARLESS came to life -- and get a preview of the next issue! Here is the variant cover for FEARLESS #2, on sale Wednesday, August 21, by Jenny Frison: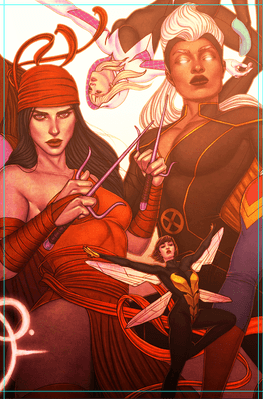 FEARLESS #1, with stories written by Seanan McGuire, Leah Williams, and Kelly Thompson and art by Claire Roe, Rachelle Rosenberg, Carmen Carnero, and Nina Vakueva, goes on sale Wednesday, July 24. Reserve your copy today online or at your local comic shop! You can pre-order your copy of FEARLESS #2 -- out Wednesday, August 21 -- today!
The Hype Box
Can't-miss news and updates from across the Marvel Universe!