Comics
Published March 16, 2018
Fighting for Wakanda Forever
The Dora Milaje meet the Marvel Universe in their own stories this summer!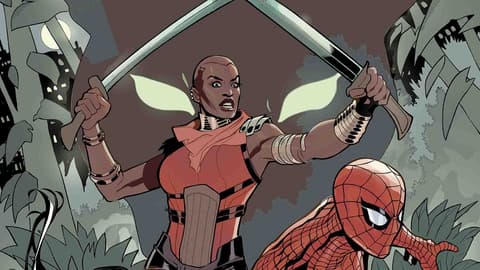 In an interview today with Vogue Magazine, Hugo and Nebula Award winning writer Nnedi Okorafor revealed Marvel's latest plans for the Dora Milaje…WAKANDA FOREVER: AMAZING SPIDER-MAN!
Starting this June, Wakanda's fiercest warriors are set for a three-part story that'll see them team-up with Spider-Man, the X-Men, and the Avengers! In the first issue, written by Okorafor with art by Alberto Jimenez Alburquerque, the Dora catch wind of a Wakandan threat causing trouble in New York before leaping into action—with or without the Black Panther.
Okoye, Ayo, and Aneka are going on a globe-trotting mission to protect the realm at any cost. WAKANDA FOREVER starts here before continuing later this year in July's WAKANDA FOREVER: X-MEN and August's WAKANDA FOREVER: AVENGERS!
"I'm super excited about writing this storyline. Powerful disciplined African women with futuristic spears who faced their shortcomings and changed a nation? Oh heck yeah, I'm so there," shares Okorafor. "Fans of the Dora Milaje can look forward to seeing them out in the world beyond T'Challa and the Wakandan throne's shadow. They'll get to see the Dora Milaje come into their own, while teaming up with the unexpected."
"As millions of moviegoers now know (and as comic readers already knew!), the Dora Milaje are the absolute coolest. And the rest of the Marvel Universe is about to learn this too when Okoye, Ayo and Aneka leave Wakanda on an adventure that will see them team up with Spider-Man, the X-Men and the Avengers," teases series editor Wil Moss. "Nnedi Okorafor and a talented team of artists will be telling one Dora Milaje story that runs through these three separate WAKANDA FOREVER one-shots. We're lucky to have Nnedi on board for this—she's an incredible novelist, and her recent BLACK PANTHER: LONG LIVE THE KING digital series proved that she's a great comic book writer too. She's come up with a crazy-tough problem for the Dora Milaje to solve—but if anyone can, it's these crazy-tough women."
Join the fearless trio of Okoye, Ayo and Aneka in all-new stories as they travel the globe to protect Wakanda on June 27 in Nnedi Okorafor and Alberto Jimenez Alburquerque's WAKANDA FOREVER: AMAZING SPIDER-MAN!
The Hype Box
Can't-miss news and updates from across the Marvel Universe!