Comics
Published December 9, 2016
Follow the History of the Black Panther Pt. 24
T'Challa goes up against Killmonger with the highest stakes yet!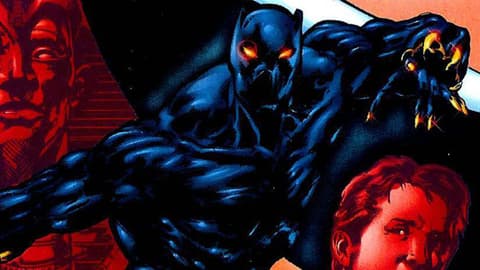 For 50 years, the Black Panther has stood at the forefront on the Marvel Universe. As we count down to a vision of T'Challa on the big screen coming soon, take a look back at five decades' worth of comic book adventures…
While The Black Panther tracked down the villainous Hydro-Man in BLACK PANTHER #14, his friend Everett Ross settled into his new position as regent to Wakanda. Later, Ross found the job to be fraught with danger as The Hulk appeared during a ritual elephant hunt in INCREDIBLE HULK #15.
T'Challa continued his search to find old foe Erik Killmonger in BLACK PANTHER #16, while back in Wakanda, Killmonger met with Ross and revealed his plan to take over the nation. The Panther mused briefly on the news of Sue Richards marrying Doctor Doom in FANTASTIC FOUR #27, and then joined Luke Cage, Iron Fist, and The Falcon to battle Killmonger's Harlem-based agents in BLACK PANTHER #17.
Brother Voodoo and Everett Ross urged T'Challa to return to Wakanda in BLACK PANTHER #18 to confront Killmonger's ever-increasing boldness. Voodoo and the Panther fought Killmonger and his Death Regiment directly in BLACK PANTHER #19, leading to the two eternal foes' struggle to the death at Warrior Falls in BLACK PANTHER #20.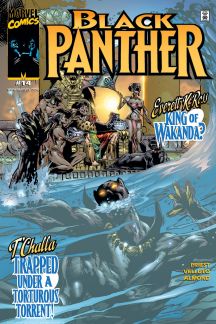 Moon Knight entered the land of the dead with Brother Voodoo's help to rescue a dying T'Challa in BLACK PANTHER #21, while Killmonger rose to the role of Chieftan of the Panther Clan in the waking world. The Panther battled Nightmare in BLACK PANTHER #22 to reform his mystical bond to the Panther God. In Wakanda, a war broke out in the Techno Jungle between the Avengers, Deadpool, and Killmonger's forces in BLACK PANTHER #23.
Still weakened from his ordeal, T'Challa held off an attack by Malice in BLACK PANTHER #24, and Killmonger lost his life while attempting to secure the heart-shaped herb that allows the Black Panthers their strength and abilities. In BLACK PANTHER #25, T'Challa and Ross dealt with the global Maximum Security situation of aliens designating the Earth as a prison world.
The Hype Box
Can't-miss news and updates from across the Marvel Universe!