Comics
Published December 19, 2016
Follow the History of the Black Panther Pt. 26
Old foes and trips through time prove taxing for T'Challa!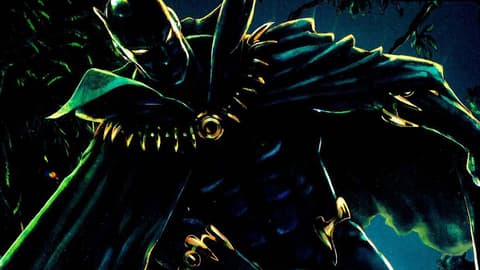 For 50 years, the Black Panther has stood at the forefront on the Marvel Universe. As we count down to a vision of T'Challa on the big screen coming soon, take a look back at five decades' worth of comic book adventures…
The Black Panther gathered with Earth's heroes to address the problem of twisted versions of the original Defenders in THE ORDER #5, and when those former champions returned to the planet in THE ORDER #6, T'Challa and the others stood ready to contain them at any cost.
When the world's capital cities disappeared into strange maelstroms in AVENGERS #57, the Panther answered the call to investigate with his teammates. They discovered the capitals merged into one strange environment in AVENGERS #58, a situation brought about by the villainous Scorpio and prompting a response by Earth's Mightiest Heroes in AVENGERS #59.
In BLACK PANTHER #38, T'Challa discovered that Nightshade somehow resurrected The Black Dragon in friend Everett Ross' body. The Dragon mind-controlled hero Iron Fist in BLACK PANTHER #39 to attack the Panther but found himself unable to fully control the rapid mutations in his own form. He took on his own body again in BLACK PANTHER #40 to battle both T'Challa and Iron Fist, while Nightshade revealed another Panther.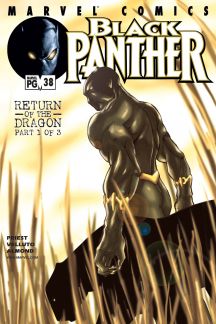 The real King of Wakanda investigated the tyrannical aspirations of the global spy organization called XCon in BLACK PANTHER #41, but even with the aid of Wolverine in BLACK PANTHER #42, he ran up against heavy-duty resistance from Iron Man. While the three heroes fought, the other Panther sought one-half of the fabled Brass Frog device on Kiber Island in BLACK PANTHER #43.
XCon replaced the presidents of both the United States and Canada in BLACK PANTHER #44, and T'Challa discovered the organization's head to be none other than his half-brother The White Wolf. The real Panther tried to set everything right in BLACK PANTHER #45 before the Brass Frog unexpectedly transported T'Challa and the others to the Old West.
In 1875 Texas, Black Panther met that era's Thor and Loki in BLACK PANTHER #46, and he helped the Thunder God stop his mischievous brother from conquering Asgard in BLACK PANTHER #47. Back in the present day in BLACK PANTHER #48, both Panthers suffered from the same aneurysm, a situation complicated by the release of T'Challa's foe the Man-Ape by Queen Divine Justice in Wakanda.
The real Panther became increasingly ill and delusional in BLACK PANTHER #49, and after a tense struggle with the Man-Ape, T'Challa disappeared. A new Black Panther, New York City cop Kasper Cole, took his place in BLACK PANTHER #50.
The Hype Box
Can't-miss news and updates from across the Marvel Universe!