Comics
Published February 3, 2017
Follow the History of the Hulk Pt. 49
The jade giant and his family enlist in the Chaos War, face Fear Itself, and more!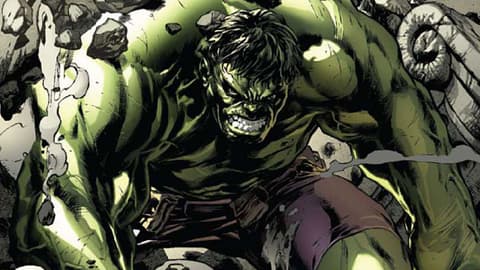 For over 50 years, the Incredible Hulk has been smashing his way through the Marvel Universe and into the hearts of fans. Whether you've discovered the tale of Bruce Banner and his other self through comics, TV, or film, get the whole story here…
On the far-off planet K'ai, Bruce Banner and his son Skaar reeled from what they'd discovered in INCREDIBLE HULKS #616: Hulk's other son, Hiro-Kala, intended to drive the entire world into Earth to stop an ancient power. With the help of the Worldmind, Banner and Skaar stopped him in INCREDIBLE HULKS #617 and returned to Earth, though the scientist suffered from the loss of his offspring.
The two landed in the middle of the Chaos War in INCREDIBLE HULKS #618, and found themselves immediately opposing a menace called Mikaboshi and his lackey, the Hulk's old foe Abomination. Rick Jones' wife Marlo brought back deceased friends in INCREDIBLE HULKS #619 to aid the cause, but all seemed dark when Bruce's late father appeared as a giant monster to terrorize him. While Marlo and the others fought Abomination and Mikaboshi in INCREDIBLE HULKS #620, Hulk ended his long-standing battle with his father once and for all.
Following that, Hulk fought his way through Olympus in INCREDIBLE HULKS #621 to enlist Zeus' help in the Chaos War, but when the king of the gods put down the jade giant in INCREDIBLE HULKS #622, it fell to Hercules and other allies to save him. Meanwhile, in the Savage Land, a member of Hulk's Warbound, Miek, plotted revenge against his former leader.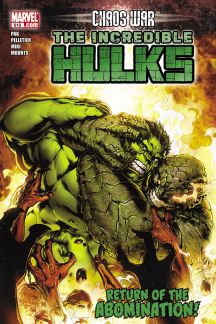 Hulk and Skaar traveled to the Savage Land in INCREDIBLE HULKS #623 to join with Ka-Zar against Miek, but the confrontation proved overwhelming in INCREDIBLE HULKS #624. In a final clash between himself and The Hulk in INCREDIBLE HULKS #625, the alien Miek lost his life.
Hulk's genius friend Amadeus Cho declared Betty's powers as Red She-Hulk to be unstable in INCREDIBLE HULKS #626, so Bruce flew off to Rome to confront her, only to discover her new alliance with his old enemy Tyrannus. Betty and the underworld tyrant sought Pandora's Box in INCREDIBLE HULKS #627, but a dangerous group known as the Knights of Rome threw up a bulwark to stop them from seizing it. During the fighting in INCREDIBLE HULKS #628, Hulk and Betty rekindled their love for each other, but after the Knights fell in combat in INCREDIBLE HULKS #629, Red She-Hulk returned to Tyrannus and left Banner behind once more.
After years of being subjected to his "puny" host, Hulk demanded to be prominent in INCREDIBLE HULKS #630, and when a wishing well from the gods presented itself, he believed he'd receive his desire. Banner's friend tried to bring him up and out of the green giant in INCREDIBLE HULKS #631, but the Hulk's attention swung to monsters to be fought, including Lord Armageddon in INCREDIBLE HULKS #632.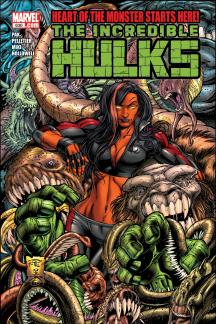 The mystical, otherworldly Umar seduced the Hulk into dealing with the Mindless Ones in INCREDIBLE HULKS #633, and so Worldbreaker Hulk smashed them all in INCREDIBLE HULKS #634. In the end, a normal Hulk squared off against Red She-Hulk in the Dark Dimension in INCREDIBLE HULKS #635, bringing about the end of an era for them both.
The Hulk became possessed by a strange hammer from the skies in FEAR ITSELF #1. Now called Nul and under the command of Odin's brother The Serpent, he battled the mighty Thor in FEAR ITSELF #4 alongside a transformed Ben Grimm, and even managed to seriously wound the thunder god in FEAR ITSELF #5. Through the efforts of Tony Stark and other heroes, Hulk found himself freed from Nul's influence in FEAR ITSELF #7. He subsequently freed himself from Bruce Banner, somehow forcing an actual bodily separation from his alter ego.
Once again alone, Hulk hid out in an unknown, underground Moloid village in INCREDIBLE HULK #1, until called into the light to fight a new menace…
The Hype Box
Can't-miss news and updates from across the Marvel Universe!