Comics
Published April 29, 2019
Gerry Duggan on Bringing Wolverine and Conan Face-to-Face in 'Savage Avengers #1'
"Thirty pages of 'Oh, $@#%! OH $@#%!'"
The most savage characters in the Marvel Universe are here! Wolverine! Venom! Elektra! Punisher! Among them, none other than Conan the Barbarian! Conan is back with the roughest characters to rumble through in this new title starting with... Conan vs. Wolverine!
We chatted with writer Gerry Duggan about what's ahead for this new team and how he and artist Mike Deodato Jr. brought Conan into the mix in SAVAGE AVENGERS #1, out Wednesday, May 1!
Marvel.com: SAVAGE AVENGERS #1 has got some of the most dangerous characters teaming up to what, save the day, fight each other? Tell us – what can readers expect in this first issue?
Gerry Duggan: Thirty pages of "Oh, $@#%! OH $@#%!"
Marvel.com: Tell us about David Finch's cover. What do you like about it and which of the characters represented are you most excited for readers to see in action?
Gerry Duggan: It's a really wonderful team shot. I'm not sure how David got them to sit for it.
Marvel.com: Gerry, your time at Marvel has had you writing characters ranging in personality types from Doctor Strange to Deadpool. What is it like to write Conan the Barbarian?
Gerry Duggan: It's been a dream I never thought would happen. I fell in love with Robert E. Howard's stories particularly through SAVAGE SWORD OF CONAN. Later I would read his novels. Comics were a gateway to so many wonderful things in my life. As the first writer to get a crack at the new volume of SAVAGE SWORD OF CONAN, that would have been enough, but now getting to collaborate on SAVAGE AVENGERS… I'm truly a lucky man.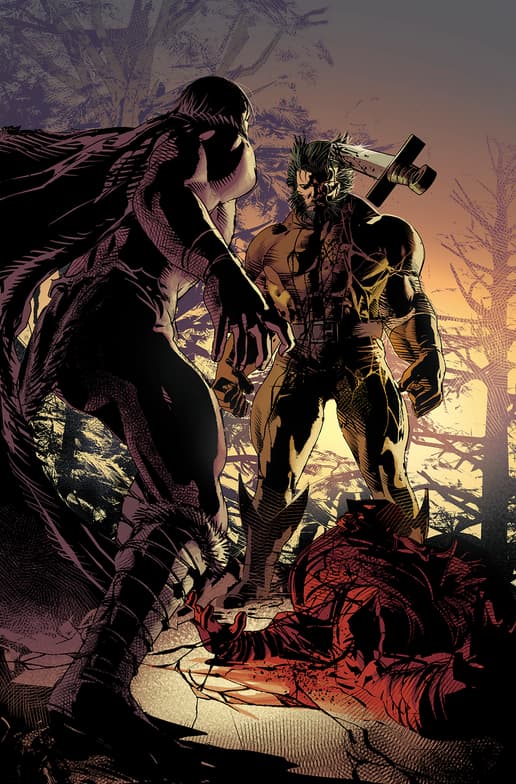 Marvel.com: Since Conan is going to go up against Wolverine in the first issue, did you reference WHAT IF…? #16, "What if Wolverine Battled Conan the Barbarian?" from 1990? If you didn't, what were some of your references for what I imagine will be a barbaric battle for the ages?
Duggan: I didn't go back and reread anything, I just tried to tee Deo [aka artist Mike Deodato Jr.] and Frank Martin up with the best fight I could whisper to them. One of my favorite pieces of the battle was a gift from Wil Moss at one of our editorial retreats. I walked everything through our planning, and he found me later. I knew right away it would make it in.
Marvel.com: Gerry, you posted a reminder on Twitter to pre-order SAVAGE AVENGERS #1 with an image of Wolverine yelling "No!" What can you tell us about Wolverine in this instance, and what's his motivation in this particular action-packed series?
Duggan: It's all personal for the Marvel heroes. They don't come together, they're summoned for terrible reasons by very evil characters.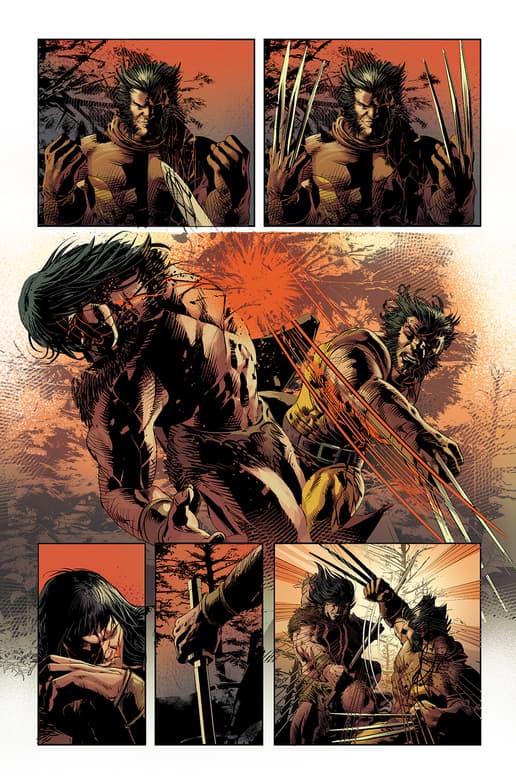 Marvel.com: SVP and Executive Editor Tom Brevoort said of SAVAGE AVENGERS, "It's big, it's brash, it's explosive, it never slows down." How do you keep that kind of pace without it being multiple two-page spreads of all-out action? Unless it is, which in that case, how do you balance the plot with the action?
Duggan: Plot and action are forged together in this series. Like a fine blade being smithed in a fire.
Marvel.com: Why did you want to be on this series, and what are you most looking forward to exploring in it?
Duggan: I'm really excited to see how the characters of the Marvel Universe will fall into Conan's orbit—and how fast some of them will be ejected. It's going to be non-stop fun for the readers, even though these characters will be going through hell.
SAVAGE AVENGERS #1, written by Gerry Duggan with art by Mike Deodato Jr., goes on sale Wednesday, May 1! You can pre-order your copy online or at your local comic shop! Get a preview of the pages in the gallery below!
The Hype Box
Can't-miss news and updates from across the Marvel Universe!