Comics
Published October 12, 2017
Get Ready to Run: Homecoming
Kathryn Immonen and Sara Pichelli close out volume three with a bang!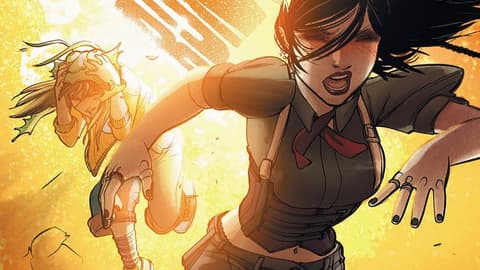 In celebration of Rainbow Rowell and Kris Anka's RUNAWAYS and "Marvel's Runaways" heading to Hulu on November 21, take a look at the team's major adventures as seen on Marvel Unlimited!
In the grand tradition of RUNAWAYS volumes, the third crashed to an end that shocked everyone. RUNAWAYS #11-#14 by writer Kathryn Immonen and artist Sara Pichelli began innocently enough—at the Stein's Malibu house with Nico, Karolina, Victor, and Chase throwing a prom for themselves as Molly, Klara, and Old Lace watched TV.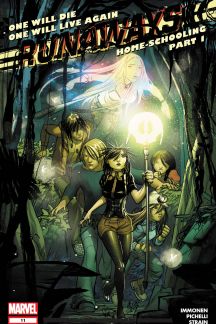 But their night of fun came to a fiery end when a drone crashed into the home. As the group rushed to see if Klara and Old Lace were okay, they discovered a tragedy: Old Lace seemed to have died saving Klara's life.
As Chase felt his dinosaur companion's heart stop, Klara woke up. Extremely disturbed by the events of the evening, she covered the entire building in her plants, trapping the crew inside. Meanwhile, a man named Hunter Stein—who heard the accident occur—made his way to the house. A paramilitary group, responsible for the drone, also arrived to recover their lost machine.
Nico used her powers to free the group of Klara's plants, accidentally losing track of Old Lace's body in the commotion. Though when the Runaways saw the armed men searching the rubble, Nico conjured up a log cabin for them to hide away in.
Hunter Stein worked to remove the heart from the recently destroyed Leap Frog before finding a fleet of other amphibian-themed vehicles that the kids—having escaped the cabin and the soldiers—took off in.
Now in recovery, Chase left the group to retrieve a few supplies—and ran into a girl that looked just like Gert. She didn't respond to the name, and when Chase tried following her…he stepped into traffic and got hit by a car.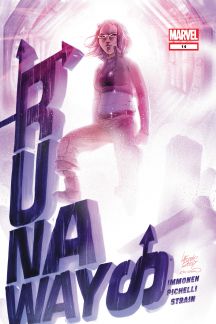 Unaware of the incident, the Runaways shared a sweet moment, deciding to live up to their team name and remain on their own—discussing their bond as one of their own lied in an emergency room fighting for his life.
LOST & FOUND
Though close to death at the end of RUNAWAYS #14, Chase seemed relatively fine when he next appeared in S.W.O.R.D. #2 and then again in DAKEN: DARK WOLVERINE #17-#19, when Wolverine's son got hooked on a drug called Heat. While tracking down the drug's makers, Daken discovered a connection to the Pride, made himself known to the Runaways, and joined them to take down the drug lord.
Following that, the kids appeared in AVENGERS ACADEMY #27-#28 when they successfully recovered Old Lace from an alternate dimension.
Next up, Chase and Nico become victims of Arcade's madness in the pages of AVENGERS ARENA and AVENGERS UNDERCOVER with the final installment of Get Ready to Run!
The Hype Box
Can't-miss news and updates from across the Marvel Universe!