Comics
Published June 23, 2023
Karolina Dean's Space Mission to Restore Her Power Begins in an All-New 'Runaways' Story
We spoke to 'Marvel's Voices: Runaways' creators Terry Blas and Bruno Oliveira about their latest Karolina-centric story from the Infinity Comics anthology series.
In RUNAWAYS #100, Karolina Dean went off into space to hopefully heal her waning powers. But what happens to her in space might demand even more healing.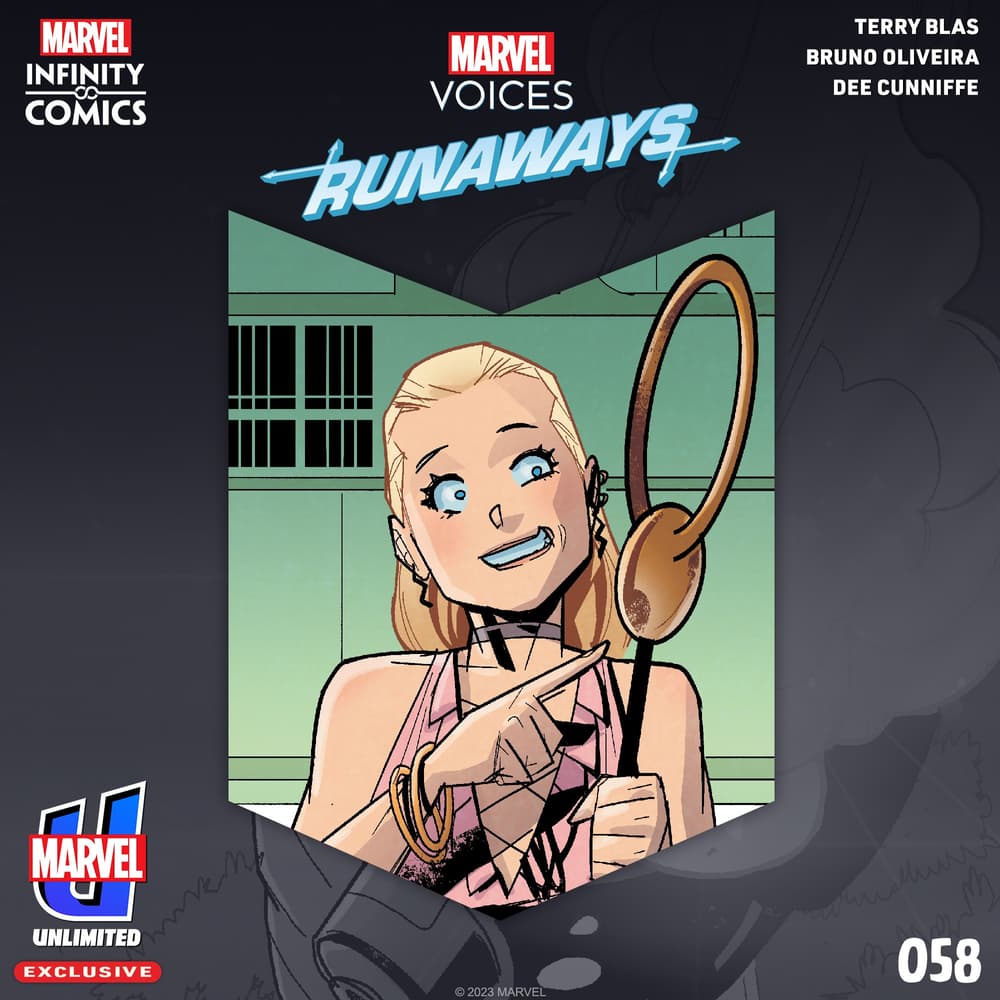 New on the Marvel Unlimited app from the Infinity Comics lineup: In MARVEL'S VOICES: RUNAWAYS #58, the first chapter in a new six-part story arc, light-powered extraterrestrial Karolina Dean goes on a mission to fix her fading powers…far away from her Runaways family. Thankfully, she's not alone in space. Joining up with the Light Brigade, a (former) military force from the Majesdane home world, Karolina encounters new threats and pushes herself to the outer limits to discover just what she's made of…and where she comes from. Start this new story from writer Terry Blas, penciller Bruno Oliveira, and colorist Dee Cunniffe now, and read new chapters of MARVEL'S VOICES: RUNAWAYS each Wednesday only on the Marvel Unlimited app.
In a behind-the-scenes exclusive, we spoke to "Runaways" creators Terry Blas and Bruno Oliveira about their latest collaboration for Infinity Comics, plus what's waiting for Karolina in Majesdanian space!
What was it like to collaborate with each other again following last year's Nova story for MARVEL'S VOICES?
TERRY BLAS: I was so happy being paired with Bruno again. I love what he did with our Nova story and since we included our character Ambris in this series (as well as her pet Mim), there was a shorthand with the script since he was already familiar with her. Bruno utilizes the format of these Infinity Comics so well and really takes advantage of it to great effect. One of my new favorite characters is the Resillian, Goebig, who Josh Trujillo created for his HULKLING & WICCAN Infinity Comic series. I was excited to include Goebig so I could see Bruno draw him.
BRUNO OLIVEIRA: I love working with Terry! Our Nova [story] was such a breath of fresh air. I think Terry is the king of character interactions and most people don't understand how rare that is. With just a few lines of dialogue he can expose some deep tension between the characters that feel like it's been happening for years. A joke between specific characters can feel like they bonded in a way that's deeper than what we're seeing. These stories aren't very long so you need to be able to tell a lot with few lines that will hit exactly where you need it. I hope we get to work together again!
[RELATED: Nova and Viv Vision Team Up for Intergalactic Battle]

You start this arc picking up from the events of 100th Issue Special RUNAWAYS (2017) #38. Where is Karolina physically and mentally at the top of "Marvel's Voices"?
TERRY BLAS: When we left Karolina she had so much going on. She and Nico [Minoru] were in the middle of discussing what Nico's Staff of One was doing to her. She'd also begun to lose her light powers. In an attempt to restore them she flew up into the sky so the sun could re-energize her and it ended up sending out a beacon that called the Light Brigade. So, I think she's a little scared. She doesn't want to lose her powers, and going with the Light Brigade might be the only way to get those powers back. Also, it's been a while since she's seen [former Runaway] Xavin who is now leading this team!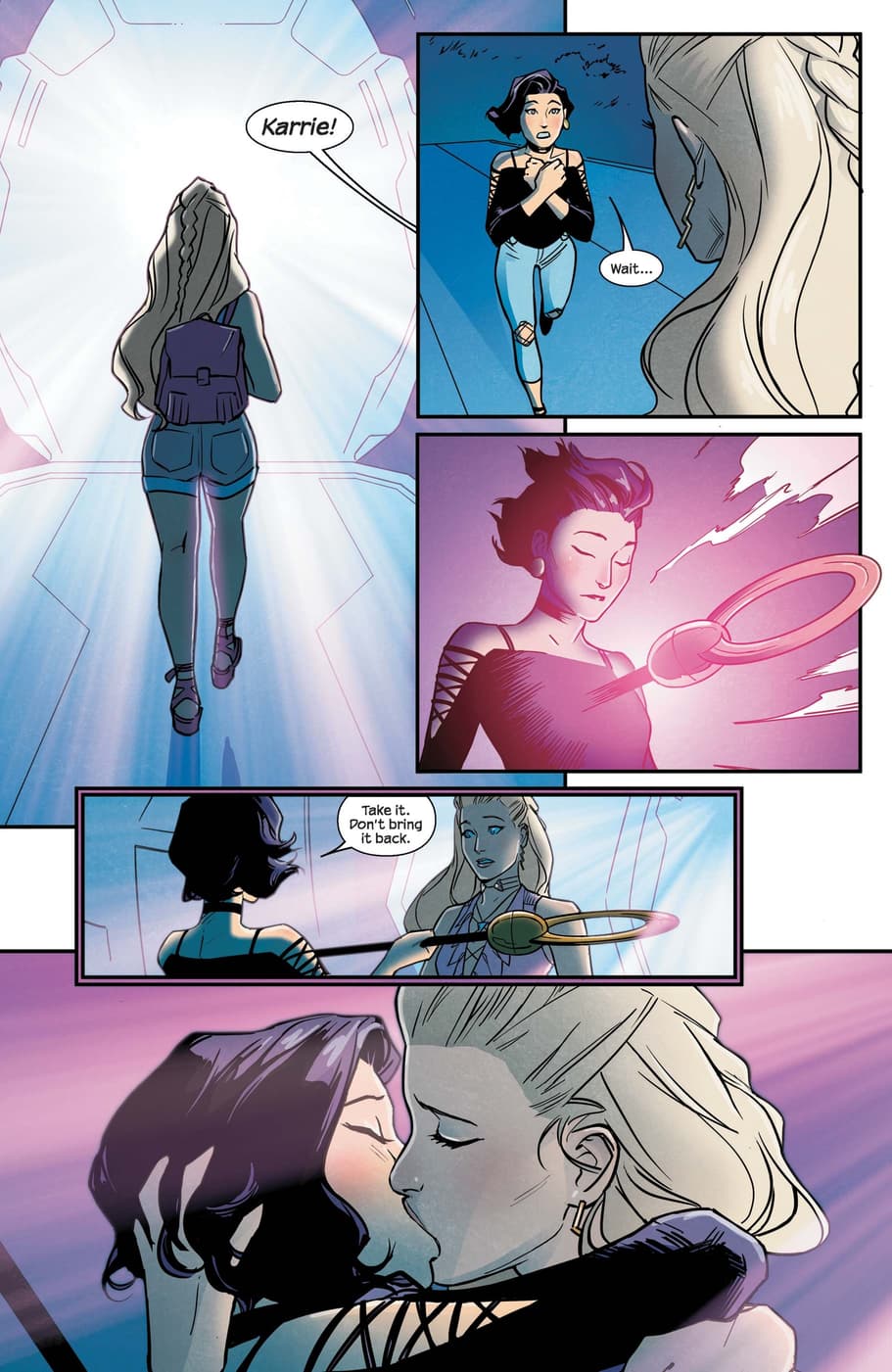 For readers unfamiliar with the Light Brigade: Who are they and what role are they going to play in this arc?
TERRY BLAS: The Light Brigade are a militaristic Majesdanian force who previously came to kidnap Karolina so she could pay for the crimes of her parents. Xavin ended up leaving with them as Karolina in disguise. Since then, Xavin has shaped the Light Brigade into a group that travels through space defending those who need help or are being taken advantage of. It's helped expand their crew beyond just Majesdanians and for some of the new members, they even serve as a chosen family.
Bruno, any character or sequence that you especially enjoyed drawing from Terry's scripts?
BRUNO OLIVEIRA: Anytime I get to play a bit with humor and fun interactions between the characters, that's when I enjoy myself the most! This is my second time working with Terry and I already know I'll have a few moments like that. So, I don't have a specific scene in mind, no.
How about depicting General Xavin's (relatively) new design?
BRUNO OLIVEIRA: That was crazy fun! I barely knew the character, but I loved how that serious look/pose [as seen in RUNAWAYS #38] wasn't really who they are. In this story there are some moments when we get to really see Xavin. So, to me it wasn't really the design that got me the most excited, but drawing loving, happy, and fun expressions on this type of (usually) serious character. I love that!



What do you think is Karolina's defining challenge here? How is she going to do without the backup of the Runaways?
BRUNO OLIVEIRA: I think she's doing great, but I really can't say specifics without spoiling! You can see in the first issue that she's received warmly by everyone [on the Light Brigade] and even though she seems a little out of place, when they're all together she already looks part of this new group. She might miss some of the other Runaways, but I think she'll be okay.
TERRY BLAS: Karolina's focus is getting herself healed. She's scared of losing her powers and begins to wonder who she would even be without them and without the Runaways. Being in a group with Xavin brings out some of her leadership qualities and instincts too; but her goal is restoring her powers if she can.
The story begins in MARVEL'S VOICES: RUNAWAYS INFINITY COMIC #58 on the Marvel Unlimited app.
Download the Marvel Unlimited app for iOS or Android devices now for more vertical comics starring favorite Marvel heroes. You'll also gain instant access to 30,000+ digital issues spanning 80 years of Marvel Comics.
The Hype Box
Can't-miss news and updates from across the Marvel Universe!