Comics
Published August 28, 2017
Get Ready to Run: Parental Guidance
As two familiar faces return, the kids deal with a tragedy.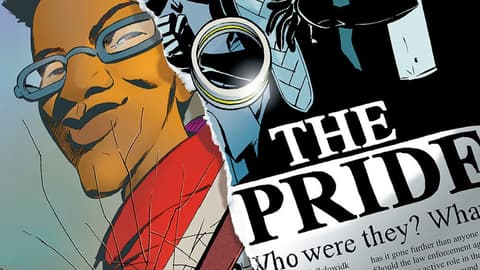 Before Rainbow Rowell and Kris Anka's RUNAWAYS launches in September, take a look at all of their major adventures as seen on Marvel Unlimited!
After teasing a new version of the Pride since the True Believers arc, Brian K. Vaughan and Adrian Alphona finally revealed their true identities in RUNAWAYS #13–18 and our young heroes would never be the same again.
Thinking back, remember that Excelsior member Chamber turned out to be someone completely different using some sort of medallion to hide is real identity. At the end of that story, he returned to a group and said, "Long Live The Pride." At the end of the following arc, we saw the group again as they used magic, referenced The Steins and seemed to have their own copy of The Abstract.
The truth behind this group finally came about in this arc wherein we discovered that Alex Wilder's online video game pals decided to not only meet up in person, but also attempt to bring him back from the dead, thinking of both him and the Pride as heroes trying to keep LA safe against their evil offspring. Their attempt at snatching a Wilder from the timeline worked, but they were shocked to find they grabbed his dad, Geoffrey right out of the mid 80s.
Meanwhile, our heroes struggled with their lives. Chase and Nico felt guilty about the kiss they shared in New York, while Victor continued struggling with the fear that he'd ultimately follow Ultron's programming and betray his friends. Already off-balance, they fell for Geoffrey's plan to put them off their game, partially by having his witch friend Lotus show an image of the kiss right in front of Gert. During the in-fighting, The Pride made off with Molly and Geoffrey made a deal with the Gibborim to get his wife and child back in exchange for a sacrifice.
Just after Gert broke it off with Chase and Nico discovered that Victor had been spying on them – because one of the Pride hacked into his brain – Karolina and Xavin showed up after their wedding devolved into a potentially planet-breaking war sparked by a not-so-nice comment about a bride's maid gown.
The reunion proved short-lived as the Runaways took off to find out exactly where Wilder and his crew went and what the intended to do with Molly. Everyone met again at the Griffith Observatory where an epic battle ensued involving secret Skrull tricks, Victor turning a van into a battle suit, a knife fight between Chase and the elder Wilder and a raging inferno.
Gert and Old Lace stepped in during Chase's fight with Geoffrey which ultimately lead to her death, as Wilder intended to make her his sacrifice. As she died of a knife wound, she transferred control of Old Lace to Chase and almost said she loved him as she gave up the ghost.
Afterwards, the kids sending Geoffrey back to his original time and dealing with the loss in their own way, but the arc ended with a shot of Chase holding the Abstract with the decoder ring on his finger and Old Lace at his side, all alone looking desperate and determined.
LOST & FOUND
The same month that the tragic RUNAWAYS #18 hit stores, so did the first of four installments in CIVIL WAR: YOUNG AVENGERS & RUNAWAYS by Zeb Wells and Stefano Caselli. The Young Avengers saw the Runaways dealing with pro-registration forces immediately after stopping Flag-Smasher and went out to help their fellow young heroes. To combat this potential threat, Maria Hill sent Marvel Boy after the assembled young ones. With some of their friends kidnapped, the teams joined forces not only to get their mates back, but also to help save their fellow displaced young person, Marvel Boy.
Next time, find out how Chase dealt with Gert's death and how Brian K. Vaughan officially left the Runaways.
The Hype Box
Can't-miss news and updates from across the Marvel Universe!