Comics
Published November 30, 2021
The History of Kushala: Who Is the Spirit Rider?
A Sorcerer Supreme and a Ghost Rider. Read Kushala's Infinity Comics series now!
Have you tried Marvel Unlimited yet? It's your all-access pass to over 29,000 Marvel comics, available at your fingertips. Download our all-new, supercharged app on the App Store or Google Play today and save 50% off your first month!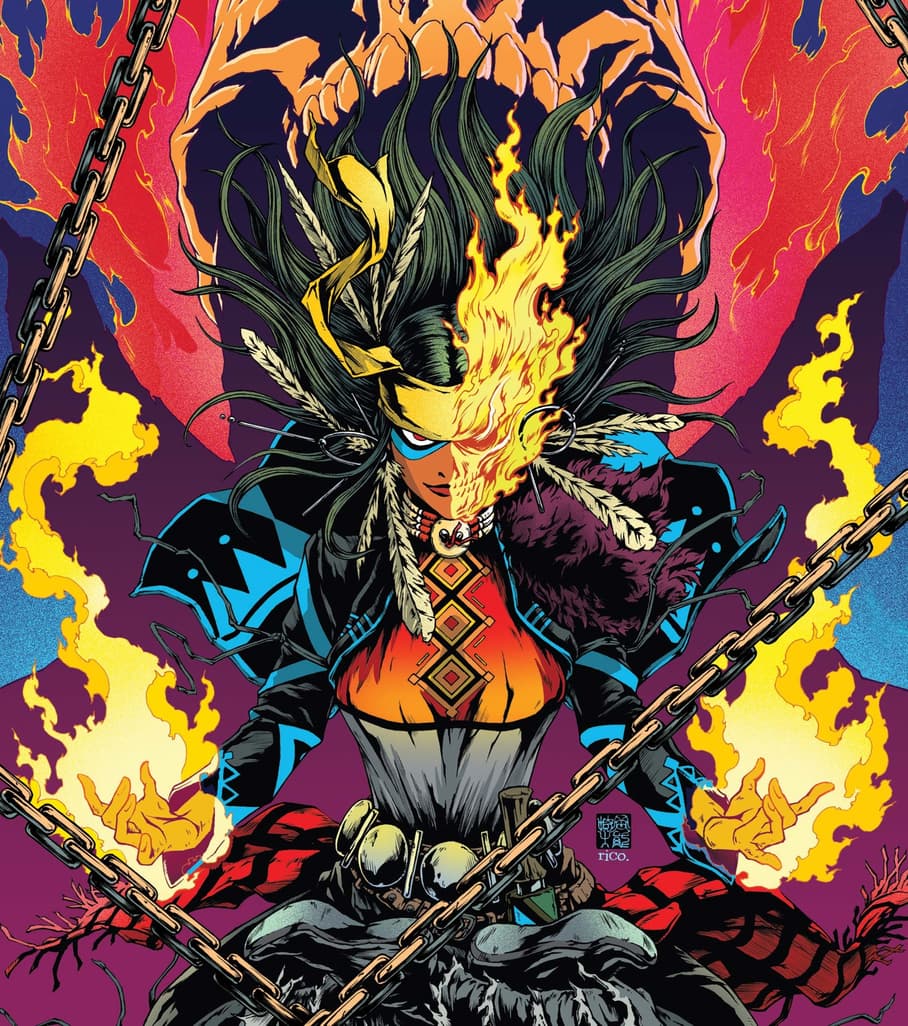 A family of seven generations is in danger. An absolute madman, or mad doctor, wants power over free will, and he will do anything to achieve that goal, which includes wiping that family out of existence. Those seven generations trace back to a woman named Kushala. In the eight-part, Infinity Comics series GHOST RIDER: KUSHALA, available exclusively on the Marvel Unlimited app, it's up to Kushala, with assistance from her descendant, Olivia, to prevent the total destruction of the Marvel Universe. But before we move into Kushala's present, let's take a quick trip to the past.
Created by Robbie Thompson and Javier Rodriguez, Kushala is an Apache woman who lived in the 1800s and became a Ghost Rider. She initially yearned to remove the Spirit of Vengeance from herself during her introduction in DOCTOR STRANGE AND THE SORCERER SUPREMES (2016), but after certain events, she realized that she'd rather keep it than let it fall into the wrong hands. She is the only person to overcome her (literal) vengeful spirit.
So, who exactly is Kushala? Grab her full history here.
HOW DOES KUSHALA BECOME A GHOST RIDER?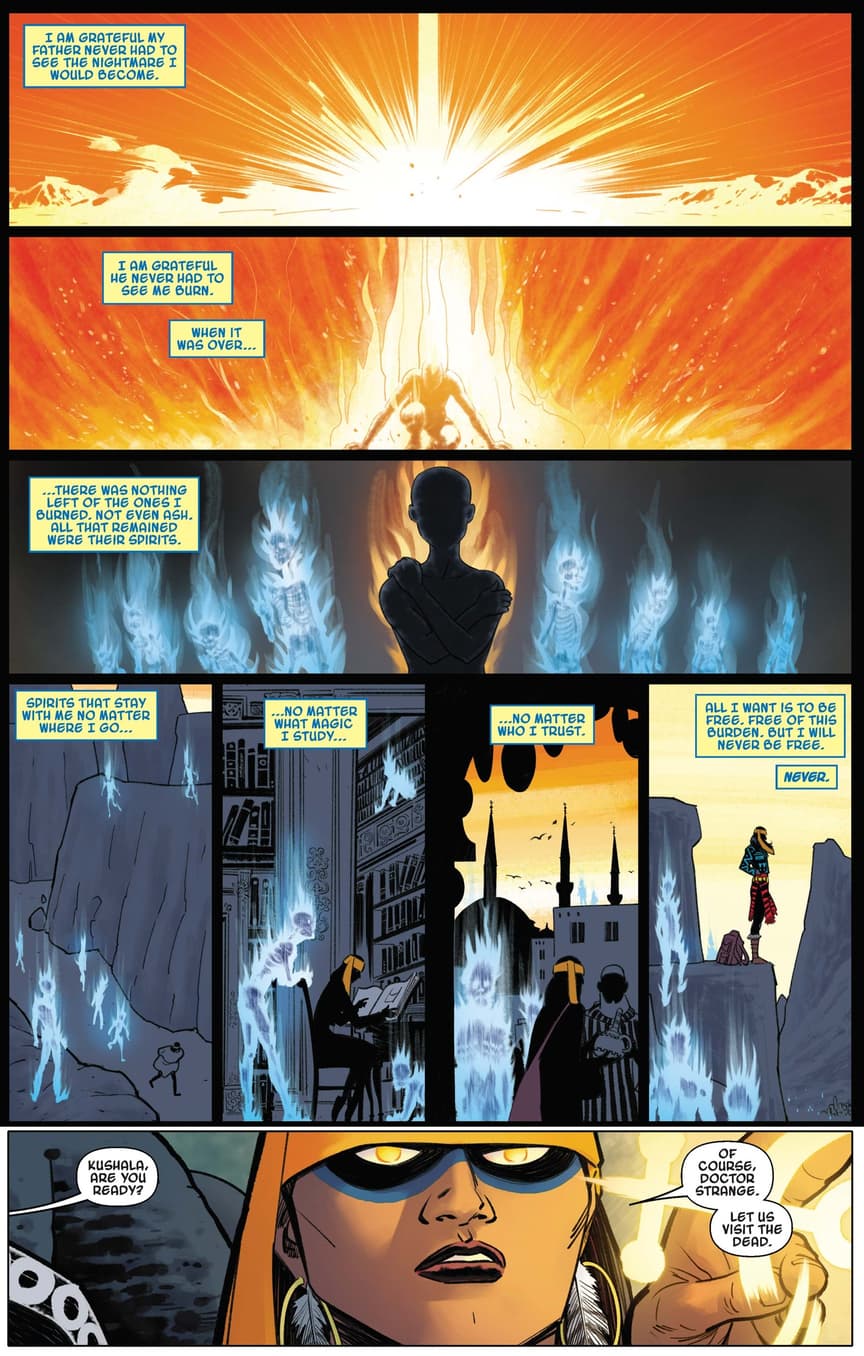 First shown through flashback in DOCTOR STRANGE AND THE SORCERER SUPREMES #3, Kushala's parents and tribe were attacked by army men. Kushala called upon the Creator to help her people, but instead, she was possessed by a Spirit of Vengeance. Kushala rid her enemies so brutally that not even their ashes remained, only their spirits. From then on, she called herself the Demon Rider and became the Ghost Rider of the 1800s.
WAIT, SO WHY DOES SHE GO BY THE TITLE "SPIRIT RIDER?"
In SPIRITS OF VENGEANCE: SPIRIT RIDER (2021) #1, Kushala fought the other half of the Leviathan, who had corrupted fellow Ghost Rider, Johnny Blaze. Leviathan is actually the spirit who possessed Kushala in the 19th century, and it used Blaze as a pawn. Turns out, it needed Kushala's half-power to be whole again and cause supreme chaos. Realizing that it feeds on vengeance, Kushala eventually defeats the Leviathan by not fighting it. The demon shrinks to the size of a lizard, and without hesitation, she slurps it like pasta, becoming "vengeance complete." She transforms into someone new, the Spirit Rider.
DOES SHE HAVE ANY OTHER ALIASES?
She is the Sorcerer Supreme of Earth (during the 1800s). She also pretends to be Sindr, the daughter of fire giant Surtur, to trick Ares during WAR OF THE REALMS: JOURNEY INTO MYSTERY (2019). Not all characters bathed in fire are the same, Ares!
WHAT KIND OF POWERS DOES KUSHALA HAVE?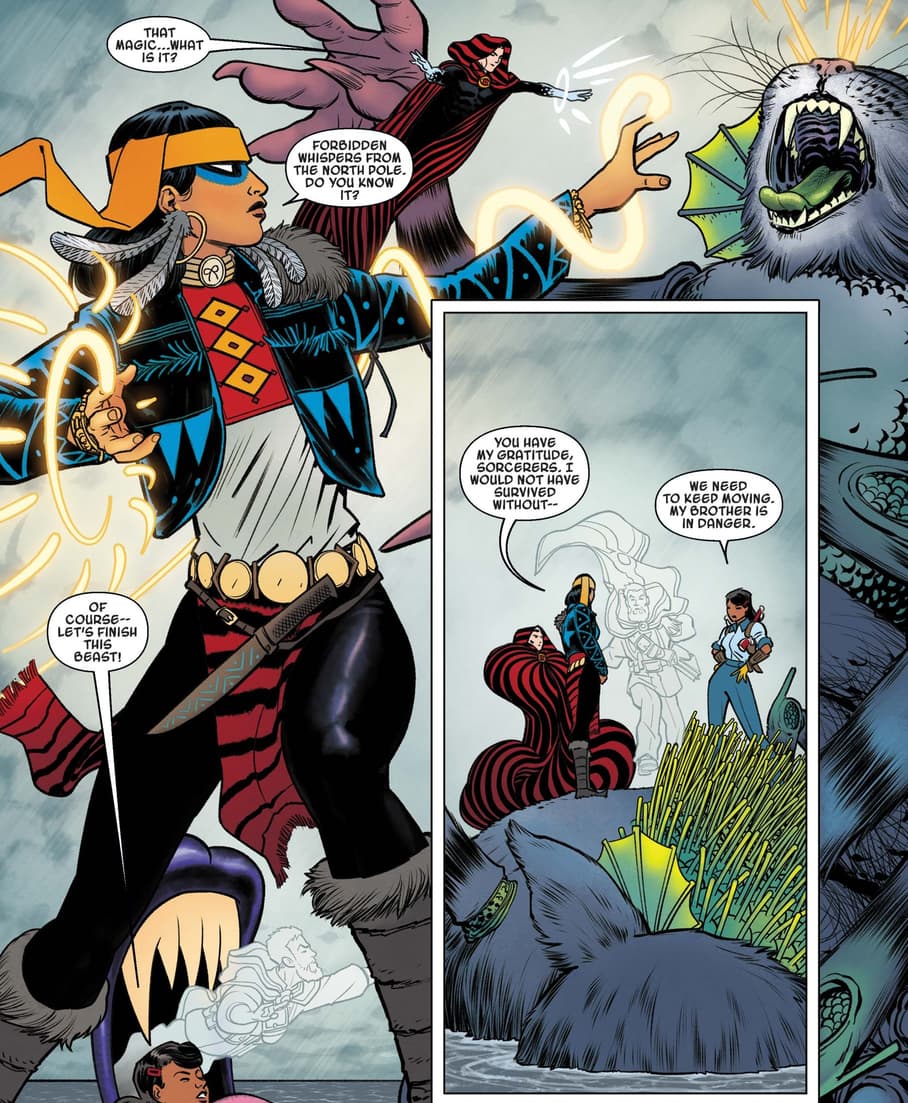 Transforming into her demonic form allows her to control hellfire (pyrokinesis) and to fly. As told in DOCTOR STRANGE AND THE SORCERER SUPREMES #2, Kushala knows all magic, hence her well-deserved status as a Sorcerer Supreme. She knows an enhanced form of astral projection, which she calls "Riding the Spirit." Doing so allows her entire physical body to explore the consciousnesses of every living being, regardless of space and time.
DOES SHE HAVE A COOL, OR HOT, MODE OF TRANSPORTATION?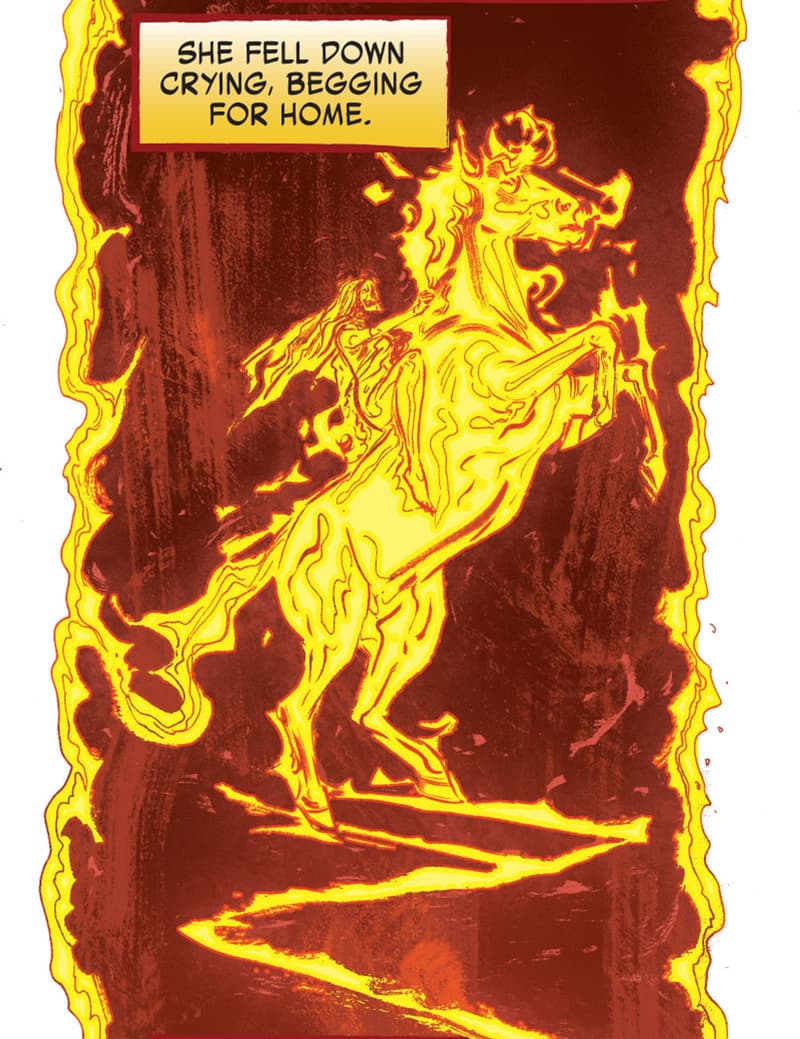 Of course, she is a Rider after all. Kushala can summon a fiery, phantom horse to further incite fear into her foes.
WHO IS KUSHALA CLOSE WITH?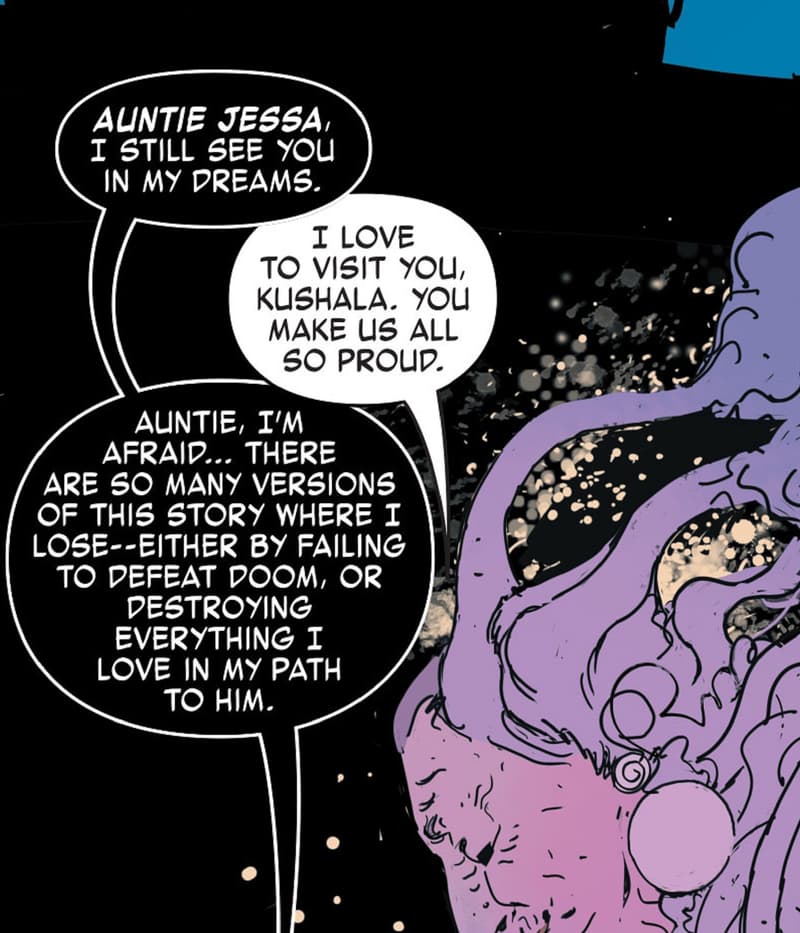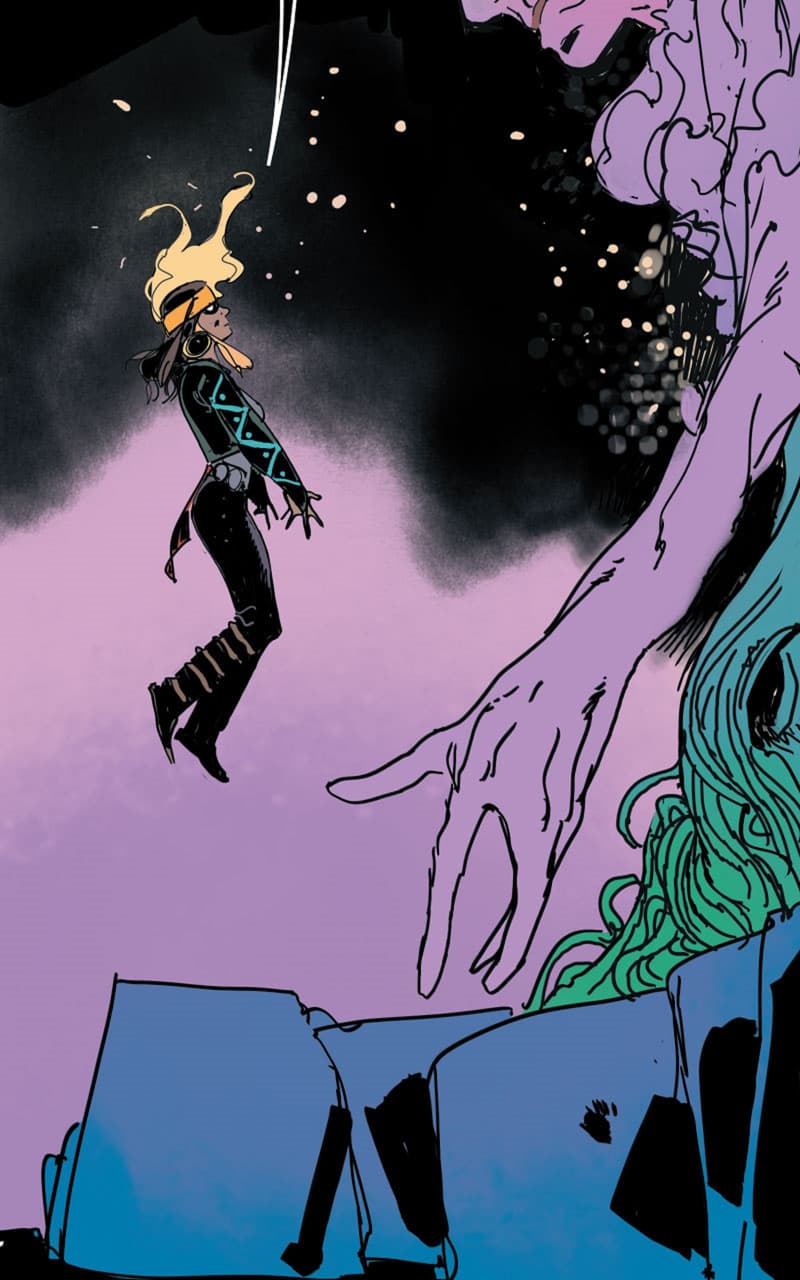 With the exception of her family (who she meets under some interesting circumstances in GHOST RIDER: KUSHALA), Kushala has some people that she trusts. She has non-magical friends like Tanya and Heather in SPIRITS OF VENGEANCE: SPIRIT RIDER #1. Kushala is friendly with Doctor Strange, who lets her stay in the Sanctum Santorum for as long as she likes at the end of DOCTOR STRANGE AND THE SORCERER SUPREMES #12. She seems to be on good terms with Merlin before his (supposed) death, and the Mindful One, former servant of Sir Isaac Newton. Last, but certainly not least, is Auntie Jessa. Mentioned a couple of times by Kushala, but officially introduced in GHOST RIDER: KUSHALA (2021) #6, Jessa is the one who teaches Kushala how to master the Spirit of Vengeance, putting her on track to become a Sorcerer Supreme. Kushala considers Auntie Jessa to be a mother to her, an esteemed honor.
DOES SHE HAVE ANY ENEMIES?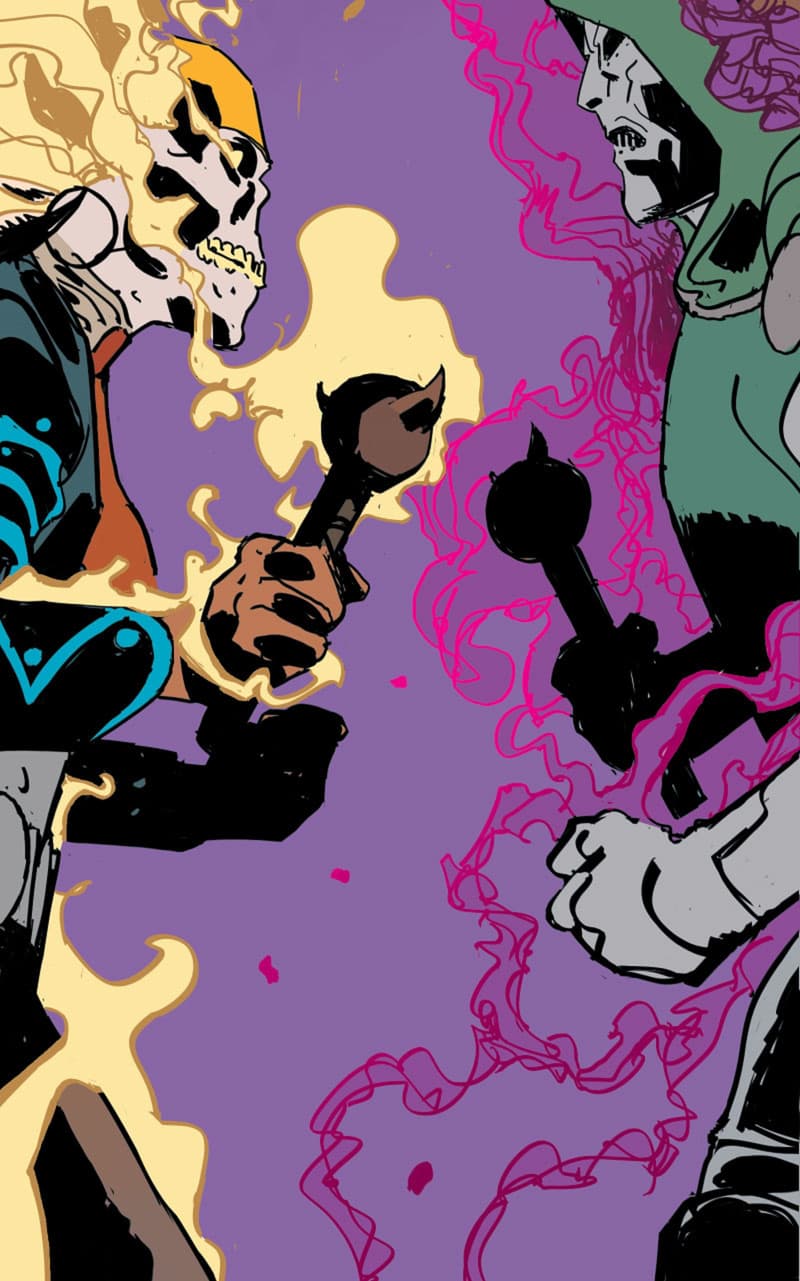 Although Kushala has only been in the Marvel Universe for a relatively short while, she has gained a few enemies. Sir Isaac Newton, who is also a Sorcerer Supreme, betrays the other Sorcerer Supremes in DOCTOR STRANGE AND THE SORCERERS SUPREMES #4. To further add salt into the wound, he (temporarily) steals Kushala's Spirit of Vengeance. The audacity! She absolutely does not care for Leviathan, who is the reason why she is the Demon/Spirit Rider in the first place. Doctor Doom takes the cake as the worst offender as he tries to end her and her family line, in order to gain complete control over free will. Extreme much, Doom? All of them learn not to mess with Kushala.
Kushala's story is just getting started. Read all her appearances so far on the Marvel Unlimited app, including her starring Infinity Comics series!
Follow Marvel Unlimited on Twitter and Facebook to stay tuned in to weekly announcements, articles, and more, all at @MarvelUnlimited. Follow us today to join the conversation with thousands of fellow fans, and let us know what you're reading!
The Hype Box
Can't-miss news and updates from across the Marvel Universe!