Comics
Published June 27, 2022
A Look Back at Thor's First Clash with Gorr in 'Thor: God of Thunder'
Revisit the classic story that introduced readers to Gorr by pitting the God of Thunder against the vicious God Butcher!
Have you tried Marvel Unlimited yet? It's your all-access pass to over 29,000 Marvel comics at your fingertips.
A decade ago, writer Jason Aaron began his now legendary run on THOR: GOD OF THUNDER (2012) with artist Esad Ribić. It was a breath of fresh air for the Odinson, as it established three distinct points in the immortal life of the God of Thunder: a young Thor in 893 AD, present-day Thor, and King Thor at the end of time. The common thread between these three incarnations of Thor was the being who would become one of their most vicious foes: Gorr the God Butcher.
[RELATED: Who Is Gorr?]
Long ago, Gorr was simply an ordinary member of his race who didn't believe in the existence of gods. That's why he was so angry to discover that gods were not only real, but they also frequently refused to help those who worshiped them. Through a stolen sword imbued with vast and eternal might, Gorr gained the power to carry out a vendetta against all gods across the entire universe.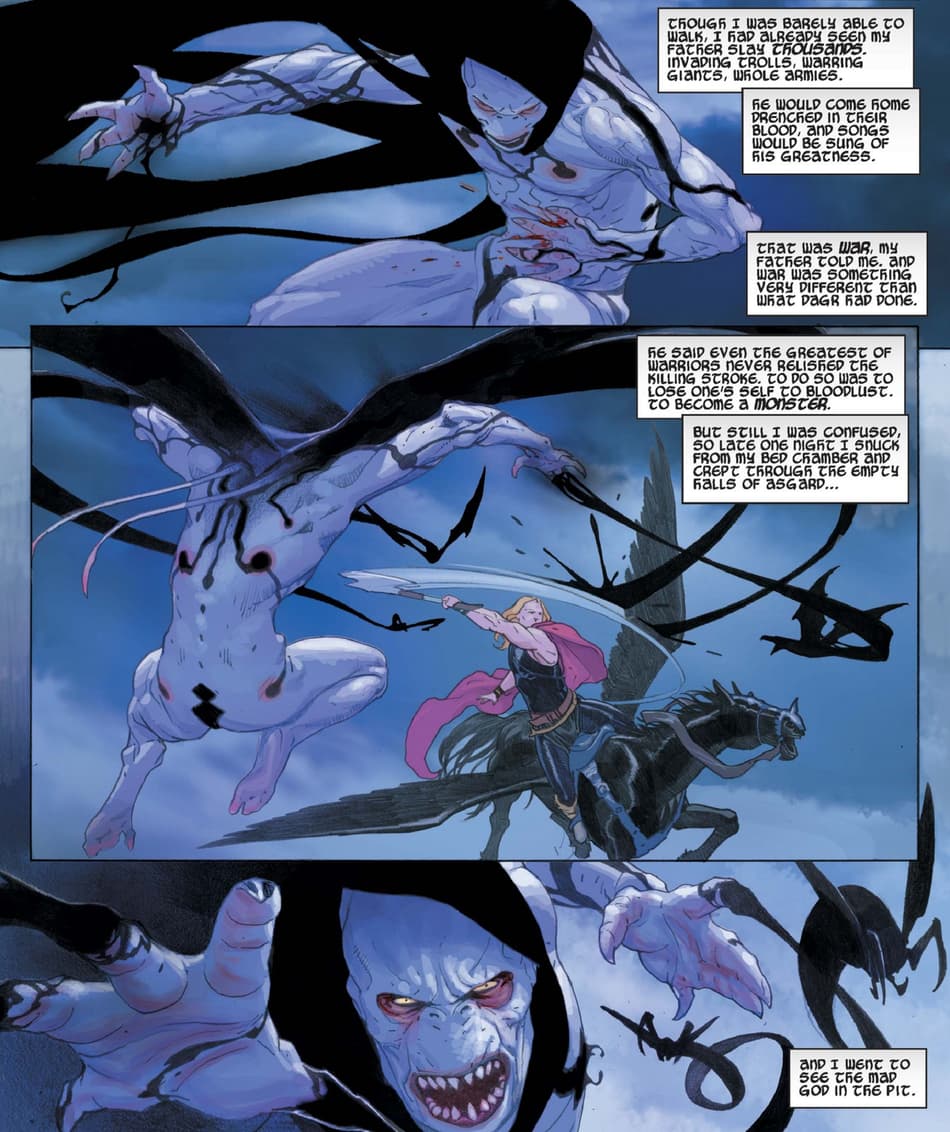 The series' first story arc in THOR: GOD OF THUNDER (2012) #1-5 marked the beginning of Thor's long rivalry with Gorr. To get up to speed on one of Thor's greatest adversaries, take a look back at the biggest moments from that initial storyline, then read the complete series on Marvel Unlimited!
THE GODS ARE ALL DEAD
Although Gorr does not physically appear in THOR: GOD OF THUNDER (2012) #1, his handiwork is readily apparent in both the past and the present. While young Thor first came upon a victim of Gorr, present-day Thor answered an alien child's prayer on the planet Indigarr. After bringing rain to the planet, Thor set out to discover what happened to the Gods of Indigarr. Much to Thor's horror, the gods were long dead, courtesy of Gorr. And, in one particularly gruesome scene, these giant immortals were hung on meat hooks. You see, "God Butcher" isn't a misnomer for Gorr. If anything, that name doesn't fully capture the horror of his actions.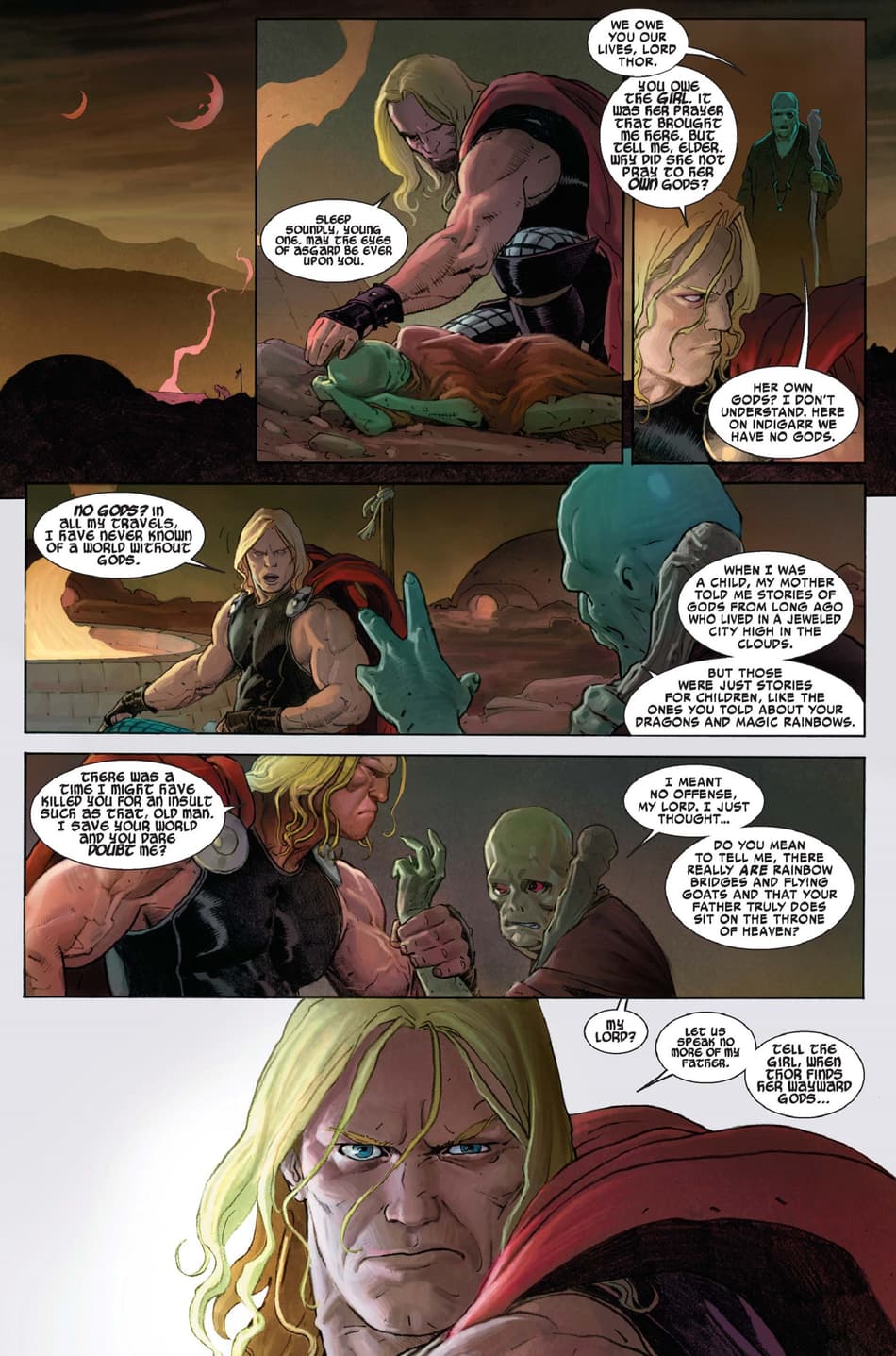 "WHAT ARE YOU THE GOD OF?"
As seen in THOR: GOD OF THUNDER #2, the first battle between Thor and Gorr in the past was completely one-sided...in Gorr's favor. In 873 A.D., Thor was not yet worthy of Mjolnir, so he couldn't fly and he wasn't as mighty as his modern-day counterpart. By contrast, Gorr was unrelenting with his assault to the point where Thor seemed mortal in comparison. Gorr's sword pierced Thor's flesh and Gorr nearly ended the young god's life then and there. Yet Gorr made the crucial mistake of goading Thor by questioning his godhood. "What was Thor the god of before he died?" asked Gorr. "Thunder" was Thor's reply, and it was punctuated by a blast of lightning that managed to save Thor's life at that moment.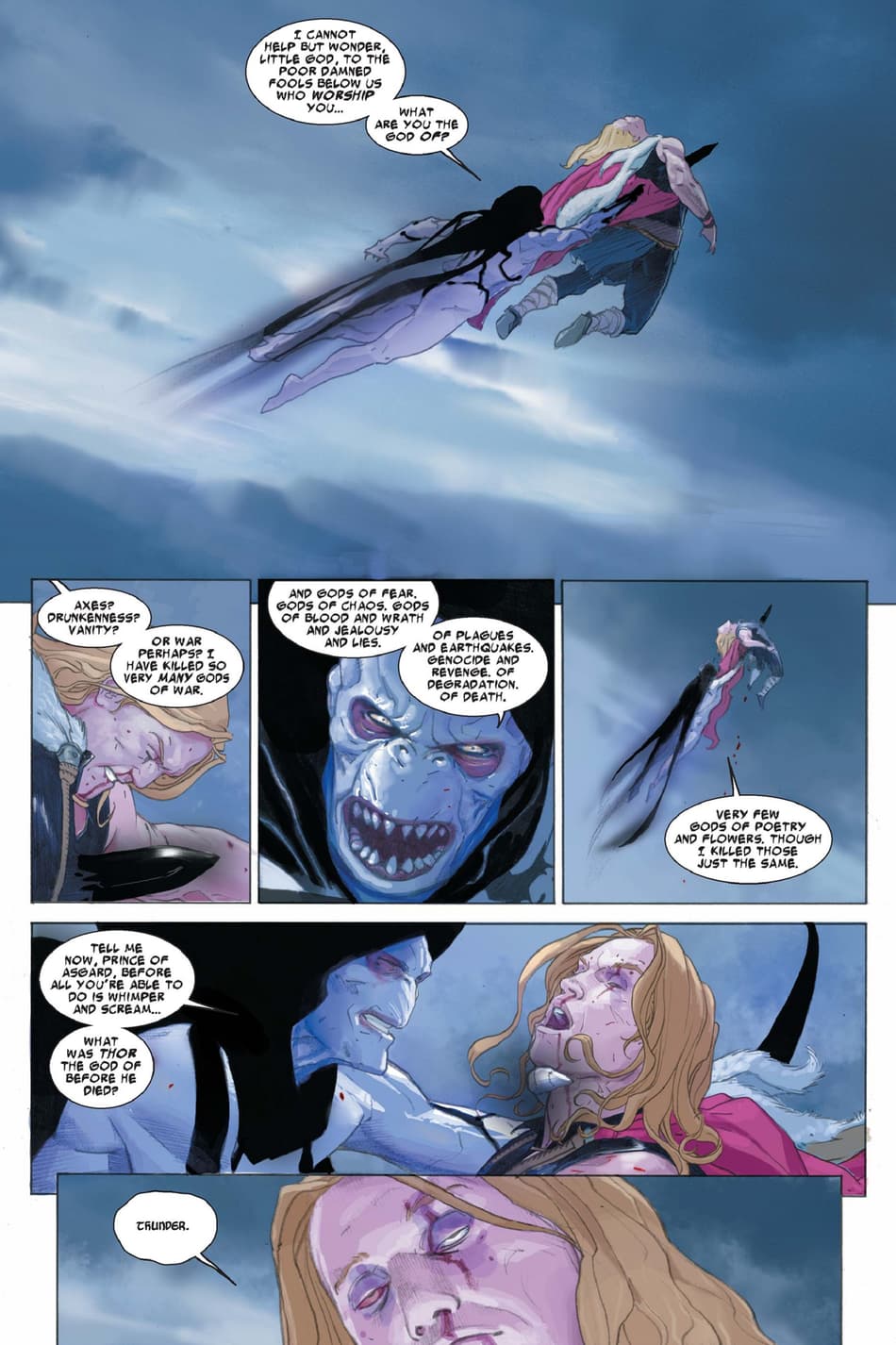 "COME KILL THOR, IF YOU DARE!"
Issue #3's present-day sequence was essentially a police procedural for the gods. Thor realized that Gorr had survived their encounter in the past, and he began searching for his old foe. What he discovered was a long and bloody trail across the cosmos. Thor correctly guessed that several missing gods and pantheons had already fallen prey to Gorr. This needless slaughter angered the Son of Odin so greatly that he called forth to the God Butcher and challenged him to another battle. It's an epic moment that foreshadowed the conflict to come.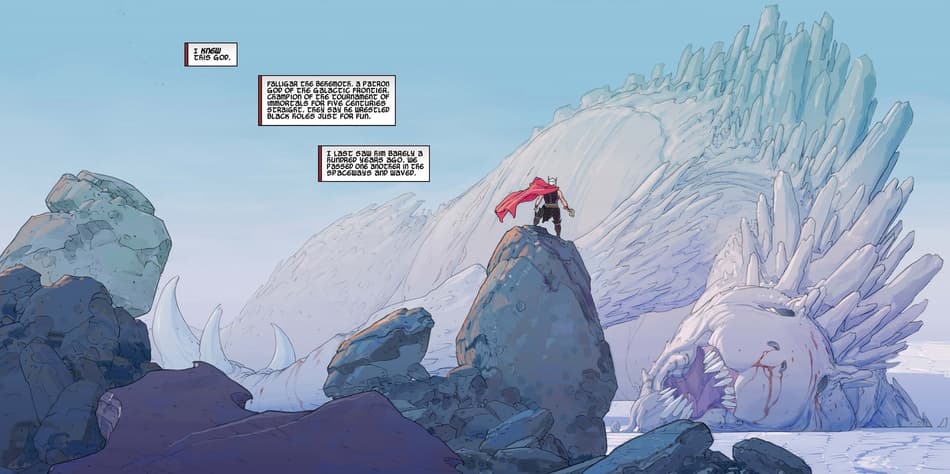 THE PALACE OF INFINITY
The Time Gods made their first appearance in THOR: GOD OF THUNDER #4, but only after Gorr and his Black Berserkers had slaughtered them. In Chronux, the Palace of Infinity, Gorr defiled the Pool of Forever with the blood of the Time Gods as he prepared to travel backwards in time to the beginning of creation itself. Essentially, it was a shortcut for Gorr to murder the gods before they had even been born. It was a mad plan, but if it was successful, Gorr noted that the gods of all worlds would have one thing in common: "They will all be dead."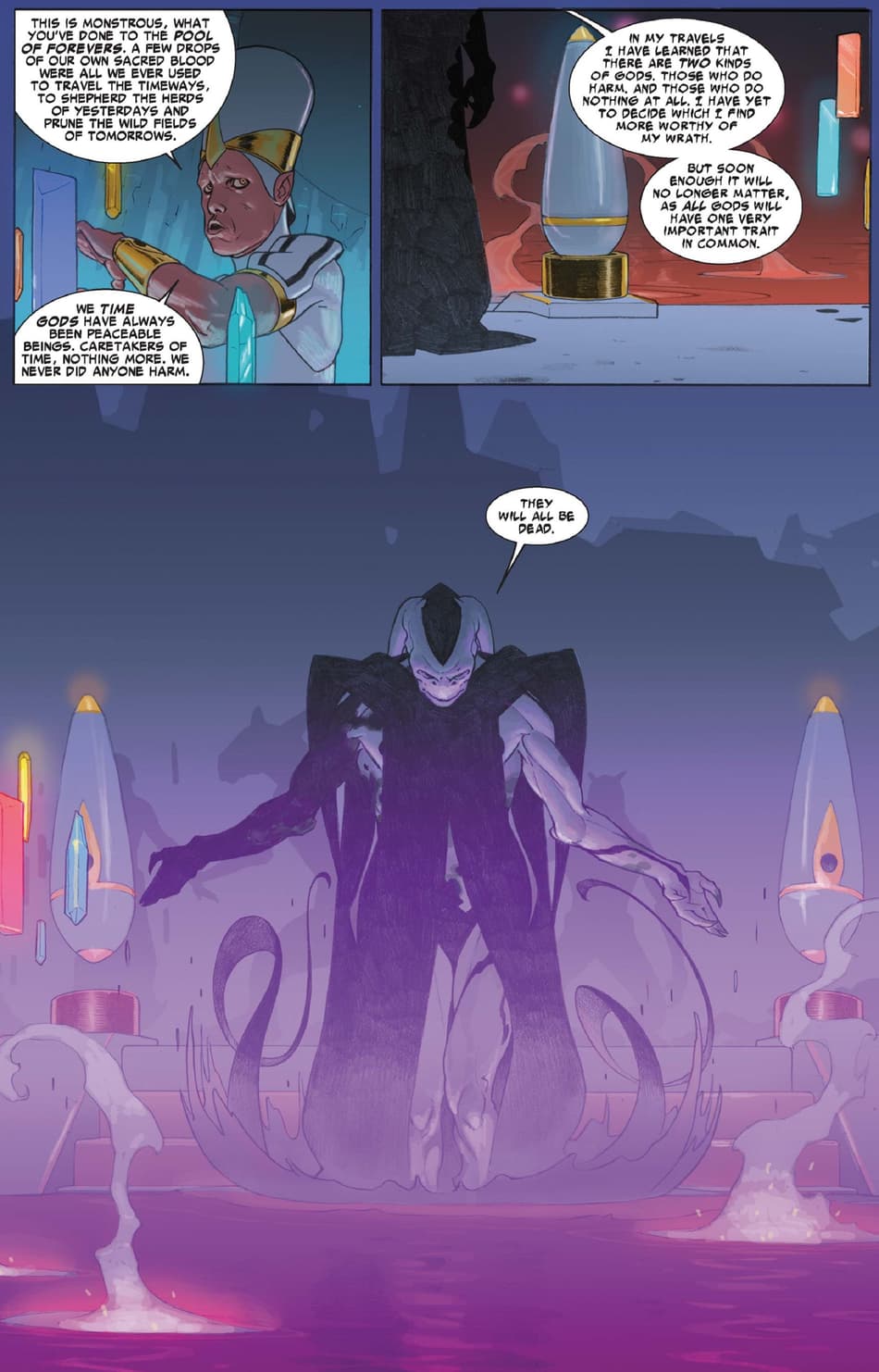 THOR AND KING THOR BACK-TO-BACK
The initial phase of the story came to a conclusion in THOR: GOD OF THUNDER #5, as Thor followed Gorr to Chronux in the hopes of halting his bloody rampage. Thor wasn't as successful as he hoped, and he was forced to watch as Gorr descended into the Pool of Forever a second time. When the Odinson pursued Gorr, he found himself in the far future fighting alongside his future self: King Thor. Naturally, Thor's first assumption was that King Thor was his father, Odin. Regardless, the two incarnations of Thor proved to be very formidable. Unfortunately for the younger Odinson, King Thor had some very bad news about Gorr's actions and the state of the universe.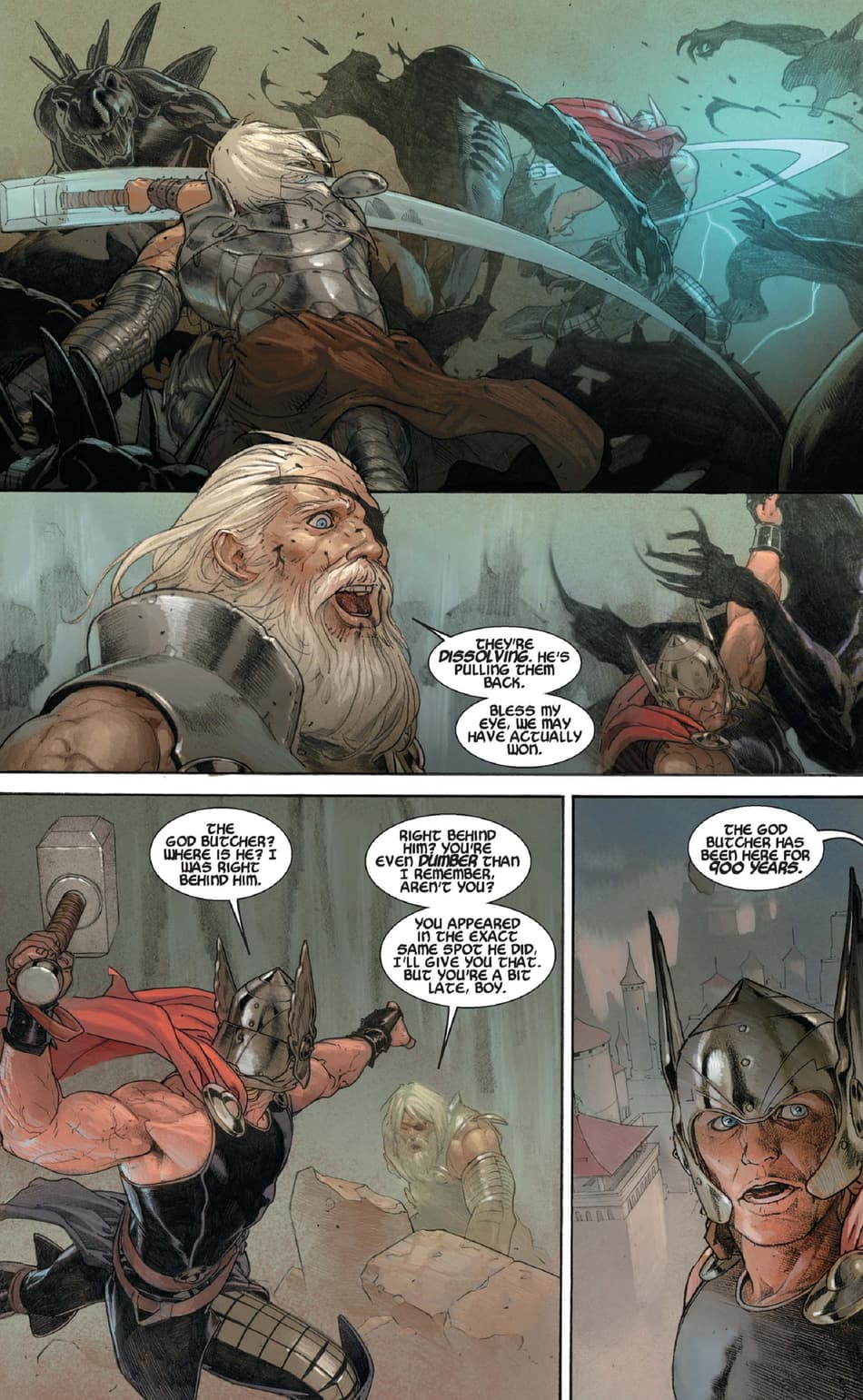 From there, the action continued in THOR: GOD OF THUNDER #6-11, which explored the origin of Gorr and his ultimate showdown with the Odinsons. It's all on Marvel Unlimited for your reading enjoyment!
Download the Marvel Unlimited app for iOS or Android devices now for more stories starring Thor, Jane Foster, Valkyrie, Gorr, and more! You'll also gain instant access to 29,000+ digital comics with new titles available as early as three months after they're in stores.
Follow Marvel Unlimited on Twitter and Facebook to stay tuned in to weekly announcements, articles, and more, all at @MarvelUnlimited. Follow us today to join the conversation with thousands of fellow fans, and let us know what you're reading!
The Hype Box
Can't-miss news and updates from across the Marvel Universe!