Comics
Published July 10, 2019
Gwen Stacy Balances Super Heroics and School in 'Ghost-Spider' #1
Seanan McGuire, Takeshi Miyazawa, and editor Devin Lewis spill what's ahead for Gwen Stacy on Earth-616 – and reveal the cover for issue #3!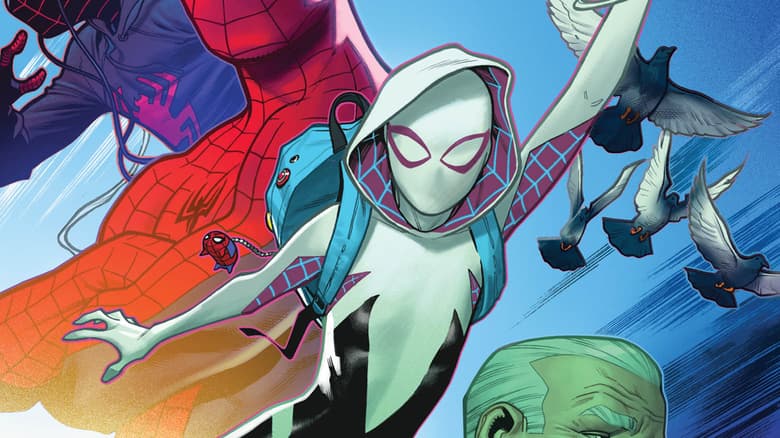 Gwen Stacy is BACK and in the Marvel Universe!? Yes – she left Earth-65 and traveled to Earth-616 for Super Hero action and school! As a new student at Empire State University, Gwen is now faced with a pretty intimidating work-life balance—is she up for the challenge? The creative team – writer Seanan McGuire, artist Takeshi Miyazawa, and editor Devin Lewis – is here to answer these questions and more, including which character they'd be in the world of GHOST-SPIDER #1, available Wednesday, August 21!
SEANAN MCGUIRE LOVES GWEN'S SNARKINESS
On the heels of SPIDER-GWEN: GHOST-SPIDER's 10-issue run, where do we find Gwen, and where are you with the web-slinging Super Hero extraordinaire?
Gwen is feeling much better after the events of Spider-Geddon—she's faced off against the Man-Wolf, and she's reassured herself that her world can get along without her for five minutes if necessary—and is ready for a new challenge! She's still feeling a little unmoored, in part because she's one of her world's only Super Heroes, which means her lack of a secret identity has been really hard on her, and she's hoping that being a normal college student will help.
What aspect of Gwen's personality are you most looking forward to showcasing in GHOST-SPIDER #1?
Her snarkiness. She's not the effortless punster that Peter Parker is, but she can quip with the best of them, and she's a sour little button when she feels the need.
Now that Gwen has traveled to Earth-616, what challenges will Gwen face? Will there be any familiar faces that swing into her life as she splits her time between two worlds?
College! We know that she's not the best at time management, and now she's dealing with a class schedule and a commute. There will be plenty of familiar faces, but you don't really want me to tell you who they are, do you?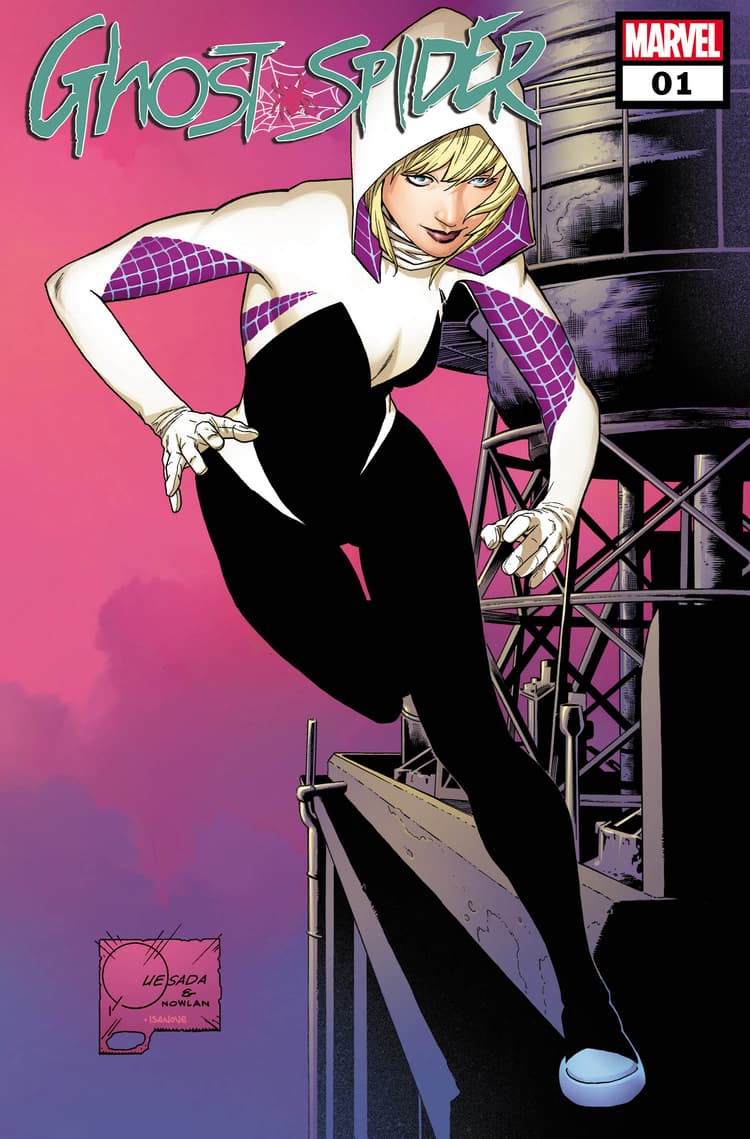 What's it like to reuniting with Takeshi Miyazawa after SPIDER-GWEN: GHOST-SPIDER? What are you looking forward to most in working with him again on this new arc?
Since there's only a month between SPIDER-GWEN: GHOST-SPIDER #10 and GHOST-SPIDER #1, we're not really "reuniting" as much as we're rolling right along. I adore Takeshi. I love seeing what he does with the ridiculous scripts we hand him.
What influenced this particular story, and how did working with Takeshi previously influence this book?
Having worked with Takeshi before meant that I wasn't afraid to stick my Spiders to whatever struck my fancy, because I know he knows how to read my scripts for my intention. I don't have to over-describe.
If you could be anyone in Gwen's world, who would you be and why?
I'd be Murderface, the band's mascot. Who doesn't want to be a pampered kitty-cat?
What do you want readers to know about this first issue?
This series is following straight out of SPIDER-GWEN: GHOST-SPIDER. You don't have to read it to understand what's going on, but I would still recommend it.
TAKESHI MIYAZAWA REFLECTS REAL-LIFE IN COMICS
Having worked with Seanan before on SPIDER-GWEN: GHOST-SPIDER, what are you most looking forward to about working with her again?
It's always exciting getting a new script from Seanan and seeing how Gwen is evolving in real time. The characterizations are always on-point, and the writing is real and grounded. Seanan also leaves a lot of room for creativity and improvising action sequences, which I really appreciate.
Which character has been your favorite to draw so far and why?
Gwen, of course! Balancing her regular life and Super-Heroing has been quite a challenge. She's a regular girl with real-life problems, so I've done my best to remind myself that she is someone who doesn't have the answers to every problem but learns and adapts as she goes. Having a form-fitting outfit raises the drawing difficulty level as well, and I've had to invest in a few extra figure drawing books this past year.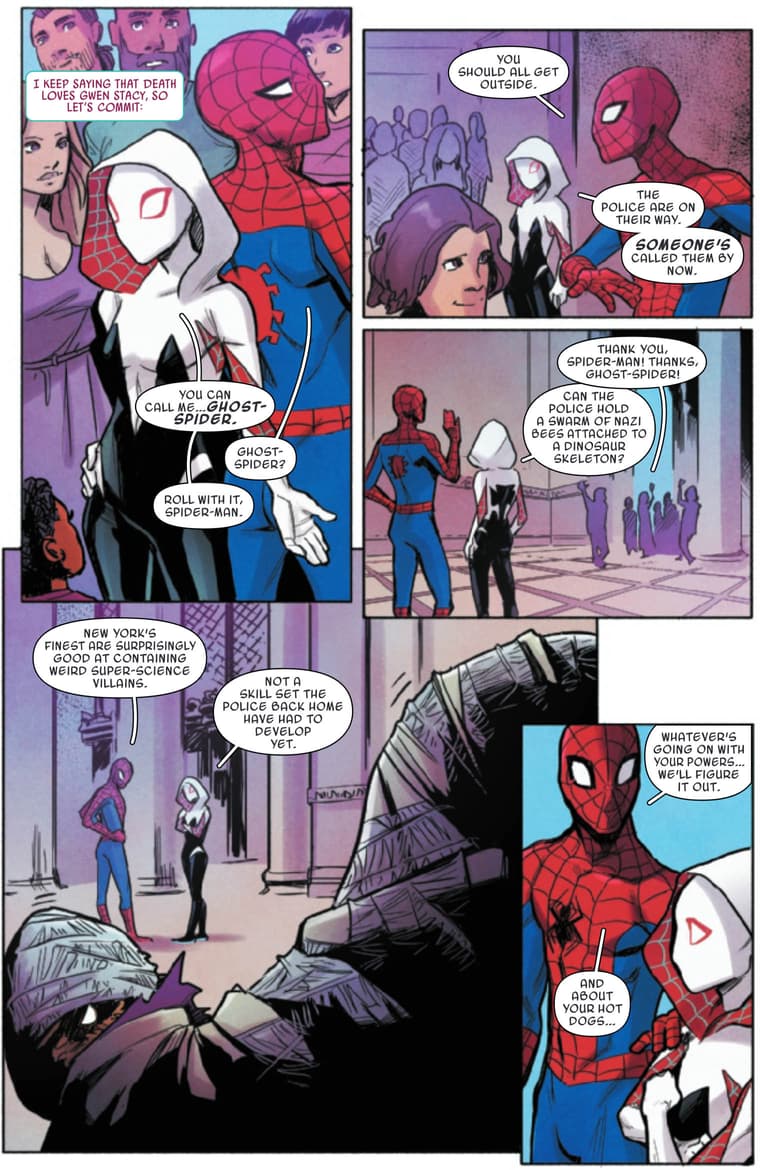 What does your artistic process look like now, having worked with characters you've previously drawn and gotten to know so well?
There have been a few characters that have popped up that I've drawn before but they've grown and changed so much that I can see them in a new light and update my look for them. It's really been a great opportunity to reflect on what I did before and try and improve on those past choices.
How does your previous work with Gwen Stacy and her world influence GHOST-SPIDER #1?
I think I've finally gotten a good grasp of the entire cast and the dynamics between them. It's always tough getting comfortable when starting a new book, not to mention understanding the alternate New York this is all taking place in. Hopefully, it will all be reflected in GHOST-SPIDER #1.
What are your influences for this story, be it music, art, another artist or even your collaborators?
Recently, I've been making efforts to compose my panels more cinematically and draw just a tad more realistically. So, the biggest influences this past year have been artist Stuart Immonen and director Alberto Mielgo. Every page Stuart Immonen draws is a mini-master class in comic drawing, and Spider-Man: Into the Spider-Verse and the short "The Witness" from Netflix's Love, Death & Robots were mind-blowing to me.
If you could be anyone in Gwen's world, who would you be and why?
Gwen's dad, because he has a very manly goatee and my own facial hair game will never reach that level.
What do you want readers to know about this first issue?
I would say expect lots of surprises and interesting interactions between some of your favorite characters. Can't wait for the fans to share Gwen's journey with the team!
EDITOR DEVIN LEWIS GIVES US A PEEK BEHIND THE CURTAIN
As GHOST-SPIDER's editor, and considering Gwen is going to travel between worlds Earth-65 and Earth-616 in this new tale, what is your process like where it concerns keeping Gwen grounded?
Keeping our heroes grounded is always one of the toughest things to do in ANY of our stories, not just the ones where the characters are traversing the multiverse! Fortunately, Seanan is so talented and brings such a real and emotional weight to Gwen's story that keeping her grounded has sort of been the easy part! Going to band practice, trying to attend school, struggling with romance… all those great problems that Gwen has faced since the work Jason Latour, Robbi Rodriguez, and Rico Renzi did at the very beginning. They're all very real and relatable things that Gwen is going through, and every Spider-Character has that kernel of power and responsibility at their core. So even though she's young and always late to band practice and losing her backpack among the chaos of her life, Gwen's heart is always in the right place.
What's your process like as an editor? Do you review or influence the covers? If so, how did Jorge Molina's cover come about?
My process is… busy! Editors are in the loop every step of the way on all our projects, giving feedback when necessary and keeping the production side of things going while the maestros behind their drawing tables and keyboards focus on the work of actually illustrating and writing the stories.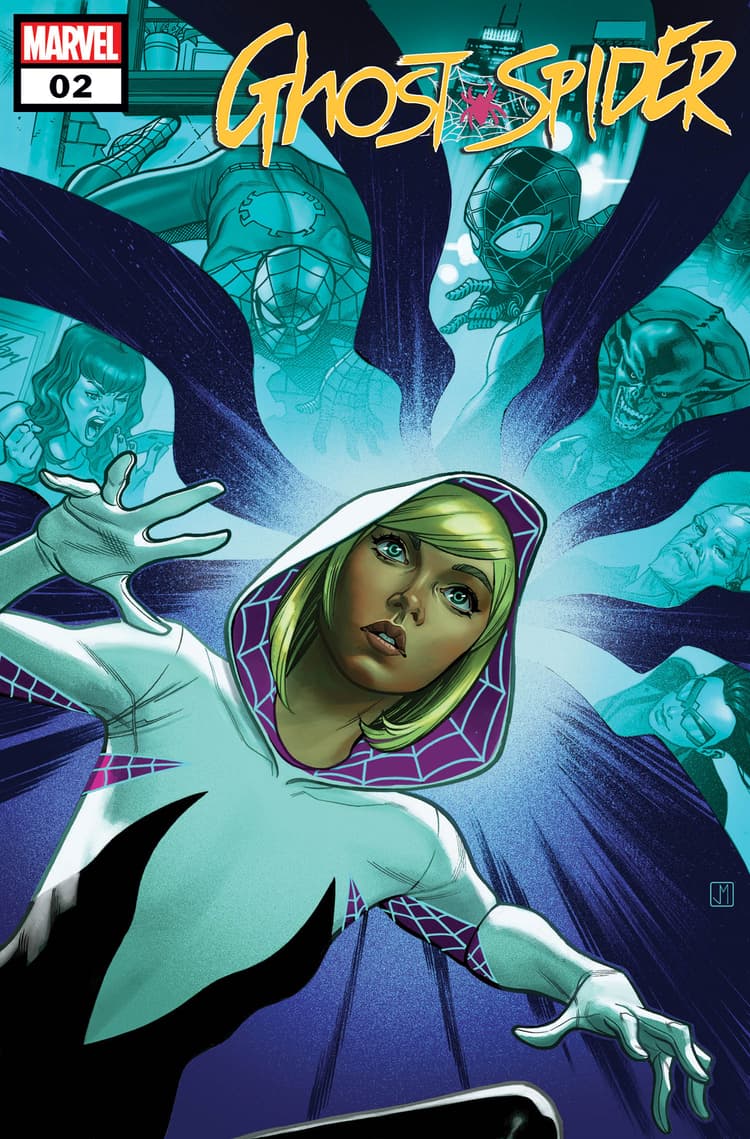 Once we knew that we wanted Gwen to really embrace the GHOST-SPIDER name, and that her book should as well, we wanted to think of a way to visualize that. Because the covers are the first thing you see when you're looking at comics, that seemed like the best place to start. Jorge's one of the best in the biz today so I reached out to him on a whim, expecting him to be too busy to take on another gig, but wouldntjaknowit, he made time for Gwen–and we're so glad he did!
What does your editing process look like with Seanan and Takeshi? How do you edit to their strengths?
Gwen is a special case, because Seanan and Takeshi, with colorist Ian Herring and letterer Clayton Cowles, make my (and Assistant Editor Danny Khazem's) life easier by being so in sync as a team.
Seanan has a celebrated body of work of Young Adult prose, so she came to this book already in tune with what a teenage Super Hero might be going through. It helps, too, that Seanan is a DIE HARD Marvel and Gwen Stacy fan! I vividly recall our first call, during which she explained just how much Gwen meant to her as a young reader, and how affected she was by Gwen's death. When you start hearing those sorts of stories, you know you're onto something special.
Takeshi, meanwhile, has been doing some incredible work on titles like MS. MARVEL, and he's got such a talent for illustrating quieter moments, which is no easy feat. So often I meet artists who are focused on the explosiveness of their action or the style in which they're drawing. Takeshi has all of that down to a science, and, maybe more importantly, he knows how to make these characters feel like real, breathing people. Every page, every panel, every MOMENT has depth, and so much of that comes from Takeshi's natural skill let loose on the scripts Seanan has been writing.
Who are some editors or creators that have informed how you edit Marvel stories?
Oh, MAN. I've been a Marvel reader since I was six, so there are too many to count! But Spidey's my favorite character in all of fiction, so at the VERY LEAST I have to mention Stan Lee and Steve Ditko!
After a chance meeting with Joe Quesada at a convention, I was fortunate enough to intern in the Spider-Office during college and my first semester was with C.B. Cebulski, Steve Wacker, and Tom Brennan. After I graduated, there was an editorial assistant position that I filled, working for Sana Amanat and Nick Lowe. They've all been stuck with me (and taught me pretty much everything I know) ever since.
And I could not miss an opportunity to the sing the praises of the late, great Flo Steinberg, as well. Flo was still a full-time proofreader when I interned, and ferrying various documents to her for review was a staple of any internship in those days. Flo had been at the House of Ideas since the beginning, and when you spoke to her it felt like you were speaking to this place's heart and soul – and she knew better than anyone that sometimes we miss our deadlines, and sometimes stories don't go the way we'd hoped, but at the end of the day they're called Funny Books for a reason. They're supposed to be fun, and the work should be too. I've got a cookie jar of hers with a big ol' smiley face on it next to my desk so I never forget that lesson.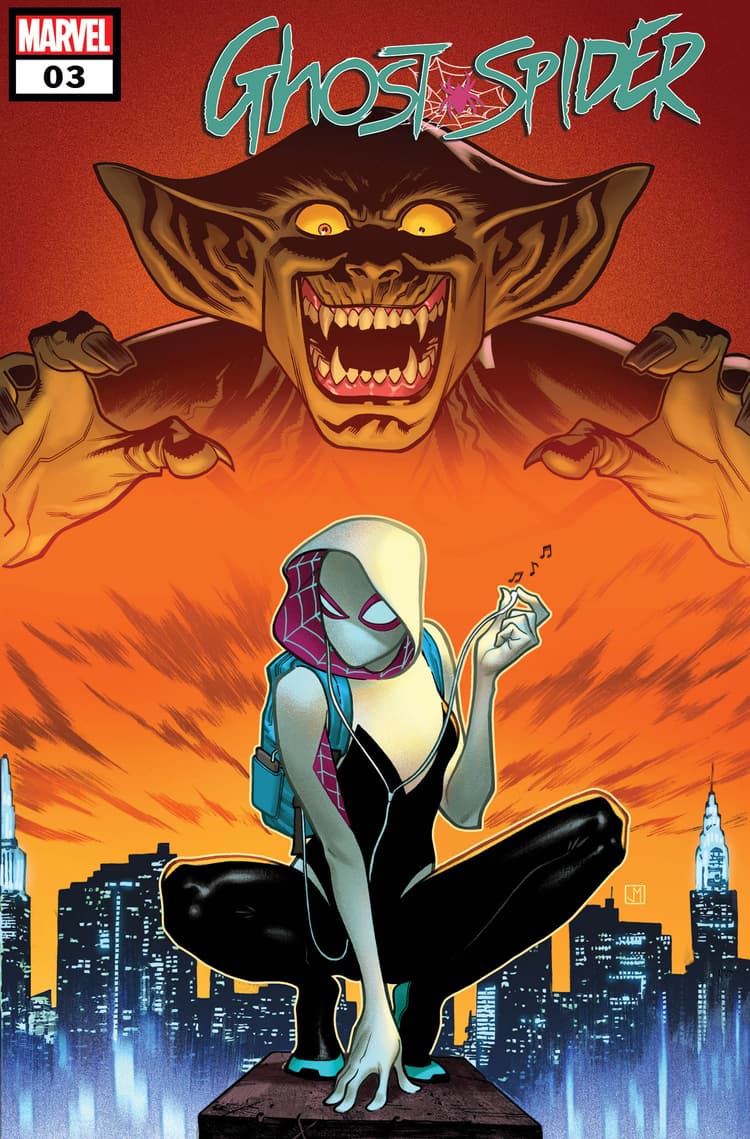 Which Marvel comics have influenced the way you edit, and how do you bring what you've learned from them into GHOST-SPIDER #1?
Fortunately, this is a MUCH easier question, and my answer is always the same: THE AMAZING SPIDER-MAN: COMING HOME, a six-issue arc written by J. Michael Straczynski and illustrated by the incomparable John Romita Jr.! One of the best Spidey stories *chef's kiss* ever told.
If you could be anyone in Gwen's world, who would you be and why?
I think I'd bring a fun energy to Deadpool-65.
What do you want readers to know about this first issue?
That Seanan, Takeshi, Ian, and the whole team are firing on all cylinders – and that spells trouble for Gwen Stacy, especially since she'll be traveling to a dimension filled with Super Villains! DON'T MISS IT!
GHOST-SPIDER #1, written by Seanan McGuire with art by Takeshi Miyazawa, goes on sale Wednesday, August 21! You can pre-order your copy online or at your local comic store!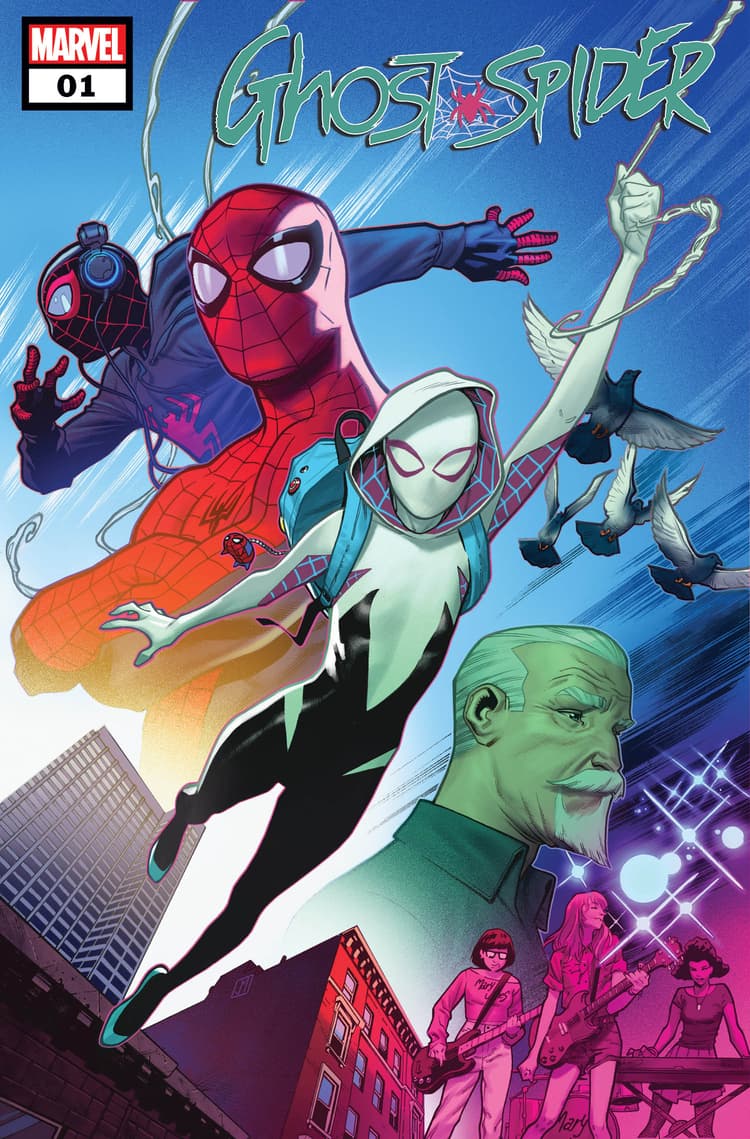 The Hype Box
Can't-miss news and updates from across the Marvel Universe!