Comics
Published October 20, 2017
Halloween Spooklight 2017, Day 13: Moon Knight
Marc Spector discovers—and contends with—his multiple personalities!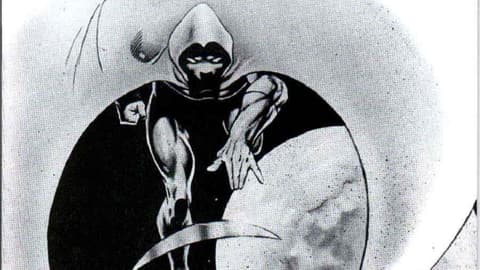 Every day this month, a new supernatural character or story from the Marvel Universe gets a spooky spotlight leading up to Halloween!
For the 13th Halloween Spooklight, who better to focus on than one of the most unlucky heroes around—Moon Knight. The man under the hood, Marc Spector, can never seem to catch a break.
He first appeared in the pages of 1975's WEREWOLF BY NIGHT #32–#33 thanks to Doug Moench and Don Perlin. In that appearance, he played something of a bad guy—trying to hunt down Jack Russell's hairy alter ego on behalf of a group called the Committee. By the end of the second issue, however, he decided to switch sides and helped save the werewolf hero.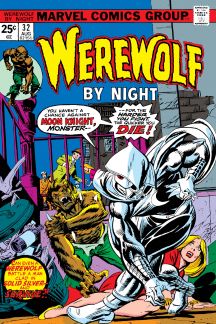 The mystery man then hopped around a few different titles, making another WEREWOLF BY NIGHT appearance in #37 before showing up in MARVEL SPOTLIGHT #28-#29. By the time he made his PETER PARKER, THE SPECTACULAR SPIDER-MAN debut in issues #22 and #23, Moon Knight's identity had been firmly nailed down…in that he had no single identity.
Marc Spector existed as a former soldier and mercenary, Steven Grant appeared as a wealthy entrepreneur, and Jake Lockley fought the mean streets. And the character(s) made their solo bow in 1980's MOON KNIGHT #1 by Doug Moench and Bill Sienkiewicz!
Years prior to the start of this story, Spector and his fellow soldier Frenchie worked as guns-for-hire in the Sudan for a boss named Bushmaster. Though after a few crazy encounters with the man, the duo decided to bail on the mission—but, in response, Bushmaster beat him and left him to die in the desert.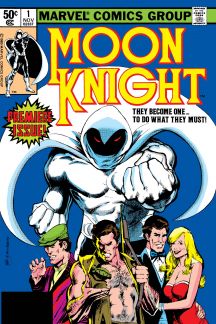 Not one to give up, Spector fought through the sand and heat, and eventually found himself at the site of a nearby archaeological dig. The daughter of a residing archaeologist murdered by Bushmaster, Marlene, appeared next to Marc in front of a statue of Khonshu, the god of vengeance.
Inspired, Spector grabbed a white cloak off the statue and made off to put an end to Bushmaster's ways. As he journeyed, his alternate identities found their forms—and Spector established a partnership with Marlene and Frenchie. Having discovered all of himself, Spector made sure Bushmaster soon met a moonlit end.
Fright Fact
Moon Knight has experienced an immense amount of psychological trauma through the years. Always inspired by—though never certain of his relationship with—Khonshu, he's persevered with the help of his partners…and his other selves.
A dark look at an already shadowy character, MOON KNIGHT by Charlie Huston and David Finch looked at a truly broken Spector slowly finding his way back to becoming a hero. Along the way, though, he struggled with the voices in his head, the bloody visage of Bushmaster, and a battle with Taskmaster.
Next week we shine the Spooklight on Gerry Conway and Mike Perkins' CARNAGE!
The Hype Box
Can't-miss news and updates from across the Marvel Universe!