Comics
Published September 27, 2021
The Avengers Return in 'Heroes Reborn' Event Finale
Read 'Heroes Return' #1 on Marvel Unlimited today, and see what other digital exclusive stories we're reading this week!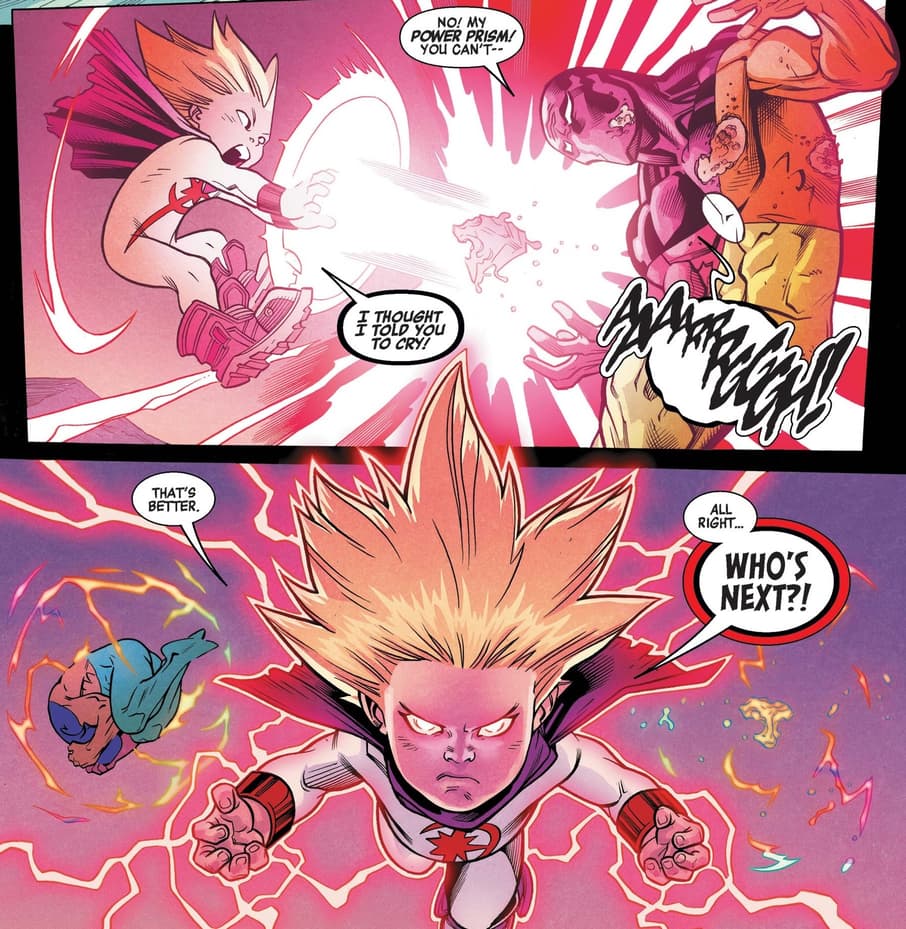 In the HEROES REBORN epic, Blade the vampire hunter seems to be the one man alive who remembers what the world was like before the planet was protected by Earth's Mightiest Heroes: the Squadron Supreme of America! Creators Jason Aaron, Ed McGuinness, Mark Morales, Matthew Wilson and more plunge readers into an alternate universe where: Tony Stark never built an Iron Man armor, Thor is a hard-drinking atheist, Captain America was never taken off the ice, and Wakanda is dismissed as a myth... Only the Daywalker knows that something is amiss—but what can he do to restore the balance? Enter: Star Brand!
Read the complete event on Marvel Unlimited now, and see what other top comic stories of the week we're getting into!
NEW ON SEPTEMBER 27
Plus, see what other Infinity Comics will be hitting the all-new Marvel Unlimited app this week, stories designed exclusively for phone and tablet as told by Marvel's top creators!
[RELATED: Introducing Marvel's Infinity Comics]
THIS WEEK'S INFINITY COMICS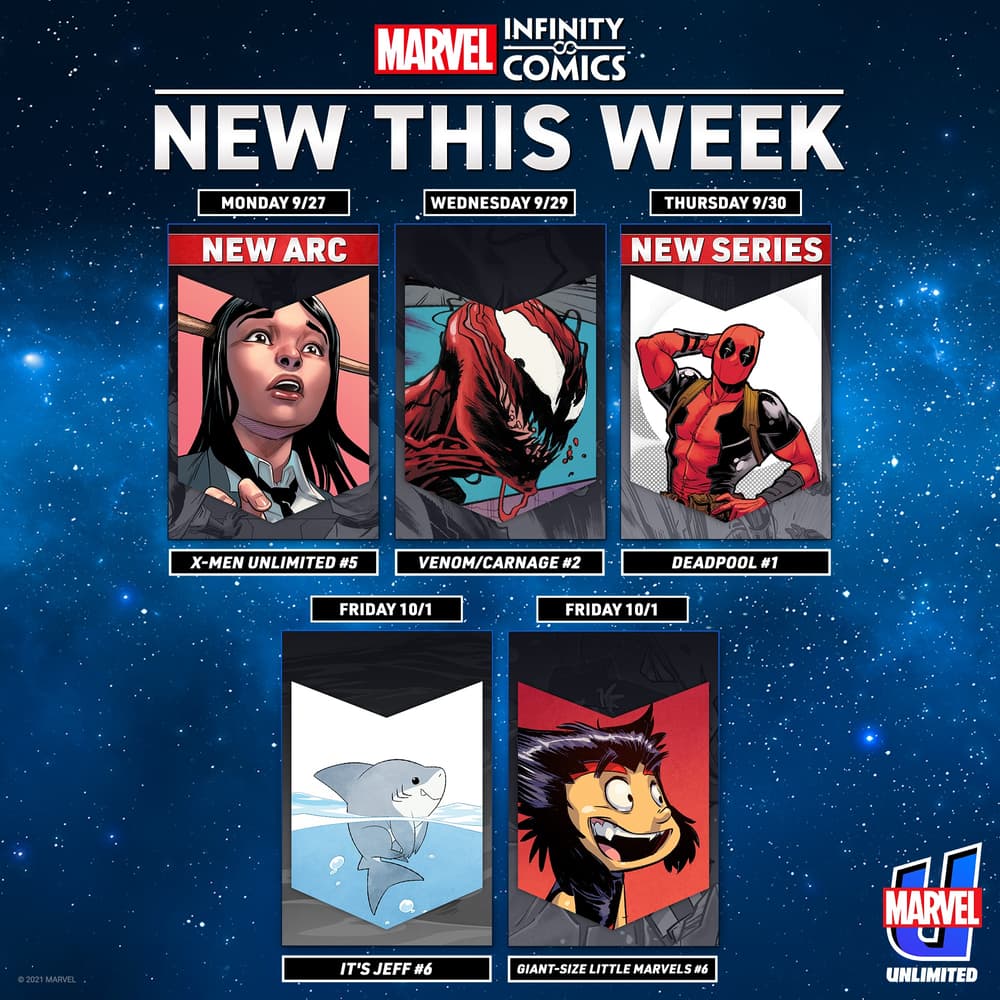 12 all-new stories featuring some of Marvel's brightest LGBTQ+ characters like Mystique, Nico Minoru, Iceman, Karma, and more! These stories of inspiration are brought to life by an assembly of writers and artists including Kieron Gillen, Olivier Coipel, Steve Orlando, Anthony Oliveira, Tini Howard, Vita Ayala, Kris Anka, Javier Garrón, and many more!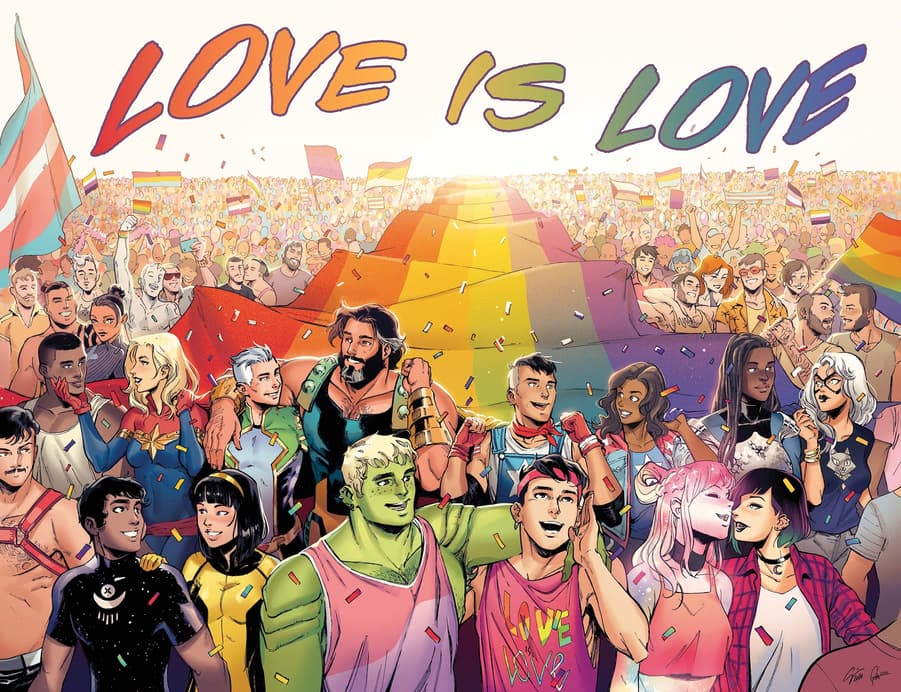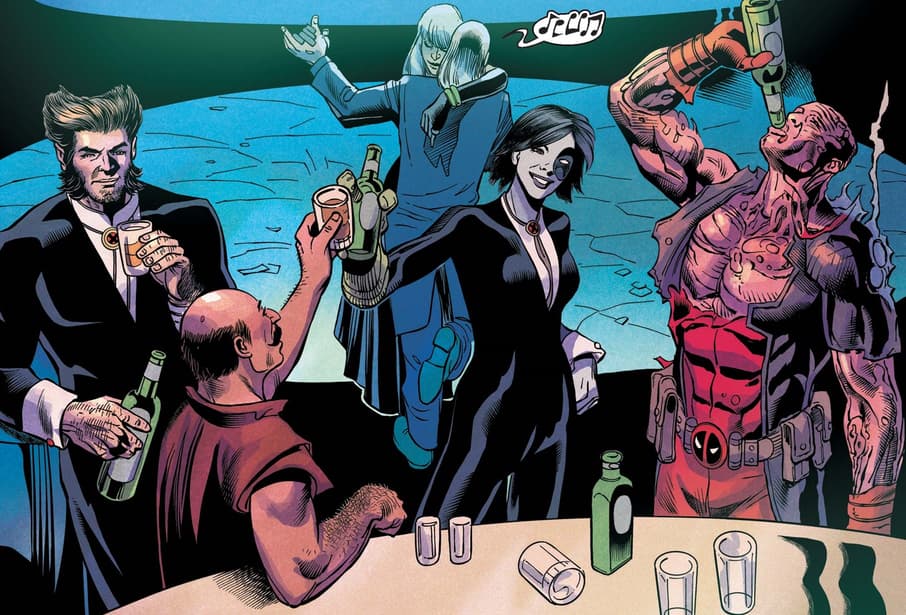 Spinning out of IMMORTAL HULK, Bruce Banner's gamma-powered allies go on the run! Gamma Flight had one job: Find and stop the Hulk. But when push came to smash, they sided with the Green Goliath—and the human world intends to make them regret it. Puck, Absorbing Man, Titania, Doc Sasquatch, Dr. Charlene McGowan, and a horribly changed Rick Jones are fugitives from every known authority—but a team that full of gamma is bound to break before long. Al Ewing, Crystal Frasier, and Lan Medina mastermind a whole new world of gamma in this exciting series debut!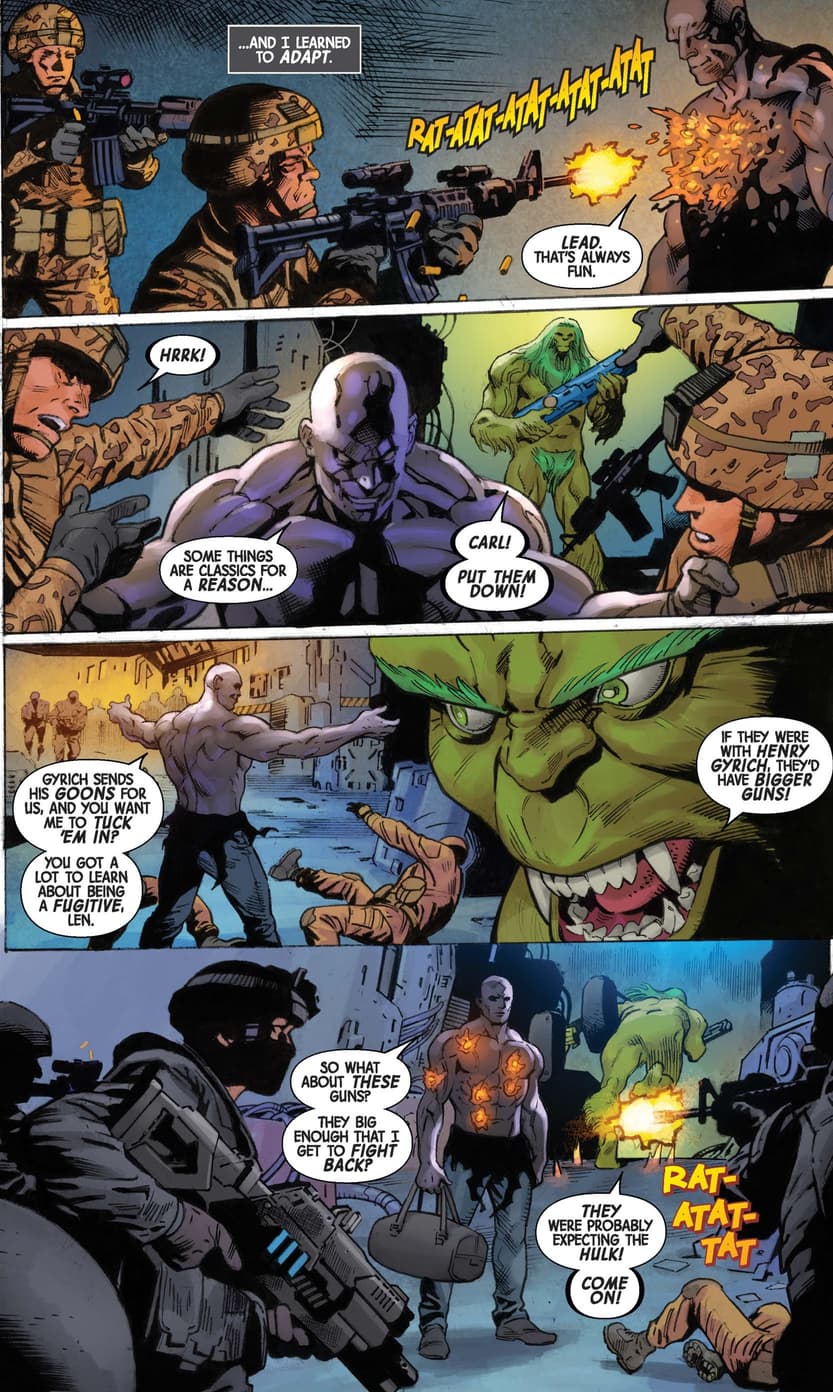 Creators Gerry Duggan and Emilio Laiso kick off a new arc in this X-Men anthology series straight from the island of Krakoa! Nature Girl witnesses an injustice and the human world will pay. Don't miss the first part of 8-part storyline "X-Men: Green."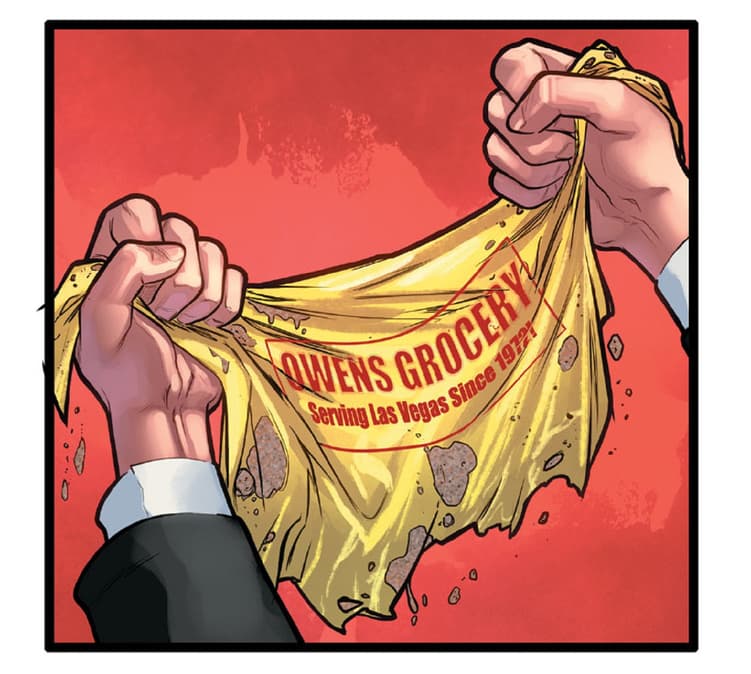 An expedition toward the truth, or an extinction event? Reptil's clash with the mysterious Megalith has left Reptil's head ringing and mind reeling as he struggles under the weight of a startling revelation about his family! Now, as the threat of Megalith looms in the background, Reptil must race to uncover the secrets of his amulet—but without full control of his powers, will Reptil be able to protect his cousins as the trio make the dangerous trek into Dinosaur World? Can he even protect himself?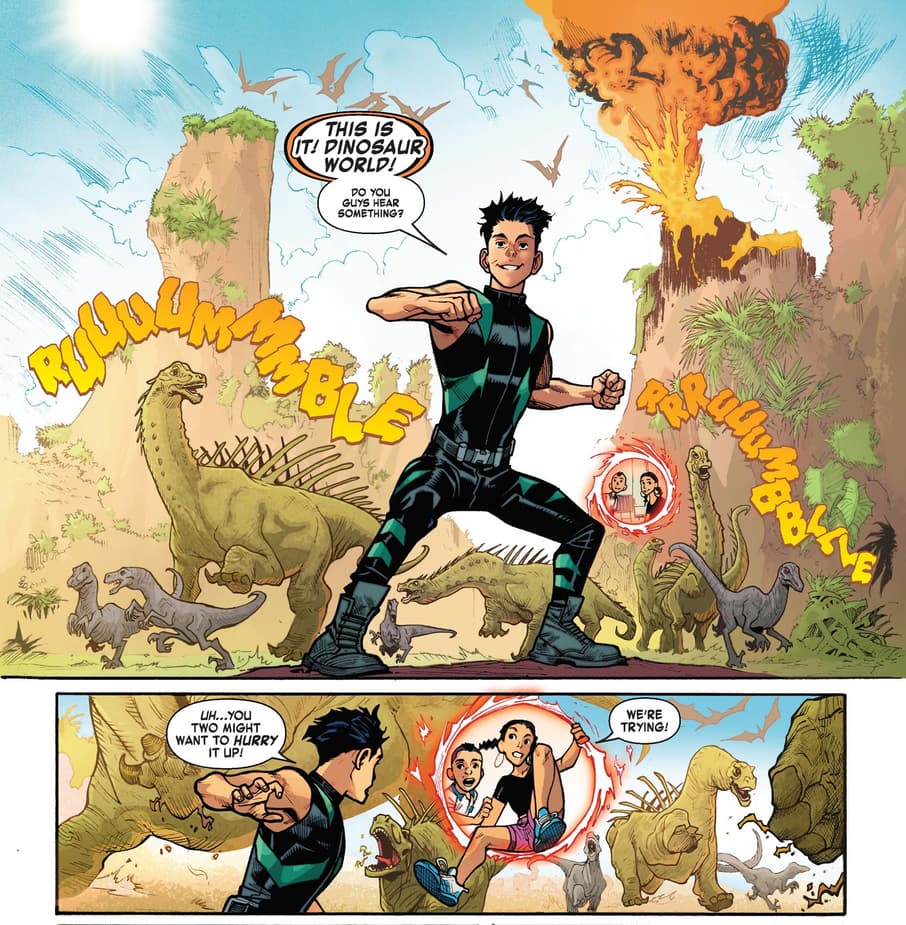 More surprises lie in store in the all-new, all-different Marvel Unlimited! Download the app for iOS or Android devices today to gain this award-winning experience for yourself.
Follow Marvel Unlimited on Twitter and Facebook to stay tuned in to weekly announcements, articles, and more, all at @MarvelUnlimited. Follow us today to join the conversation with thousands of fellow fans, and let us know what you're reading!
The Hype Box
Can't-miss news and updates from across the Marvel Universe!