Comics
Published August 26, 2022
Your Complete Guide to This Year's 'Marvel's Voices: Comunidades' #1
Check out all the covers and learn more about the stories in 'Marvel's Voices: Comunidades' #1, on sale September 28.
On September 28, MARVEL'S VOICES: COMUNIDADES returns with a new collection of uplifting and action-packed tales highlighting Latin and Latinx creators and characters!
To celebrate Hispanic Latinx Heritage Month, the giant-sized one-shot is the latest installment in the groundbreaking Marvel's Voices series, continuing the tradition of highlighting the cultural richness of the Marvel Universe, celebrating established comic talent, and uplifting new voices in the comic book industry! Packed with five thrilling adventures, MARVEL'S VOICES: COMUNIDADES #1 will embrace various cultural heritages and explore how they impact the journeys of some of your favorite super heroes! 
Here are the stories that await in this year's issue: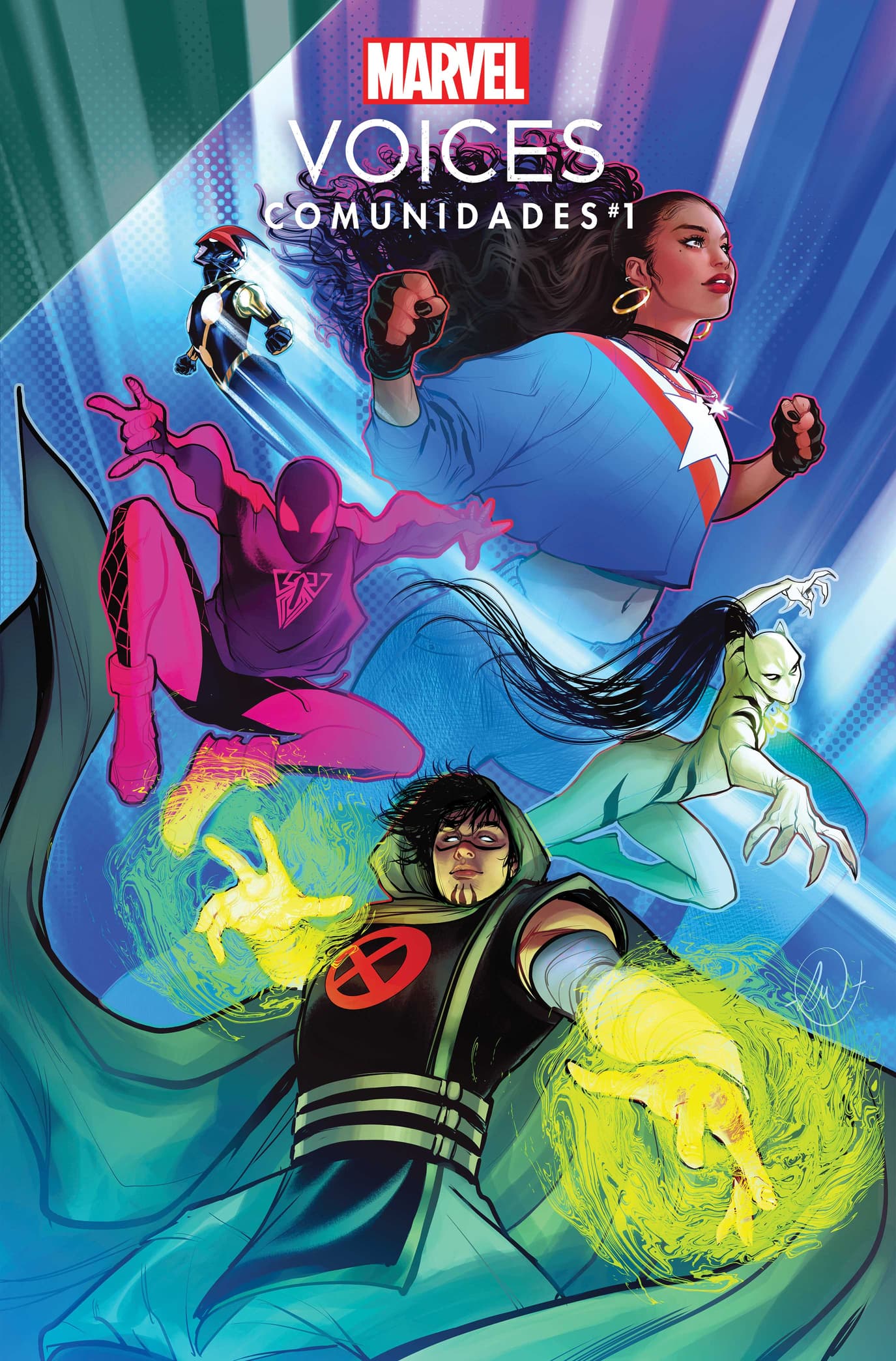 "A Small Mercy" starring Nova

Written by Fabian Nicieza
Art by Paco Medina 
Inks by Walden Wong
Colors by Ceci de la Cruz
Legendary creator Fabian Nicieza and superstar artist Paco Medina take to the stars in an action-packed Nova adventure!
"The Marvel's Voices anthologies are great opportunities to reach new audiences, and it was a pleasure to participate in Comunidades," Nicieza said. "I've loved reading the Sam Alexander version of Nova and working with the always-excellent Paco Medina on the character was great fun!"
Medina also shared his emotional connection to Nova. "I am extremely proud to be part of this book. Giving voice to a character of Mexican origin just like me in the Marvel Universe is a unique privilege. I'd like to share how I met Sam Alexander: In April 2013 I received the script for NOVA #6 at the same time I received the bad news that my mother was in the hospital with a stroke."
He continued his story, saying, "without thinking about it, I decided to hang on for life and I took along my pencils and artboards so I can work on the book in the hallways of the hospital while I was taking care of my mother in the morning. I remember drawing a large phoenix for a double page spread and it was this vision that would fill me with great strength when I lost my mother that spring. It is for this reason that Nova, Sam Alexander is such an endearing character to me, I can only see him as a great friend who accompanied me through the bad times and every time I see him again I just want to give him a big hug and invite him home for lunch. Being Mexican as well as being Latino, beyond skin color or language, is to feel proud of your family and to always fight for the ones you love with all your heart. I'm thankful to be part of this."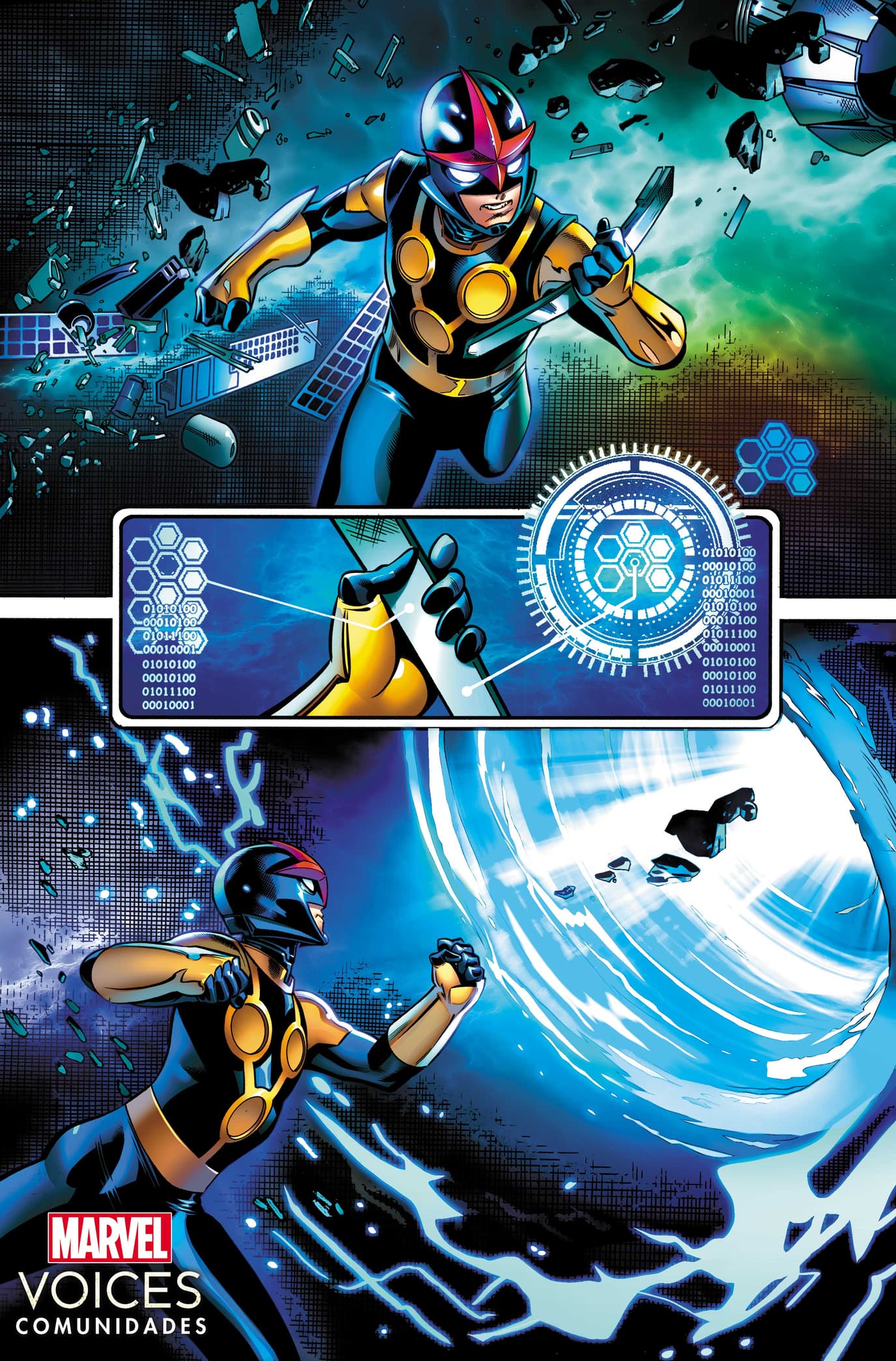 "Music to My Ears" starring Spider-Man (Miles Morales)

Written and Colors by Edgar Delgado 
Art by Luis Morocho
Miles Morales faces the music in an incredible showdown by acclaimed writer Edgar Delgado and artist Luis Morocho in his Marvel Comics debut!
"Miles Morales is such a big part of the Spider-Man universe now that having the opportunity to write a story with him is something that you can't miss," Delgado shared. "His Puerto Rican background makes him perfect to explore something that, I believe, our community values so much, which is music. In this case, Salsa!"
Morocho expressed, "Miles Morales is very special to me. A Latino Spider-Man who listens to Salsa? I'm in! I've been a huge Spidey fan since I was a child and my mother bought me Spider-Man comic-books back in Perú. Now, I have fulfilled my dream of drawing him with this fascinating version so related to me and the place where I come from. What can I say? I'm thrilled!!!"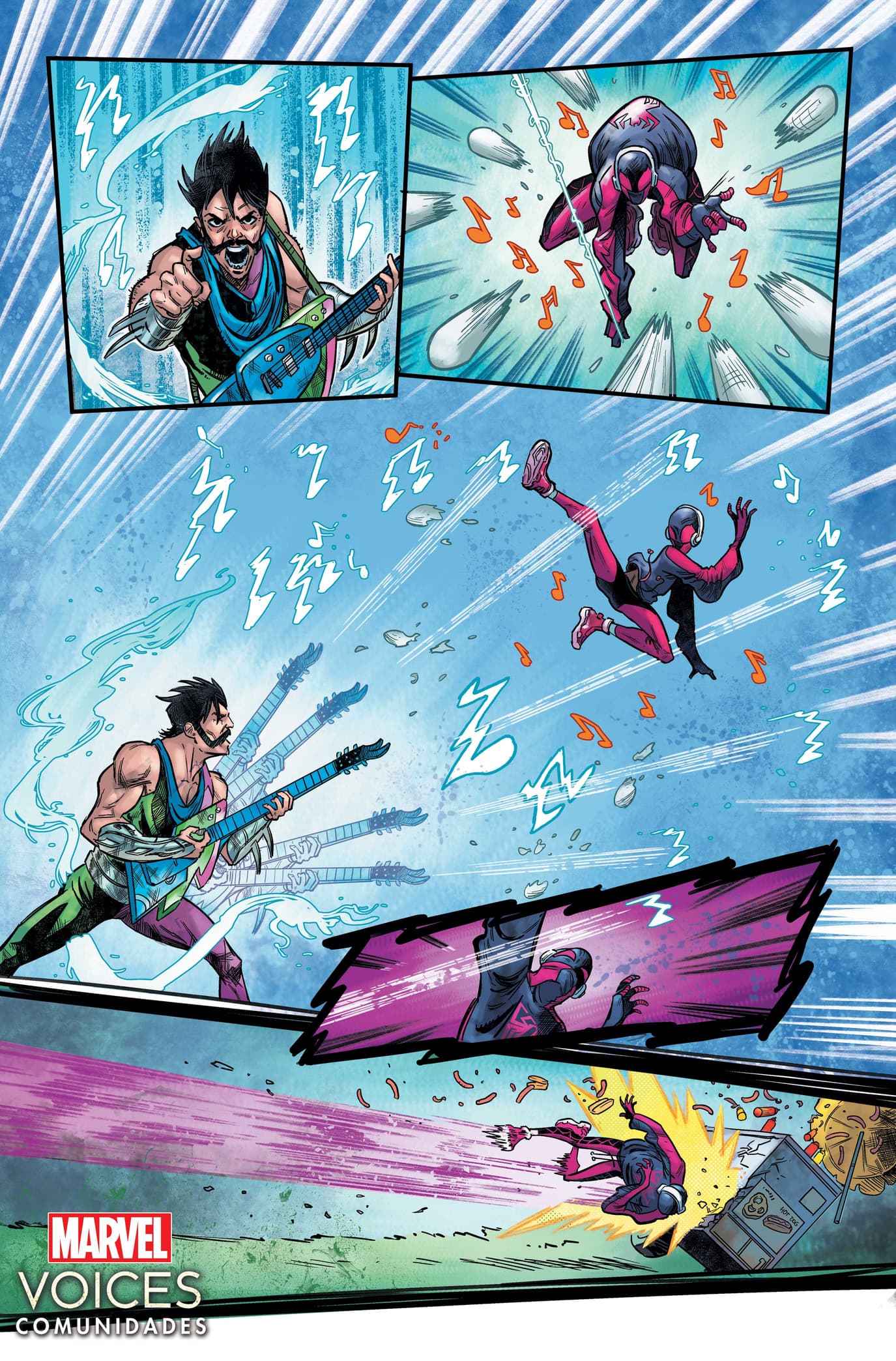 "Secret Savior" starring White Tiger (Ava Ayala)

Written by Alex Segura 
Art by Rogê Antônio
Colors by Israel Silva
Award-winning author Alex Segura and extraordinary artist Rogê Antônio blaze a new trail for White Tiger – and introduce a brand new character to the Marvel Mythos—CHIMERA! Find out if she's friend or foe in this exciting first appearance. In the meantime, check out Paco Medina's design for the character in a special variant cover!
"It's a huge honor to contribute to this edition of MARVEL'S VOICES COMUNIDADES - and doubly so to tell a story featuring Ava Ayala, the White Tiger," Segura said. "Artist Rogê Antonio really does a magnificent job of bringing a noir sensibility to our story, which pushes White Tiger to the limit - and introduces a new player to the Marvel universe. Are they friend or foe? We'll find out pretty soon, I think."
"As a Latin artist, it was an honor to have the opportunity to play with White Tiger and introduce a new character to Marvel Universe, alongside super talented people such as Alex Segura and Israel Silva," Antônio exclaimed. "I have to say: One of my favorite things to draw are action scenes, and Alex wrote a great one! I think White Tiger fans will enjoy it!"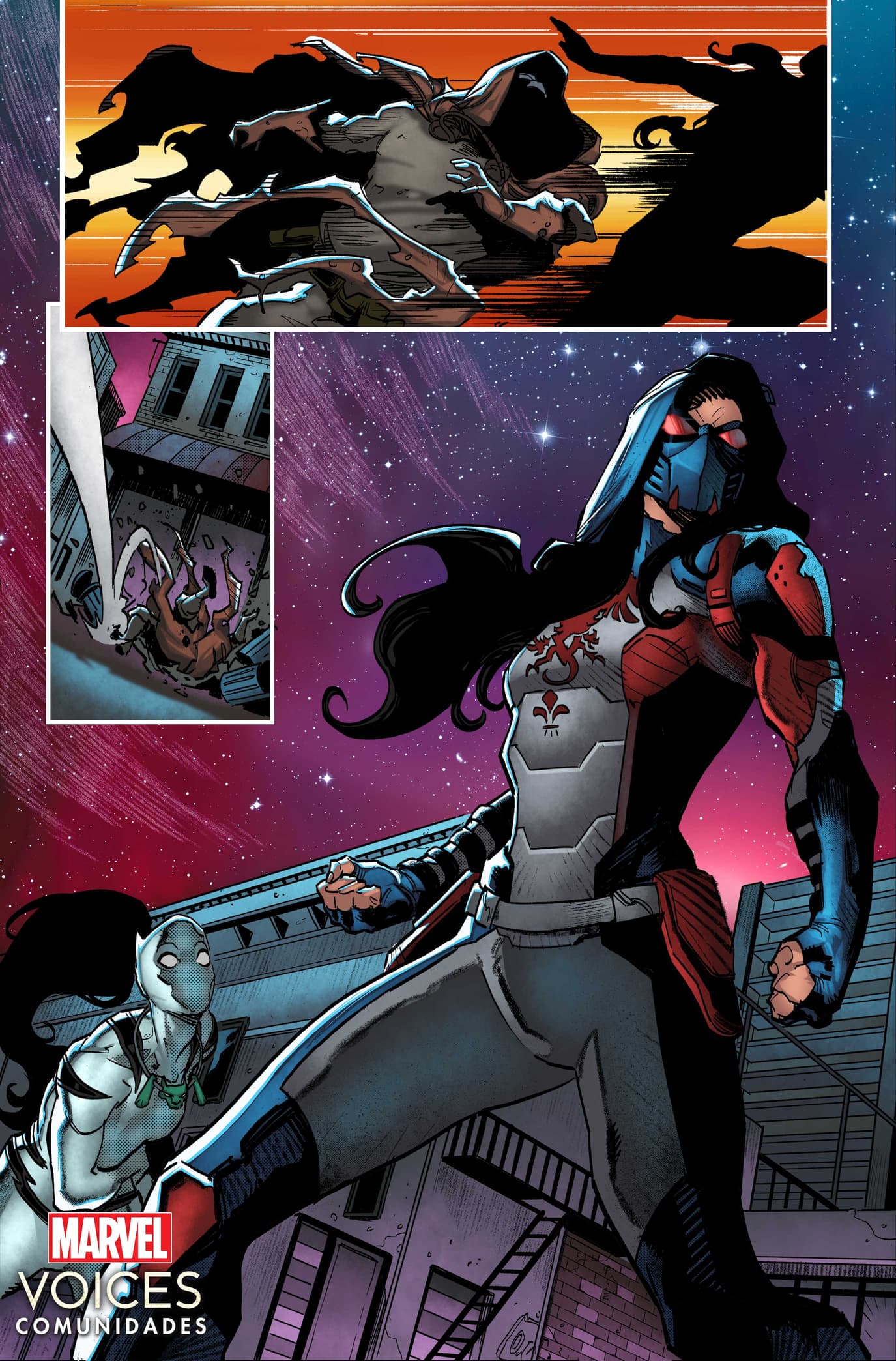 "Shark-Girl's Day Off" starring Shark-Girl

Written by Zoraida Córdova 
Art by Yasmín Flores Montañez
Colors by Frank Williams
Novelist Zoraida Córdova and artist Yasmín Flores Montañez dive deep into the heart of Shark-Girl as she finds herself facing off with Namor!
"I chose to focus my story on Shark-Girl because she embodies the idea of a dual experience," Córdova revealed. "Her mutation allows her to belong to the sea and the land, and she doesn't have to choose. I wanted to celebrate that and set it in one of my favorite places—Coney Island."
"The most fun part about getting to tackle Shark-Girl is portraying her spunky, upbeat personality and illustrating the fun, contrasting dynamic between her and Namor's badass attitude," Montañez added. "As a big fan of the X-Men, it feels like a dream come true to be drawing her, especially in an anthology that celebrates my community. It's my first time illustrating a story with Marvel Comics, and it makes me feel more excited, honored, and happy that it gets to be an anthology that celebrates Hispanic heritage."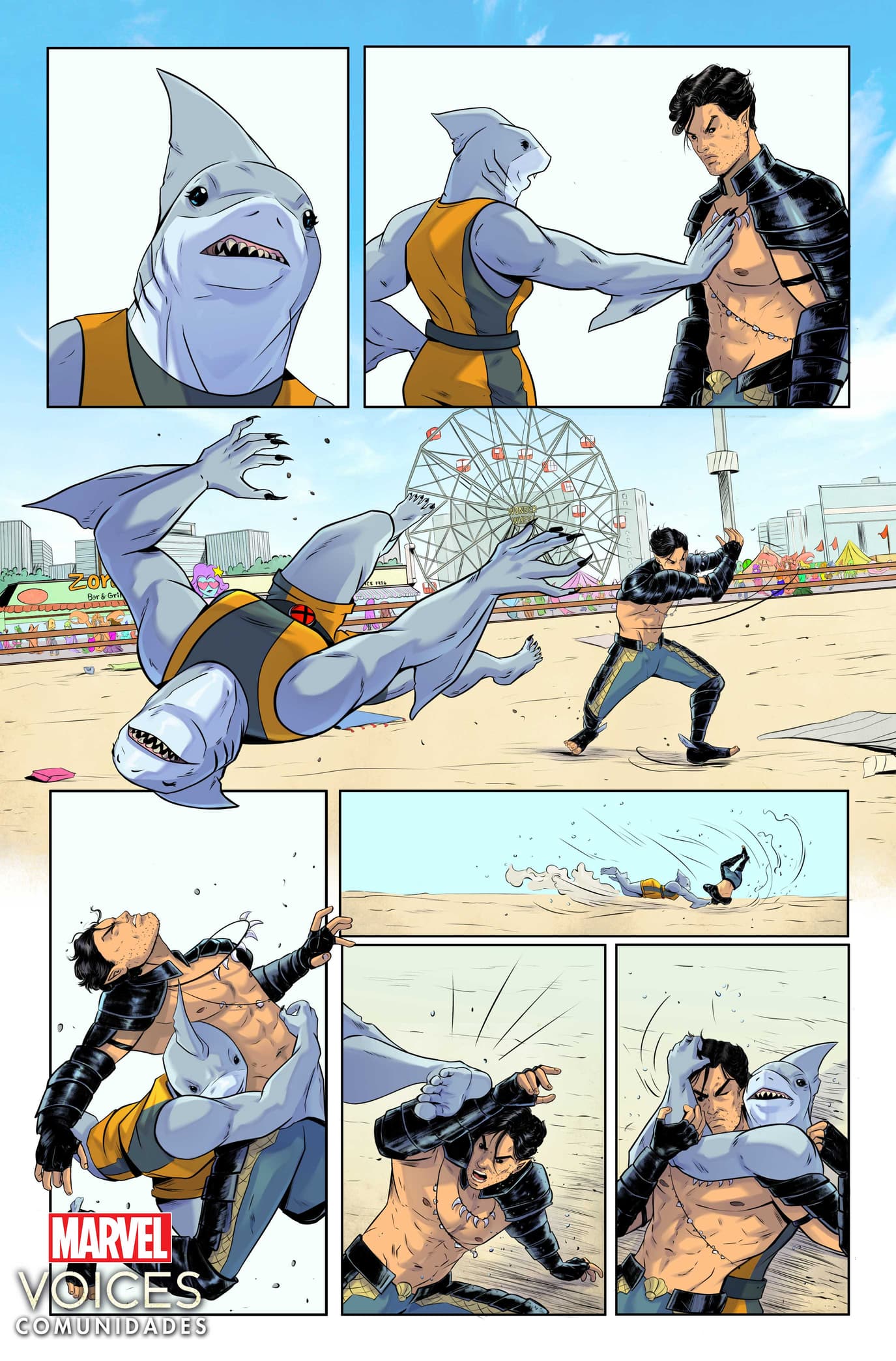 "More With Less" Starring America Chavez

Written by Carlos Hernandez
Art by Marcelo Costa
Colors by Manuel Puppo
Author Carlos Hernandez brings his incredible sci-fi/fantasy storytelling to Marvel Comics for the first time alongside rising star Marcelo Costa. The pair will bring America Chavez home to defend her community against a strange threat! 
"I feel so honored to have a story in Communidades," Hernandez excitedly said. "I had a bunch of goals I set myself in writing this one: show how America Chavez's life is all about her Latina identity, yet so much more than a checkbox on a form; explore how immigrant parents sometimes hurt their kids, even when they're trying their hardest to protect them; and, most importantly, teach everyone a new Spanish insult to use against the forces of evil. Hope you like the story, comemocos! ;)"
"Drawing America Chavez was such a great opportunity after her appearance in the Doctor Strange movie," Costa stated. "America Chavez represents a Latin strength in Marvel and that's why I love this character so much. What I liked the most in this issue was the creative freedom and the vibrant script of Carlos Hernandez."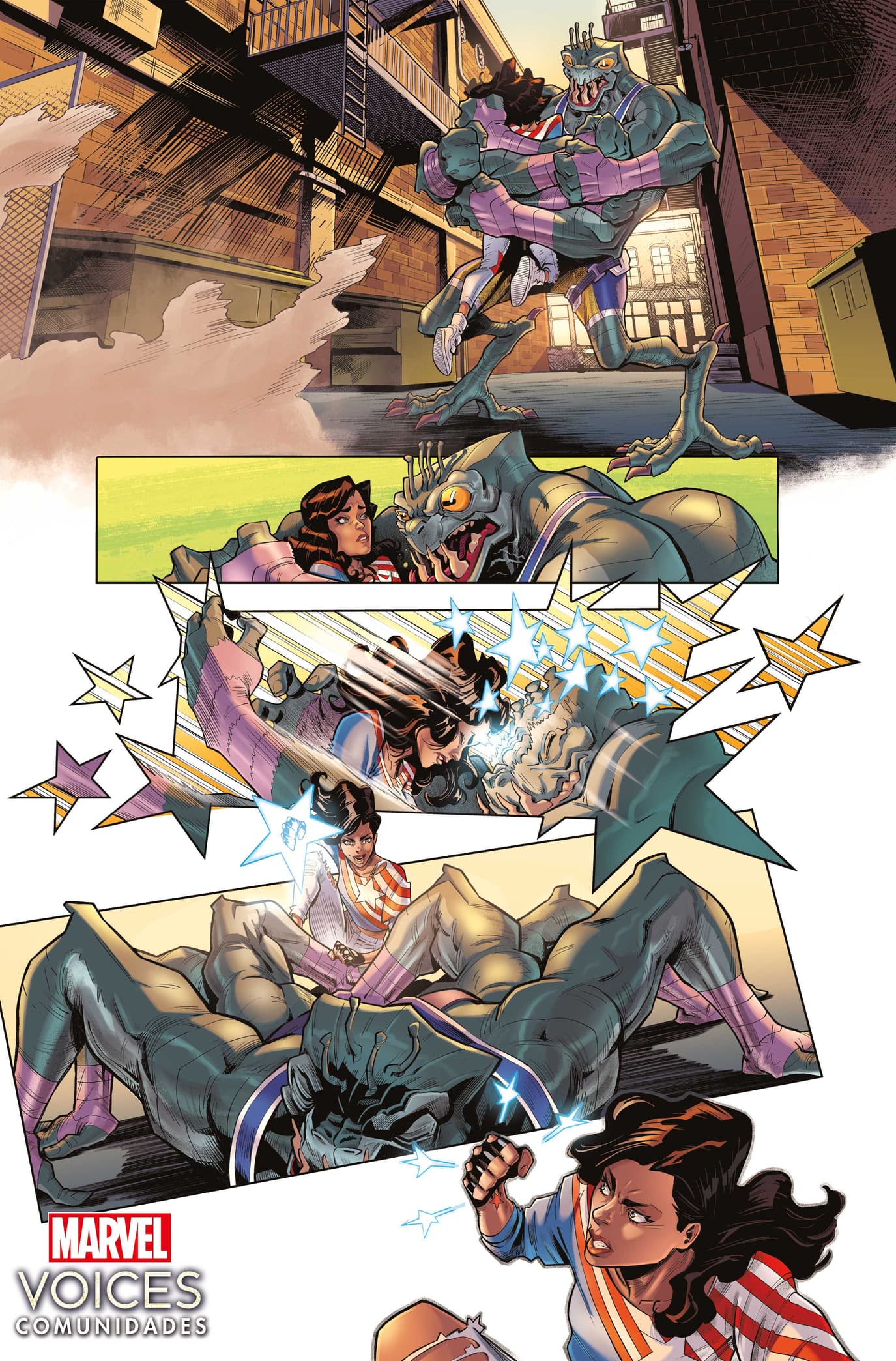 MARVEL'S VOICES: COMUNIDADES #1
Written by FABIAN NICIEZA, EDGAR DELGADO, ALEX SEGURA, ZORAIDA CÓRDOVA, & CARLOS HERNANDEZ
Art by PACO MEDINA, LUIS MOROCHO, ROGÊ ANTÔNIO, YASMÍN FLORES MONTAÑEZ, MARCELO COSTA & DIO NEVES
Introduction by HECTOR NAVARRO
Cover by LUCAS WERNECK
Variant Cover by PHIL JIMENEZ & ALEJANDRO SÁNCHEZ
Design Variant Cover by PACO MEDINA
Variant Cover by CHIKO SHIKO
On Sale 9/28
Check out all four stunning covers and interior artwork from each story now and pick up MARVEL'S VOICES: COMUNIDADES #1 on September 28! 
You can grab these comics and more digitally or at your favorite local comic book shop. Be sure to ask your local shop about their current business policies to observe social distancing or other services they may offer, including holding or creating pull lists, curbside pick-ups, special deliveries, and other options to accommodate. Find and support your local comic book shop at ComicShopLocator.com or by visiting Marvel.com/LoveComicShops.
For digital comics, all purchases in the Marvel Comics app can be read on iPhone®, iPad® and select Android™ devices! Our smart-paneling feature provides an intuitive reader experience, ideal for all types of mobile device and tablet users! Download the app on iOS and Android now!
The Hype Box
Can't-miss news and updates from across the Marvel Universe!