Comics
Published September 4, 2020
How 1975's 'Giant-Size X-Men' Saved Marvel's Merry Mutants
A look back at how truly historic the Len Wein-Dave Cockrum collaboration was.
Forty-five years ago, Len Wein and Dave Cockrum saved the X-Men. The two legendary creators came together to produce GIANT-SIZE X-MEN #1, a comic that not only introduced a whole new team of characters, but also yanked Marvel's mutants out of obscurity and placed them in their rightful place in the spotlight, where they've remained ever since.
On Wednesday, September 30, you can celebrate this occasion with GIANT-SIZE X-MEN: TRIBUTE TO WEIN & COCKRUM. This issue finds over three dozen artists doing one page each of the original story based on Wein's script.
While modern creators like Alex Ross, Chris Samnee, Jen Bartel, and many more put their spin on the merry mutants, it's important to look back at just how important Wein and Cockrum's efforts were back in 1975 when the issue first hit stands.
Five years before GIANT-SIZE X-MEN #1 came out, sales on X-MEN — which had not yet officially taken on the UNCANNY title — had reached such a low point that the powers-that-be turned it into a reprint series. And that's with a run by the legendary Neal Adams spanning issues #56-63 and #65.
While it might astonish some to hear that X-MEN remained a reprint mag for half a decade, it is important to remember that at this time, this was a far easier way to dig into a book's history than trying to find all the back issues.
It's close to mind-boggling for anyone who came to comics after the mid-1970s to contemplate the idea of going into a comic shop and only seeing one X-title and it being filled with reprints. Right now, there are over a dozen X-books as part of the Jonathan Hickman-led DAWN OF X initiative. And yet, X-MEN #67-93 exist solely as reprints of earlier stories.
Now imagine going to the shop or wherever you got your comics and spotting that iconic Gil Kane cover with all these young, mostly unknown upstarts literally bursting through an image of the terrified original X-Men squad. Sure, maybe you saw Wolverine in INCREDIBLE HULK #181, but the rest of this team looked brand-new!
Upon opening the book, you see a pair of potentially familiar faces in Banshee and Sunfire (who debuted in X-MEN #64, just before the cessation of new stories) and an intriguing message that reads, "From the ashes of the past there grow the fires of the future!" Truer words may have never been published in an X-Men comic!
From there, we see Professor X recruiting Nightcrawler, Wolverine, Banshee, Storm, Sunfire, Colossus, and Warpath. The team then meets Scott Summers AKA Cyclops, who went on a mission with the original X-Men — minus Beast, but plus Havok and Polaris — to a place called Krakoa. As the sole escapee, Scott needed the help of this new group to save his teammates. As they split up, we got to see even more of what these newcomers could do separately. However, when they came back together, they proved powerful enough to best the sentient island that had captured them.
In addition to presenting readers with the first new X-story in five years, GIANT-SIZE X-MEN made another important move: it injected the team with a small army of new, fascinating characters from all over the world to explore. We all love Marvel's merry mutants for their heroic exploits in the face of bigotry, but we also can't get enough of those interpersonal relationships that unravel in the most deliciously soap operatic flourishes. Those elements had been there with the X-Men before — the first issue by Stan Lee and Jack Kirby features the boys falling all over themselves to flirt with Jean Grey — but this new injection of characters opened up so many more avenues to explore!
Of course, a one-shot is not enough to launch a franchise with hundreds of titles, not to mention cartoons, films, video games, action figures, and beyond. That came in part thanks to the return of new stories in X-MEN starting with issue #94!
The new monthly effort brought another incredible talent on board, a fella by the name of Chris Claremont. He would write the first two issues based on Wein's plots, but then Claremont began to fly solo with Wein still on for a while as editor. Cockrum stuck around until issue #107, after which Claremont was joined by John Byrne, resulting in one of the most memorable creator pairings of all time, not to mention the kinds of stories that are still being read and referenced to this day.
With everything that came after it, some might overlook the importance of a single issue like GIANT-SIZE X-MEN #1, but upon closer examination, it clearly becomes one of the most important moments in all of X-history!
You can pick up GIANT SIZE X-MEN: TRIBUTE TO WEIN & COCKRUM #1, written and drawn by an all-star team of comic creators, at your favorite local comic book shop or digitally on Wednesday, September 30! Be sure to ask your local comic book shop about their current business policies to observe social distancing or other services they may offer, including holding or creating pull lists, curbside pick-ups, special deliveries and other options to accommodate. Find and support your local comic book shop at http://comicshoplocator.com or by visiting http://marvel.com/lovecomicshops.
For digital comics, all purchases in the Marvel Comics app can be read on iPhone®, iPad® and select Android™ devices! Our smart-paneling feature provides an intuitive reader experience, ideal for all types of mobile device and tablet users!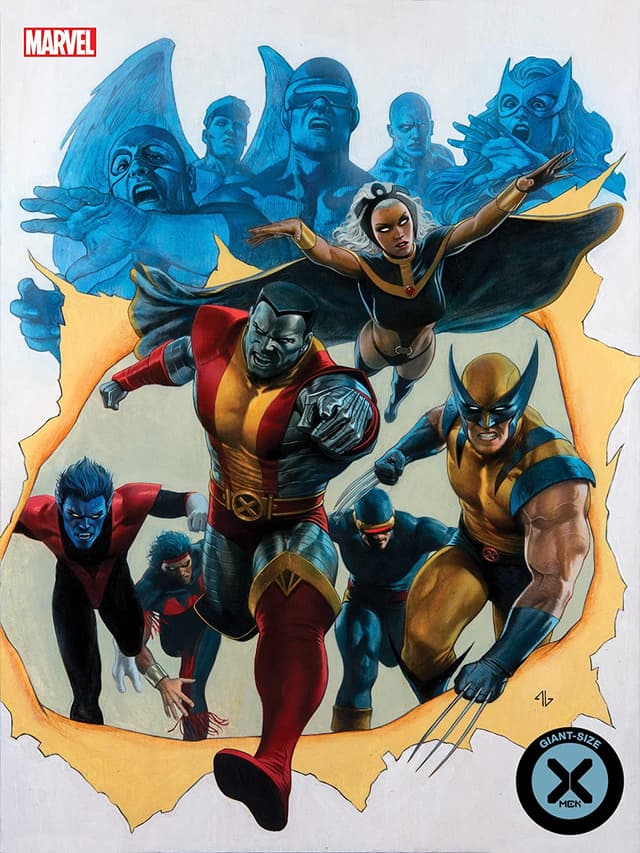 The Hype Box
Can't-miss news and updates from across the Marvel Universe!