Comics
Published October 9, 2020
How 'Black Widow' #2 Raises the Personal Stakes for Natasha Romanoff
Black Widow's new life may mean big changes – and deeper dangers ahead!
Warning! This article contains spoilers for BLACK WIDOW #2, so read on at your own risk, True Believers!
Writer Kelly Thompson and artist Elena Casagrande dropped a major bombshell in BLACK WIDOW #2. For the first time in years, Natasha Romanoff seems to be truly happy, thanks to the new addition to her life. But this new life is predicated upon a lie, because "Natalie" doesn't even know she is the Black Widow. All of these wonderful changes were forced upon Natasha, and it's a gilded cage that she can't even see.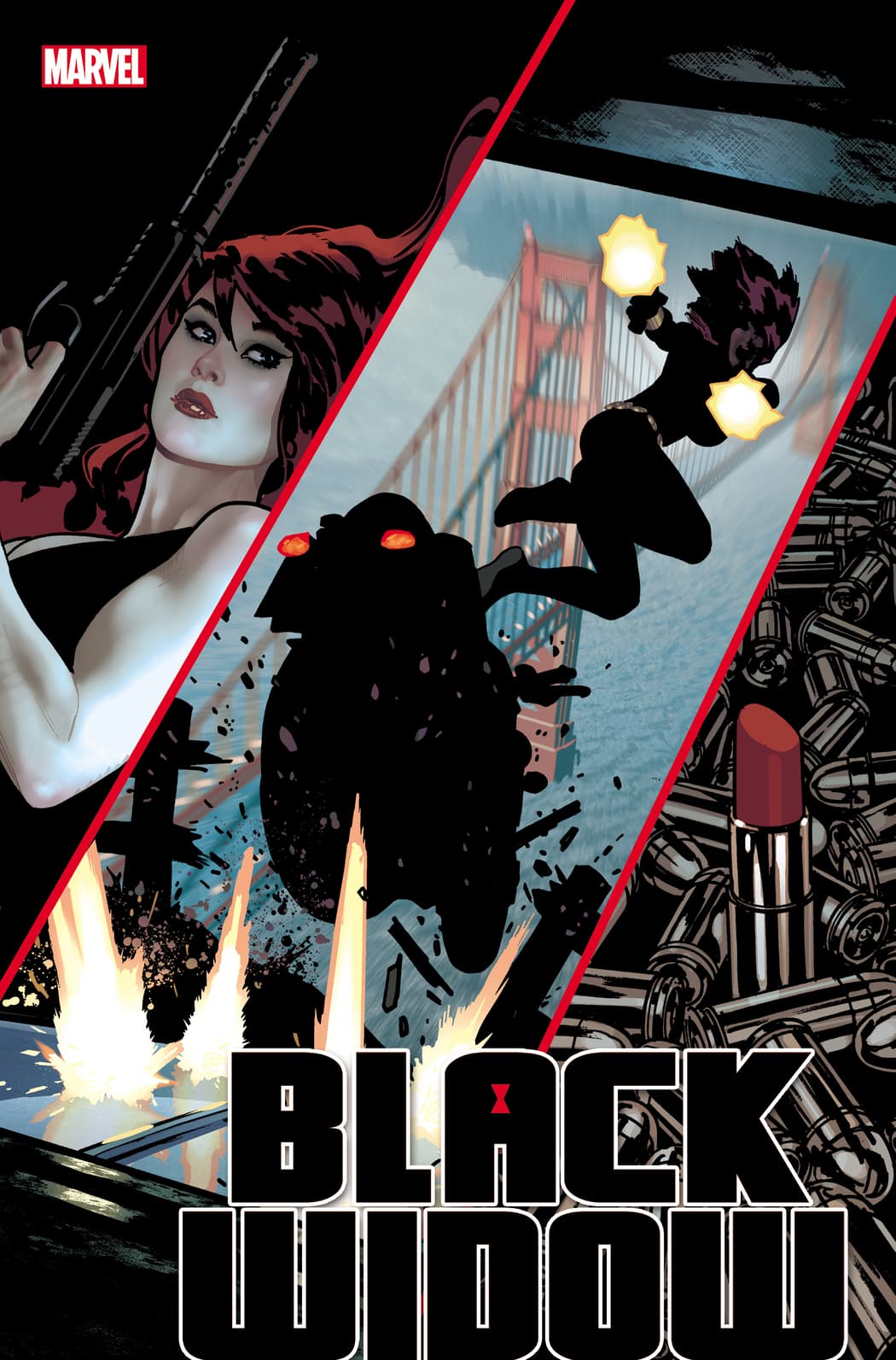 BLACK WIDOW #1 established that Natasha was attacked and thrown out a window. Three months later, "Nat" appeared in San Francisco as a successful architect who was in a committed relationship with her fiancé. In issue #2, we learned that Natasha's new beau is named James. More intriguingly, Natasha has a son named Steve.
Clint Barton AKA Hawkeye and James "Bucky" Barnes AKA the Winter Soldier spotted Natasha on a newscast in the previous issue, but neither of them know what to make of her current situation. Clint brazenly approached Natasha in her garage, but he felt no recognition from the woman he once loved. Clint was also taken aback by her son. According to Clint, "Stevie" is only a year old. Natasha couldn't have given birth in just three months. But if Stevie is a ruse, then he's a very convincing ruse who looks just like his mother. It's also unclear if James is meant to be Stevie's father as well.
It can't be a coincidence that three of the most important men in Natasha's life are namechecked in her new status quo. Bucky and James share the same first name, while Stevie could be a reference to Steve Rogers AKA Captain America. Natasha even has a housecat named Logan, after her old friend, Wolverine. So far, there's no sign of a counterpart for Clint. Regardless, he's the one who questions whether Natasha needs to be rescued at all.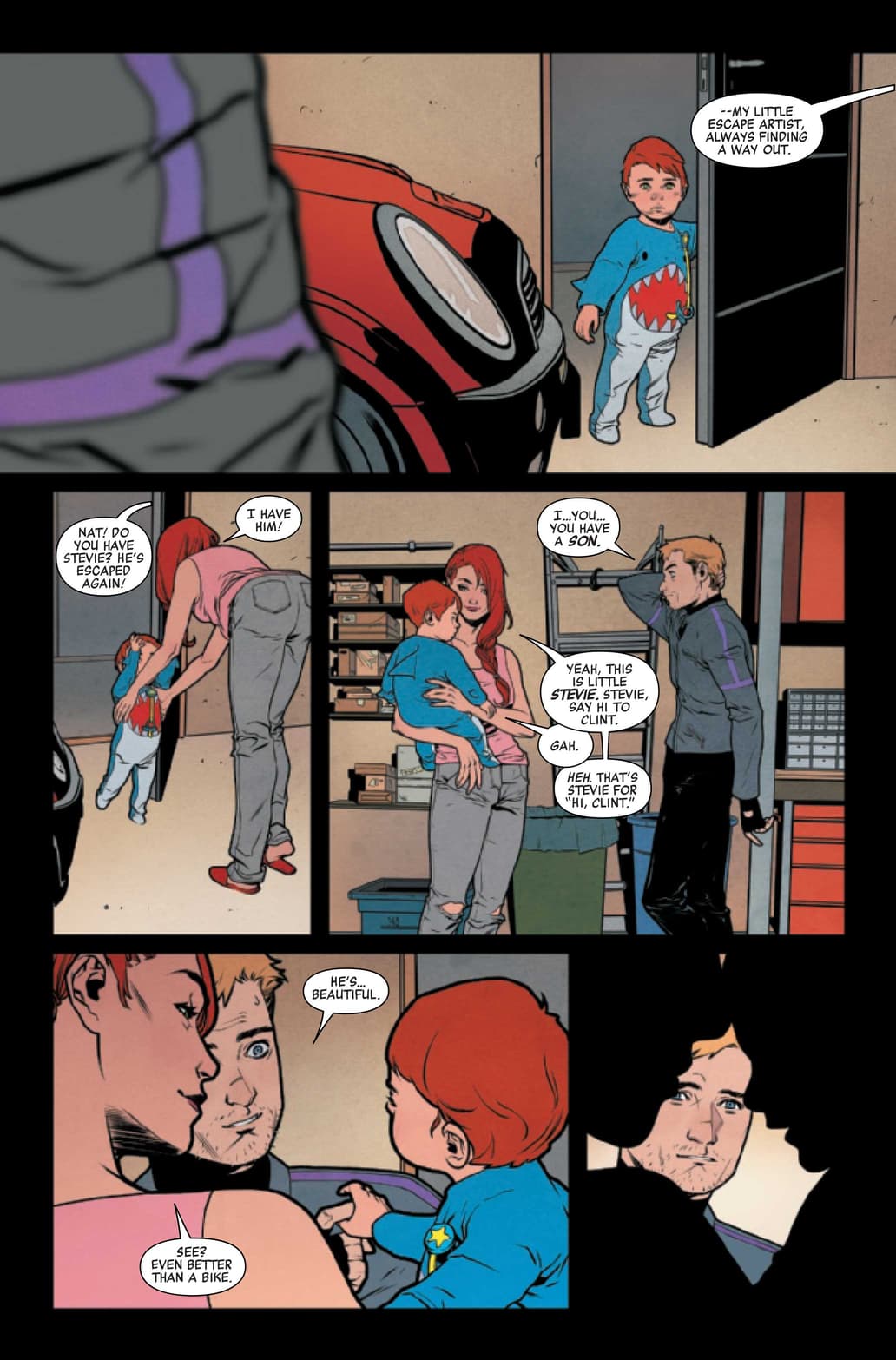 Unfortunately, it seems likely that Natasha will need an assist from both of her ex-lovers before all is said and done. As revealed in the first issue, Natasha's new life was orchestrated by Arcade and a Cabal of villains whose identities largely remain hidden. They've created a very comfortable existence for Natasha, but Arcade is impatient. He wants to kill Black Widow, or at least put her life in danger in the name of his games. But the Cabal is happy to wait, and very pleased that Natasha didn't recognize Clint at all. The Cabal is also very aware of Bucky and Clint's movements, but they didn't attack the heroes out of fear that it would awaken Natasha's true self.
The only person that the Cabal seems concerned about is Helen, the teenage babysitter of Stevie. None of the Cabal recognizes Helen, but their unease about her suggests that there is more than meets the eye. If Helen is hiding something, she didn't tip her hand here.
During a night out with James, Natasha sees off her husband-to-be before stumbling upon a young woman in danger. Natasha wiped the floor with the woman's attackers without breaking a sweat. It's so second nature to her, that Natalie doesn't even question it.
Once back home, Natasha lies to Helen about her torn dress and sings a lullaby to her baby. And finally, we see that one of the Cabal is Red Guardian, Natasha's ex-husband. Amazingly, Red Guardian actually seems remorseful about what the Cabal has done to Natasha. But the damage is already done.
In the closing moments of the issue, Natasha absentmindedly puts a bomb together in her garage. It's such an alarming turn of events that even Natasha can't ignore it. Is her subconscious trying to tell her something?
Somehow, we suspect that Natasha may need that bomb in BLACK WIDOW #3! Pre-order your copy today before the issue hits stands on Wednesday, November 4!
BLACK WIDOW #2, written by Kelly Thompson with art by Elena Casagrande, is on sale now at your local comic shop and digitally!
And don't miss the upcoming variant covers for BLACK WIDOW #3 – including three MCU-inspired variants that will appear on more Black Widow comics!
Be sure to ask your local comic book shop about their current business policies to observe social distancing or other services they may offer, including holding or creating pull lists, curbside pick-ups, special deliveries and other options to accommodate. Find and support your local comic book shop at http://comicshoplocator.com or by visiting http://marvel.com/lovecomicshops.
For digital comics, all purchases in the Marvel Comics app can be read on iPhone®, iPad® and select Android™ devices! Our smart-paneling feature provides an intuitive reader experience, ideal for all types of mobile device and tablet users!
The Hype Box
Can't-miss news and updates from across the Marvel Universe!