Comics
Published July 15, 2020
How Denys Cowan Brought 'Deathlok' to Life
Our second spotlight on the career and legacy of the powerhouse artist. Read 'Deathlok: The Souls of Cyber-Folk' for FREE on Marvel Unlimited!
Continuing our spotlight on the unmatchable career of Denys Cowan! Today, we explore Cowan's time working on the 1990's incarnation of Deathlok: Michael Collins, alongside writers Dwayne McDuffie and Gregory Wright. Check out the first five issues of DEATHLOK (1991), discussed here, for FREE on Marvel Unlimited!
As a teenager, aspiring comic book artist Denys Cowan got his first big break by working as an assistant to Rich Buckler, an established and respected pro. Little did the young man suspect that fifteen years later he would be working to reinvent one of his earliest mentor's most famous creations!
"I was the biggest Deathlok fan of all-time," crows Cowan, referring to the original Luther Manning incarnation brought to life by Buckler and writer Doug Moench in 1974's ASTONISHING TALES (1970) #25. "I used to study the issues over and over never dreaming I would draw it one day!"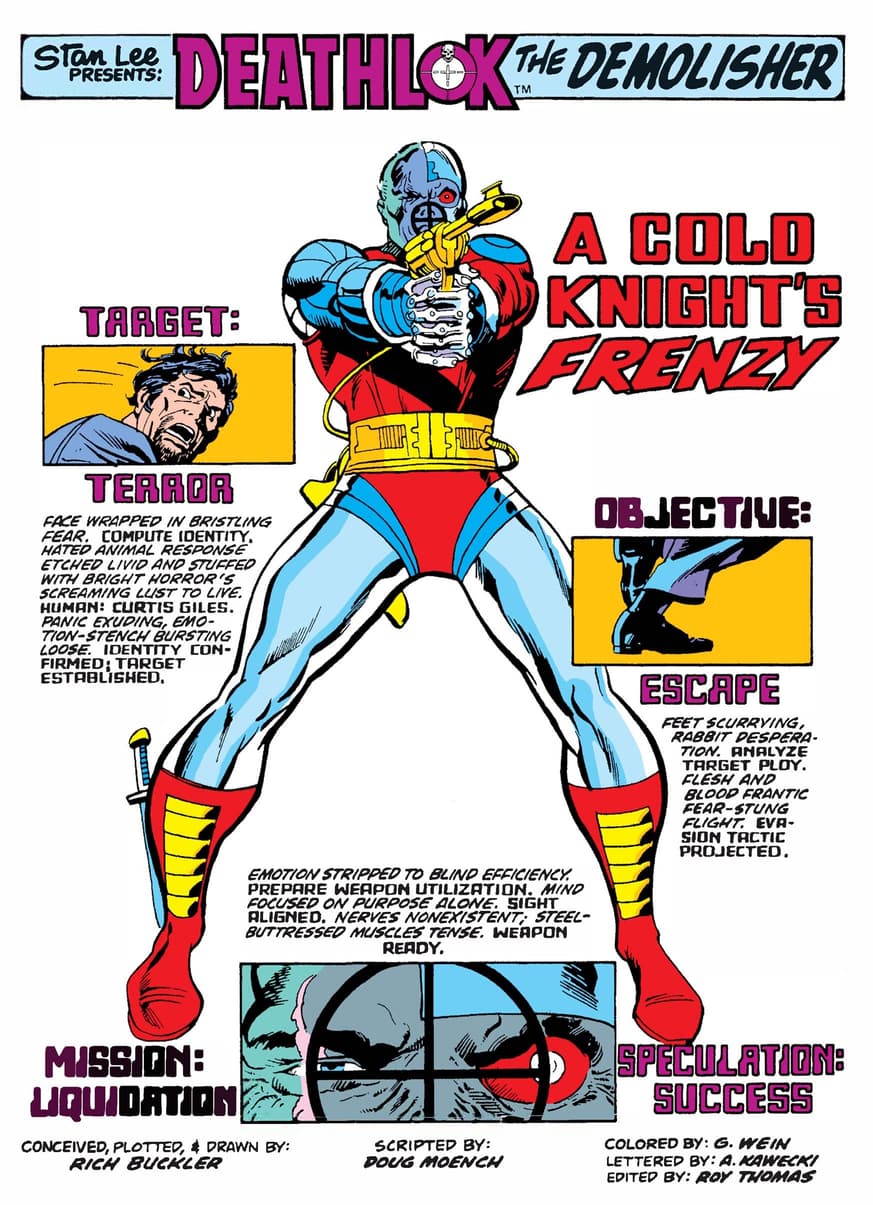 1990 saw the debut of pacifist Michael Collins as inheritor to the Deathlok name in his own limited series, written by McDuffie and Wright, initially featuring the art of Butch Guice. While this new take on the character bore a visual resemblance to the original, many aspects underwent reinvention.
"Marvel was soliciting for a new Deathlok series that would take place in the current Marvel Universe, with a new version of the character," recalls Wright, noting the story's setting in the present day as opposed to Luther Manning's future dystopia. "Dwayne McDuffie and I had done a proposal for a RoboCop series that Marvel never did and decided we should use some of those ideas.
"We decided that Deathlok would not be a soldier, but a more ordinary, intelligent man of peace, a pacifist who would find himself trapped in his worst nightmare when he was 'murdered' and put into the cyborg armor. We also opted to make him a Black character."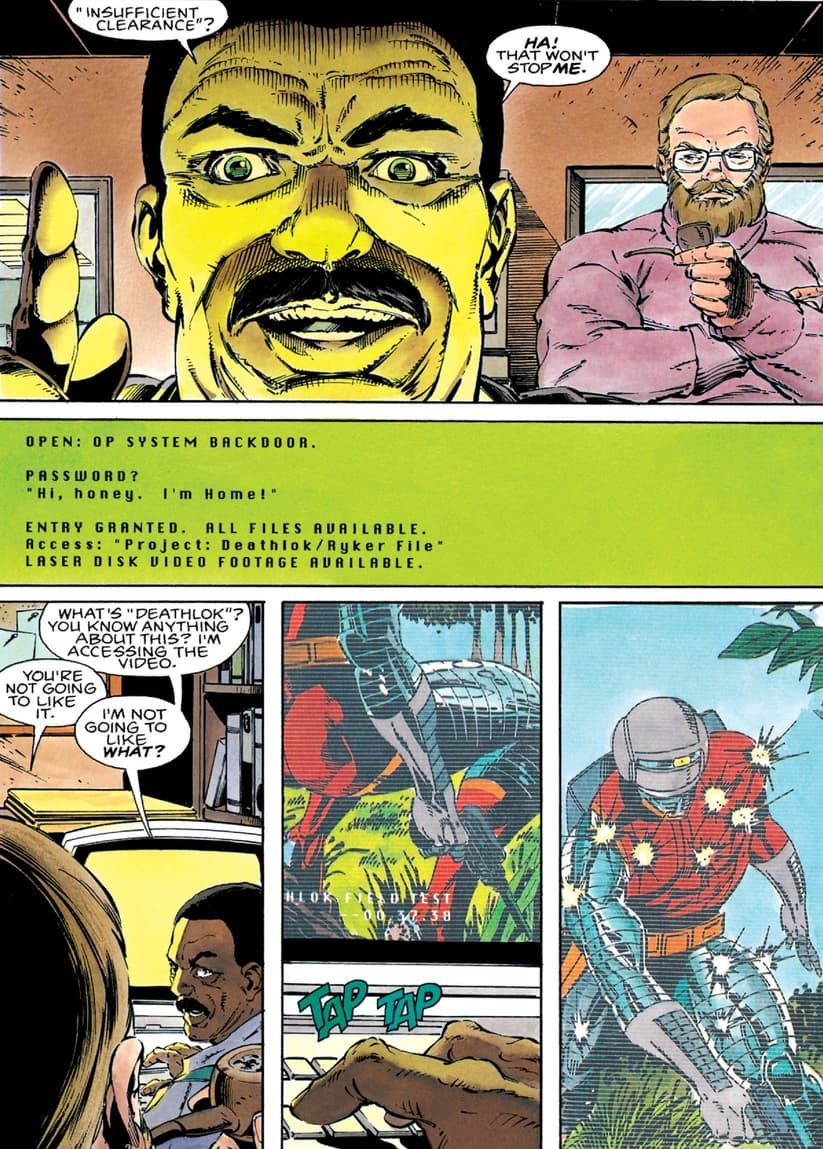 Two issues in on DEATHLOK (1990), Guice had to opt out of artistic duties, opening the door for Cowan and providing him with his first opportunity to work alongside future frequent creative partner McDuffie as well as Wright. Crediting the "brilliant" scripts of his collaborators, Denys would make the character his own, earning him a spot on the creative team of the DEATHLOK (1991) ongoing book following the project's success.
"We needed a replacement artist who could handle the schedule and who understood what we were doing with the character," reflects Wright on Cowan's appointment. "Initially we were looking for someone with a style closer to Guice's. When that did not work out, we selected Denys, who had the most enthusiasm and also understood the character we had created better than anyone else.
"We had been working with Denys on a couple of other projects and absolutely loved his work, so despite having a different style, we were all overjoyed with his art on the series. He also saved the schedule by completing forty-eight pages of issue #3 in about two weeks."
DEATHLOK (1991) provided the writers with a chance to write "specifically for Denys" per Wright's recollection, noting, "that makes a big difference, although you'd never know that Denys' work on a story written for Guice wasn't meant for him—that's how good he is."
After DEATHLOK (1991) #1 provided something of a pilot for those who may have missed the limited series, a four-part arc entitled "The Souls of Cyber-Folk" followed, teaming the title character with established Marvel cyborgs such as Misty Knight and Forge against a rogue robotic agent of Doctor Doom. The name of the story reflected its authors' intentions to explore deeper themes of race with their work.
"It was an homage to W. E. B. Du Bois' The Souls of Black Folk," says Cowan. "The whole series was about a pacifist trapped in a war machine body, but it was really a metaphor on the peculiar situation of Black people/POC in America."
"That was the reason we chose to make the character of Michael Collins a Black man," Wright confirms. "The essays [written by Du Bois] were part of our original thinking about the character of Deathlok. Dwayne had given me the book [containing The Souls of Black Folk] to read because he felt there were a lot of parallels we could explore with Deathlok. One essay deals with the idea of a 'twoness' that a Black person must exhibit. There is the person inside and the person they must show to the world. It was very similar to Deathlok. Inside he was a pacifist, yet his exterior suggested a machine made for war.
[RELATED: Dwayne McDuffie's Legacy in Comics]
"Dwayne also suggested the idea that cyborgs within the Marvel Universe might have their own culture, and their own network in which they might discuss matters that only cyborgs could understand. While we discussed most of this together as we created the book itself, Dwayne was specifically responsible for those ideas, so he most naturally was the one to write that specific and meaningful storyline."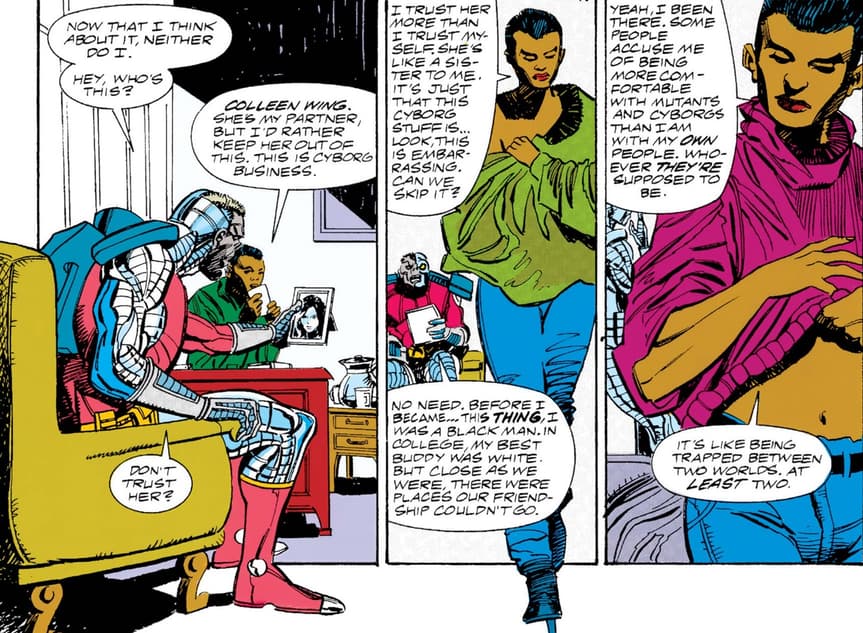 Over the course of "Cyber-Folk," Collins muses on his dilemma and finds some common ground with Misty, both Black characters saddled in some ways with the additional stigma of their robotic selves. Cowan would remain as primary artist on DEATHLOK for the first year and a half of the series' run, helping writers continue exploring these complex ideas.
"Having Denys draw ["The Souls of Cyber-Folk"] was particularly moving as he could understand and feel the depth [and] undertones of Du Bois' and Dwayne's writing."
Read "Deathlok: The Souls of Cyber-Folk" for free right now on Marvel Unlimited.
Looking for more classic arcs and Marvel must-reads you can read for FREE? Read online here, or download or update the Marvel Unlimited app for iOS or Android at the Apple or Google Play app stores today.
For more of Marvel's greatest comic books in print, please reach out to your local comic book shop to ask about services they may offer, including holding or creating pull lists, curbside pick-ups, special deliveries and other options to accommodate. Find and support your local comic book shop at http://comicshoplocator.com.
The Hype Box
Can't-miss news and updates from across the Marvel Universe!