Comics
Published January 15, 2020
How 'Iron Man 2020' #1 Might Pave the Way for a Robo-Apocalypse
Spoiler alert! Get a full breakdown of all the action in today's landmark new mag!
Hey, Marvel Insiders—did you know reading this article could earn you 250 points? All you need to do is sign in or join now before you keep reading!
Warning! This article contains spoilers for today's IRON MAN 2020 #1, so read on at your own risk, True Believers!
Tony Stark is dead, and there's a new armored "hero" in this week's IRON MAN 2020 #1.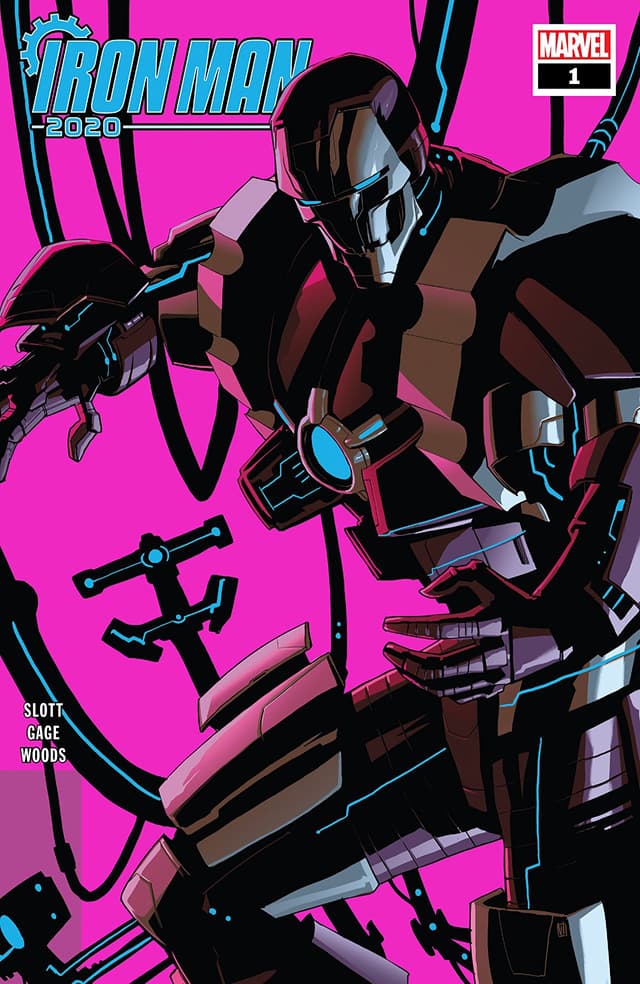 Co-writers Dan Slott and Christos Gage have teamed up with artist Pete Woods to bring the future of the Marvel Universe into the present. The world of 2020 may not be what it once was, but this timeline has been foreshadowed for over thirty years.
MACHINE MAN (1984) set up this vision of the future and introduced Arno Stark as the Iron Man of 2020. While the future of that miniseries isn't completely replicated in IRON MAN 2020 #1, events do seem to be falling into familiar patterns. Machine Man is leading an A.I. rebellion against Sunset Bain and her partner, Arno Stark. However, the present day implications are more alarming in this series. Arno believes that an extinction-level threat is coming to Earth that will utilize A.I. robots as its army. He may be correct, but Arno and Sunset are also trampling on the rights of sentient artificial beings—and that includes Jocasta, Machine Man's soulmate, who remains in Sunset's custody. This isn't a coincidence, as Jocasta was turned into Sunset's servant during the events of MACHINE MAN (1984).
Although Arno Stark made his debut in MACHINE MAN (1984) #2, that Iron Man 2020 isn't exactly the same person who is currently flying around in the Marvel Universe. Later appearances, like AMAZING SPIDER-MAN ANNUAL (1964) #20 established Iron Man 2020/Arno Stark as the nephew of Tony Stark, but his true identity was called into question. After all, Tony didn't have any siblings...at least not until IRON MAN (2012) #12. Rigellian Recorder 451 interfered with the birth of Howard and Maria Stark's first son, Arno Stark, and attempted to make him into an intergalactic defender. This is why Arno believes that it's his destiny to save Earth from an unspecified threat.
IRON MAN (2012) #17 also established that Tony and Arno aren't related by blood. Instead, Tony was adopted by Howard and Maria while Arno spent most of his life confined while he was deathly ill. Although Tony has tried to build a brotherly bond with Arno, the lingering resentment between them led Arno to join forces with Sunset. TONY STARK, IRON MAN (2018) #5 also illustrated just how amoral that Arno has become, as he let his "solutions" get out of control. He and Sunset deserve each other, but Arno can't really be called a hero. He simply doesn't understand what it means to be truly altruistic. Everything is a means to an end for Arno.
As for Tony, he apparently died at the hands of Captain Marvel in CIVIL WAR II (2016). Tony apparently cheated death in INVINCIBLE IRON MAN (2016) #593-600, when it was revealed that he had downloaded his mind into a new body. However, recent issues of TONY STARK, IRON MAN have forced Tony to reconsider who and what he is. That led to some potentially dangerous complications in IRON MAN 2020 #1...because the true leader of the A.I. rebellion isn't Machine Man after all, it's Tony Stark. Or rather, the copy of Tony who is now calling himself Mark One. He's seemingly become a fanatical believer in the A.I. cause, and he's radicalized several familiar Marvel robots including Machinesmith, H.E.R.B.I.E., the Awesome Android, and Wolverine's artificial double, Albert.
This issue also sets up the larger global conflict between man and machine. James Rhodes, AKA War Machine, has formed a new version of Force Works to deal with a Dreadnought cell overseas. This thread will continue to unfold in the upcoming FORCE WORKS 2020 limited series as well.
2020 is only two weeks old, but there are already dark clouds on the horizon. And neither man nor machine is ready for what comes next.
Read IRON MAN 2020 #1 at your local comic shop today!
The Hype Box
Can't-miss news and updates from across the Marvel Universe!