Comics
Published November 21, 2019
How 'Marauders' #2 Coronates a New Red Queen
Spoiler alert! Witness the fallout of a blockbuster new Dawn of X issue!
Warning! This article contains spoilers for this week's MARAUDERS #2, so read on at your own risk, True Believers!
Emma Frost and Kate Pryde have a history dating back to their first appearances during "the Dark Phoenix Saga." Emma tried to recruit Kate in UNCANNY X-MEN (1963) #129 when she was just a teenager, and she made a few more insidious attempts to bring Kate under her thumb in the intervening years. In UNCANNY X-MEN #151-152, Emma even swapped bodies with Storm while trying pull Kate away from the X-Men. That led to the ongoing animosity between Kate and Emma that was on full display during their time together in ASTONISHING X-MEN (2004).
Despite this, writer Gerry Duggan and artist Matteo Lolli have placed Kate and Emma in a new alliance in this week's MARAUDERS #2...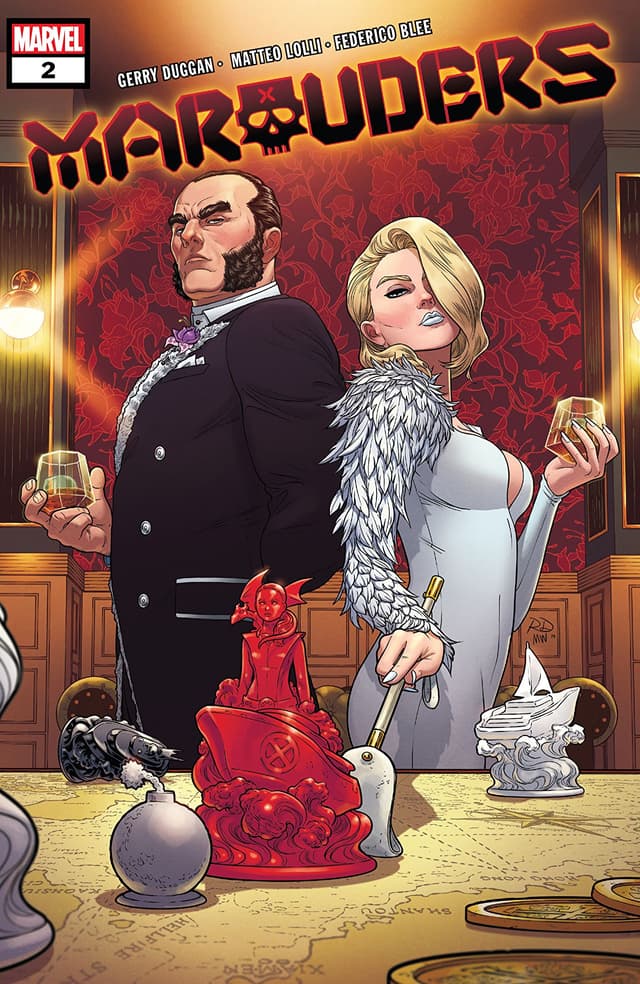 As expected, Kate is the new Red Queen of the Hellfire Trading Company. It's hard not to see this as Emma's ultimate victory. She finally has Kate on her side, even if it's a more equitable relationship than Emma originally envisioned. Still, Emma has Kate functioning as an extension of her will on the high seas. It didn't hurt that both women enjoyed hitting the Black King, Sebastian Shaw, in the only place he can be hurt: his wallet.
Last year, in the X-MEN: BLACK - EMMA FROST one-shot, Emma finally ousted Shaw from the Hellfire Club. She reluctantly accepted Shaw back during HOUSE OF X because Xavier and Magneto needed his black market connections to ship their mutant super drugs to countries that have no formal relationship with Krakoa. Unfortunately for Shaw, he remains loyal only to his own self interests. He hired Batroc the Leaper to guard a diverted drug shipment to further enrich himself. That's why Kate and Emma took such pleasure in slapping him down.
MARAUDERS #2 also shed additional light on the current power structure of the Hellfire Trading Company. Each monarch can name a Bishop and a Knight to serve under them. The ancillary material reveals that Emma has already lined up her brother, Christian Frost, as her Bishop. Shaw's choice remains unrevealed, but the Krakoan Resurrection Protocols mean that he could recruit some of his previously dead allies. Could Henry Leland get a second chance at life? Or is Shaw desperate enough to bring Selene back into the Hellfire fold? Speaking of resurrection, Emma may have to wonder if her own dead sister, Adrienne Frost, might come back to haunt her. Emma personally killed Adrienne in GENERATION X (1994) #67-70, after Adrienne endangered Emma's students and set up Synch's eventual demise. If Shaw wants to strike at Emma, Adrienne seems like a promising recruit.
Shaw makes it clear to Emma that he had his own Red Queen in mind, before Emma snatched the decision away from him. Emma implies that Shaw and his candidate are currently intimate, but so far, there are no clues about her identity. More intriguingly, the position of Lord Imperial of the Hellfire Trading Company remains vacant. Whoever sits in that spot is technically ruling over Emma, Kate, and Shaw. It's also worth noting that Emma tried to recruit the restored Stepford Cuckoos, but they rejected her. Perhaps because they know her all too well. 
As for Kate and her Marauders, the word of Charles Xavier's assassination has finally caught up with them. And again, the mutant heroes seem oddly disconnected from the emotional impact of Xavier's demise. Perhaps that's the downside of living in a world where death can be conquered. Iceman still believes that the Five can bring Xavier back. But if it's that easy, wouldn't they have already done it?
Bishop officially joined Kate's crew in this issue, as her team was gifted with their new ship, the Marauder. For the moment, Bishop briefly lost sight of his mission in Taipei. As seen in MARAUDERS #1, there's either a problem with the Krakoan gates in Taipei or someone is orchestrating anti-mutant sentiment against the X-Men and their allies...
It also turns out that Sinister was right all along: there are other ships in the Hellfire Trading Company's arsenal. But who are the captains and crew behind them? The answers are on the horizon in the Dawn of X.
Read MARAUDERS #2 in full at your local comic shop today!
The Hype Box
Can't-miss news and updates from across the Marvel Universe!