Comics
Published December 4, 2019
How 'Marauders' #3 Restores a Hellfire Club Bloodline
Spoiler alert! See how today's new issue impacts the Dawn of X!
Warning! This article contains spoilers for today's MARAUDERS #3, so read on at your own risk, True Believers!
It would be a mistake to assume that the villains assembled on Krakoa have turned over a new leaf and plan to stand beside the X-Men as good citizens of the new mutant nation. Writer Gerry Duggan and artist Michele Bandini made that perfectly clear in this week's MARAUDERS #3, as Sebastian Shaw's new plan came to light.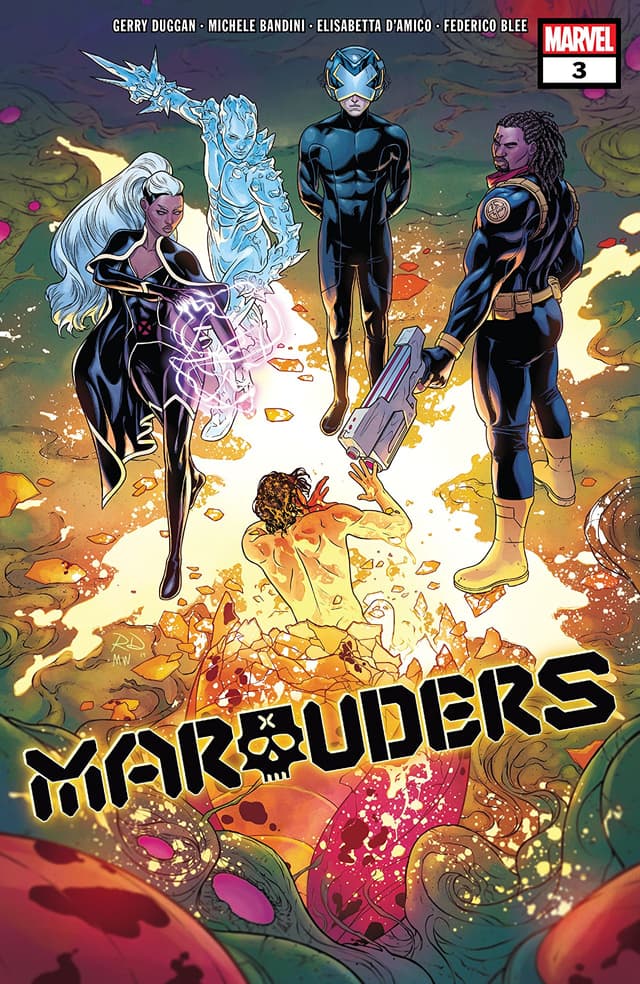 In MARAUDERS #2, Sebastian was humiliated by the White Queen, Emma Frost, and her new Red Queen, Kate Pryde. But by the end of the current issue, Sebastian's revenge had already begun.
Before Xavier was assassinated in X-FORCE #1, he and the Five performed a favor for Sebastian. They resurrected his son, Shinobi Shaw, and altered his memories to ensure that he didn't remember how he died. Sebastian then spent a good deal of time bringing Shinobi up to speed about how the world has changed and the Hellfire Trading Company's role in it. More importantly, Sebastian recruited Shinobi to be his Black Bishop, and he also appears to be grooming his son for the Red King position...once he gets rid of the current Red Queen.
This is actually the most time that Sebastian and Shinobi have ever shared on panel without trying to kill each other. In fact, in Shinobi's first appearance in UNCANNY X-MEN (1963) #282, he seemingly succeeded at murdering his father. In Sebastian's absence, Shinobi became the Hellfire Club's new Black King and he was a key player among the Upstarts.
Years later, Sebastian recovered from his apparent demise and apparently killed Shinobi as well. However, the younger Shaw cheated death in X-NECROSHA, which may explain why he recently turned up in UNCANNY X-MEN (2018) #20. During a very dark hour for mutantkind, Shinobi took his own life by phasing his hand through his head. That's the death that Sebastian didn't want him to remember. If this issue's flashback to that moment is any indication, Sebastian was truly shocked and upset over his son's fate. But not so upset that he won't use it to his advantage.
To win his son over, Sebastian told Shinobi that the White and Red Queens plotted his death. The manner of Shinobi's previous demise could actually implicate Kate Pryde if we didn't already know it was a self-inflicted wound. But Shinobi doesn't know that, and that was the point of Sebastian's request for his memory alteration. Sebastian simply took the opportunity to bend the facts into a narrative that would simultaneously gain Shinobi's loyalty while aiming a metaphorical bullet at Emma and Kate.
This issue also established that Shinobi is in charge of one of the Hellfire Trading Company's other vessels, while Kate controls the Marauder. At this point, Kate may not even realize that Shinobi is back and that he may begin targeting her soon. For now, Kate's focus is on finding her own Red Bishop. Perhaps it's somewhat on the nose that her initial choice was Lucas Bishop. But in the intercepted text messages from the ancillary matter, Bishop turned down Kate's request. Storm and Bishop may trust Kate enough to sail as part of her crew, but they refuse to be drawn into the Hellfire Trading Company itself. That may ultimately prove to be deadly to Kate if she doesn't have allies she can trust on the inside.
Kate's enemies are keeping her closer in the Dawn of X, and she could really use a close friend right about now.
Read the new issue at your local comic shop now!
The Hype Box
Can't-miss news and updates from across the Marvel Universe!