Comics
Published July 26, 2019
How 'Marvels' Became an All-Time Classic
Pair this week's 'Marvels Epilogue' #1 with a look at the sensational series that started it all!

Every week, we use the powers of Marvel Unlimited to celebrate a major character or comic's first appearance in the hallowed halls of the House of Ideas.
Ever since its inception, Marvel Comics has strived to not just offer characters of value to its readers, but a world that feels whole and lived-in. To that end, a reader might see a character fly through one panel while on his or her way to an adventure in their own book or crossover. In those early days, the relatively low number of titles and Stan Lee's oversight made everything feel like the entry into a universe of uncanny adventures.
In 1994, Kurt Busiek and Alex Ross embraced that very idea with a four-part limited series called MARVELS. In this now-classic, fully painted series readers witness the birth of the Marvel age all the way up until the early '70s through the eyes of a photographer named Phil Sheldon. He was at the press conference where Phineas Horton first showed off his incredible invention, the Human Torch (originally seen in 1939's MARVEL COMICS #1) and also witnessed the death of Gwen Stacy at the hands of the Green Goblin—originally published in 1973.
And this week, readers are getting another Busiek-Ross treat in the form of MARVELS EPILOGUE #1!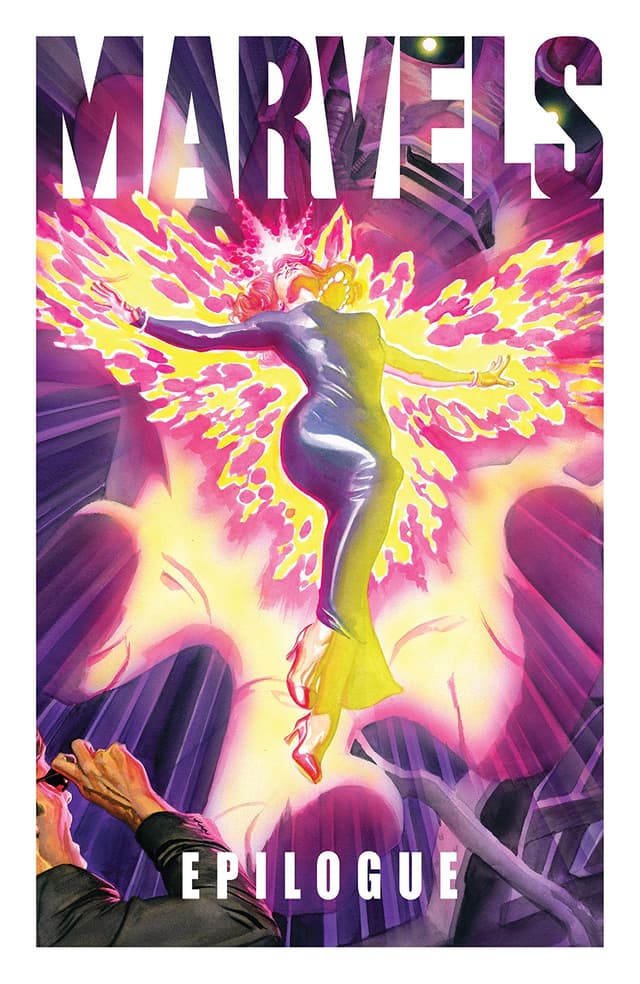 Back in the original series, we see Namor's attacks on New York City from the street level as we also watch Sheldon struggle with a human's place in a world increasingly filled with godlike beings—and that struggle came into full physical focus when a stray brick slammed into his face and he lost his eye!
Undeterred, Phil married his sweetheart Dorris before attending the legendary nuptials between Sue Storm and Reed Richards. Down the line, they had two daughters, Jen and Beth. And all the while, the House of Ideas continued to be built around him and his family. Along the way, he coined the name "Marvels" for all of these powered individuals and even wrote a book of that same name filled with his photos.
According to a commentary written by Busiek reprinted in many of the MARVELS collections, he dug through mountains of classic comics to create the timeline of the story. Knowing the themes he wanted to tackle, he looked back at the original books and seemed to always find the details he needed to pull from, though he didn't always know they were there waiting for him.
He wrote, "How was I to know, when I wanted to set up Galactus as an apocalyptic figure in #3, that a TALES TO ASTONISH/AVENGERS story a few months prior had religious nuts prophesying the coming end?" He listed many other occasions like this where he figured out exactly how and when all of these pieces fit together. Though he'd been in the industry for over a decade at that point, MARVELS boosted Busiek's stock big-time.
Of course, Busiek's wondrous words came to brilliant life thanks to a relatively unknown painter by the name of Alex Ross. Up to that point, Ross had done a handful of covers and interiors, but MARVELS launched him into the superstar stratosphere. His life-like style, which used models, brought rave reviews from his collaborators as well as legends like Stan Lee. And the more fans pored over these glorious pages, the more they began picking up a variety of references left there by the creative duo. Did you see the Fab Four? Or a certain pair of reporters from the Distinguished Competition? They're all in there—along with a variety of other cameos and nods that continue to be found to this day!
MARVELS proved so popular and lauded that it sold well and also got nominated for five Eisner Awards that year: Best Single Issue, Best Finite/Limited Series, Best Painter, Best Cover Artist, and Best Publication Design—and it won three for Limited Series, Painter, and Design.
The series also lead to a #0 issue that came out after the initial run that featured behind the scenes material, a new Human Torch story and essays. In 2008, Busiek returned to this world with the six-issue limited series MARVELS: EYE OF THE CAMERA which picked back up with Phil Sheldon and featured art by Jay Anacleto. This series covered the rest of the '70s on through the late '80s.
This year, to celebrate the 25 year anniversary of MARVELS, you can dive into a few new projects. First up, MARVELS ANNOTATED presents the original series with lots of commentary and inside info for your reading pleasure. And just this week, Busiek and Ross re-teamed for MARVELS EPILOGUE which catches up with Phil (and a few mighty mutants) in the mid-70s!
The Hype Box
Can't-miss news and updates from across the Marvel Universe!