Comics
Published January 12, 2021
How 'S.W.O.R.D.' #1 Brought the Reign of X to Space
Catch up on what happened in 'S.W.O.R.D.' #1 before buying 'S.W.O.R.D.' #2 this week!
Hey, True Believers! Tomorrow – Wednesday, January 13 – welcomes the arrival of S.W.O.R.D. #2, written by Al Ewing with art by Valerio Sciti. But before reading the second issue, catch up on the first issue!
Also be aware: This article contains spoilers for S.W.O.R.D. #1!
The Sentient World Observation and Response Division AKA S.W.O.R.D. was perhaps the most enduring addition to Marvel lore from 2004's ASTONISHING X-MEN. The intergalactic answer to S.H.I.E.L.D. was given its own series in 2009 before its operations were folded into Alpha Flight in 2016's CAPTAIN MARVEL. Last month, Al Ewing and artist Valerio Schiti launched a new era with S.W.O.R.D. #1, and it brings the book far more closely into the orbit of the Reign of X.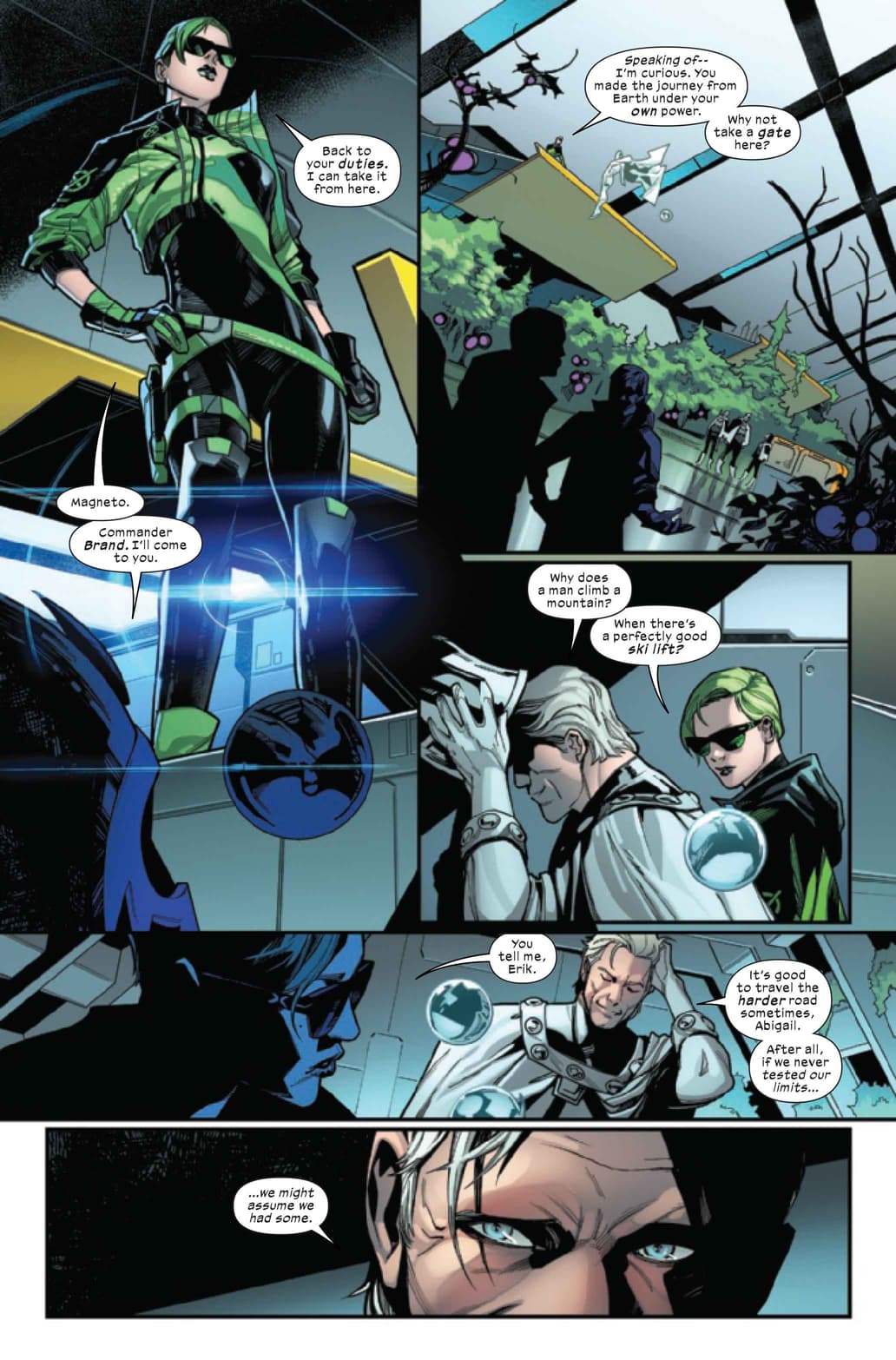 In many ways, this new series is a follow-up to both EMPYRE and X OF SWORDS. During EMPYRE: AFTERMATH AVENGERS #1, Abigail Brand angrily resigned from Alpha Flight after she and her organization were blindsided by the Cotati invasion. As for S.W.O.R.D.'s orbital station, the Peak, it resurfaced during X OF SWORDS and played a key role in the mutants' victory. CABLE #5 also revealed that the Peak was overrun by the interdimensional aliens, the Vescora, and the entire crew was slaughtered.
S.W.O.R.D. #1 turns the page with the station now fully under the command of the mutant nation of Krakoa. Magneto, a leading member of Krakoa's Quiet Council, described the new incarnation of S.W.O.R.D. as "the mutant space program." While Brand is a mutant, she clashes with Magneto on a key point: He's not thinking globally. Because S.W.O.R.D. represents Earth's first line of defense, it has to speak for its people as well. She also makes a passing reference to a new threat in the galaxy that is killing entire worlds, which readers of KING IN BLACK will recognize as Knull's army of symbiote dragons. But S.W.O.R.D. won't be confronting that problem today.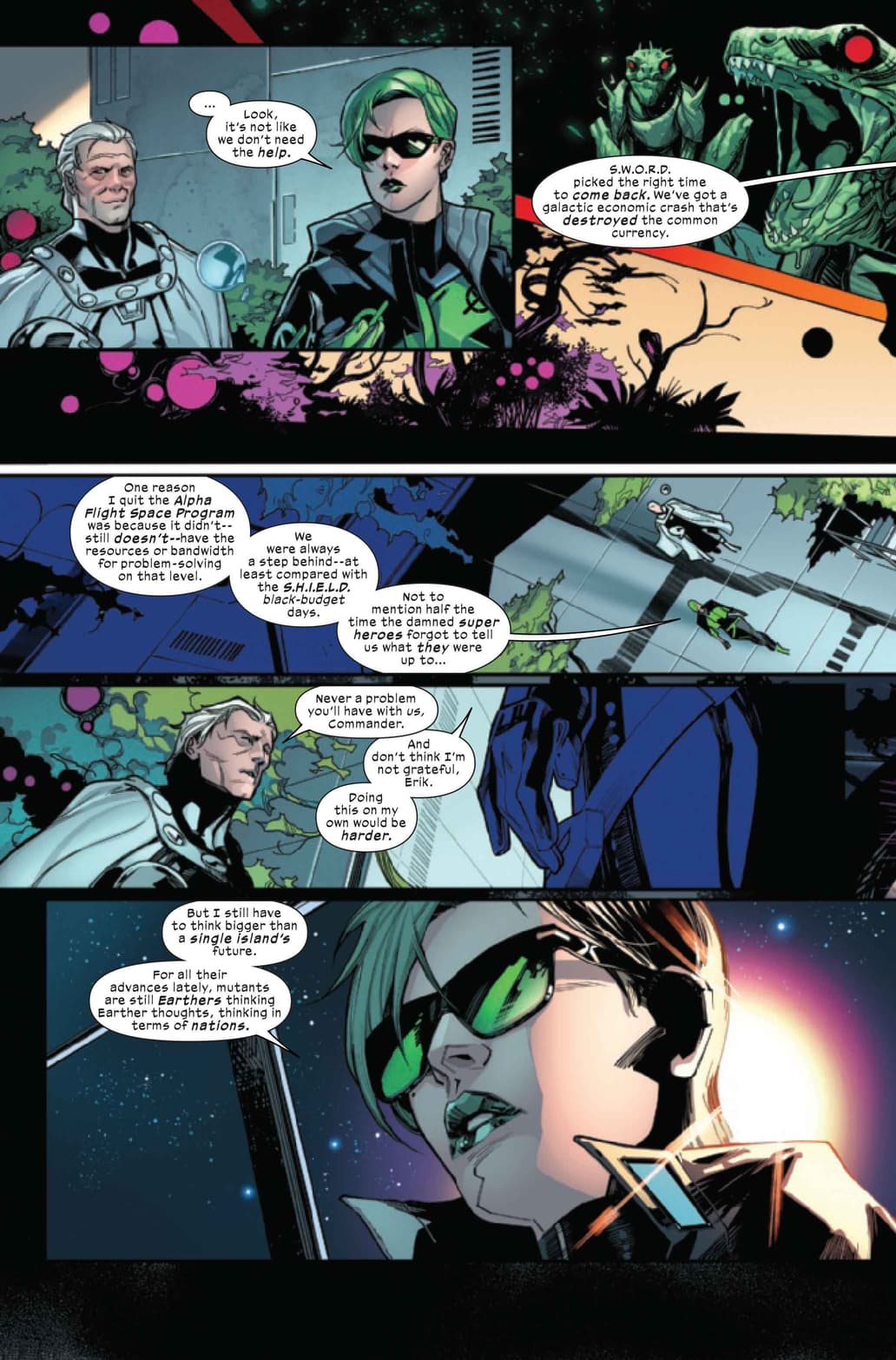 Several familiar faces fill out the senior positions on Brand's new staff, including mutants like Wiz-Kid, Random, Risque, and Peeper, many of whom haven't been seen in years. Regardless, Magneto recognizes his former Brotherhood of Evil Mutants associate and greets Peeper as an old friend. Conversely, Magneto pretends not to remember Fabian Cortez, the man who tried to kill him in the landmark X-MEN (1991) #3 before usurping his Acolytes. Neither Magneto nor Brand wants Cortez in the organization, but his ability to increase mutant powers is valuable to them.
Another one of Magneto's former followers, Frenzy, serves as the station's galactic ambassador. Magneto catches up with her as she spares with Paibok, the ambassador from the Kree-Skrull Alliance. This is where family history makes things complicated for both Magneto and the Alliance. Because Wanda Maximoff AKA Scarlet Witch is despised and scorned by mutants, Emperor Hulkling and his husband Wiccan (Wanda Maximoff's son) have taken issue with that. Magento once believed that Scarlet Witch and Quicksilver really were his children, and he seems conflicted when the subject comes up. For now, Krakoa's position on Scarlet Witch means that the Alliance cannot have closer ties to the mutant nation.
In the ancillary matter, we learn another interesting detail: Henry Peter Gyrich is the new man in charge of Alpha Flight. Gyrich has been a thorn in the Avengers' side for years, and he was co-commander with Brand during S.W.O.R.D. (2010). Now, they appear to once again be on opposite sides.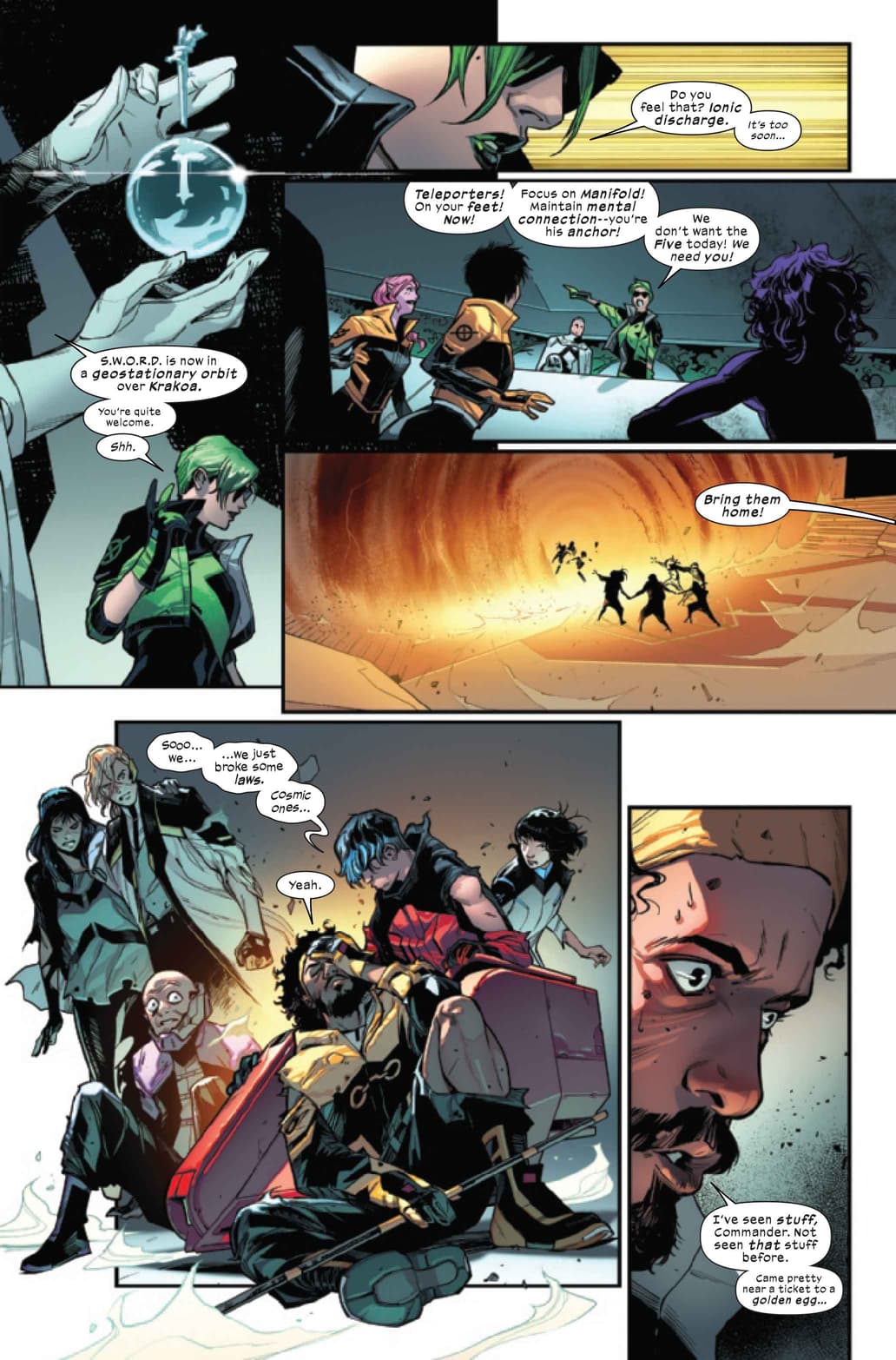 That said, Brand doesn't have time for petty rivalries. She's also enlisted a team of teleporters:  Blink, Lila Cheney, Gateway, Vanisher, and Amelia Voght. Together, with the Six (Wiz-Kid, Cortez, Armor, Manifold, Peeper, and Risque), the teleport team is able to open a portal to the fires of creation itself. By using their powers in conjunction with each other, the Six are not only able to survive the experience, they also manage to "steal fire from heaven." In this case, it's a previously unknown element called Mysterium. And with it, Brand may truly begin to build "what's next." Even Magneto was suitably impressed.
What does the future hold now that the mutants control humanity's greatest space program? Find out on Wednesday, January 13 when SWORD #2 hits stores!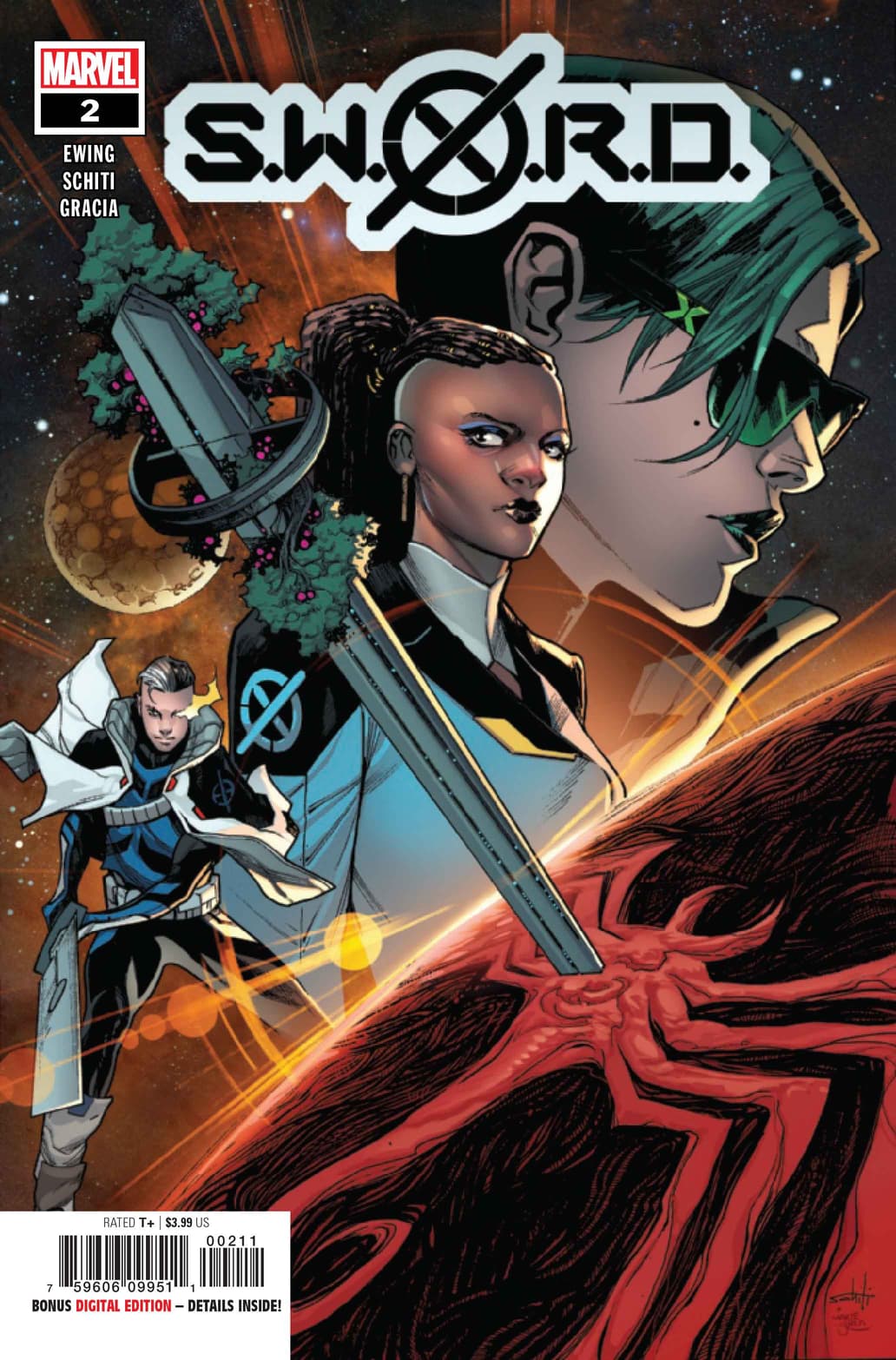 Be sure to ask your local comic book shop about their current business policies to observe social distancing or other services they may offer, including holding or creating pull lists, curbside pick-ups, special deliveries and other options to accommodate. Find and support your local comic book shop at http://comicshoplocator.com or by visiting http://marvel.com/lovecomicshops.
For digital comics, all purchases in the Marvel Comics app can be read on iPhone®, iPad® and select Android™ devices! Our smart-paneling feature provides an intuitive reader experience, ideal for all types of mobile device and tablet users!
For Marvel's most up-to-date release schedule for your favorite comics, visit http://marvel.com/newcomics.
The Hype Box
Can't-miss news and updates from across the Marvel Universe!