Comics
Published March 20, 2020
How to Read 'How to Read Comics the Marvel Way' the Marvel Way
Read through a handy breakdown of the comic book medium as you prep for 'How to Read Comics the Marvel Way' #1!
Longtime comic fans tend to forget one important fact when trying to introduce newbies to the wonderful world of sequential storytelling: they can be a tiny bit tricky to decode at first! On April 15, Christopher Hastings and Scott Koblish will present a comic in comical (yet educational) fashion for fans of all experience levels in HOW TO READ COMICS THE MARVEL WAY!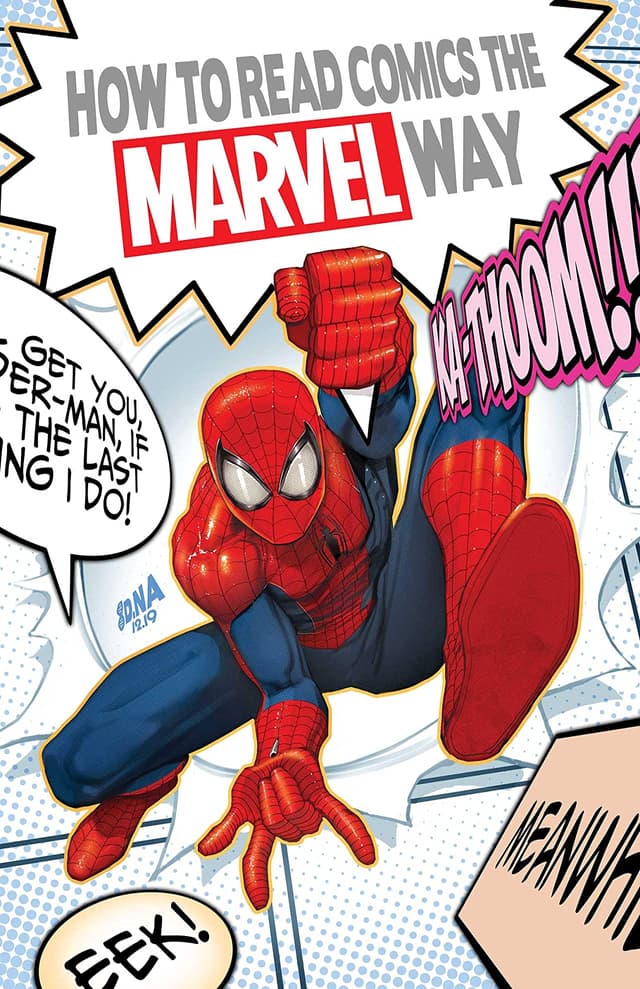 Here's what spectacular scribe Mister Hastings has to say about the book: "Comic storytelling is a language that we habitual comic readers take for granted. HOW TO READ COMICS THE MARVEL WAY breaks down that language in a way that invites in younger or newer readers, and gives the more experienced of us a look at the hidden machinery in and out of the panels. In later issues, we delve into how comics are made, their history, and how it all ties together into how we buy and read comics today. But it's also a supremely fun, medium-twisting adventure that sees Spider-Man teaming up with YOU, the reader to defeat Mysterio before he uses his powers of illusion to take control of the very story itself!" 
Bam! So brace yourselves, o frantic ones, because we're offering a primer for the primer to get you ready!
Panel Persuasion
With the exception of splashes (single-page images) and spreads (double-page images), each page of a comic book usually gets broken down into a series of panels. Think of these as snapshots of action—or frames of a film—that tell the story, giving the appearance of movement and action in static frames.
Seems pretty simple, but reading order can get a little tricky for a few reasons. First off, there are cultural differences in how this is done! In the U.S. we read from left to right, but those more used to manga will know that it's the exact opposite in that format! Making matters even more complicated, panels can come in all shapes, sizes and layouts which can make the actual order a subtle art. Old school comics would often include arrows to cut down on confusion! However, reading comics digitally (like through Marvel Unlimited) can alleviate some of those questions with the Smart Panel reading option, which presents the correct panel in the correct order.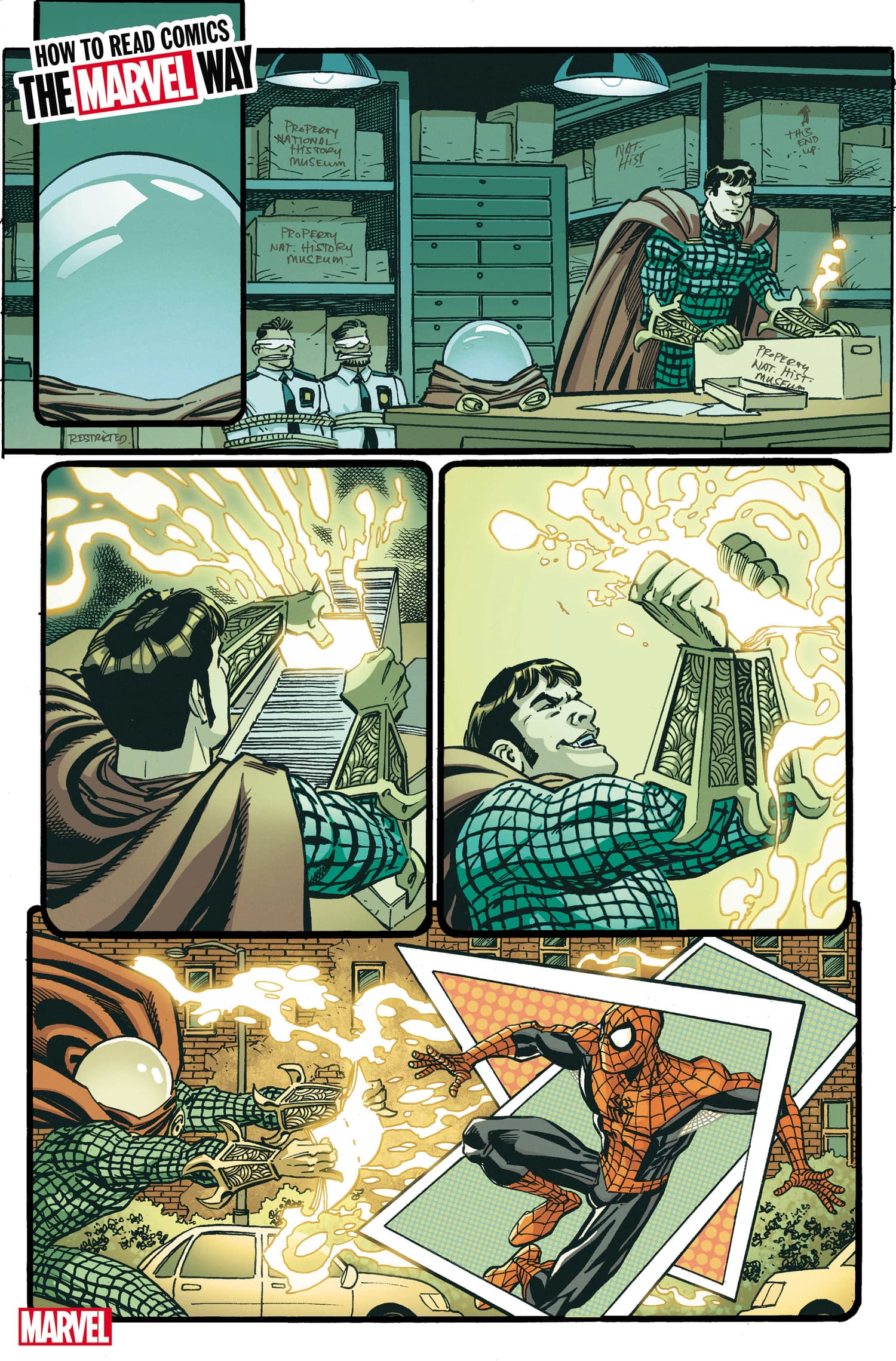 99 Word Balloons
Along similar lines to panels, the word balloons can complicate the reading process. The same cultural sticking points can come into play here, but the more word balloons in a panel, the more the eye tends to wander. Exacerbating the problem, we never quite nailed down the exact order to read panels in American comics! When presented with a series of overlapping word balloons, you find yourself faced with the choice of reading top-down or left-to-right...or some combination of the two! Since there's no hard and fast rule for this one, it can just take some time—or a reliance on the fittest and finest Marvel artists and letterers to guide your way!
But that's not all you need to know about word balloons! Fun fact: the little corner that goes to the speaker's mouth is called the tail!
Thoughts and Minds
One of comics' greatest strengths is the potential to combine visual and written information at one time. Additionally, the writers and artists can convey what a character is doing, saying, and thinking all in a single panel!
The inner monologue can be conveyed in two ways. The first—and more popular—these days, is the thought box, an actual rectangle in the panel that says exactly what the character or narrator is thinking. Back in the day, however, a thought balloon was more common. That's a word balloon that looks cloud-like and has a series of circles leading the the thinker instead of the more traditional tail.
Thought balloons went out of style for a while there, but have been making a comeback of late. Both perform the same function, but the balloons show you exactly who is thinking the thought whereas the boxes can be more hairsplitting!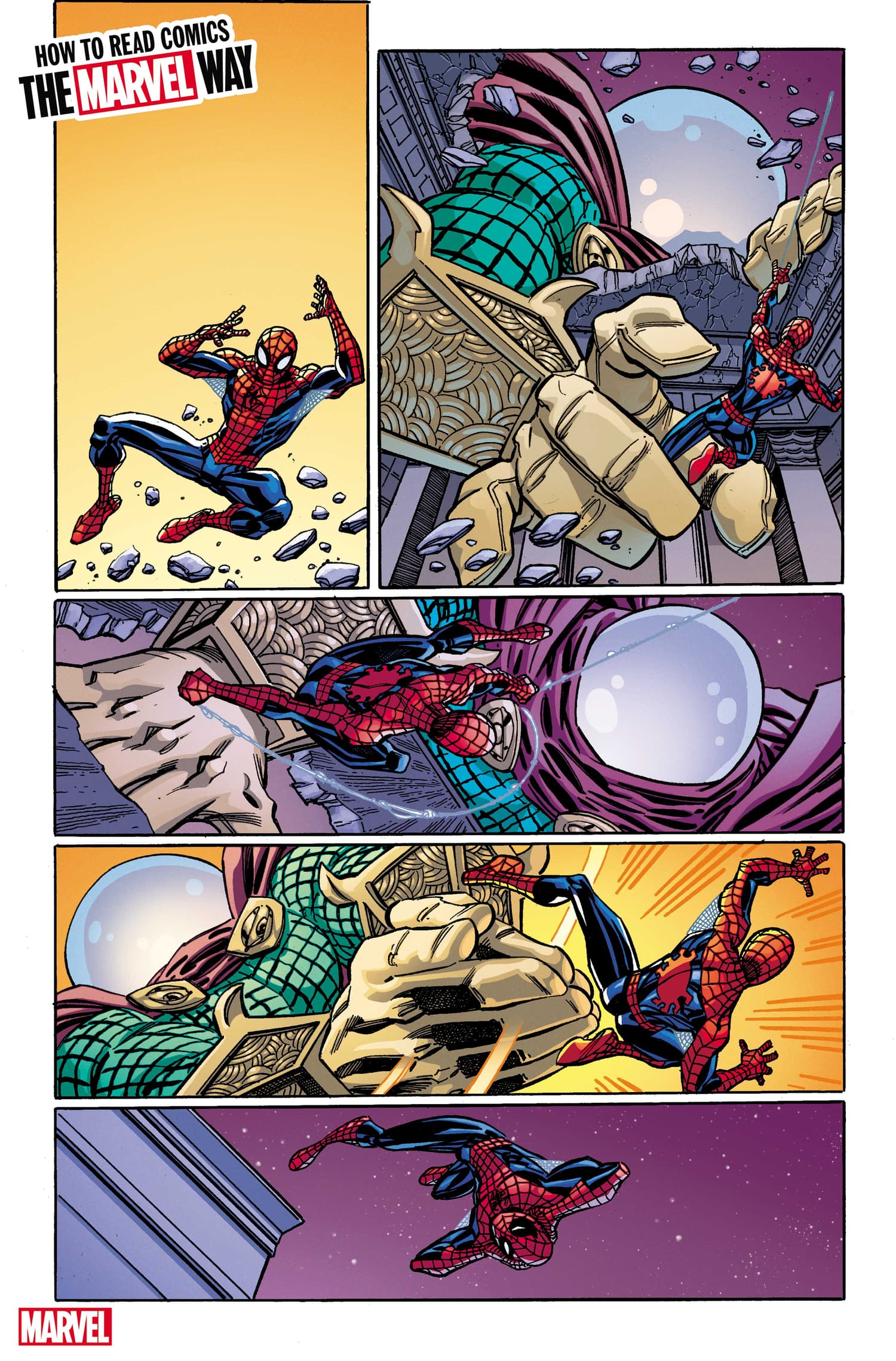 Get Your Head in the Gutter
The space where two individual pages come together in a comic is called the gutter (where the staples live, in other words). This might seem like unnecessary information, but depending on the number of pages, it might hold important information!
Occasionally, a part of the image will find its way into the fold and get obfuscated. This might become more of a problem when reading a collection of comics instead of single issues, because of the physical difference in how all the pages come together, but it's also another hitch that becomes a non-issue when reading comics digitally because the gutter disappears!
However, even with a few potential hurdles, we think that successfully figuring out how to leap over them can lead new readers into the wonderful world of comics! So send 'em to the 616, True Believers!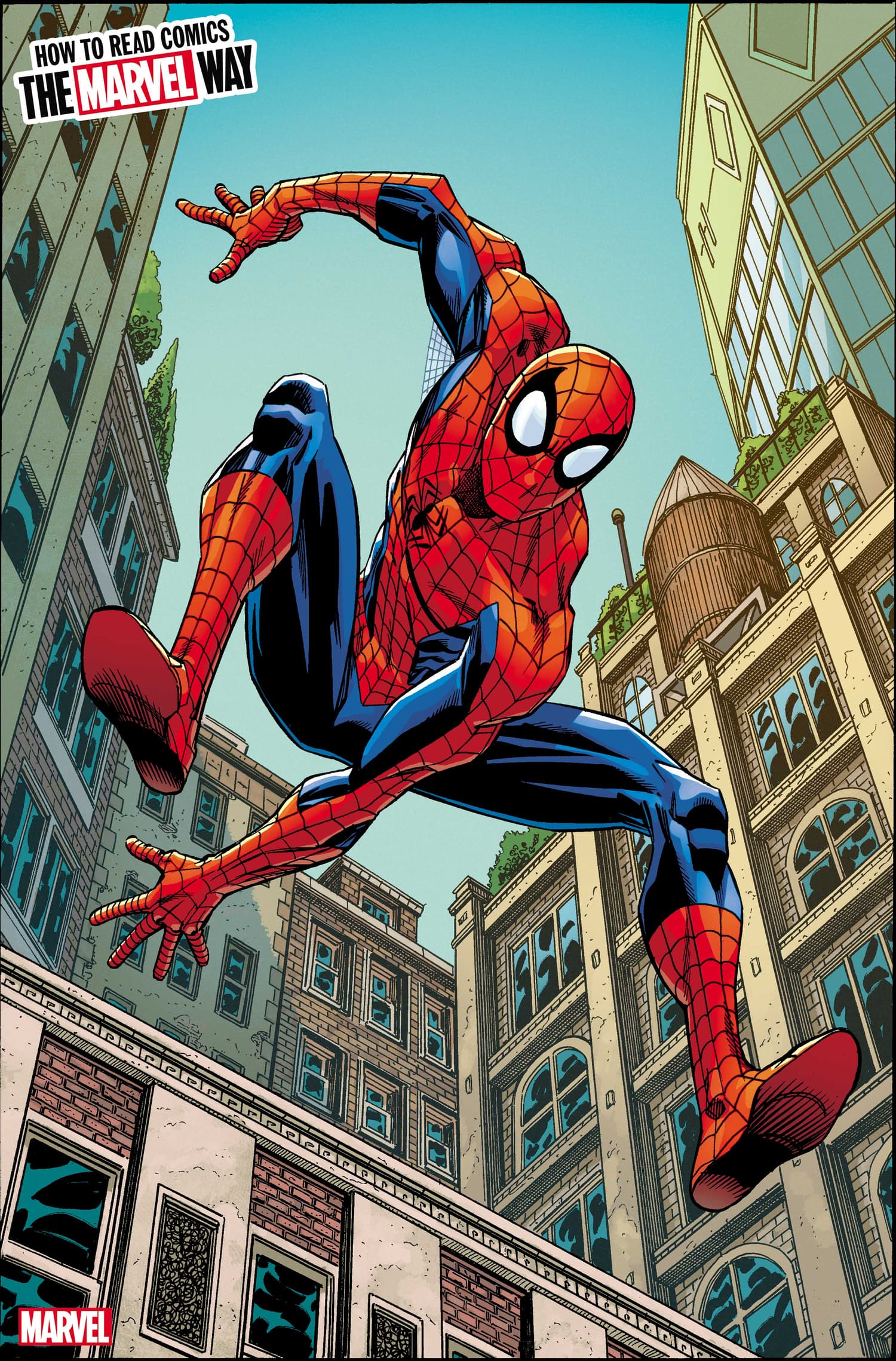 Pre-order HOW TO READ COMICS THE MARVEL WAY with your local comic shop today, then read it on April 15! For the latest Marvel comics releases, please reach out to your local retailer about services they may offer, including holding or creating pull lists, curbside pick-ups, special deliveries, and other options to accommodate.
The Hype Box
Can't-miss news and updates from across the Marvel Universe!