Comics
Published April 5, 2019
How to Read the Longest Run in Spider-Man History
Take a guided tour through Dan Slott's decade-long run with this epic reading list!
Last year, modern Marvel legend Dan Slott ended his epic, decade-long run on everyone's favorite friendly neighborhood Super Hero.
Over that time, he rejuvenated some of the wall-crawler's most beloved villains, altered Peter's personal relationships, built him a tech company, introduced everyone to an infinite number of alternate-reality Spider-folk, and even put Doctor Octopus in the driver's seat for a time.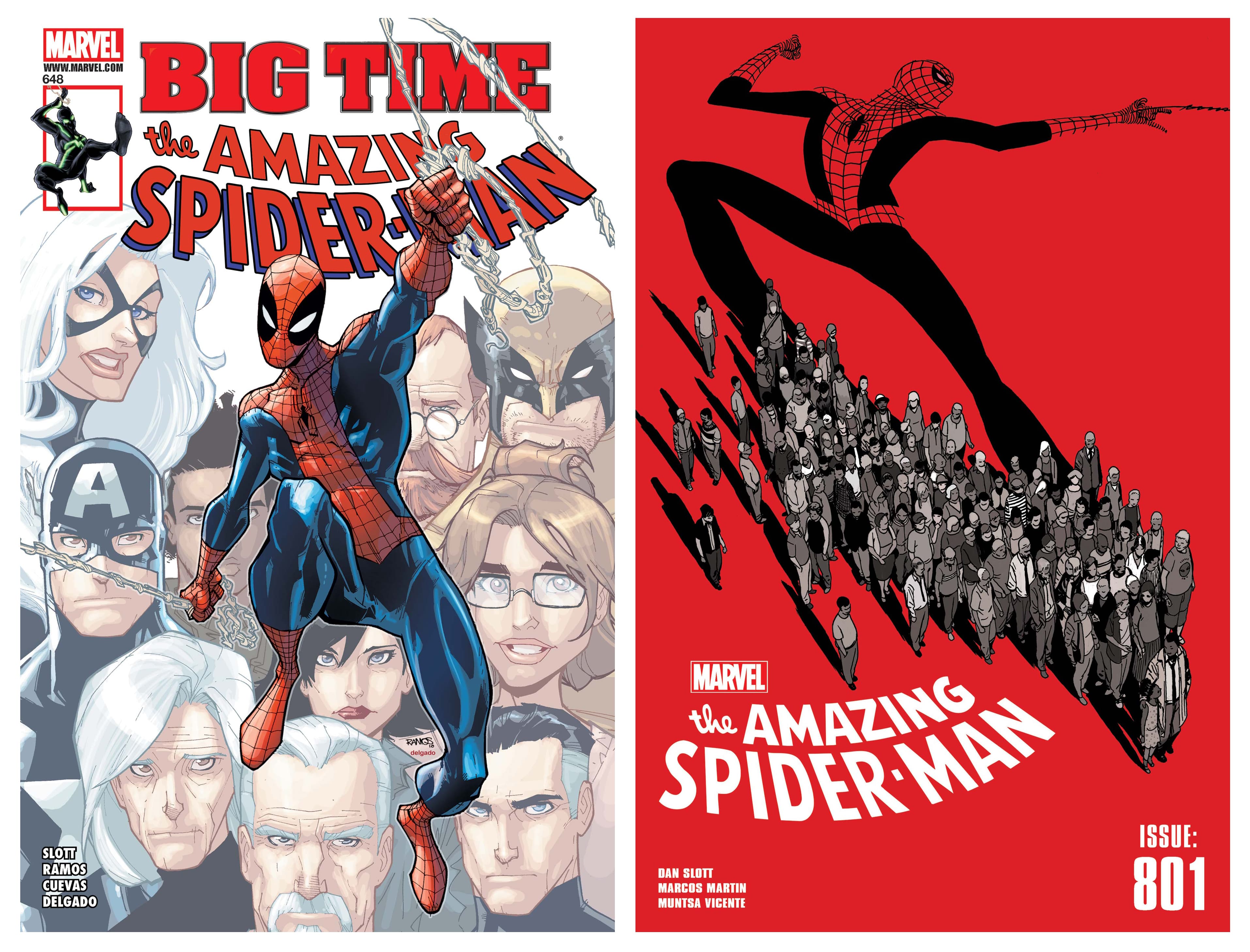 To make sure it's as easy as possible for readers to dive into this incredible body of work, we've put together a spoiler-free guide that will help you explore the multi-volume, ground-breaking stories that put Spider-Man through the wringer while also taking him to all-new heights.
So, below is a big beat breakdown of Slott's Spidey, and at the bottom of this page is a list of the specific books that make up the entire landmark run. Ready?
Thwip!
BRAND NEW DAY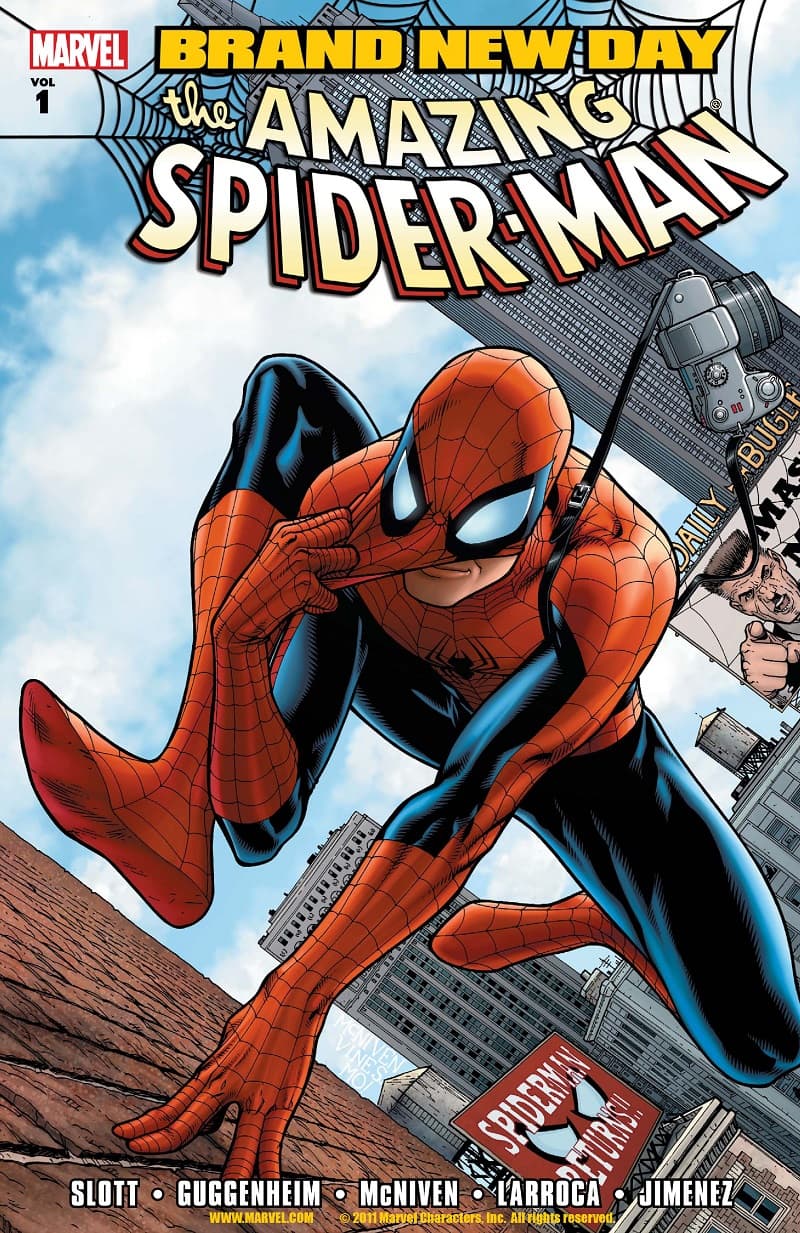 In the wake of the reality-shaking ONE MORE DAY storyline, all of the other Spider-Man titles ceased to be so that AMAZING SPIDER-MAN would be the go-to place for all things Peter Parker.
In 2008, the title switched to a three-times-a-month schedule that featured the writing talents of Slott, Marc Guggenheim, Bob Gale, Zeb Wells, Joe Kelley, Fred Van Lente, and others. Slott kicked the series off with issues #546–548 and then returned for stories like PETER PARKER PAPARAZZI in #559–561, TRAFFIC JAM with the other writers in #564, NEW WAYS TO DIE (#568–573), MIND ON FIRE (#581–582), FACE FRONT (#590–591), the landmark 600th issue, the MYSTERIOUS portion of the overarching GAUNTLET story (#618–621), and the BRAND NEW DAY finale issue in AMAZING SPIDER-MAN #647.
BIG TIME & BEYOND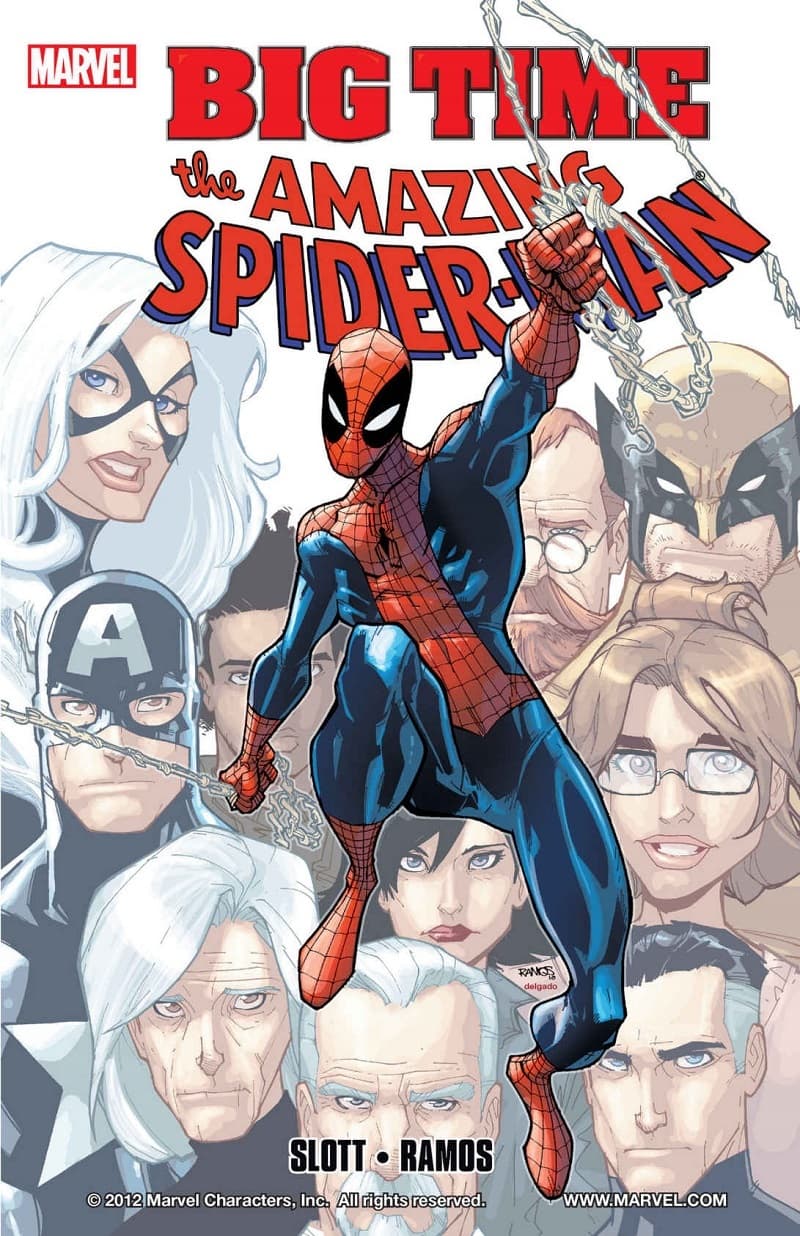 With AMAZING SPIDER-MAN #648, Slott became the sole custodian of Spider-Man on the writing side of things with a story called "Big Time" that ran from #648 through #651 which then gave way to the heartbreaking "Matters of Life and Death" taking place in #652–654, #654.1, and #655–657.
In #658-660, Spidey took over for his missing friend Johnny Storm in the Fantastic Four. Right after that he met up with the Avengers Academy kids in #661-662, and then fought against the recently returned Anti-Venom in #663-665 which were collected in books called THE FANTASTIC SPIDER-MAN and THE RETURN OF ANTI-VENOM.
SPIDER-ISLAND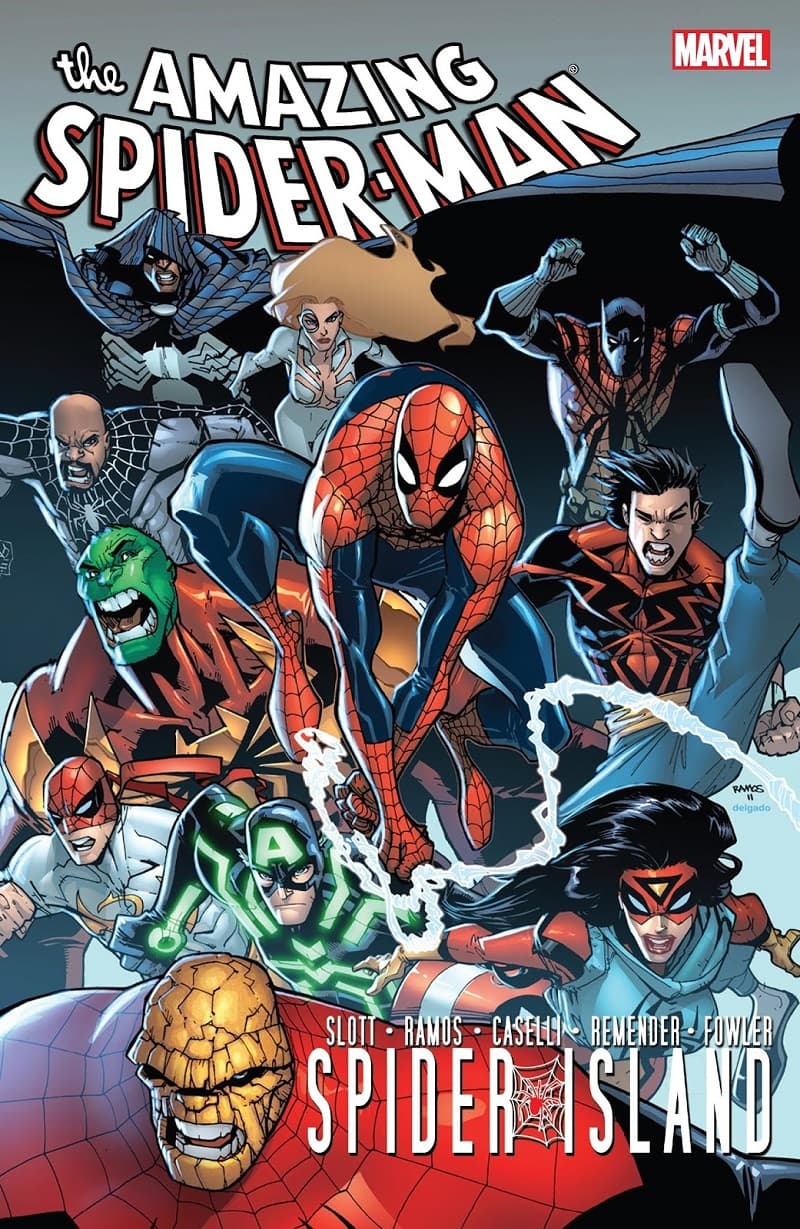 All of this led up to a big crossover revolving around our arachnid hero: SPIDER-ISLAND. This tale found plenty of Manhattan-based characters—ranging from Mary Jane Watson to T'Challa—gaining powers akin to Spidey's.
Slott teased the tale with "Infested" back-ups in AMAZING #659-660 and #662–665, then penned the main story from issue #666-673, all of which can be found in the SPIDER-ISLAND collection.
THE ROAD TO #700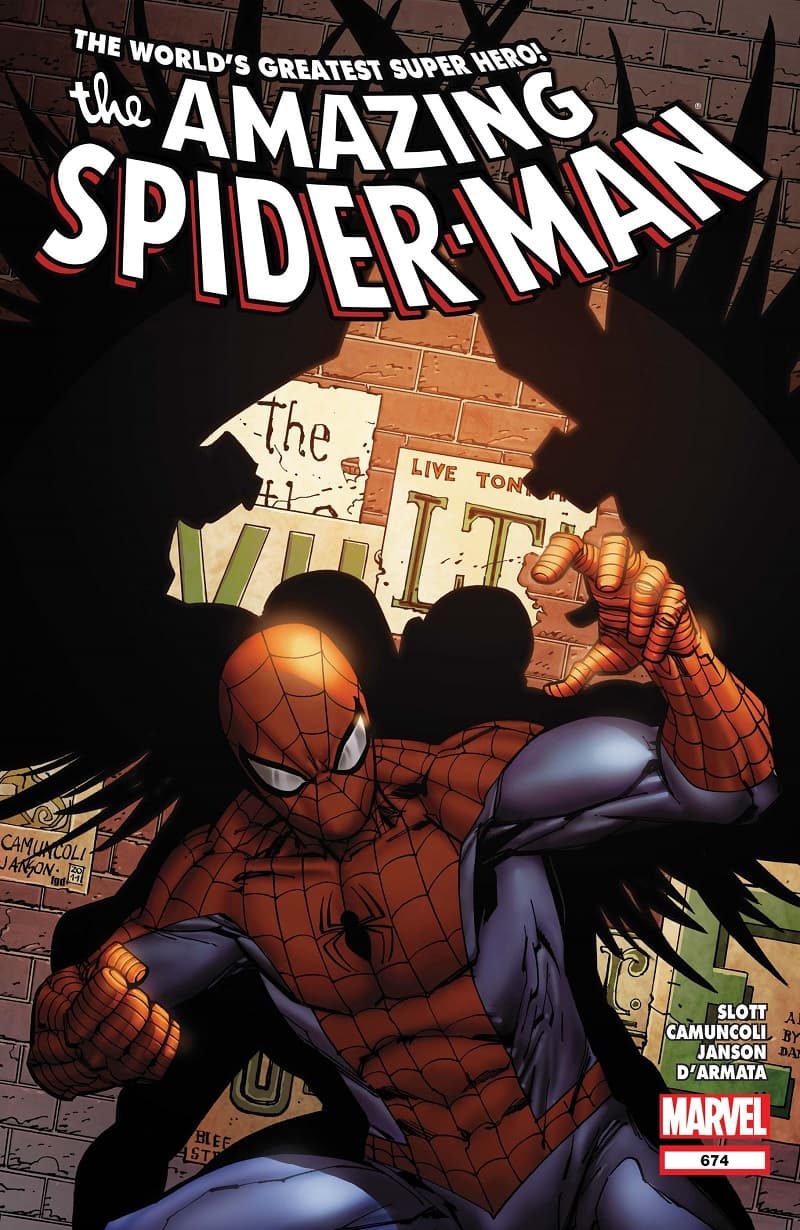 Between SPIDER-ISLAND and the game-changing 700th issue, Slott filled the series with action-packed and emotional stories brought together in volumes like FLYING BLIND (#674–676), TROUBLE ON THE HORIZON (#678–681, plus #679.1), ENDS OF THE EARTH ( #682–687), LIZARD – NO TURNING BACK (#688–691), DANGER ZONE (#692–697), and DYING WISH (#698–700). Dan also pitched in on issue #699.1 which paved the way for a new Morbius strip and is collected in MORBIUS THE LIVING VAMPIRE: THE MAN CALLED MORBIUS.
SUPERIOR SPIDER-MAN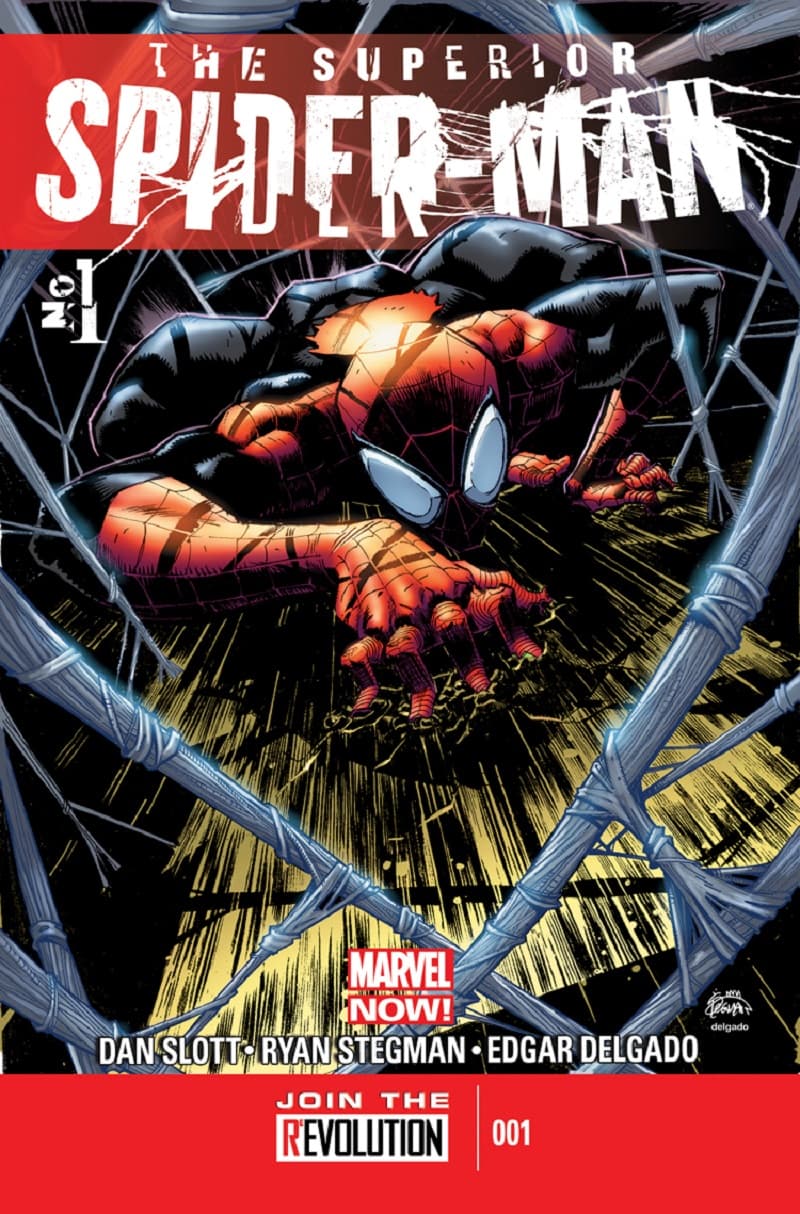 Everything changed after AMAZING SPIDER-MAN #700 when Doctor Otto Octavius took over Peter Parker's body and became the Superior Spider-Man!
Between 2013 and 2014, SUPERIOR SPIDER-MAN ran for 33 issues broken up into a number of arcs nicely collected in trades of the same name: MY OWN WORST ENEMY (#1-5), A TROUBLED MIND (#6-10), NO ESCAPE (#11-16), NECESSARY EVIL (#17-21), SUPERIOR VENOM (#21-26), GOBLIN NATION (#27-31), and finally a SPIDER-VERSE prelude in issues #32-33.
SPIDER-VERSE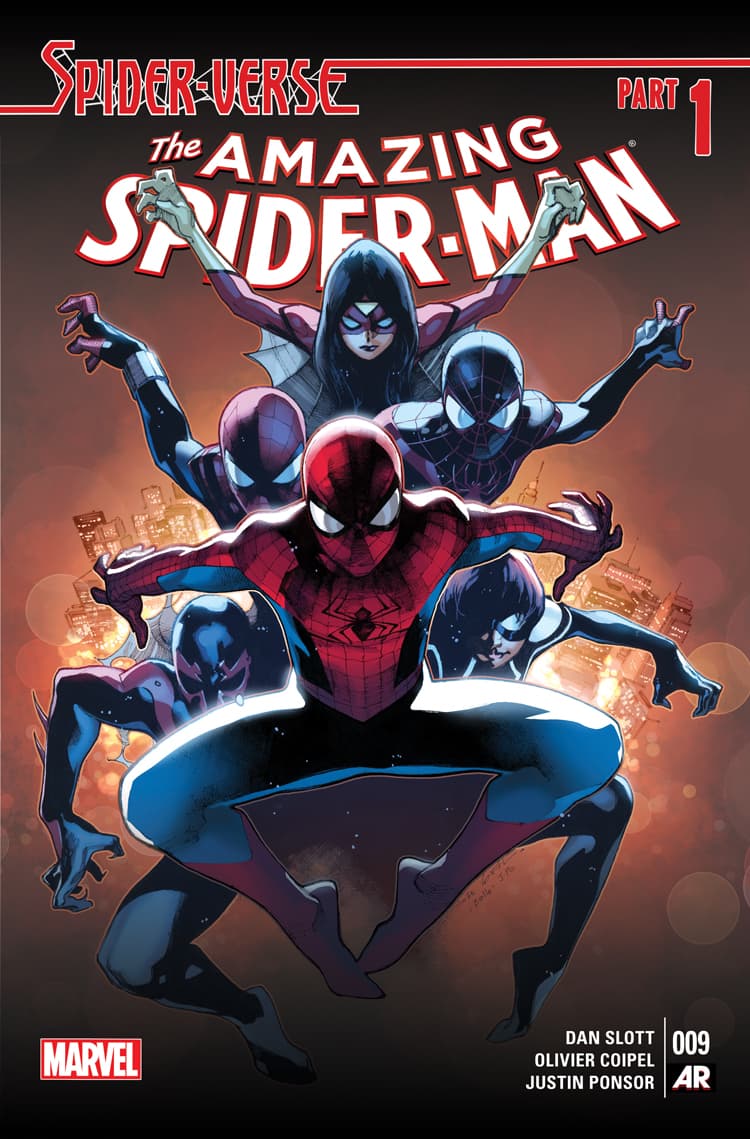 In 2014, the same month that the GOBLIN NATION arc ended in SUPERIOR, an all-new AMAZING SPIDER-MAN volume launched, once again with the sensational Slott at the helm.
After Peter Parker swung back in the spotlight for the first three issues—see both THE PARKER LUCK and LEARNING TO CRAWL—the multi-dimensional SPIDER-VERSE story began with EDGE OF SPIDER-VERSE in issues #7-8 and then into the main SPIDER-VERSE tale in #9-15. Slott also contributed anthology stories to the two SPIDER-VERSE issues. The volume came to an end in 2015 with one last Slott arc called GRAVEYARD SHIFT in issues #16-18, though Gerry Conway actually closed out the series. The collections for these stories can be found as SPIDER-VERSE PRELUDE, SPIDER-VERSE, and GRAVEYARD SHIFT.
Get a breakdown of how to read the full SPIDER-VERSE event right here!
RENEW YOUR VOWS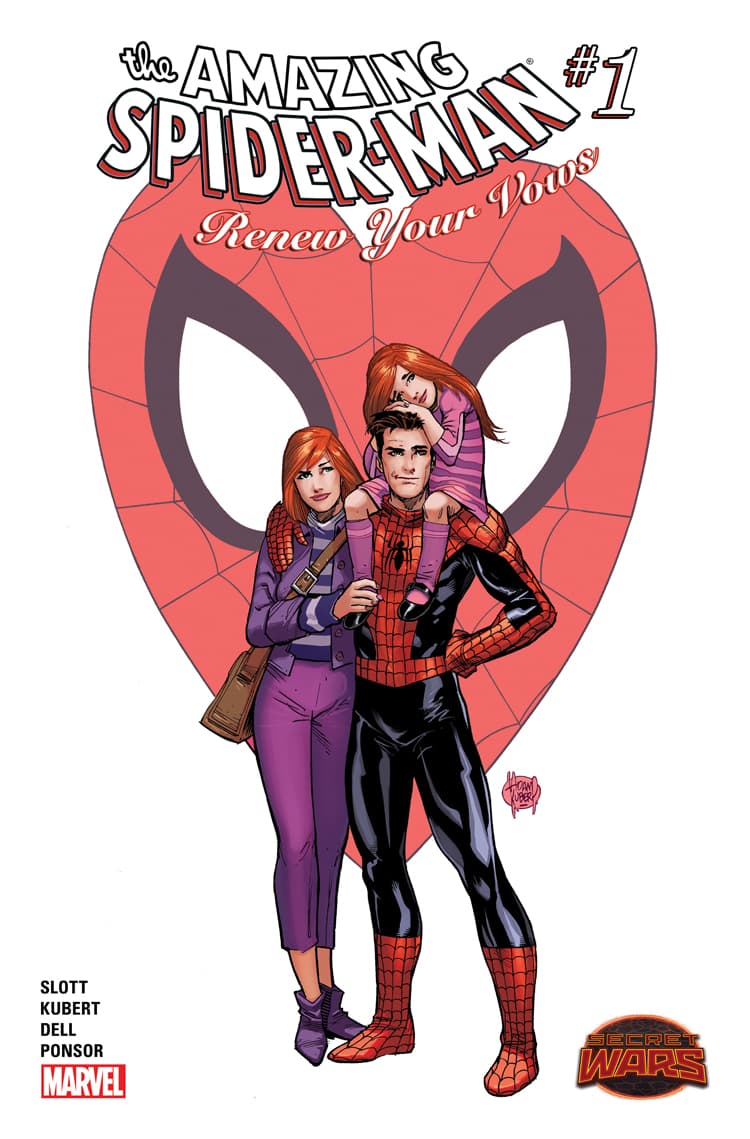 Everything went wonky for the Marvel Universe in 2015 as SECRET WARS led to the end of every normal ongoing series and saw them replaced by alternate reality takes. But that didn't stop Slott from writing Spider-Man comics!
Instead, he dove into a five issue series called AMAZING SPIDER-MAN: RENEW YOUR VOWS that featured a version of Peter Parker still married to Mary Jane Watson...and with a daughter named Anna-May! Together they fought a villain known as the Regent and went on to star in their own solo title under the watchful eyes of a few other writers.
WORLDWIDE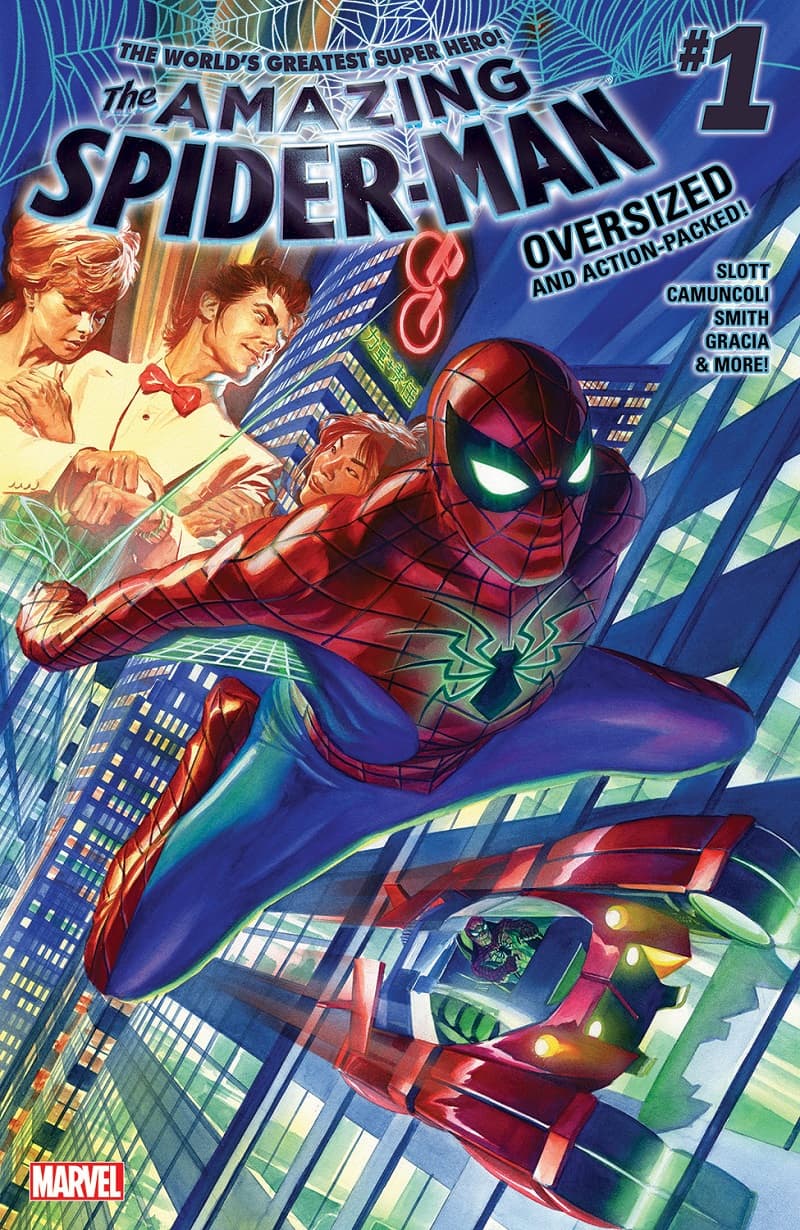 After the heroes returned the world to normal (...mostly) at the end of SECRET WARS, Slott launched another volume of AMAZING SPIDER-MAN at the end of 2015. The stories—six one-offs to start, then the longer DARK KINGDOM, SCORPIO RISING, and POWER PLAY—saw Peter Parker dealing with the international expansion of both his company and his heroic career in #1-15!
THE CLONE CONSPIRACY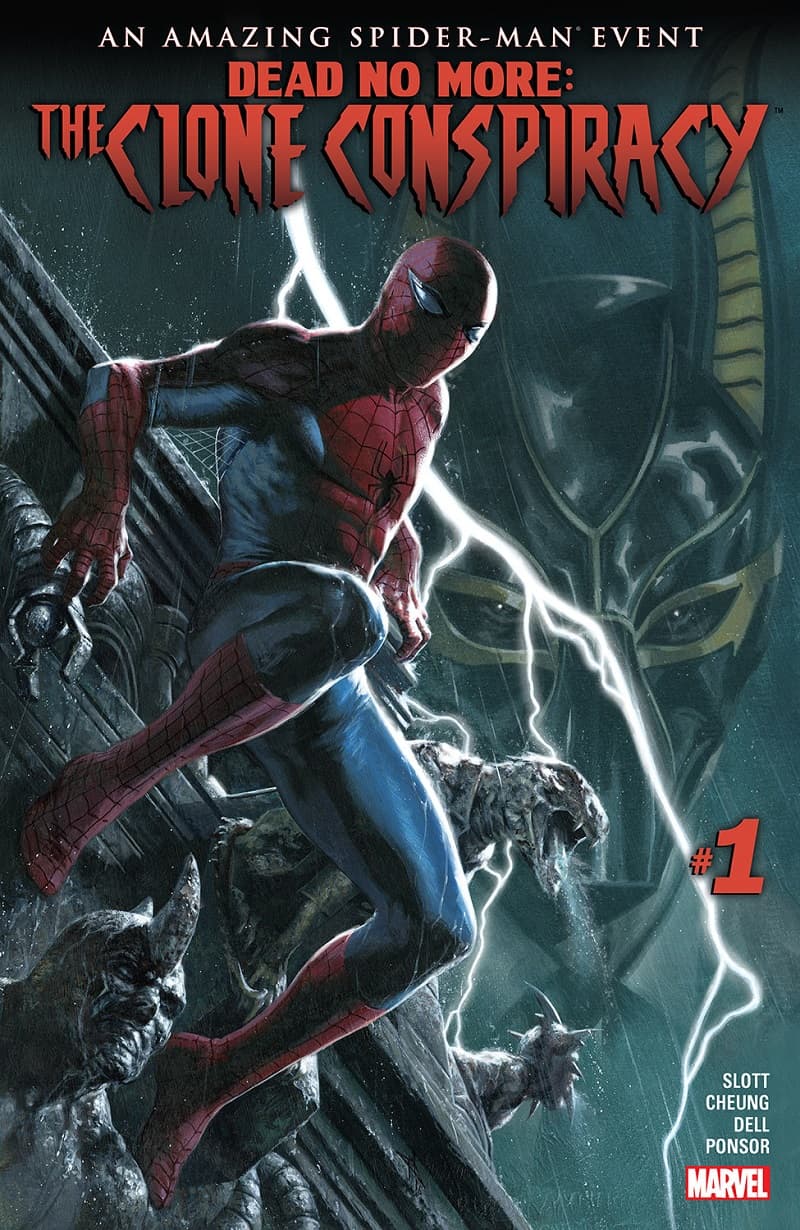 Slott then led into the DEAD NO MORE: CLONE CONSPIRACY event with a series of stories in issues #16-19 called BEFORE DEAD NO MORE. At that point, the CLONE CONSPIRACY five-issue limited series launched with accompanying Slott-penned stories in AMAZING SPIDER-MAN #20-24.
All of the Slott issues can be found in AMAZING SPIDER-MAN: THE CLONE CONSPIRACY along with the other tie-ins, as well as WORLDWIDE VOLUME 4 and 5.
VILLAINOUS RETURNS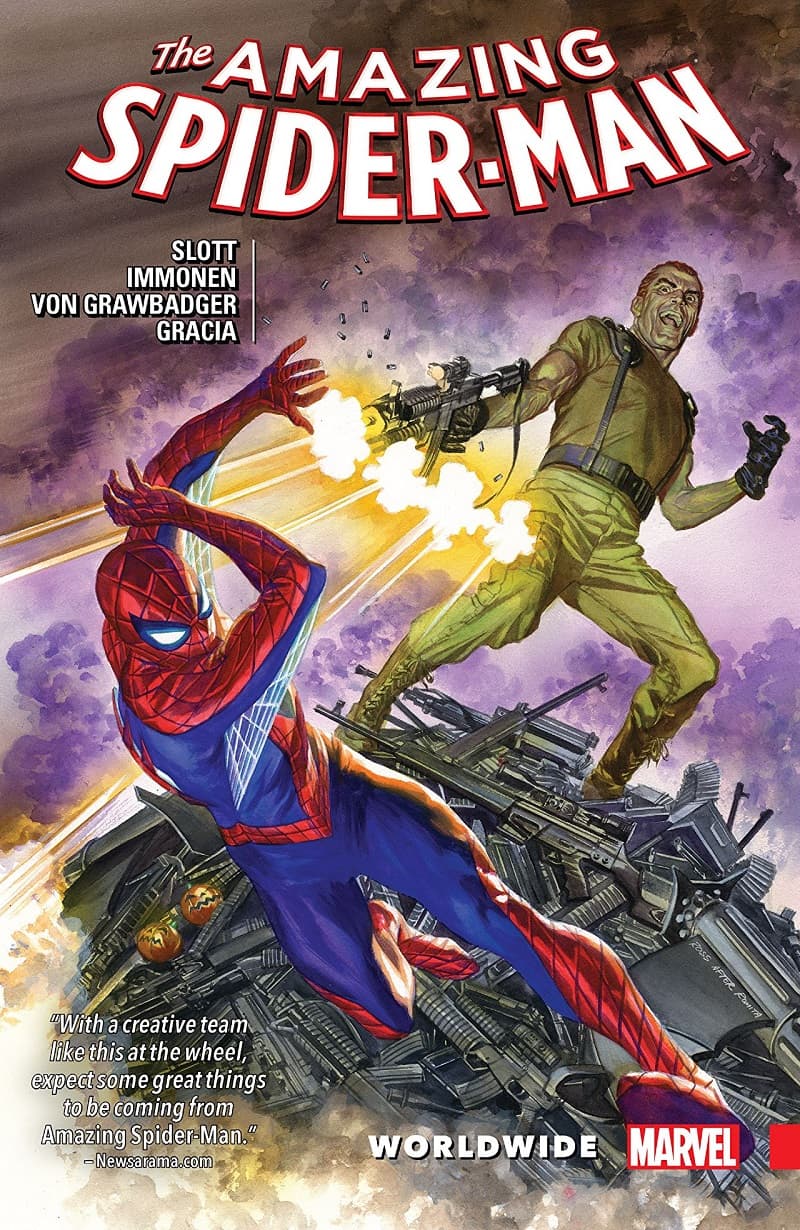 The hits kept coming for Spidey in the next two arcs, which closed out this volume of AMAZING SPIDER-MAN. THE OSBORN IDENTITY (#25-28) featured Norman, of course, and then Doc Ock returned as the Superior Octopus during SECRET EMPIRE in issues #29-31).
Dan then set up the upcoming shift back to legacy numbering (the total number of AMAZING SPIDER-MAN issues released since its start) with issue #32, which carried directly into AMAZING SPIDER-MAN #789-791 in a story called THE FALL OF PARKER. From there, Slott and Spidey took part in the VENOM INC. crossover in issues #792-793. These stories can be found collected in WORLDWIDE VOLUME 6, 7, and VENOM INC.!
THE GRAND FINALE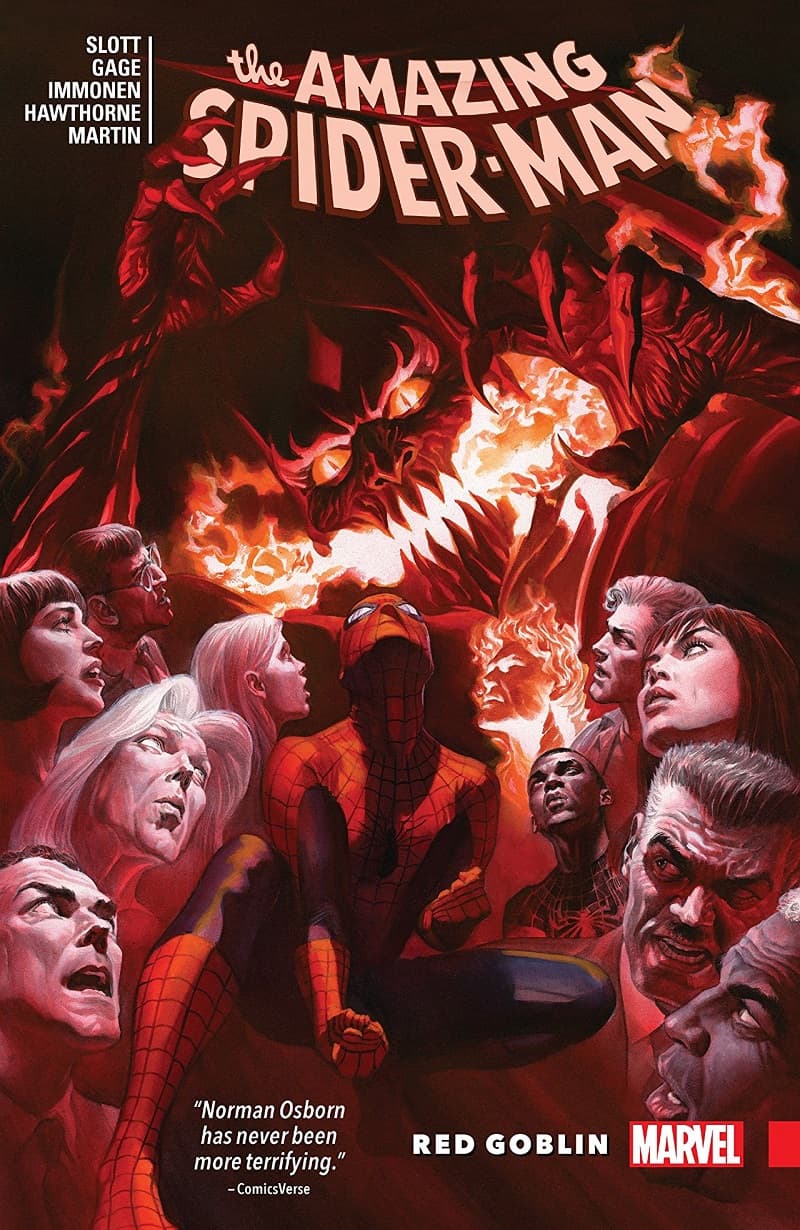 After a decade, Slott's shepherding of Peter Parker came to its momentous conclusion with a pair of multi-part stories called THREAT LEVEL RED in issues #794-796 and GO DOWN SWINGING in #797-800. Then, the final farewell came with a beautiful one-off story in issue #801.
All of these issues can be found in the AMAZING SPIDER-MAN: RED GOBLIN collection!
The Full Rundown...
BRAND NEW DAY ERA (2008-2010)
BIG TIME (2011-2013)
SUPERIOR SPIDER-MAN (2013-2014)
AMAZING SPIDER-MAN VOLUME 3 (2014-2015)
AMAZING SPIDER-MAN VOLUME 4 (2015-2018)
Read every single issue of Dan Slott's seminal Spidey run on Marvel Unlimited, Marvel's Digital Comic Shop, or at your local comic shop now!
The Hype Box
Can't-miss news and updates from across the Marvel Universe!