Comics
Published August 6, 2019
How We Arrived at 'Absolute Carnage'
Get ready for Marvel's latest event as Venom and Spider-Man face the God of Symbiotes!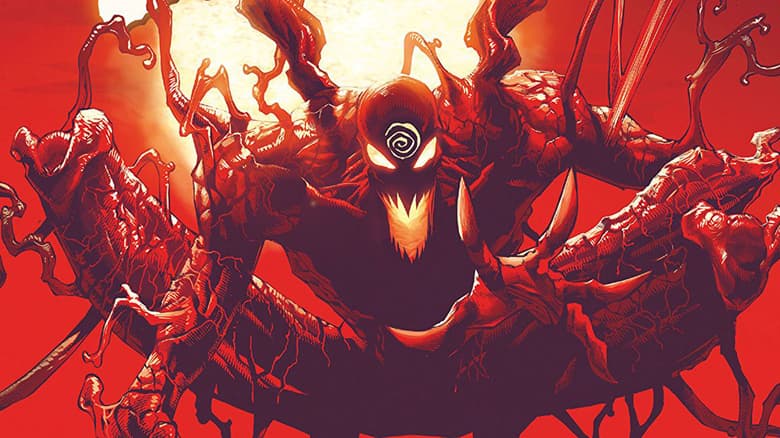 This Wednesday, August 7, Donny Cates and Ryan Stegman are unleashing ABSOLUTE CARNAGE #1 on the Marvel Universe. Cletus Kasady is back with his most dangerous plan to date, and he's coming for several of the Marvel Universe's top heroes. As Carnage, Cletus' new goal is to set free Knull, the God of Symbiotes. All he needs to do is track down anyone who has ever worn a symbiote and steal the latent Knull codex from their bodies. It can be a fatal process, but Carnage has never shied away from spilling blood!
To prepare for the new event series, Marvel.com has put together an ABSOLUTE CARNAGE primer to bring everyone up to speed.
Knull
In order to understand who and what Knull is, we have to start at the beginning. For Knull, that may actually mean going back to the origins of the universe itself. He claims to have lived in the void before existence as we understand it. As creation came into being, Knull rebelled against the encroaching light and sought to extinguish it. He consumed planets and stars, before ultimately discovering that he could create living symbiotes that could bond with other creatures and bend them to his will. Thus he became the God of Symbiotes.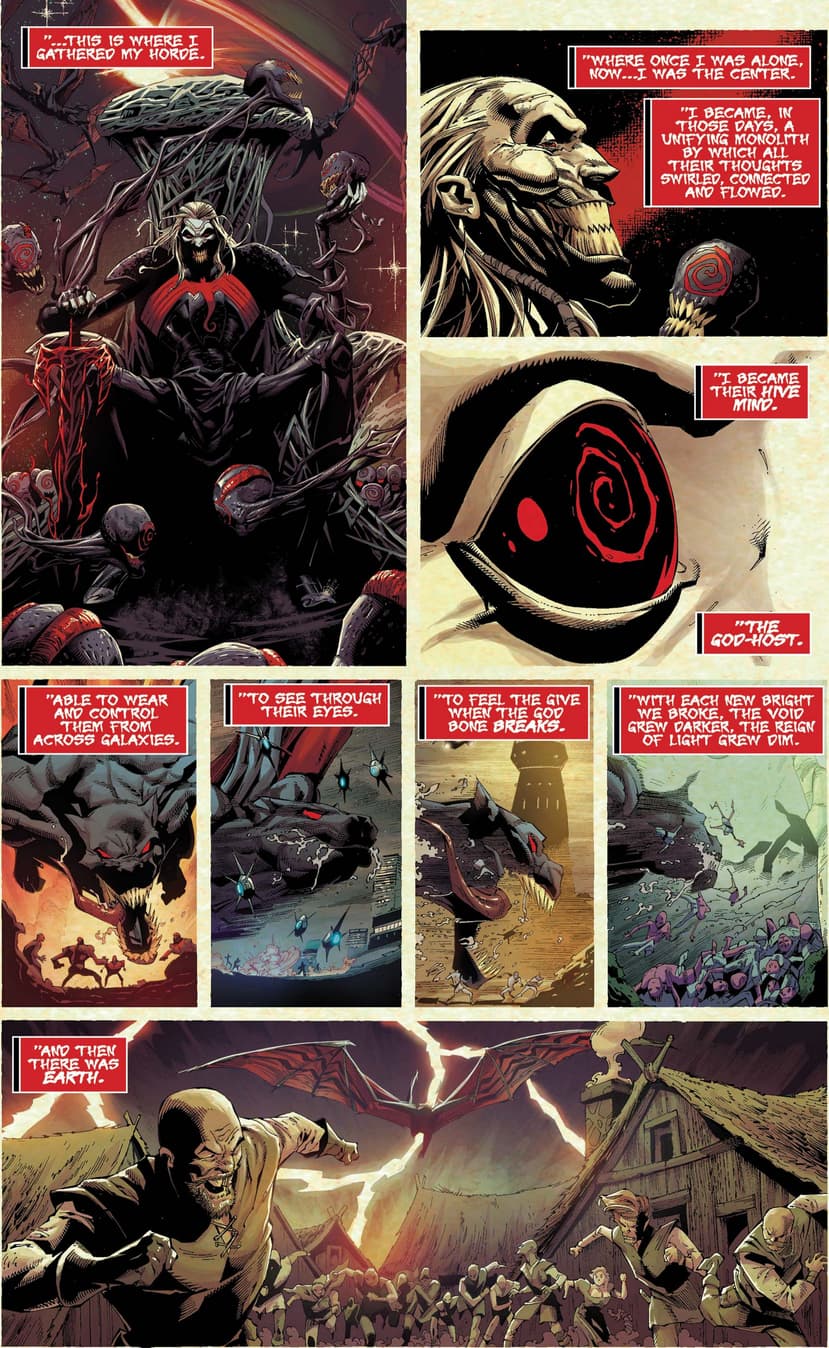 However, the symbiotes came to have wills of their own. They rebelled against Knull and sealed him away within the core of their planet, Klyntar. But that was far from the end of Knull. Eddie Brock was forced to see the truth in VENOM #4. Knull gleefully told Eddie about the symbiotes' real origin as he spoke through the Grendel, a massive symbiote that had once possessed a dragon. Human scientists came across the body of that dragon and inadvertently awoke Knull from his centuries-long slumber.
Venom and Spider-Man managed to sever Knull's connection to the Grendel, but he promised to extinguish the light...starting with Earth.
Carnage
Cletus Kasady happened to be dead at the time, but that's never stopped him from unleashing Carnage. In WEB OF VENOM: CARNAGE BORN #1, the Church of the New Darkness (a cult that worships Knull) successfully resurrected Carnage while using a sample of the Grendel symbiote. Knull tried to assume control over Cletus' body, but their connection was severed. This was the beginning of Carnage's new mission: to collect the Knull codex from everyone who had latent remnants of symbiotes in their bodies. Carnage's first victim was Scorn, the woman who led the Church of New Darkness.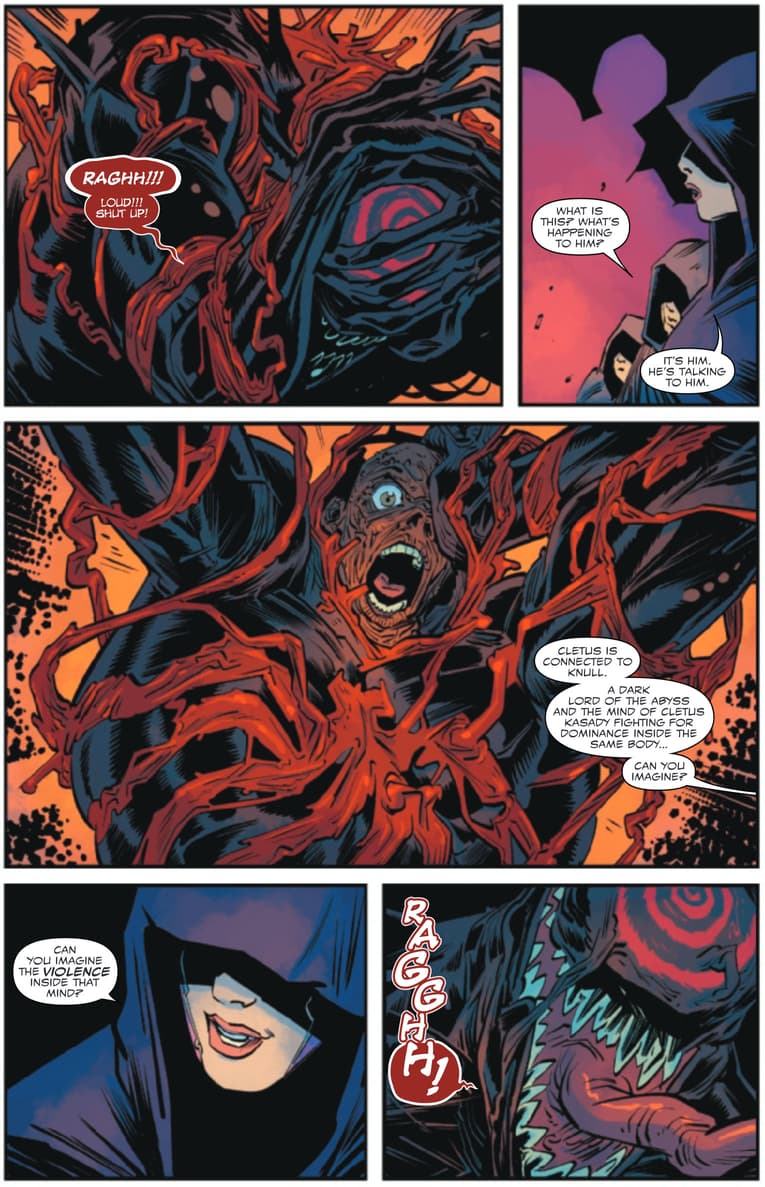 To make things worse for Venom, Carnage impersonated Eddie Brock and framed him for murder. This allowed Carnage to freely hunt the former symbiote hosts while Eddie had to deal with the fallout. Carnage has also mastered the ability of using pieces of his own symbiote to possess other host bodies. That includes humans and animals, which has allowed Carnage to spy on his potential victims from afar.
Venom
Currently, there is no Venom. Eddie Brock and the symbiote have gone their separate ways. Their rift was formed over time as Eddie realized that the symbiote had been lying to him for years. It convinced Eddie that he had cancer and made him forget that he had a young son named Dylan.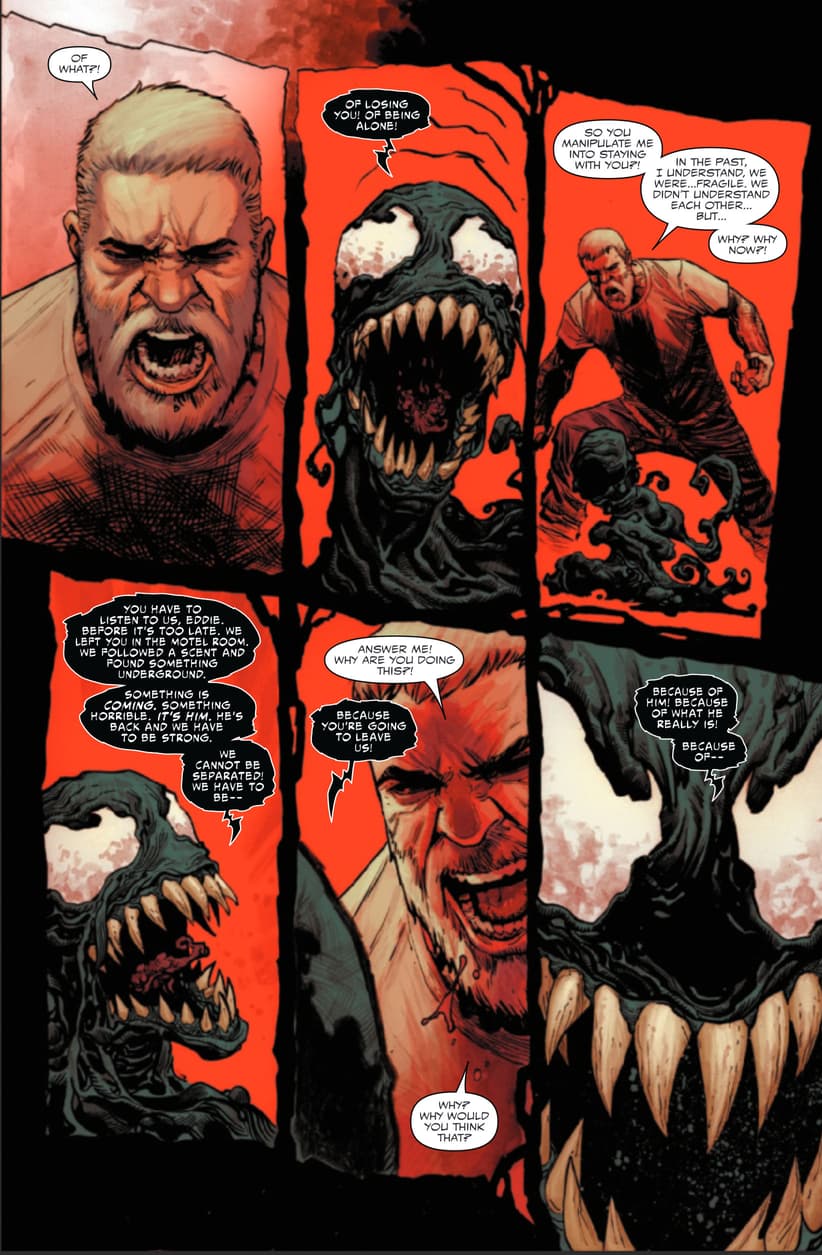 During WAR OF THE REALMS, Malekith the Accursed claimed the Venom symbiote as his own, but it was freed after the final battle against the Thors. This had the unintentional side effect of curing the symbiote from the sickness it was exposed to during its last encounter with Knull. However, the symbiote is currently without a host of its own.
Meanwhile, Eddie and his son (who doesn't know he's Eddie's son) Dylan are on the run. Eddie certainly thought his life as Venom was behind him, but there's a manhunt underway now that Carnage has framed him. To save his son, himself, and the world, Eddie may need to rejoin with the symbiote and bring back Venom. But is it already too late? Find out this week, when ABSOLUTE CARNAGE officially begins!
ABSOLUTE CARNAGE #1, written by Donny Cates with art by Ryan Stegman, goes on sale Wednesday, August 7. Reserve your copy online or at your local comic shop.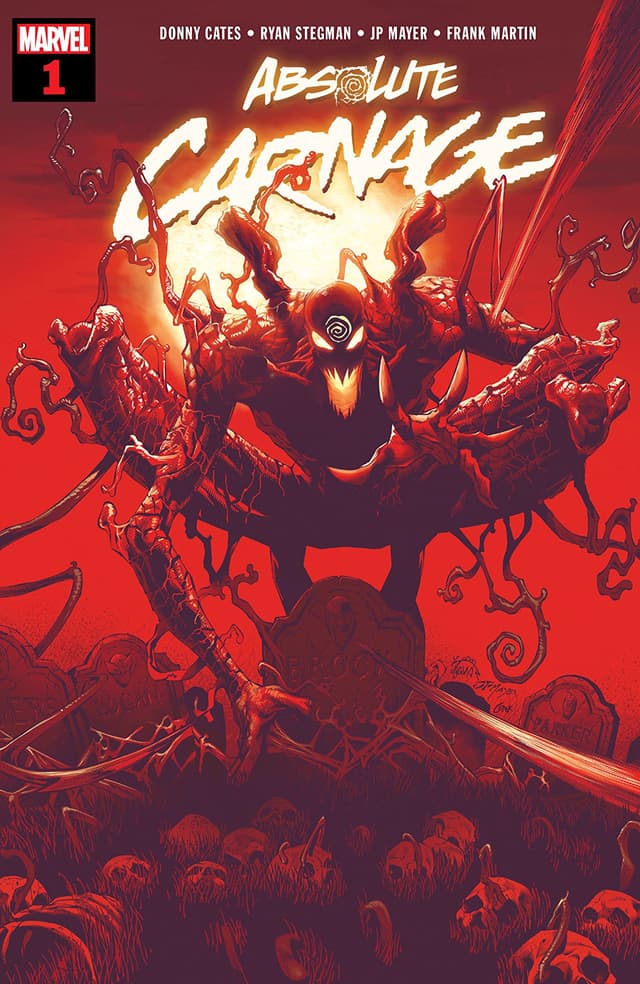 The Hype Box
Can't-miss news and updates from across the Marvel Universe!