Comics
Published November 28, 2017
8 Armored Adversaries of Iron Man
Our armored Avenger faces foes who think they can match his masterpiece!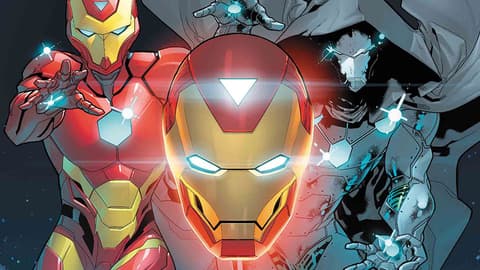 The history of the Marvel Universe's shown time and time again that everybody thinks they can do it better than Tony Stark…until he proves otherwise. As we're about to show you with a few examples of Iron Man's armored adversaries through the years, there's only one Tony Stark—accept no substitutes!
Crimson Dynamo

Perhaps the quintessential armored Iron Man adversary, The Crimson Dynamo stood as Russia's answer to the "Stark Problem." Over the years, many wore the powerful suit, but in the end, our favorite billionaire playboy won the day every time.
Titanium Man

Yep, another Russian "iron man" and another beatdown for the bad guy. Like the Crimson Dynamo, more than one Titanium Man attempted to over-armor Stark, but he broke their mold with some hot iron on cold, cold steel.
Doctor Doom

So, yeah, Doctor Doom devised his armor not in response to Tony Stark's handiwork, but for his own nefarious purposes—which still placed him in direct conflict with Iron Man on more than one occasion. Who's the best? That answer's still on the wind, True Believer.
Iron Monger

This represents one of those dark times when the world turned without the original Iron Man and evil opposites rose up in his absence. Tony's rival Obadiah Stane thought he'd seen the last of Stark, but trotted out the Iron Monger armor to put him down when he showed his armored face again. Too bad for Stane, of course.
Armor Wars

Iron Man versus multiple armored foes, and even a few friends and acquaintances? Trust us—these "Armor Wars" proved that nobody, and we mean nobody should ever dare to "borrow" Tony Stark's technology ever again. 'Nuff said.
Sentient Armor

They say everyone must face their own inner demons at some point, but when that went down for Tony Stark it meant contending with his own armor which had developed its own independent life. More than a guy in a suit, the sentient armor became one of Iron Man's greatest challenges and remains so to this day.
Ezekiel Stane

Ezekiel Stane—familiar name, but all-new menace. Zeke wanted to be better than his father, Obadiah, and his way of reaching that pinnacle involved destroying Tony Stark. Armor versus armor again, and when the dust cleared, the son ranked no higher than the father on the steel-clad super villain scale.
Detroit Steel

Tony's got to do something about these kids who try to out-evil their old men. This time it fell to Justine and Sasha Hammer to seek revenge on Stark for their dad, Justin, with Detroit Steel, one of the wickedest and wildest suits of weaponized armor ever. Iron Man performed some Motor City madness on the beast and once again illustrated why the first and original's always going to shine the brightest.
The Hype Box
Can't-miss news and updates from across the Marvel Universe!