Comics
Published June 21, 2017
Iron Fist: Boss Level
Danny Rand's island adventure comes to a brutal end!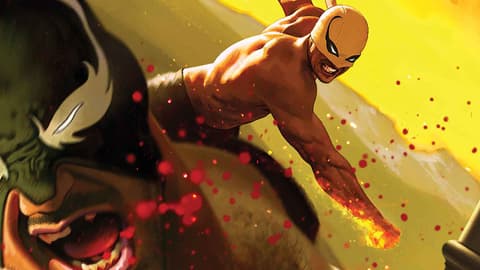 While July 4 usually marks the height of fireworks in the United States, IRON FIST #5 will have plenty more ready for you the next day.
Danny Rand, tired but resilient, will complete his violent journey to the top of the Liu-Shi fighting tournament and finally come face to face with the shadowy final opponent who has been watching him from afar all this time. While we wouldn't dare spoil the results, we can promise the clash will be explosive.
Writer Ed Brisson gladly took a break from cleaning all the blood off of his clothes to talk to us about the end of the Immortal Weapon's latest martial arts contest.
Marvel.com: At the start of IRON FIST, Danny found himself losing his chi. As he pulls into this final fight, he has been awarded the chi of his fallen opponents. How has that affected his abilities? His state of mind?
Ed Brisson: At first, I think it came as a bit of relief to him. He's finally able to tap back into his power; however, as we learn through the series, it's fleeting. The chi he absorbs is not the same and doesn't last, so, in a lot of ways, he's back to square one. He's still trying to find out why he has trouble connecting with his chi. Until he knows why, he has no idea how to fix it.
He came to Liu-Shi looking for answers and while he may find some, he's discovered new questions that he'll need to answer.
Marvel.com: The final opponent has made an effort to keep him or herself largely in the shadows. Without spoiling anything, what can you tell us about this mysterious foe?
Ed Brisson: Oh man…I want to, but that's one of those things that I think is better left for the reader to discover. Let's just say that this fight is a fight that's been in the making since the 70s.
Marvel.com: How did Mike Perkins' art help you realize the tone and look of the final boss? How did his depiction of the character inform your writing of him and of the fight?
Ed Brisson: Going in, we had a very clear idea of who the final boss was; there's an existing history to him that we're building upon. Design wise, Mike came up with an incredible look for him. Something classic that doesn't look dated. I can't get too deep into it without risk of spoiling things, but will say that Mike nailed the design. Which is no surprise, Mike has designed some incredible characters for this series.
In terms of Mike's fights and choreography—after seeing the very first fight scene in issue #2, I stopped scripting fight scenes for Mike. When we get to a fight page, I'll usually give a bare-bones run down of what happens and leave the rest to Mike. Normally, I don't write that way, but have found that with Mike, the best thing to do is get out of his way and let him work his magic. That's how you end up with some pages that have 22 panels of the most killer fighting you've ever seen in a comic.
Marvel.com: It has been clear since issue #2 that the houses of the island have no intention of playing fair with Iron Fist. Now that he stands one antagonist away from total victory, how dangerous are the schools to him even though he's defeated their champions?
Ed Brisson: Although the island operates under one governing council, each house/school has a very distinct personality and will react to the loss in their own way. Some of the houses will accept the loss gracefully. Others, not as much. And some…well, some will not accept loss at any cost.
The long term of this is that we're going to see Danny making pathways with new allies, while also adding a whole slew of enemies to his already bursting fight dance card.
Even though Danny may soon be done with the Liu-Shi, that doesn't mean that Liu-Shi is done with him.
Marvel.com: In considering this last issue of your first arc on the title, what would you tell fans who think they might want to pick it up but aren't sure? What makes this issue an important get for fans of Iron Fist?
Ed Brisson: Anyone who's a fan of kung fu flicks should pick up the series. We're leaning hard into that old Shaw Bros feel and I think that a lot of people have been pretty happy with it. We're really doing our best to honor Iron Fist's roots by telling a tale that feels classic, but also contemporary all at once.
Marvel.com: In looking beyond #5, can you tease any elements or stories that may await Danny if he can survive this last fight?
Ed Brisson: In issues #6 and #7, Danny is just trying to get back home. There'll be some unfinished business and the tournament will have some lasting repercussions that Danny is going to have to deal with for the foreseeable future. But, in the meantime, he's trying to get back home and…well, some folks are trying to stop him from doing even that. We'll meet some new baddies, which I'm pretty excited about. But, I think readers will be happy to see Shang-Chi, Marvel's other Kung Fu Master, popping up to help Danny fight against this new threat.
Catch the thrilling conclusion to the first arc of IRON FIST by Ed Brisson and Mike Perkins with July 5's issue #5!
The Hype Box
Can't-miss news and updates from across the Marvel Universe!