Comics
Published March 2, 2017
Iron Fist: Drawn to Violence
Artist Mike Perkins talks designing a world and antagonists for Danny Rand!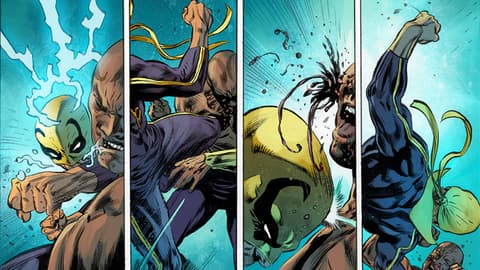 Iron Fist can be beautiful, nearly balletic in his movements.
Iron Fist can be brutal, nearly barbaric in his fights.
Both statements capture truths about Danny Rand and yet they seem so far apart. To realize this dichotomous world takes a talented artist and in the new IRON FIST series coming March 22, Mike Perkins proved the right person for the job.
Perkins kindly explored with us the challenge of capturing a man of grace and aggression and the joy of creating antagonists to oppose him.
Marvel.com: From an artistic standpoint, what did you think were the elements absolutely necessary to portray the character and world of Iron Fist effectively?
Mike Perkins: It was extremely important to show the realism and…brutality for want of a better word of the fight scenes. Especially in the first issue when Danny is battling his way around the underground fighting dens looking for a challenge. As a team we decided to get in close on the action—to make it more immediate and visceral.
Marvel.com: As an artist, of course, you want to do more than just copy those who have come before you. For you, what aspects are you playing up that others have not or what new elements are you seeking to bring into the book?
Mike Perkins: I think it's probably that gritty realism. You're dealing with a character who has pummeled his way through the elegant line work of Gil Kane, Larry Hama, and John Byrne. More recently David Aja, Kaare Andrews, and Sanford Greene have brought a stylized sense of realism to the look of Iron Fist. Now I get the chance to bring him back down to earth without forgetting that mystical element that sets him apart.
Marvel.com: IRON FIST also gives you the unique opportunity to design seven new antagonists for Danny: The Eel, The Rat, The Rabbit, The Snake, The Wolf, The Bull, and The Bear. What can you tell readers about the process of creating these characters? What can you tell us about the designs you settled on?
Mike Perkins: Designing these characters was a pure joy.
It's always fun to bring something new to the page and, because of the Gauntlet fighters animal totem theme, it was interesting and intriguing to bring some of those attributes to the fore. I had to think of the movement of the individual characters; that's important to me. Every character should hold themselves in a different manner, move around the scene with a personal posture that reflects the animal they're representing.
Wait until you experience The Rat. I think he's going to be a favorite of the readership and his initial appearance gets to play with two great flavors: martial arts and horror.
Marvel.com: How has the collaborative process with writer Ed Brisson been? How does his approach to writing mesh with your artistic process?
Mike Perkins: I'm aware of Ed's previous work and he writes the kind of books I like to read. There's a lot of meat to his characters and perhaps that's why I was chosen for this IRON FIST series as the character work and gritty realism seem to be a forte of mine.
Marvel.com: Were there any elements or characters you found to be unexpectedly challenging or that you ended up liking a lot more than you thought you would when you started the project?
Mike Perkins: Any new character is challenging but Ed did such a great job of depicting them in his descriptions that the imaginative flourishes I added only enhanced what was already there. When I initially wrapped up the Gauntlet fighters character studies I was so excited by them that I just wanted to jump straight on to the book and get going. I knew I would end up liking all of them a lot more when Ed started solidifying their character traits.
IRON FIST #1 from Ed Brisson and Mike Perkins kicks off on March 22!
The Hype Box
Can't-miss news and updates from across the Marvel Universe!