Comics
Published November 10, 2017
Iron Fist: It's Not Exactly Like Old Times for Sabretooth and Constrictor
The deadly new Constrictor might strangle Iron Fist's newest team-up just as it begins.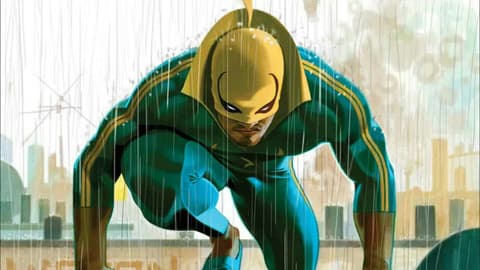 Constrictor and Sabretooth have a long history of bedeviling Iron Fist. On December 6 in IRON FIST #75, however, things have changed. Sabretooth has aligned himself with Iron Fist and the man in the Constrictor suit has changed, as Frank Payne has died and someone else has taken on his mantel. And that someone has little interest in working with Sabretooth at all.
Writer Ed Brisson teased us with the still unrevealed identity, a possible villain double cross, and what exactly Iron Fist's quest may have cost him.
Marvel.com: What, as a writer, appealed to you about creating a new Constrictor? Creatively, what challenges does creating a new incarnation of a previously existing character carry with it?
Ed Brisson: Well, I was looking for a good "in" to bring Sabretooth and Iron Fist together. In the past, Sabretooth and Iron Fist have clashed, but more often it's been Sabretooth and Constrictor as a duo popping up in IRON FIST and, later, in POWER MAN AND IRON FIST. I felt it was a real shame that the original Constrictor, Frank Payne was dead. I mean, both he and Sabretooth had gone straight—or straight-ish—and so, theoretically, they and Iron Fist would be on the same side.
But, alas, Frank was dead.
In tossing the idea around more, I realized that him being dead doesn't mean I can't still use him—or rather, someone pretending to be him.
Marvel.com: As much as you can without spoiling things, what does this new Constrictor have in common and how does he differ from his predecessor who used that name?
Ed Brisson: I don't want to give away too much, but there is a definite relationship between the new Constrictor and the old. The new is driven to "outdo" Frank Payne's Constrictor for very personal reasons.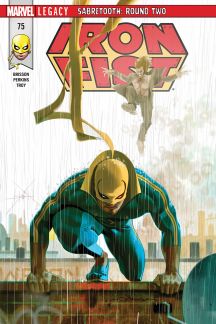 Marvel.com: What made him a good fit as not just an Iron Fist villain but an Iron Fist villain for this specific moment in time, for this specific arc?
Ed Brisson: For me, it felt like a natural way to bring Iron Fist and Sabretooth together. Iron Fist is after Constrictor because he stole from him and Sabretooth's going to want to know who the hell is running around ruining his best friend's legacy—not that Sabretooth has a "best friend," but if he did, Constrictor/Frank Payne would probably be it.
Also, through Constrictor we'll eventually get to see a more human side of Sabretooth that we're not used to seeing.
Marvel.com: How did you and artist Mike Perkins collaborate to bring the villain to life? How did he influence you on elements like personality, history, motivation, and so on and how did you influence him on the villain's look?
Ed Brisson: Mike has been amazing with character design throughout the series. We're now 10 issues in and I believe he's designed at least 10 new characters for the run so far. And they've all been great. However, when it came time for the new Constrictor, we decided to maintain the classic look. This guy wants people to think he's the original Constrictor. He's using the appearance of being the same person to advance his own criminal agenda.
That said, the body language definitely suggests that there's a different, cockier man inside the suit. Mike is that master of those subtle cues.
Marvel.com: This book is currently a web of tenuous alliances that seem poised to fall apart at any moment. What is the status of the Iron Fist/Sabretooth partnership as well as that of Constrictor and Choshin at this time? How do cracks in those alliances spell danger for all involved not just the two most directly affected?
Ed Brisson: I think Sabretooth and Iron Fist are becoming more comfortable with one another, but that can change at any moment. Neither particularly likes the other, but I think that there will be a newfound respect for one another by the time we're through with them.
As for Constrictor and Choshin, there's trouble a brewing. Constrictor tried to pull a fast one on Choshin and Choshin is not a man you want to double cross.
Marvel.com: If you had to boil down for possible readers why this issue cannot be missed into a quick elevator pitch, what would you tell them?
Ed Brisson: This issue brings us to a moment we've been building to since IRON FIST #1. Iron Fist may have his chi back, but it's possible he's lost everything else in the process.
The Hype Box
Can't-miss news and updates from across the Marvel Universe!