Comics
Published December 14, 2017
Iron Man: Hong Kong Heroes
Howard and Justice Wong bring a Disney Park attraction to life!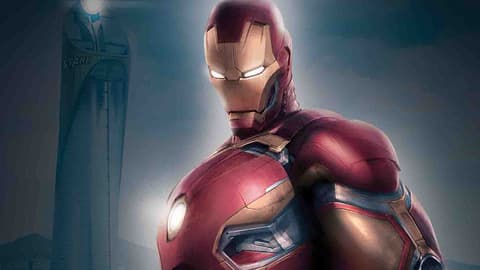 Hong Kong Disneyland's The Iron Man Experience, the very first Marvel attraction ever at a Disney Park, just got bigger. IRON MAN: HONG KONG HEROES #1 brings all the thrills and chills of the ride itself to the comics world with a brand-new story inspired by the Experience from writer Howard Wong and artist Justice Wong.
The book's jam-packed with multiple Avengers, two big super villains, tons of action, and an incredible locale in Hong Kong—and the creative team couldn't be happier to present it all to you!
Marvel.com: How did you two come into this project? What were your first thoughts when it came up?
Howard Wong: Marvel [Editor-in-Chief] C.B. Cebulski asked both Justice and me if we wanted to do an Iron Man comic taking place in Hong Kong. I was thrilled not only to be asked to write a Marvel comic, but Iron Man? In Hong Kong? 'Nuff said! I was already on the phone talking with Justice about this amazing opportunity.
Justice Wong: I still remember that it was right before the Chinese New Year when we got C.B.'s email. I was so surprised and happy to know that we had an opportunity to do work for Marvel and Disney. I was also worried and wasn't sure if I was able to do a good job for the project. I still can't believe it happened and we did it! It was like one big dream that came true!
Marvel.com: So, who all did you work alongside to shape the story? What was that experience like?
Howard Wong: We worked with incredible folks from Marvel and Hong Kong Disneyland, which includes C.B., [editors] Mark Paniccia [and] Mark Basso, the Hong Kong Disneyland Imagineers, their creative team, and many others. Everyone added to the mix, which is reflected in the story.
The writing experience was great. You usually research things from your laptop and books, but being able to literally walk into Stark Expo Hong Kong, it was like going to a real place to do your research. I was looking at Howard and Tony Stark inventions being displayed, Iron Man suits, not to mention the amazing immersive ride and other surprises—trust me, it's really cool so no spoilers—all of it allowed me develop a story using the fantastic things the Disney Imagineers put together. I was able to share ideas with Justice as they came to me with physical references, allowing us to bounce ideas off each other in a way that made the creative process more enriching.
Being there just inspires you to take what you see and experience, and go further with it, which we aimed to do with the story and art.
Marvel.com: What were the prime things that you felt needed to be conveyed in the story? Did you feel the focus should be on the characters? The action?
Howard Wong: We wanted to focus on the characters, where we see what drives them into running head-first into danger instead of away from it. The other focus was Hong Kong itself. We wanted to make sure that Hong Kong was seen for more than an incredible skyline, harbor, and dim sum, where people get a glimpse of its rich diverse urban and natural environments. Not to mention it's a city of contrasts with old temples surrounded by huge residential complexes you'll find in sci-fi films, to huge upscale malls right next to where old ladies perform villain hitting – 打小人 – under a bridge; think of it as cursing someone.
We knew we wouldn't be able to fit it all in this story, but we wanted to have a starting point for future stories to take advantage of Hong Kong's uniqueness. We hope that by having Stark Industries' Asia headquarters in Hong Kong, and Stark Expo Hong Kong from Hong Kong Disneyland in this story will help encourage that.
Marvel.com: Let's talk bad guys, then: What are the specific joys in working with a super villain confluence like Arnim Zola and Baron Mordo? And what were the challenges?
Howard Wong: I wanted something interesting to really challenge Iron Man and his friends, and ended up with either technology or the mystic arts as a seed [for the story].
Zola and Mordo popped in my head as fun villains to have to faceoff with everyone, and [I] decided to have both of them in the mix. I know I didn't want to them to just fight alongside each other. I felt that it needed to be [in] a way where it also connected to Hong Kong's unique blending of the old and new, and that's when the idea of having them combine their abilities into a new magical tech threat that even Tony Stark couldn't handle [alone] came about. Once I had that concept down, I spoke with Justice and the team about it and everyone was onboard with the idea.
The next challenge was how he would show this through Justice's design and art. We drew upon many things from our respective childhoods and came up with something that we were excited about; Justice did an incredible job on the designs!
Justice Wong:  I had so much fun drawing their poses. It was so cool finding ways [to make] them look dynamic and show different emotions in different scenes. The biggest challenge for me is drawing Zola's face display on his chest. It took me some time to find the best way to make it look just right with a lighting approach I figured out. Thanks to Howard and his flashlight for visual references!
Marvel.com: And the same with the mix of Avengers in here—what were those highlights and hurdles like?
Howard Wong: Marvel has an amazing library of characters. I think I read somewhere that it was 7000! Picking which ones we'd like to work with was fun. It was like making a dream team of your favorite heroes. After what we'll call fun discussions, we picked who would work best for the story.
Justice Wong: I'm always happy to draw Marvel heroes like Iron Man and Doctor Strange. I enjoyed figuring out the layouts and cool poses for the fight scenes, and interaction scenes! Although it was challenging to draw all the heroes and villains in big scenes, I was glad that the ideas Howard and I had worked and it turned out better than I expected.
Marvel.com: What can you say about the new armored hero we've heard about?
Howard Wong: We had a lot of fun creating a new local Hong Kong hero that debuts in this book. When I started to think about who the hero should be, I knew I wanted her to reflect the spirit of Hong Kong though her perseverance, intelligence, and resourcefulness, which to me are the characteristics for a hero.
In the story, she has a secret that is revealed when her drive to help others exposes it. This sets her on an entirely new path in all expects of her life, as well as those around her. She may be a new hero, but that doesn't mean she doesn't know how to face impossible odds; she is a Hong Konger after all—among other things.
I worked with Justice on the designs, explaining my ideas and reasoning for things, and where it will lead in the near future. He added his ideas and then came back with unbelievable designs that blew me away! I don't know if we can say that this isn't her final look, but I'll just say that it "builds" up from here.
Justice Wong: She is a very interesting character to work with. I was so surprised that Howard and I were asked to co-create this character for this comic! Especially because she's a Hong Kong local! I am from Hong Kong too, so this was very cool for me. Howard was great making sure she was like a real local Hong Kong person. When he told me about her background I thought he was talking about someone I knew.
When I was figuring out the designs for her, Howard talked to me about what we both liked watching when we were growing up, and I found ways to add some of that into her design. Even her colors are unique to Hong Kong, but you will need to get the comic to know how. It will be very interesting if other creators can create more stories with her being a hero in Hong Kong, and show other foreign comic book fans our unique local culture and features.  Also, there are a lot of potential elements for the armor we didn't have a chance to add due to the limited storytelling [length] of this comic. Howard had so many amazing ideas that I really want to draw.
I'm looking forward [to] seeing how she can be developed in the future and hope that we get a chance to tell more stories with her too!
Marvel.com: Hey, that was sort of our last question for you! So you would you like to do more books centered on Disney attractions like this?
Howard Wong: I would love to dive back into that amazing creative whirlpool with the incredible folks from Marvel and Disney! The chance to immerse yourself in the very place you are crafting a story for is such a fun part of the creative process. Not to mention, this kind of creative challenge bringing together the best from Marvel and Disney into a compelling story is what drives and inspires me as a storyteller.
Justice Wong: Yes, I would love to if we have an opportunity to do it again in the future. Not only Disney attractions, but also with whatever opportunity there is to work with awesome people to make mind-blowing moments!
Look for IRON MAN: HONG KONG HEROES #1 from Howard and Justice Wong, coming in March 2018!
The Hype Box
Can't-miss news and updates from across the Marvel Universe!