Comics
Published August 4, 2020
'Iron Man' Writer Christopher Cantwell on His Pathway to the House of Ideas
The 'Doctor Doom' scribe previews the story to come for Tony Stark!
Take a guided tour of Marvel's mightiest creators with Marvel Tales! Ben Morse, currently a visiting lecturer at UNLV, previously spent a decade working within the House of Ideas. In each installment of this series, he utilizes that insider knowledge—plus his lifelong fandom—to connect with comics professionals as they spin stories about the Marvel Universe and its inhabitants!
Just as Tony Stark followed an untraditional path to heroism—that whole being kidnapped by a warlord and getting shrapnel embedded in his chest deal—Christopher Cantwell followed a road that may differ from most when it comes to writing comics.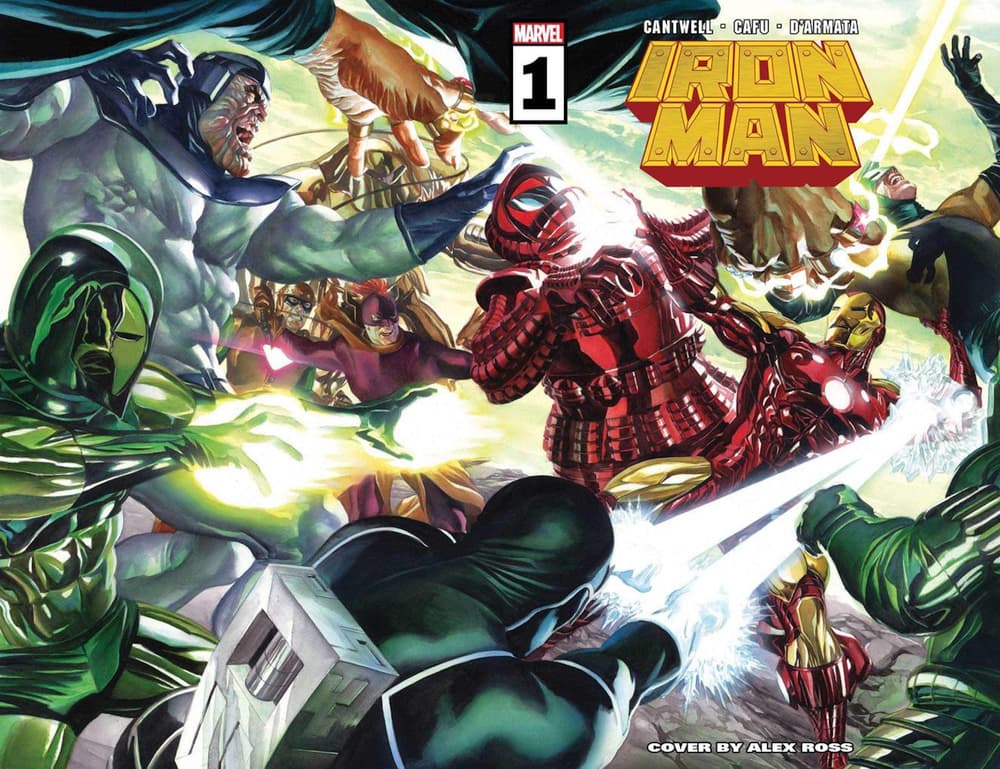 "In 2017 I had an idea that seemed like it would work much better as a comic book than [as] a TV or film [project]," shares the co-creator of AMC's acclaimed Halt and Catch Fire. "It was kind of bursting out of me and had been in my head for more than 15 years at that point. On a lark I reached out to [then-writer of MS. MARVEL, G.] Willow Wilson who was a fan of [the show] and asked her for advice. Astonishingly, she put me in touch with [legendary editor] Karen Berger right away. I talked through the pieces of this concept with Karen over the phone and she kind of nudged me into a more personal direction. 
"I reframed the pitch and everything I'd been trying to do with the idea clicked into place. I pitched it to Karen and that book became She Could Fly, my first comic book." 
Jump ahead a couple of years and the House of Ideas came calling, as Cantwell would help launch a DOCTOR DOOM series that presented the infamous Fantastic Four foe with both his traditional gravitas as well as a surprising sense of humor. Next up, the writer will tackle one of Marvel's most prominent icons as he takes the reins of a new IRON MAN series illustrated by CAFU kicking off this fall.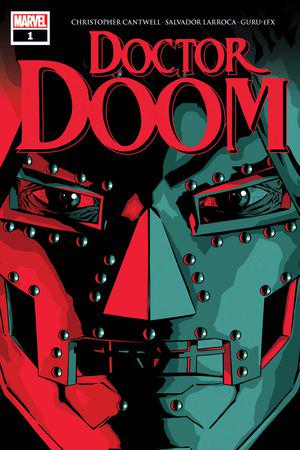 Doctor Doom (2019) #1
published

added to marvel unlimited

editor

inker

penciler

colorist

colorist (cover)

inker (cover)

penciler (cover)

letterer

writer
What is Marvel Unlimited?
Aside from naming Iron Man as "the second best SECRET WARS action figure, behind Spider-Man," Cantwell latched onto Tony Stark's armored alter-ego in the 1980s in large part thanks to the standout art of Bob Layton. "I feel like Iron Man's color scheme is as iconic as Spidey's, he's almost universally identifiable," he explains. "My very first connection was visceral. There's a magnetic pull to that image of him." 
Like so many, Cantwell cites the landmark "Demon in a Bottle" story from Layton and David Michelinie as a game changer. "That struck me as pretty audacious for a Super Hero book. This powerful human bullet of a human being had this incredible relatable internal weakness. That's a dramatic contrast that has so much potential for story." 
Additionally, the writer names a fondness for everything from the original KORVAC SAGA in AVENGERS as well as "Doomquest" to more modern runs like Matt Fraction's INVINCIBLE IRON MAN (2008) and Brian Michael Bendis' INFAMOUS IRON MAN when it comes to the Armored Avenger. With this fandom known to Cantwell's DOCTOR DOOM editor Tom Brevoort, an opportunity to become Tony Stark's latest caretaker following the conclusion of Dan Slott's run this summer arose.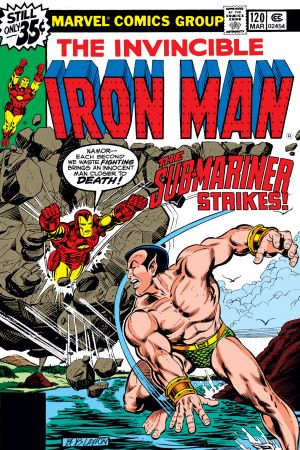 Iron Man (1968) #120
published

added to marvel unlimited

editor

inker

penciller

penciller (cover)

writer

letterer

colorist
What is Marvel Unlimited?
"I screamed with glee and immediately set to work," exclaims the writer of his response to Brevoort's proposition. "For me that means research, thinking, and anxiety-induced hand-wringing. I put together a 20-page-plus [proposal] for Tom and I think the doc was really just a kitchen sink of ideas, but all the workings of this current first arc I'm writing are in there. Once landing the gig I began to further refine the story and simplify it so that it was cohesive and potent and emotions-forward." 
With extreme admiration and reverence for past takes on the Golden Avenger, Cantwell brings lofty self-expectations to "reclaim some of the fire in Iron Man's belly" and make sure the character lives up to his massive potential. While his background with Halt and Catch Fire might suggest a storytelling sense leaning into tech, he claims with Slott having thoroughly explored that angle, he knew he "would want to shift gears both out of respect and to do something that felt different." 
"I grew up in a family obsessed with cars," the writer relates. "My dad was a street racer back in the '60s and '70s when he was a kid. My uncle was in a motorcycle gang in his crazy youth and then worked as a truck driver for decades. I learned a lot about the inner-workings of a car when I was a teenager.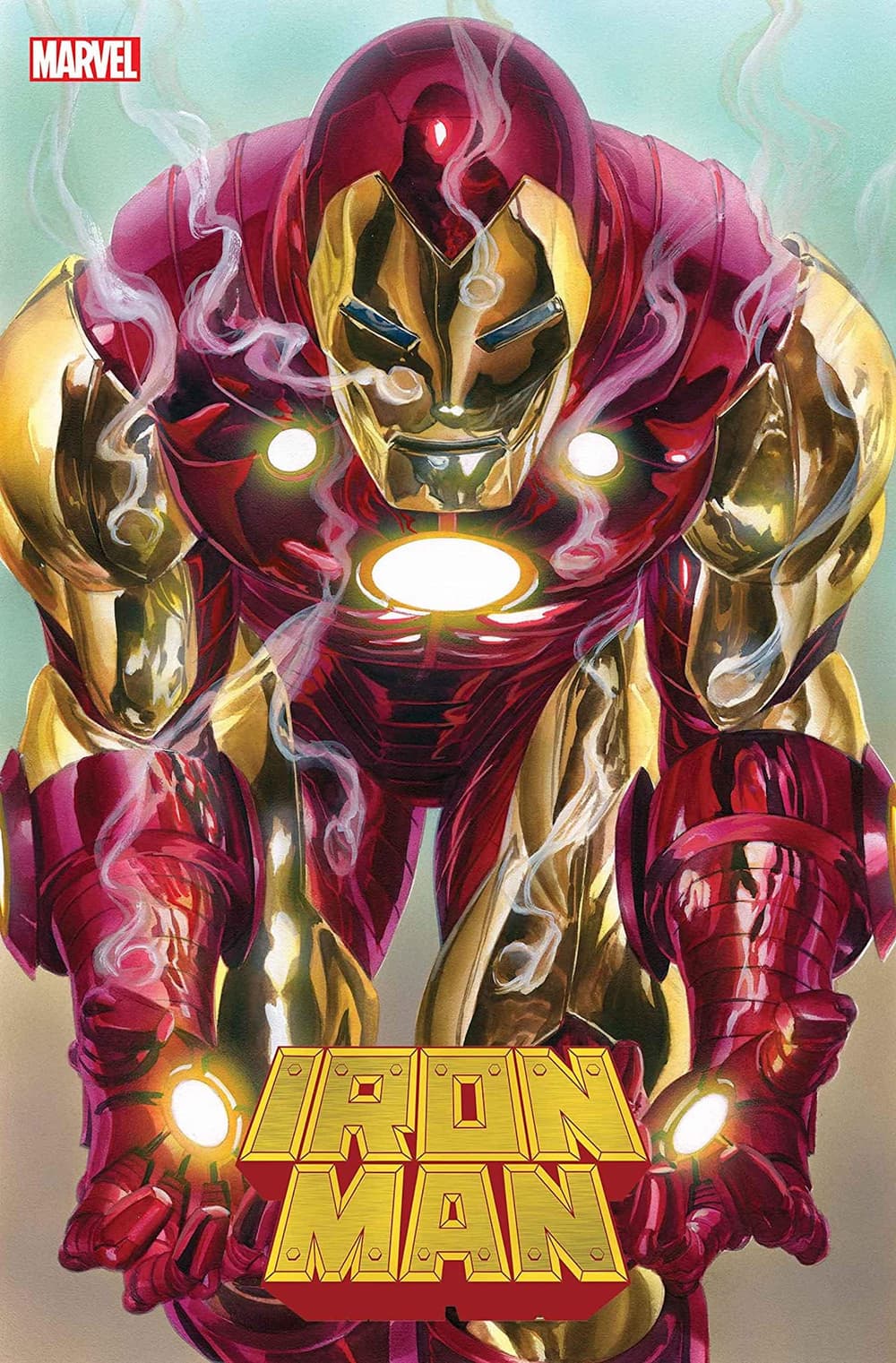 "In college I had an insane 1965 Mercury Comet Caliente—a three-speed column shift with stripped servos, drum brakes, and no power steering. Funnily enough, the car once belonged to Iron Man [film] director Jon Favreau. There was only one owner between us. Jon used the car in Swingers.  
"I don't love flashy shiny expensive cars, but I do love the mechanics of how a car works and the actual art of driving. I love the character of cars and trucks. So when I look at Bob Layton art—Iron Man looks like a classic car. Like a hot rod. I wanted to bring the idea of raw mechanics back into the character. My run is in some ways about a guy with an amazing car he can barely control that gets into a lot of accidents and then he has to repair himself physically and emotionally. CAFU and I have been working on maintaining cumulative damage to the armor. Scrapes and dents and busted taillights tell the life story of a vehicle. That's what we want for Iron Man." 
Sporting a freshly Alex Ross-redesigned suit of armor, Tony is "not a computer this time around." Cantwell and CAFU's first arc will see a Stark somewhat humbled, or at least seeking humility following recent events. "But that's not easy. The truth is, Tony has always had a bit of a God complex. He's a man who wants to be a god and a god that wants to be a man."  
So how does the billionaire with a heart of steel compare to Marvel's other metallic mastermind? "Both [Tony Stark and Victor Von Doom] are dreams come true to write," expresses Cantwell. "Both are arrogant [and] wildly intelligent. Both of them might be too smart for their own good. Both think they're helping or know what's best and often times are wrong. Both of them are out to prove something in their respective stories. I think both books are funny, too, when it works for the story. Tony just has a better batting average and works harder not to kill people." 
Like Tony, Cantwell can also be grateful for a solid team standing behind him in the form of artist CAFU and editor Brevoort. The former comes off a recent run on JANE FOSTER: VALKYRIE, turning in work his creative partner describes as "nothing short of amazing" as well as "unparalleled. I love the way he draws eyes. Seeing Tony's eyes in the helmet, coupled with the way CAFU draws them—we're really getting a flesh and blood human inside the bucket head." 
Meanwhile, the writer credits his editor as "the real deal when it comes to Super Hero books" and expresses gratitude at Brevoort's openness to story ideas and aid in reworking scripts. "If there were an oracle who owned a small comic shop on a high and misty mountain, that would be Tom." 
With a lot of momentum built off his love for the character and a clear vision of the future, Cantwell has his goals for IRON MAN settled: "I want [readers] to have fun. This is a Super Hero book. The world is a tough place right now. If someone can pick up this book and have 25 minutes where they disconnect from the horrors of things around them—we've done our jobs. 
"No story is good unless it's about something thing, and yes, I'm writing about something, several things in fact, but drama should be a mirror, not a message. I think a lot of people are wondering if we can reclaim or find our souls again, collectively and individually. That's in this book, too. Mental health, self-examination versus self-absorption, the fickle perception of who's a hero and who's a villain in the eyes of the public—look, there are a lot of things on my mind and they're working their way into this book for sure. 
"But ultimately, I want people to go to a comic shop—with a mask on—pick up [IRON MAN] and just have a good time. I want them to follow the adventures of a guy trying to do good in the world, see him hang out with his friends and try to figure out his enemies, watch him make missteps, lose and rebound again. If we ever needed a book about tireless resilience, it's right now."
Revisit classic comics IRON MAN (1968), INVINCIBLE IRON MAN (2008), INFAMOUS IRON MAN, and more on Marvel Unlimited, plus read the first several issues of Christopher Cantwell's DOCTOR DOOM! 
The Hype Box
Can't-miss news and updates from across the Marvel Universe!