Comics
Published November 9, 2022
J. Scott Campbell Breaks Down His 'Fantastic Four' #1 Anniversary Variant Covers
Speaking to Marvel.com, artist J. Scott Campbell explained his approach to creating variant covers, reflected on the Fantastic Four's legacy, and more.
Marvel's First Family just launched into an all-new era with Ryan North and Iban Coello's FANTASTIC FOUR #1, but we haven't forgotten their humble beginnings. To celebrate their 60 years of sci-fi adventures, fan-favorite artist J. Scott Campbell honored the FF with a special Anniversary Variant Cover that sends Mr. Fantastic, Invisible Woman, Human Torch, and the Thing spiraling through a Jack Kirby-inspired landscape.
Speaking to Marvel.com, Campbell reflected on the Fantastic Four's long legacy at Marvel and pinpointed the importance of the team's "family roots." He walked us through his approach to creating a variant cover, including the stories that influence him the most, and offered some advice to up-and-coming artists. He also shared his love of Spider-Man and the Thing, his hopes for the future, and much more.
MARVEL.COM: Tell me about beginning a project like the FANTASTIC FOUR #1 Anniversary Covers. What's the very first thing you do when you sit down to get started? 
J. SCOTT CAMPBELL: What I usually do first is a deep dive into the visual history of the characters, especially their origins. For these anniversary covers, I've focused on the most iconic and memorable depictions as my biggest influence. I'm trying to recreate an era and a feeling while adding my own touch and modern flair.
MARVEL.COM: What is your favorite part about making a comic cover like this?
J. SCOTT CAMPBELL: Usually, my favorite part is the sketching idea phase. But with this series of covers, I think I most enjoyed the very final stages of the coloring where I would get to see the final results of merging the two styles of coloring: the pulpy retro effect with the shiny, more current coloring. That part has consistently been a real thrill!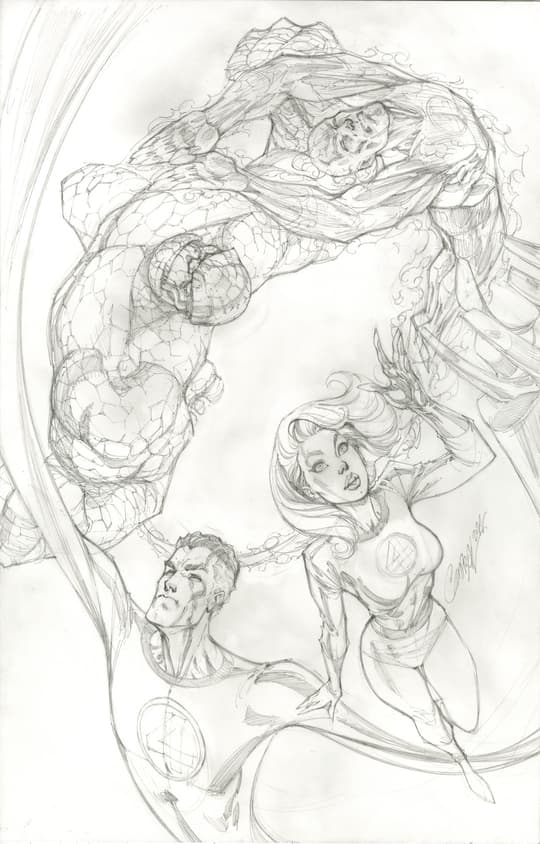 MARVEL.COM: I'd like to hear a little about the medium you chose to work in for these covers and how that affects your process. What is it about the medium that brings out your best?
J. SCOTT CAMPBELL: I still pencil and ink my work traditionally, only going digital at the coloring stage. I most often work with a very talented colorist, Sabine Rich. She's not only a superb color artist but also a terrific artist in her own right. I'm appreciative because she's very accommodating of my ideas and experimentation. 
With these covers, I explained to her that I wanted to try out an effect that I came across on the internet that would allow me to create a very convincing retro-pulp printing effect using Photoshop. It is reminiscent of the classic vintage comics we are paying tribute to. I wasn't 100% convinced the effect I had in mind would work out, but in the end, the Marvel editors were excited by the results and Sabine gave me her blessing to alter her coloring to create this fun time-jumping effect.
MARVEL.COM: The Fantastic Four, the Avengers, Spider-Man, Black Cat – these characters have been around for decades. How do you approach characters with such long histories to capture the core essence of their personalities?
J. SCOTT CAMPBELL: I most often find my North Star with these classic characters by going back to their earliest origins. What I typically find is that these characters often evolved into the characters we really know and love after 30-50 issues. That's when their look, their personalities, and their expanded group of recognizable supporting characters really solidified and become iconic! This is often the sweet spot for me when I'm doing my research.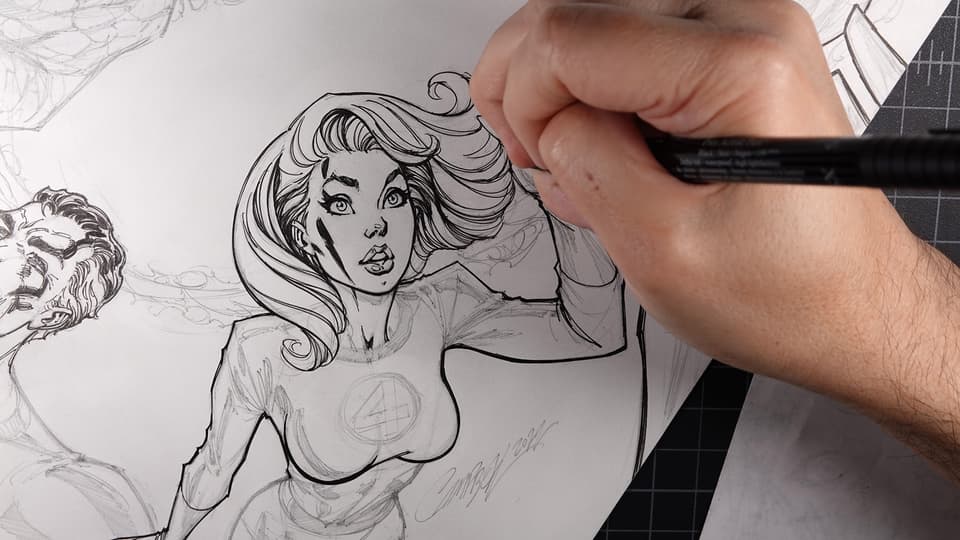 MARVEL.COM: When it comes to the Fantastic Four specifically, what does the team need to really feel like Marvel's First Family? 
J. SCOTT CAMPBELL: I think Alex Ross said it best that the Fantastic Four as a concept feels the most at home in a 60s-era environment – not that it can't work in the modern day, but it's at its strongest and most identifiable in this form. Perhaps it's because that was the era of Lost in Space, Johnny Quest, and The Addams Family… Sci-fi family dynamics were just all the rage at that time and it just fits in so well in that world. When they stay close to those family roots, it really sets the FF apart from all of the other Marvel titles and really gives the team its own unique identity.
MARVEL.COM: Which one is your favorite? What draws you to that character specifically?
J. SCOTT CAMPBELL: I really enjoy drawing all of them, they're a dynamic team, but it's especially fun getting to draw The Thing. There's no other character like him and he's one of the most recognizable designs from my youth. Super enjoyable to draw as an adult!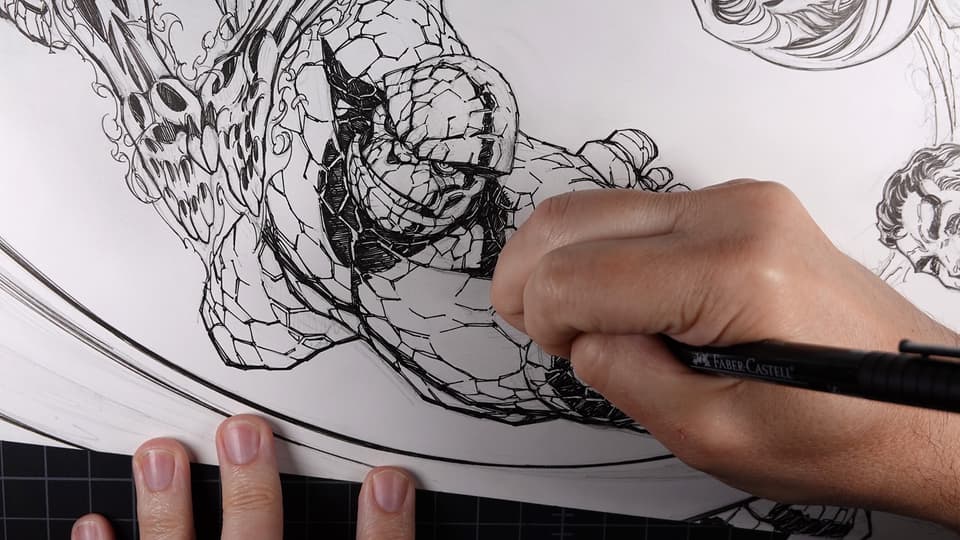 MARVEL.COM: Out of all Marvel characters, which character do you relate to the most, and why?
J. SCOTT CAMPBELL: It's easily Peter Parker! I always connected to him because he was this nerdy high school kid who gets to rise to such amazing heights as Spider-Man. He often goes misunderstood by the public too, just like me! Ha! 
I suppose as a somewhat less-than-popular high schooler myself, I kinda felt my ability to draw was a sort of superpower too that allowed me to accomplish so much, especially later in life. I've also often chased the girl that was out of my league! Ha ha!
MARVEL.COM: From the beginning of your career to now, what is the Marvel project you're proudest of? Why?
J. SCOTT CAMPBELL: Oh goodness, that's a challenging thought. I've been fortunate to have so many great moments and projects I'm proud of, from covers that I drew that became very identifiable years after, to designing a line of my own Spider-Man statues, to having the privilege of getting to know the great Stan Lee a bit before his passing. But I'd say my proudest is my longevity. It feels very special and noteworthy to not only still be doing this and to feel that I'm still producing my best work. I hope to keep this going for many, many more years.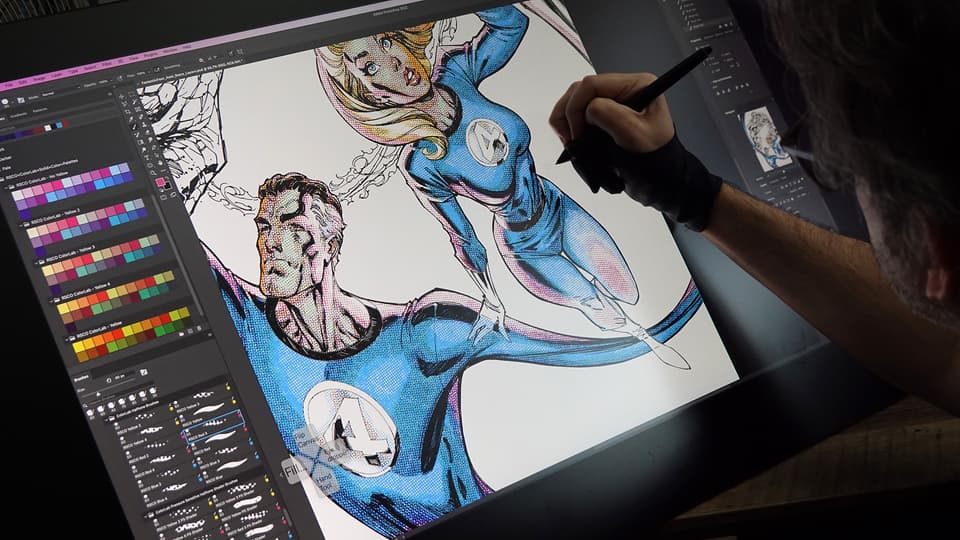 MARVEL.COM: What's the best advice you ever received about art and, in turn, what advice would you give an aspiring artist right now?
J. SCOTT CAMPBELL: I think the best advice I got was in the form of watching Jim Lee work when I was first hired by him in the 90s. I had put him, Marc Silvestri, and Todd McFarlane – these comic legends – on pedestals. Just watching Jim put in the work every day, drawing his covers and pages one line at a time, demystified it for me, made it less precious, less out-of-reach, and allowed me to focus on the part where you just need to draw every day and not to get too in my head and overthink it. Move on to the next, and the next. You will consistently improve and more importantly, you'll become prolific. Doing the work and hustling is often far more important than talent alone.
As far as my advice to aspiring artists, it would be to push yourself to have a unique stylistic voice and identity. There are so many talented artists out there nowadays, far more than when I was first coming up. A personal style that allows you to stand out is more important than ever. Now, arriving at that personal style… well, that's an entirely different conversation. Heh!
MARVEL.COM: When Marvel readers look back on your work in 60 years, what do you hope they'll take away?
J. SCOTT CAMPBELL: I hope that my work over the many years I've spent drawing the Marvel characters will always bring a smile to both new and old fans of comic book art and bring them back to all those great memories when they first saw each of those images. I'd be quite content if I could be a small, but still memorable piece of the larger Marvel mythos, along with so many of the other artists and creators I greatly admire.
You can grab these comics and more digitally or at your favorite local comic book shop. Be sure to ask your local shop about their current business policies to observe social distancing or other services they may offer, including holding or creating pull lists, curbside pick-ups, special deliveries, and other options to accommodate. Find and support your local comic book shop at ComicShopLocator.com or by visiting Marvel.com/LoveComicShops.
For digital comics, all purchases in the Marvel Comics app can be read on iPhone®, iPad® and select Android™ devices! Our smart-paneling feature provides an intuitive reader experience, ideal for all types of mobile device and tablet users! Download the app on iOS and Android now!
The Hype Box
Can't-miss news and updates from across the Marvel Universe!