Comics
Published March 18, 2020
Jessica Drew's Next Chapter Begins with 'Spider-Woman' #1
Spoiler alert! Read through a full analysis of today's debut ish!
Warning! Forbush forgive us, but this article contains spoilers for today's SPIDER-WOMAN #1! So read on at your own risk, True Believers!
Ever since her debut in MARVEL SPOTLIGHT (1971) #32, Jessica Drew has kind of done it all in the Marvel Universe. She's been a successful solo act, an Avenger, an Agent of S.W.O.R.D., a mother, and even a founding member of STRIKEFORCE (2019). But this week, writer Karla Pacheco and artist Pere Pérez are starting a new era for Jessica in SPIDER-WOMAN #1.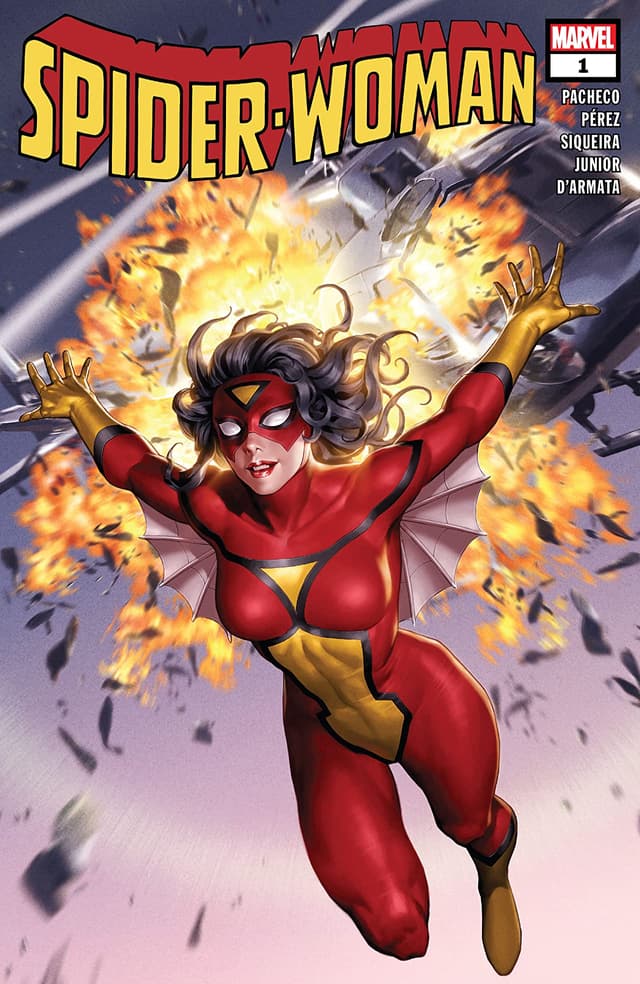 This is also Jessica's first ongoing series since SPIDER-WOMAN (2015), and she's apparently hard up for cash to support her son, Gerry, and pay her babysitter/reformed villain, Roger Gocking. That's why Jessica accepted a job from billionaire Michael Marchand. Back in SPIDER-WOMAN (1978) #37, Jessica and her best friend, Lindsay McCabe, moved to San Francisco and became private investigators. Marchand claims that he's an old friend of one of Jessica's former clients...and he's also the only employer offering legitimate work for Jessica. He needs someone to protect his daughter, Rebecca, because there have been kidnap threats made against her.
Essentially, Jessica has become a hero for hire. This is fitting because she was an unofficial member of the team in HEROES FOR HIRE (1997) #18-19. Regardless, Jessica finds herself babysitting a sea party of rich teens dressed up as Super Heroes and villains for Rebeca's birthday celebration. At the same time, Jessica debuts her new costume when two waves of kidnappers lay siege on the yacht.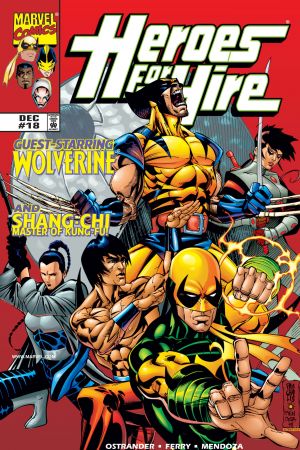 Does Jessica save the day and earn her pay? Of course she does. The kidnappers clearly weren't prepared for any meaningful resistance, and Spider-Woman mopped the floor with them. She also did it with style, even though she ended up trashing Rebecca's birthday car in the process. We also suspect that Rebecca will be wearing Jessica's costume at her next party instead of Captain Marvel's.
However, there is clearly something very wrong with Jessica even before the action starts. Jessica initially dismissed her symptoms as sea sickness, but her condition deteriorated over the course of the fight. She even vomited a substance that may be acidic in nature...a substance which came to rest in the shape of a spider. But because of the nature of her calling, Jessica refused to see an ordinary doctor. Instead, she hinted that she will approach Linda Carter, AKA Night Nurse. But don't worry folks, Linda is a Medical Practitioner with a lot of Super Hero experience.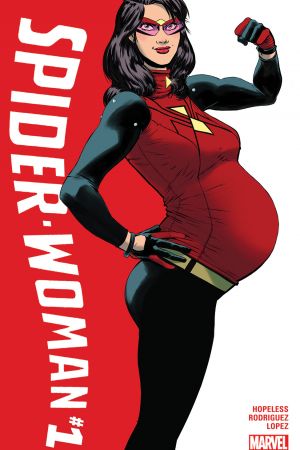 In the backup tale, we witness the origin of Jessica's new Spider-Woman costume. Apparently, Jessica doesn't want to tarnish the image of her iconic outfit by taking paid assignments in it. That's why Jessica turned to Big Ronnie's Custom Battle Spandex for her latest costume. Unfortunately, Ronnie accepted a bribe from someone to custom make the outfit with sensors that can detect everything about Jessica's body. It's also entirely possible that the costume itself is what's making Jessica so sick.
Who is pulling Ronnie's strings? And what do they want with Jessica Drew? The answers will be revealed in the upcoming issues of SPIDER-WOMAN!
For the latest Marvel comics releases, please reach out to your local retailer about services they may offer, including holding or creating pull lists, curbside pick-ups, special deliveries, and other options to accommodate. Find your local comic shop at comicshoplocator.com today, then read all of SPIDER-WOMAN #1 for yourself right now!
The Hype Box
Can't-miss news and updates from across the Marvel Universe!