Comics
Published December 14, 2016
Jessica Jones: Back in the Saddle
Jessica Jones co-creator Michael Gaydos shares his thoughts on returning to the character and more!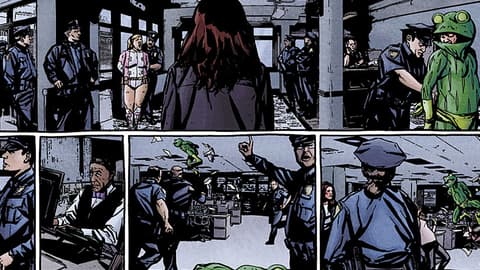 Back in 2001, Brian Michael Bendis and Michael Gaydos introduced the world to a mysterious private investigator named Jessica Jones in a Marvel MAX series called ALIAS. Since then, she's married Luke Cage, had a baby with him, hung around with the Avengers, and inspired the much beloved Netflix series "Marvel's Jessica Jones."
Now she's back in her own series, JESSICA JONES, helmed by none other than Bendis and Gaydos. With Alias Investigations up and running again, it's time to catch up with the artist on his reunion!
Marvel.com: Jessica Jones has gone on to live quite a life since ALIAS ended. Is it wild seeing where she wound up as this new story kicks off?
Michael Gaydos: Absolutely. I had no idea what Brian had in mind for Jessica, but to find her in prison was crazy. What an intriguing way to start off the series!
Marvel.com: In addition to showing up in books like NEW AVENGERS and the like, Jessica has also become a huge media star thanks to the Netflix series. Does this have any bearing on you as you're working on the issues?
Michael Gaydos: Well, definitely to do the best job possible illustrating the book. The show has done an amazing job getting Jessica out to a new audience. Now it's our turn to keep them coming back for more.
Marvel.com: Visually, how has Jessica changed since you last drew her?
Michael Gaydos: Not too much. I do feel as though I have grown quite a bit as an artist over the years and have more confidence and better understanding in the way I portray Jessica.
Marvel.com: How has being a mother changed Jessica and how she handles the situations she finds herself in?
Michael Gaydos: Like any other good parent, it is always putting the best interest of the child first. Jessica does anything it takes to do that.
Marvel.com: Brian has said that no one quite gets Jessica like you do. Why do you think that is?
Michael Gaydos: Well some of it is that I was the first one to draw and interpret her. What was and is still very important to me is to be able to convey all of Jessica's emotions, good and bad, convincingly. I want her to be entirely accessible to the reader.
Marvel.com: How does it feel reuniting with Brian and with David Mack on covers for this new series?
Michael Gaydos: Best thing ever!!!!
Join Brian Michael Bendis and Michael Gaydos for more JESSICA JONES action with issue #3 out now and #4 coming January 11!
The Hype Box
Can't-miss news and updates from across the Marvel Universe!