Comics
Published May 28, 2020
Jimmy Woo's Comic History
Read the secret agent's groundbreaking legacy on Marvel Unlimited.
If he has one defining trait, it's that James "Jimmy" Woo can work under the radar. A career spy—and the leader of the Agents of Atlas—he is Marvel's premiere secret operative. Woo comes stacked with intel for any mission, whether partnering with S.H.I.E.L.D., or on a solo assignment. He also has an entire dossier of super-powered people at his beck and call.
He's connected, sure. But also revolutionary. Jimmy Woo was one of comics' first Asian-American leads,  published under the Atlas Comics era in the 1950s. His appearances as an FBI agent predated "Marvel Comics" by about five years, and moved the needle forward on the racist and regressive stereotypes that were prevalent in wartime comics of the period.
Now, Woo is the CEO of the Atlas Foundation, and an espionage expert for all things clandestine.
Here are some of the comic stories that put Woo on the map! 
ASSEMBLING THE AGENTS

Before his S.H.I.E.L.D. days, Agent Jimmy Woo was recruited by the U.S. government to assemble a unique taskforce of superhuman heroes in the wake of the Cold War. The Spy. The Spaceman. The Goddess. The Robot. The Gorilla. Together, they stormed the fortress of a criminal mastermind to rescue President Eisenhower, and the group disbanded soon after.
This series picks up fifty years later, but with the same retro flair. When an unauthorized S.H.I.E.L.D. mission goes down in flames, Woo's Agents of Atlas are taken off ice, plunged into a modern era they thought they'd never live to see.
Jimmy Woo's earliest history is given a modern twist in this throwback homage to the Atlas Age.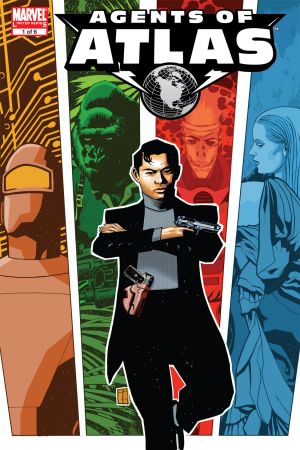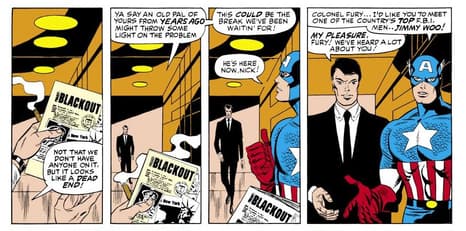 Woo can escape enemy territory… but not the notice of Captain America!
Jimmy was brought into the fold to assist Nick Fury and the Sentinel of Liberty with details on a criminal overlord, one who had S.H.I.E.L.D. by the throat. Filling in all the blanks he could, Woo's intelligence impressed Fury enough to become a key ally in STRANGE TALES (1951) #160.
AGENT OF S.H.I.E.L.D.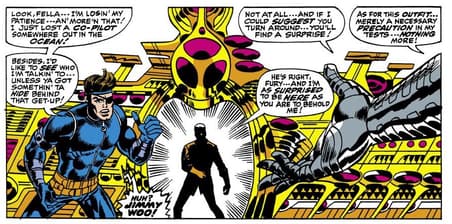 Woo proved his mettle working with the Feds, but Nick Fury put him to the test as a recruit for S.H.I.E.L.D.! (Spoilers: he passed.)
An impassioned agent, Jimmy was an easy choice to join their ranks. Read that momentous ish here, also featuring an extraterrestrial dust-up with a hostile group of aliens.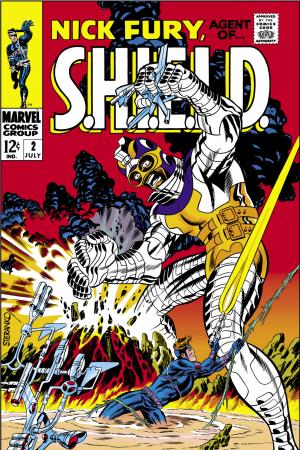 Nick Fury, Agent of S.H.I.E.L.D. (1968) #2
published

added to marvel unlimited

penciler

writer

inker

letterer
What is Marvel Unlimited?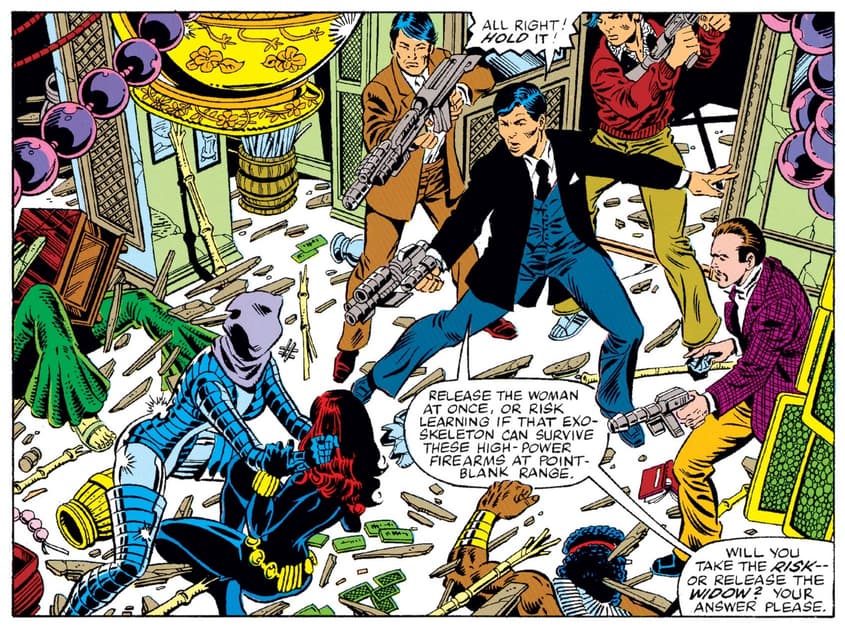 Start with issue #10! In this MARVEL FANFARE arc, Woo got the drop on Iron Maiden, a metal-clad menace who had pulled Black Widow into her deadly web! Woo put on a stylish gun show, and stuck close to Widow's side, but his phenomenal footwork wasn't enough to leave with Agent Romanoff in tow.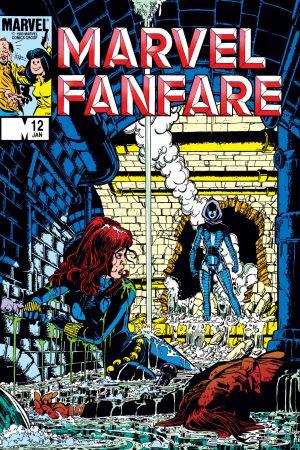 MAN OF MYSTERY
Jimmy starred in his own four-part storyline, part of the FEAR ITSELF event!
Woo was forced to confront his deepest fears when a Neo-Nazi group came out of the woodwork, embroiled in an international conspiracy that threatened to unravel world order.
Good thing he had backing from the Agents of Atlas, including Namora… his new secret girlfriend?
Read FEAR ITSELF: THE HOME FRONT (2010) #1-4 for all the deets.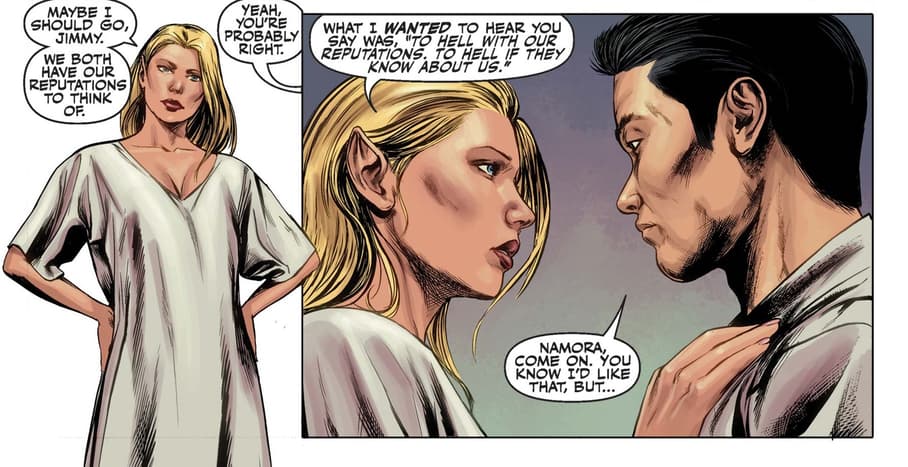 SON OF ANARCHY
A SECRET WARS one-shot! The (underground) Agents of Atlas became resistance fighters during the collision of Marvel's Multiverse… with Woo at their helm in SECRET WARS: AGENTS OF ATLAS (2015) #1! Jimmy took to the frontlines against the totalitarian regime of Baron Zemo, once the oppressive ruler of his own domain.
Featuring all the action, thrills and spectacle of a '50s Sci-fi flick. Dig it!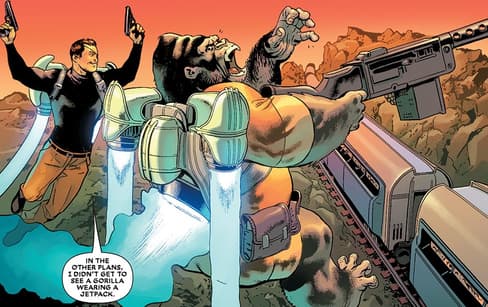 BIG APPLE SHOWDOWN
Read TOTALLY AWESOME HULK (2015) #15-18 for the "Big Apple Showdown" arc! Totally Awesome Hulk Amadeus Cho learned to share the spotlight when a flock of super-powered people came to New York City for a benefit. But when the "Imperial Guard of Seknarf Seven" also touched down in Manhattan, a crew of heroes began "fighting for the children" in an entirely different way! Jimmy Woo guest stars alongside Shang-Chi, Silk, and Ms. Marvel: Kamala Khan.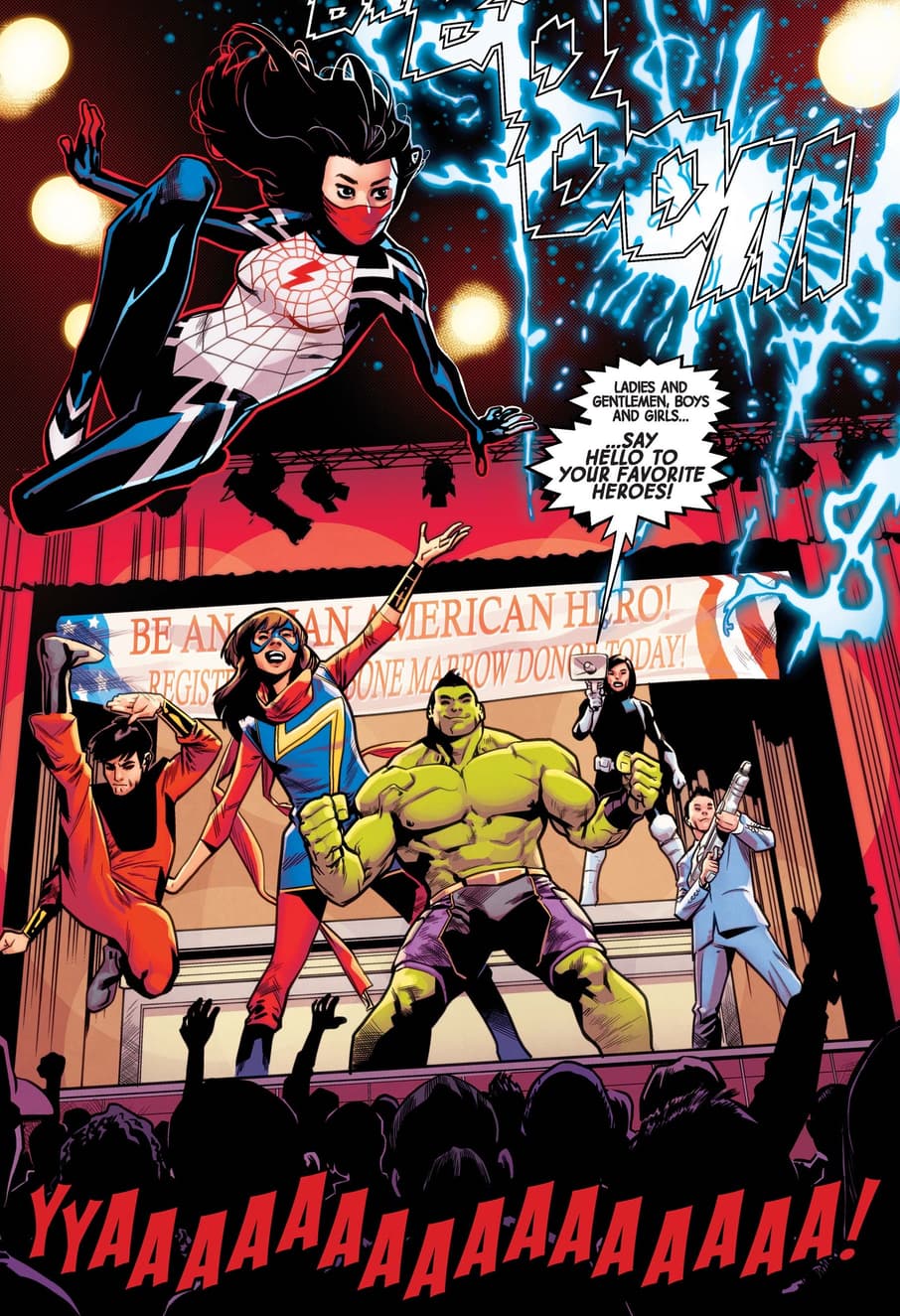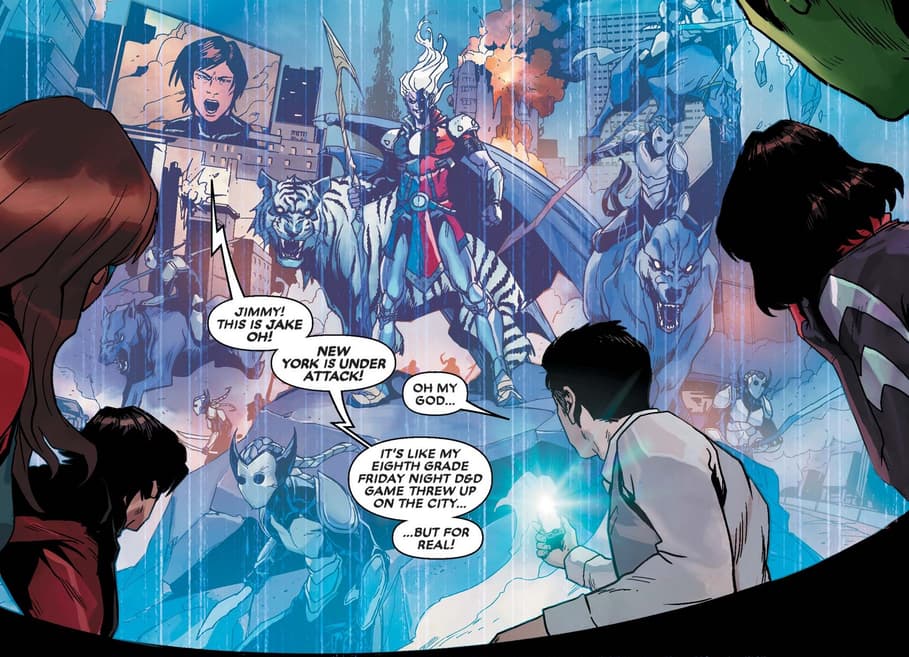 During the events of WAR OF THE REALMS, Jimmy pooled together his resources to assemble an all-new Agents of Atlas. Under his foundation, this globe-spanning team was comprised of the newest heroes in the Marvel Universe. Their goal was simple: to defend and protect the Pacific Rim from Sindr, Immortal Queen of Muspelheim.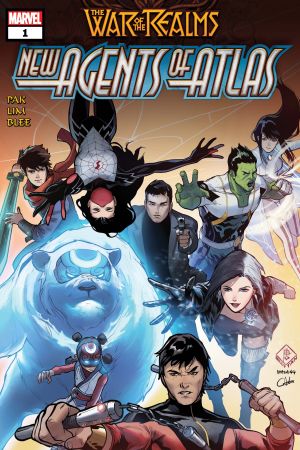 War of the Realms: New Agents of Atlas (2019) #1
published

added to marvel unlimited

inker (cover)

penciler (cover)

writer

editor

letterer

colorist

inker

penciler

colorist (cover)
What is Marvel Unlimited?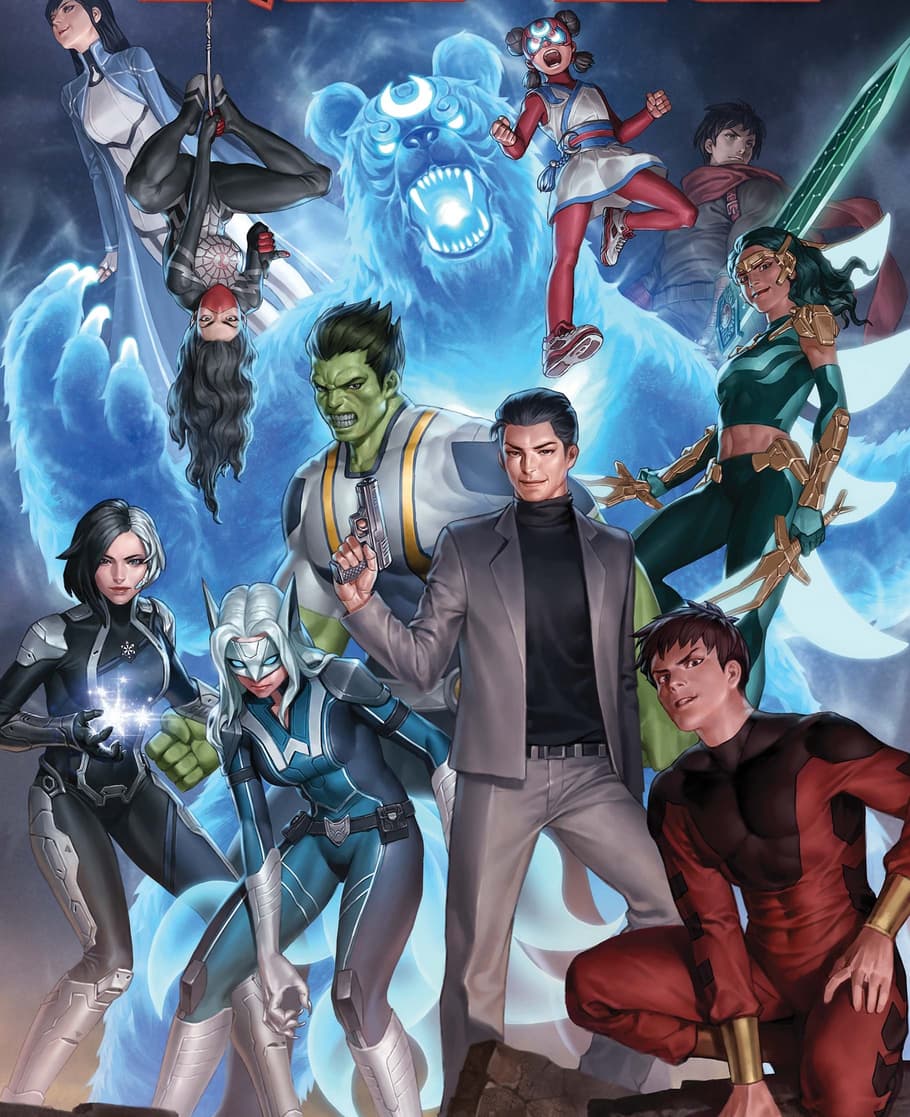 But the Agents didn't stop there. Once Earth had been successfully defended from Malekith's hordes, the gang got back together in AGENTS OF ATLAS (2019).
This time, the roster had expanded, and Amadeus Cho officially became field leader. The team's imperative mission was to defend the cross-Asian portal city of Pan, a technological dreamworld as dangerous as it is visionary. Jimmy's agents paired science with magic (plus the forces of nature), to take down Pan's more monstrous residents.
Plus we got to see the fate of the original Agents of Atlas! Namora, M-11, Gorilla Man, Marvel Boy… where the heck have you been?
[RELATED: Read the New 'Agents of Atlas' on Marvel Unlimited]
These are just a handful of stories starring the Super-Agent Supreme! Looking for STRANGE TALES and more? Head to Marvel Unlimited to read the rest of our Jimmy Woo picks, plus choose from a catalog of over 27,000 digital comics from Marvel classics to modern hits.
Looking for more iconic arcs, complete events, and Marvel must-reads you can read for free? Read online here, or download or update the Marvel Unlimited app for iOS or Android at the Apple or Google Play app stores today.
For more of Marvel's greatest comic books in print, please reach out to your local comic book shop to ask about services they may offer, including holding or creating pull lists, curbside pick-ups, special deliveries and other options to accommodate. Find and support your local comic book shop at http://comicshoplocator.com.
The Hype Box
Can't-miss news and updates from across the Marvel Universe!