Comics
Published February 12, 2021
8 Times Jubilee's Fireworks Brightened Our Day
See some of Jubilee's finest fireworks lighting up the Marvel Universe!
Have you tried Marvel Unlimited yet? It's your all-access pass to over 28,000 Marvel comics, available at your fingertips. Sign up now to get 50% off your first month.
Happy Lunar New Year, Merry Marvelites! As 2021 celebrations take place all over the world, we looked for the best fireworks in the Marvel Universe...and let's just say the X-Men know how to party! We can't help but think that one mutant in particular knows how to add style to any situation—and that's none other than Jubilation Lee, AKA Jubilee!
Whether battling destructive Super Villains or teenage attention spans, Jubilee knows how to spark joy, no matter how hopeless things may seem.
Read on for our favorite moments in Marvel comics where Jubilee lit things up with her signature fireworks!
1. NO SLEEPING IN CLASS
It's never an easy task to grab the attention of a high school class, but Jubilee knows how to wake her students up! Not only is she a respected teacher at the Xavier School for Gifted Youngsters, she's gone above and beyond as a mentor to Bling!, Kid Omega, Nature Girl, Morph, Hindsight, and Eye-Boy. We only wish we were lucky enough to be in her class! 
2. FIRST IMPRESSIONS COUNT
Let's not forget when Jubilee herself was a student, she made quite the first impression. In her first appearance in UNCANNY X-MEN (1963) #244, she arrived on the scene as a young mutant teenager creating her own fireworks in an L.A mall for money. But her burgeoning abilities attracted the attention of a few unhappy patrons, among them mutant hunters! It just so happened that a few X-Men were on a shopping spree at the same time...Let's just say Jubilee managed to catch their attention!
Don't miss the introduction to one of Marvel's most beloved mutants!
3. COME JOIN MY SQUAD
Jubilee isn't the only one who can cause explosions, but she's certainly popular among others with similar powers! Dazzler, Gambit and Boom Boom come to her aid when they tackle Emma Frost. Don't worry—no mutants were harmed in the making of this explosive scene from MARVEL COMICS (2019) #1001! 
4. FROM MILES AWAY
You know someone has that special something when you can spot them from miles and miles away—and in the middle of the night, on top of that! Jubilee certainly stands out in any crowd with her unmistakable costume, but she's also all about taking action in a crisis. Distance is no issue—in this case, you can see her zip through the sky (pap-pap-pap!) and instantly make her presence known with a BOOM-BOOM-BOOM!
5. For ALL OCCASIONs
Who said you can't have fireworks on other holidays? Remember that time Jubilee needed to, er, get her point across? Lo and behold, that's how the classic "JUBI-BOOM" was born.
Whether it's Christmas, July 4th, or Lunar New Year, Jubilee is all about keeping the holiday spirit alive. (And making sure her son Shogo, under no circumstances, is ever separated from his favorite Nightcrawler doll!)
6. EVERY COLOR OF THE RAINBOW
We can't help but think that Jubilee is an artist in her own right, because how does every energy blast come out looking like a colorful masterpiece? Artist Javier Garrón also does a beautiful job capturing the rainbow in this Variant cover for UNCANNY X-MEN (2018) #2.
7. MIC DROP
When you're as busy as Jubilee, you don't have time to stick around! After letting sparks fly, she heads out with one of our favorite one-liners: "Keep the change, dweebs!" How's that for '90s flair?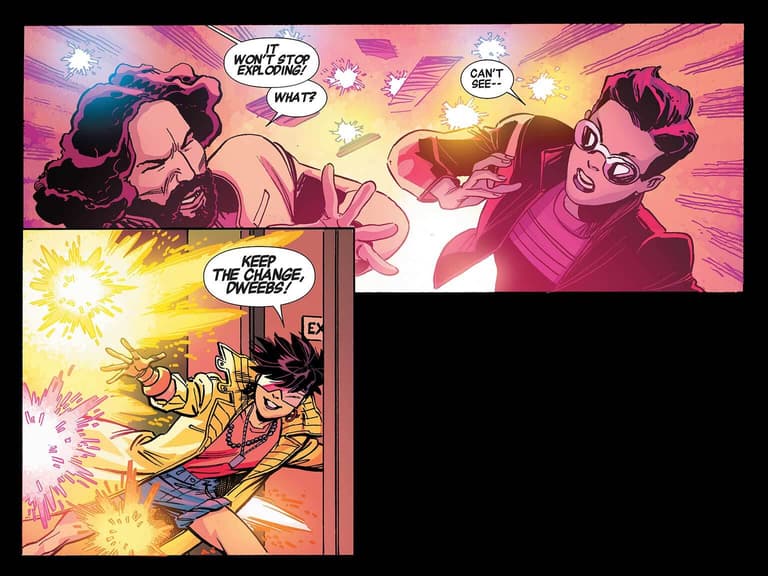 8. ALWAYS A WINNER
Nothing is luckier than believing in your own luck. And we love Jubilee for having the true confidence and style of a Super Hero! Her charm is magnetic, and it's no wonder Marvel Heroes trust her to get every job done, while having some fun on the job too!
Have a lucky 2021, True Believers, and know that Jubilee will always have your back!
Follow Marvel Unlimited on Twitter and Facebook to stay tuned in to weekly announcements, articles, and more, all at @MarvelUnlimited. Follow us today to join the conversation with thousands of fellow fans, and let us know what you're reading!
The Hype Box
Can't-miss news and updates from across the Marvel Universe!