Comics
Published January 4, 2021
Karla Pacheco's Secret to Writing 'Spider-Woman'
Hear from the fan-favorite scribe as you read her run with Jessica Drew!
Take a guided tour of Marvel's mightiest creators with Marvel Tales! Ben Morse, currently a visiting lecturer at UNLV, previously spent a decade working within the House of Ideas. In each installment of this series, he utilizes that insider knowledge—plus his lifelong fandom—to connect with comics professionals as they spin stories about the Marvel Universe and its inhabitants!
Spoilers if you haven't read 2019's FANTASTIC FOUR 2099—available now on Marvel Unlimited!—but the delightfully twisted take on the future FF provides some insight into the plotting process of SPIDER-WOMAN writer Karla Pacheco, who penned the one-shot as part of the larger 2099 event in one of her earlier efforts for Marvel.
"The entire 2099 event was a ton of fun, and it was my first opportunity to collaborate on an event with a bunch of amazing writers to bring together a big overarching story," she explains. "They asked me to create an all-new FF for this post-apocalyptic world, so I came up with some ideas...and then as I'm describing them to everyone on a fancy conference call I just go '...but I was also thinking about murdering them all?' And then all the other writers started hooting and hollering, so I did that."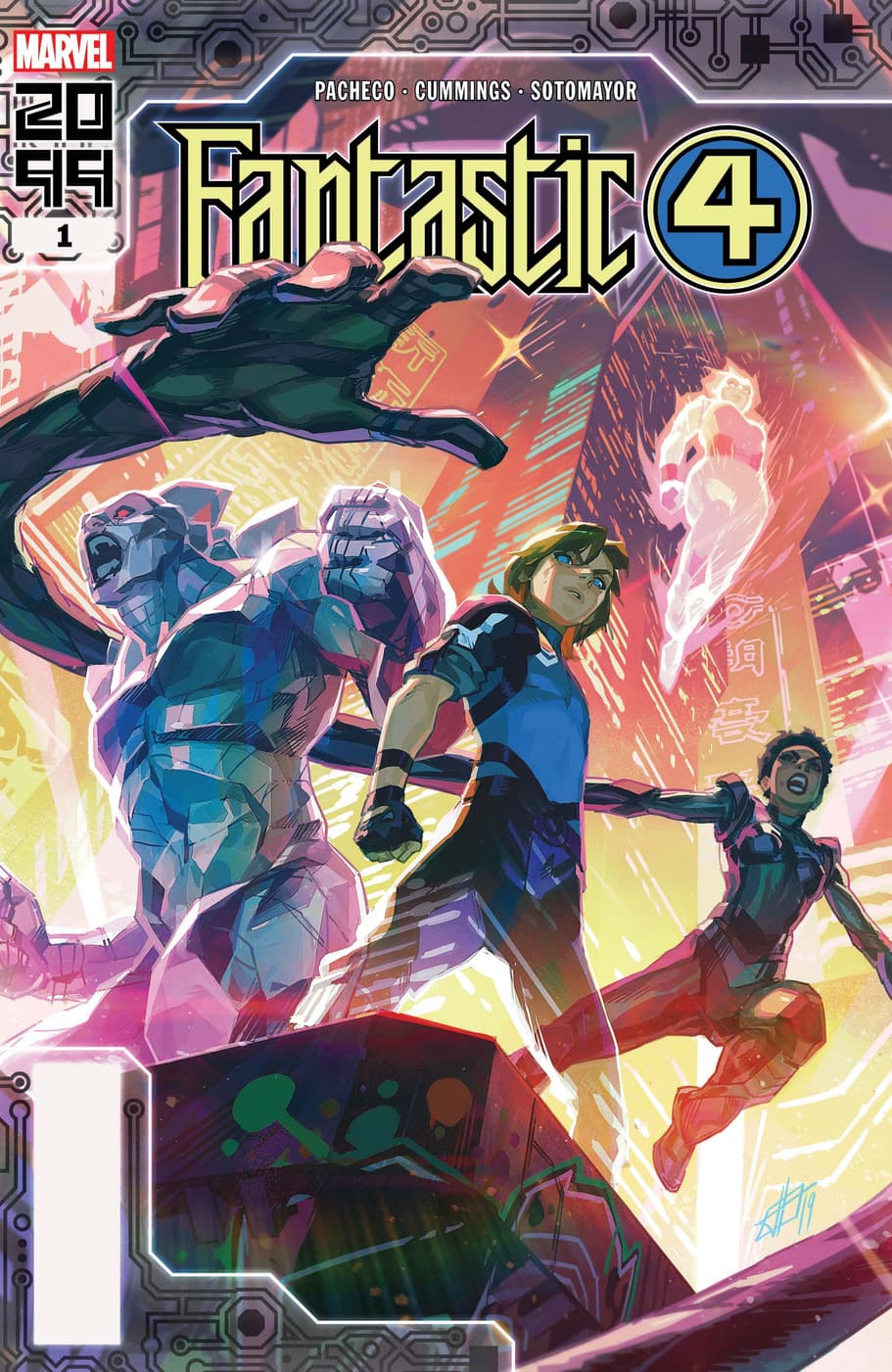 Considering her early comic book influences include NEXTWAVE and Dan Slott's tenure on SHE-HULK, Pacheco's unique approach to her work makes more sense. Even earlier than that, the classic X-Men cartoon inspired her to run around with her little brother pretending to be Wolverine and later spend "an entire summer cooped up in a rather sad Los Angeles apartment reading every X-Men comic from the beginning to the '90s."
Inspiration drawn from writers like Chris Claremont and an affinity for "smart-mouthed bad-asses with 'issues'" led Karla to pursue a storytelling career of her own that would eventually lead to the Marvel Universe and Jessica Drew.
"Like a lot of folks in this line of work, I've just always written," she notes. "Weird stories as a kid, bad poetry as a teen, and once the internet showed up, terrible blogs and essays I cringe to look back on. I somehow managed to finagle that into comedy and video game writing for a pretty long time, but while I had a ton of admiration for all my friends and heroes writing comics, I hadn't really thought of doing it for myself until a few years ago. I randomly wrote a comic script 'just for fun' and I fell in love.
"There is something so incredible about working with an artist to make the stupid pictures in my head come together, but mostly, comics has so many more unique opportunities than any other medium. You can just...do so much with them. I love layering in hints of things to come that people won't see for months—if ever. I love the problem solving; working with different teams, and getting 'person x' or 'this incident' to the point it needs to be. It makes me feel like I'm Neo in The Matrix and it is such a damn joy to me. I get misty-eyed talking about it."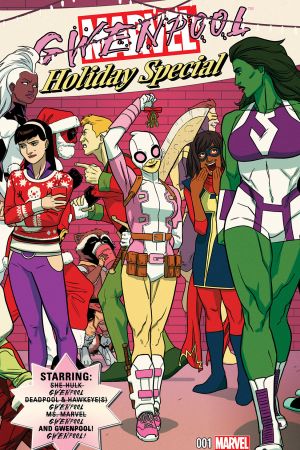 The opportunity to enter the Home of Ideas came the writer's way via a call from editor Kathleen Wisneski in 2016 to work on that year's GWENPOOL SPECIAL. After racing around the boat she calls home for "a few hours," she "very professionally replied, 'Oh, sure, I guess." With the provisions of needing to create a fake holidays and being prohibited from featuring the Fantastic Four or Santa Claus, Pacheco penned a 10-page short that featured "Fin Fang Foom fighting the Punisher in hot pants" and much more.
Fast forward to 2020, following the aforementioned FANTASTIC FOUR 2099, and a chance to tackle one of Marvel's most dangerous heroes, Jessica Drew. "I was doing dispersed camping in a tent on the top of a mountain in the middle of a desert in Arizona, only randomly able to get cell service," Karla recalls. "Somehow managed to get an email reading 'You want to take a shot at a new SPIDER-WOMAN series?' Cue Karla running around a bonfire for an hour. 'Yeah, sure. That sounds chill.' Then I stole wifi from a mining town to send in my pitch and here we are!"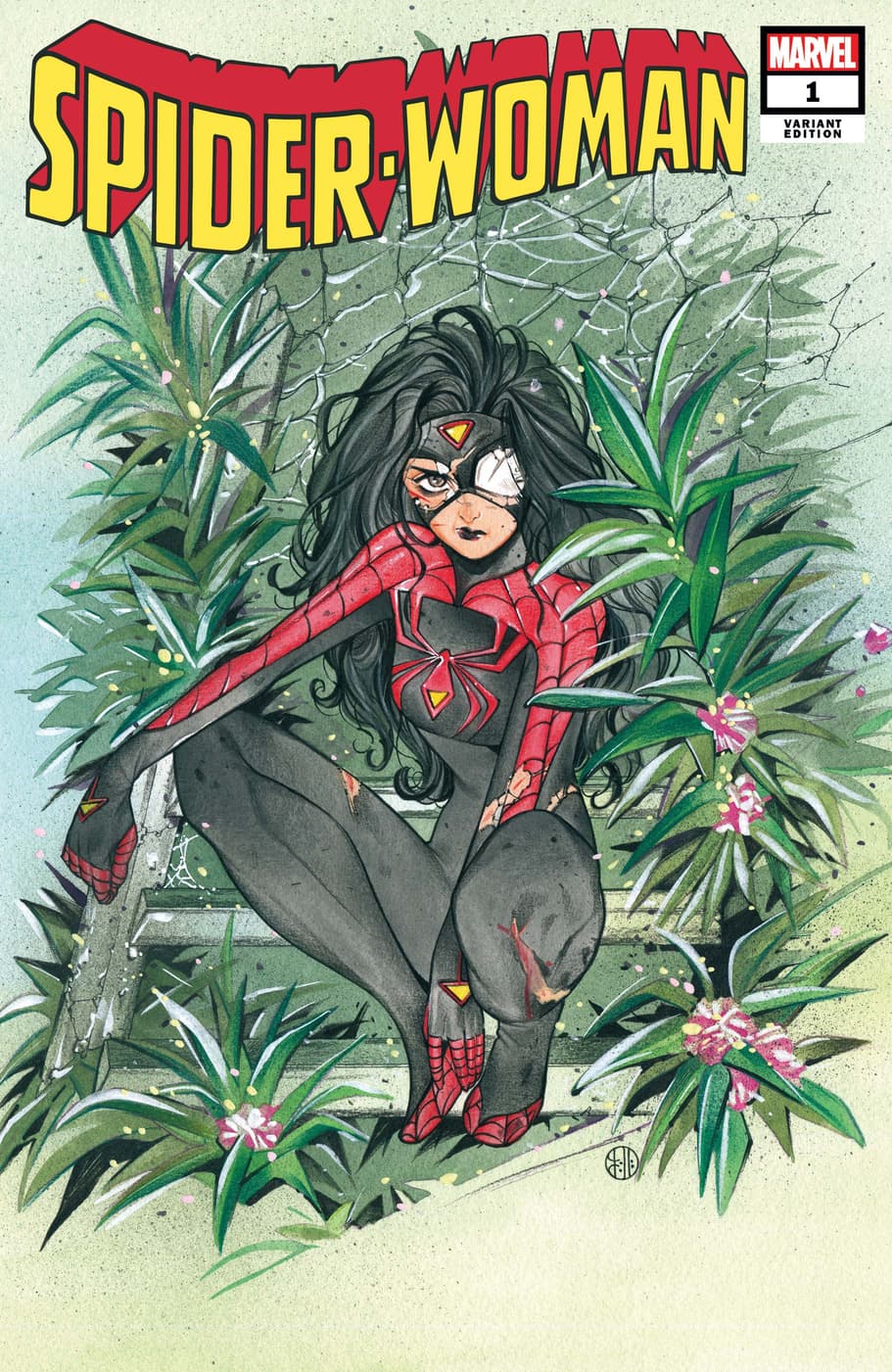 With the first half dozen issues of Pacheco's SPIDER-WOMAN on the stands—and the opening quartet available on Marvel Unlimited already—she considers the best parts of writing Jessica her intelligence, her humor, and her status as a "tough survivor of a lifetime of trauma who cares about her people but isn't always good at expressing herself." Conversely, Karla considers the toughest part of the assignment "owning myself on every page." Her favorite moments include "chucking #@*&!%$ teens off boats, exploding helicopters, punching dinosaurs, and ripping people's hearts out" to name but a few.
As for the future of SPIDER-WOMAN, the lady steering the ship feels confident "no one will ever be furious and screaming at me ever" with a hint of sarcasm. She also throws a considerable deal of credit to her artistic collaborators, including colorist Frank D'Armata, letterer Travis Lanham, and "the tons of absolutely humbling cover artists I never thought I'd get for a book I wrote."
"None of this series would have been possible editorial team," she adds. "Jake Thomas and Lindsey Cohick from the beginning have encouraged me to go bonkers, and push the 'Spider-Woman is kinda pissed off right now' envelope. We also got help from Nick Lowe, Shannon Ballesteros, and Danny Khazem as we were working up the next arcs of the story. Not to suck up to the bosses and all—definitely sucking up—but I'm honestly so lucky to work with these folks, and for them letting me be a violent idiot. Hopefully in a smart way?
Spider-Woman (2020) #1
published

added to marvel unlimited

penciler

inker

colorist

editor

painter (cover)

penciler (cover)

letterer

writer
What is Marvel Unlimited?
"But [interior artist] Pere Pérez is the most important part of this book. We had not worked together before this, but despite my first script for him being 'I need a party boat filled with teenagers wearing the costumes of every character in the Marvel Universe,' he's been the most gracious, lovely person to work with. We both have differing levels of martial arts backgrounds—Pere is an actual instructor!—and I think that shows through in the fight scenes that are so incredibly novel and dynamic.
"Pere and I were able to get a weird action-scene mind-meld going on early in the series, and I feel it's only gotten better. I couldn't think of a better teammate for this book. He's absolutely the best part of SPIDER-WOMAN, and I'm so lucky I get to come up with really dumb ideas—'So, a bunch of dinosaurs fight robots?'—that he makes the most innovative pages out of. I'm a very lucky girl."
Catch up on Karla Pacheco's SPIDER-WOMAN series, plus sample her other work, with Marvel Unlimited!
The Hype Box
Can't-miss news and updates from across the Marvel Universe!