Comics
Published August 22, 2018
Kelly Thompson Explains How the WEST COAST AVENGERS Are Getting Real
The new West Coast heroes need cash -- it's time to stop being polite...
Avengers -- assemble!! Wait no, not those Avengers…
Writer Kelly Thompson and artist Stefano Caselli have brought a classic back to life as they reassemble the underrated -- and underpaid -- West Coast Avengers! "We've got landsharks, giant Tigra, and another unexpected weird surprise character," noted Thompson, "Plus Stefano Caselli and Triona Farrell deliver about 30 of the most fun and gorgeous pages you've ever seen."
But with no multi-billion-dollar metallic hero bankrolling the team, they've had to get creative to keep their quivers -- and their fridges -- fully stocked. "We tried to capture a lot of the freewheeling weird spirit of the original WCA but give it a modern spin that made sense for modern audiences," Thompson explained. That's right -- the team is opening their lives to a docuseries.
Art by Stefano Caselli
Art by Stefano Caselli
Like every good reality documentary series the characters are diverse, complex, and often dramatic. Thompson and Caselli take us behind the masks and into the controlled chaos that is the West Coast Avengers. Who will form alliances, who will be the resident prankster, and who will take home the hottest in the office Dundee? Okay, so maybe that last one isn't really a question, it's clearly Clint. Nonetheless, be sure to tune in for the mystery, the intrigue and the piles and piles of sass in WEST COAST AVENGERS #1.
But before you do we're going to give you the behind-the-scenes run down on the new members because as Thompson puts it, the team is their own greatest strength and weakness. They've got to hold it together or risk imploding in a truly destructive fashion.  
Hawkeye aka Kate Bishop
Leader slash comic relief, Kate Bishop is never without a quiver full of arrows and awkward one-liners. Like your borderline annoying, overly optimistic co-worker, she never gives up, because there is no bad guy a little sass and a can-do attitude can't take down. Though a charismatic leader, she's known to take on too much, leaving her team sitting around twiddling their thumbs. And while she may not always play by the rules, she expects her team to. We're looking at you, Quentin.
Hawkeye aka Clint Barton
Like a wise old grandpa, Clint begrudgingly prepares his young tots for their journey into the great big world of superheroing with about as much care and attention as a parent on their third child. He's been around the block quite a few times -- but don't remind him of that unless you want to end up tangled in a net arrow. Like Kate, Clint never gives up, but his strategy is a bit more straightforward. Turns out there isn't much a few well-placed arrows can't fix… except maybe Quentin Quire.
Art by Stefano Caselli
Art by Stefano Caselli
America Chavez
America brings that John Bender x-factor to the group. A whole lot of attitude followed by some more attitude, ending with bonus super-powered punching and cross-reality traveling. She may seem like the intimidating, tough as nails grouch -- this may be why Clint finds her the least irksome of the group -- but she's really a big softy. A big softly made of rock-hard muscles. And while she's a team player, we're all just waiting for her to punch Quentin and walk away, fist held high over her head in success.
Gwenpool aka Gwen Poole
Not to be confused with a similarly named anti-hero, Gwenpool has become the team dark horse. She's a big ball of crime fighting energy from the "real world," and while her fighting skills are on par with those of her fellow Super Heroes, her somewhat ADD-like improvisation can be both beneficial and troublesome when not properly honed. Lucky for the team, Kate has previous experience aiming the Gwenpool cannon with more or less accurate results.
Art by Stefano Caselli
Art by Stefano Caselli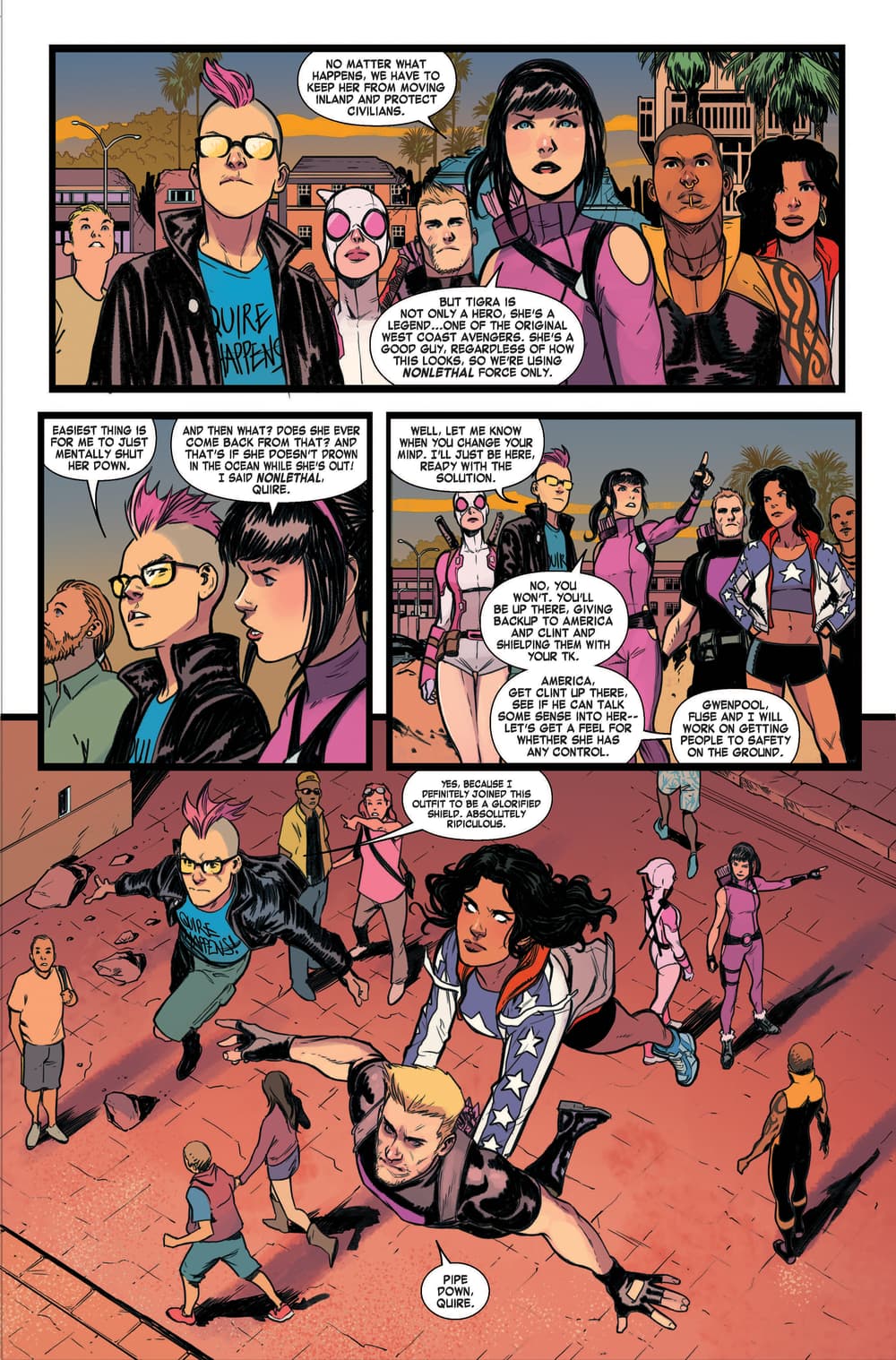 Fuse aka Johnny Watts
Like the name implies, Fuse rocks a live wire personality with an almost too positive outlook on life. Inexperience combined with boundless enthusiasm... sounds like a good way to end up as the bait.  Luckily there are a few tricks up his invulnerable sleeves -- that, and a few face palms, compliments of Quentin's constantly open mouth. He may be the new kid on the block but Kate would never let her best friend fall victim to a trap! Unless it's a prank. Then he's fair game.
Kid Omega aka Quentin Quire
Quentin, Quentin, Quentin. What can we say? His t-shirts may be on point but that's about all that is. If he didn't have a whole heap of butt-kicking powers he'd be out on his own butt, because this cocky kid never shuts up. It's a wonder America hasn't decked him already, or Gwenpool, or... well, anyone on the team. He likes to stir the pot with the "truth" and his telepathic powers work like lighter fluid on an already blazing flame of team turmoil. Things are about to get real -- but hey, he makes for some great television! 
Be sure to catch all the situational comedy, drama, and heartache our team will document behind ally lines starting today in WEST COAST AVENGERS #1, written by Kelly Thompson with art by Stefano Caselli. Get your copy online or in your local comic book store!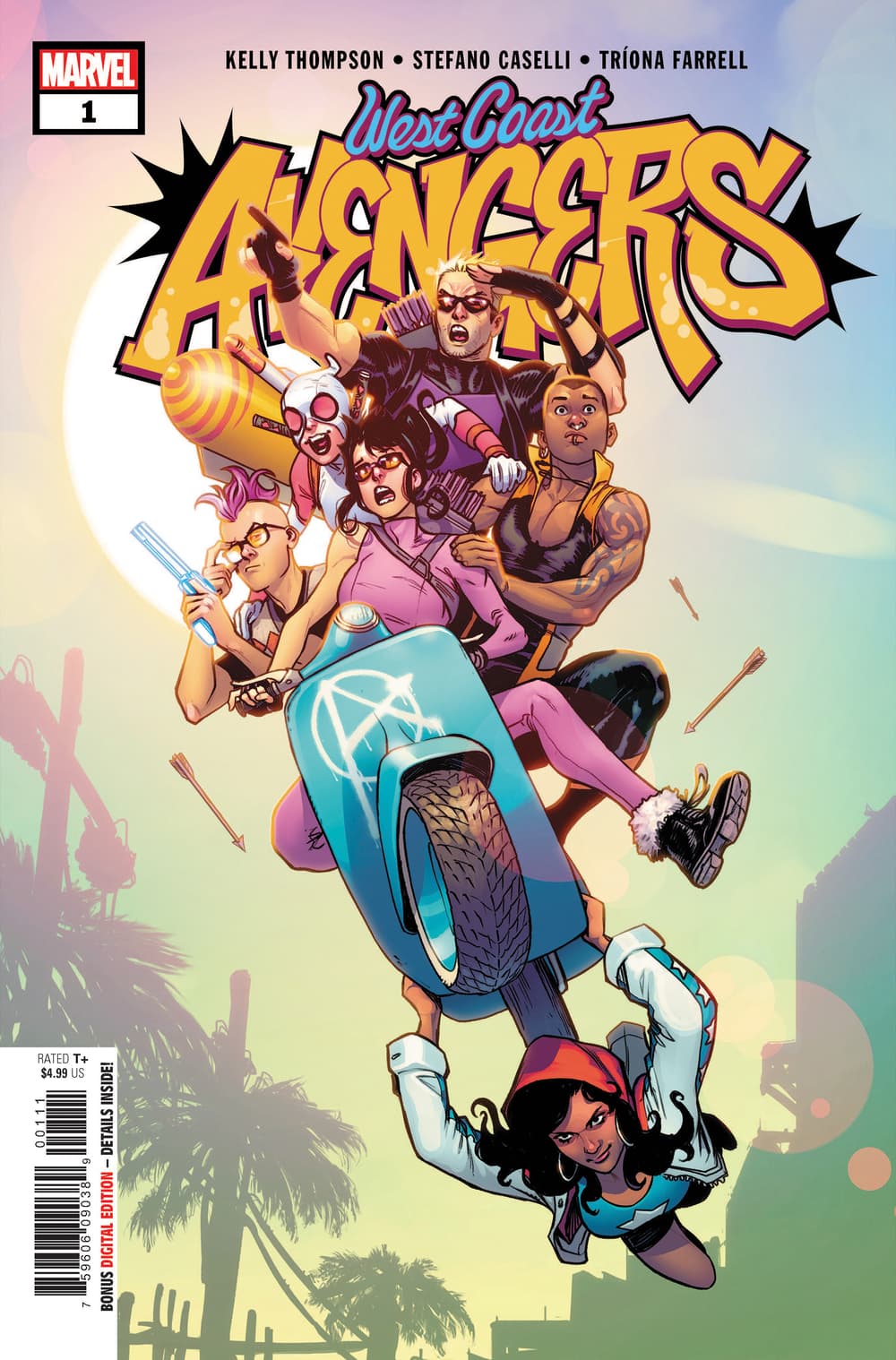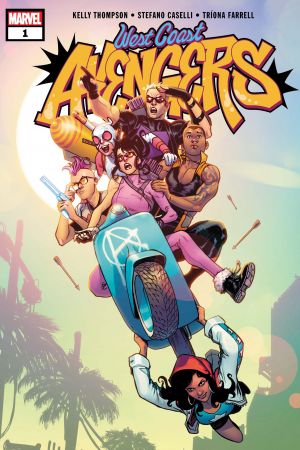 West Coast Avengers (2018) #1
published

added to marvel unlimited

inker

inker (cover)

penciler

penciler (cover)

letterer

writer

colorist (cover)

editor

colorist
What is Marvel Unlimited?
The Hype Box
Can't-miss news and updates from across the Marvel Universe!