Comics
Published March 8, 2021
'King in Black' Hits Marvel Unlimited
Venom, the Avengers, and the X-Men face off against the god of symbiotes. Read our top 5 takeaways from 'King in Black' #1.
Have you tried Marvel Unlimited yet? It's your all-access pass to over 28,000 Marvel comics, available at your fingertips. Sign up now to get 50% off your first month.
New on Marvel Unlimited: The Abyss Made Flesh. The Destroyer of Stars. The God of Symbiotes. Venom's greatest enemy heads to Earth in KING IN BLACK, the cross-title event that spins directly out of creators Donny Cates and Ryan Stegman's epic run on the Lethal Protector. With issue #1 of Venom's symbiote saga, the Avengers and the X-Men are pulled into the fold to defend the planet's borders from a threat that no super-team could predict.
Knull is here, and this time he's brought an army. Read our top 5 takeaways from KING IN BLACK #1 today, and follow along weekly on Marvel Unlimited for brand-new additions and tie-ins to the larger event.
Plus, see what other comics are new to MU, and find fresh entry points from this week's additions here!
NEW ON MARCH 8
1. ALL THOSE SYMBIOTE DRAGONS
In the lead-up to Knull's incursion, Venom, the Avengers, and the X-Men stare down a swarm of symbiote dragons that are swooping directly toward Earth. Knull's death march starts with these hundreds of thousands of symbiotes, all part of his larger army and under his command.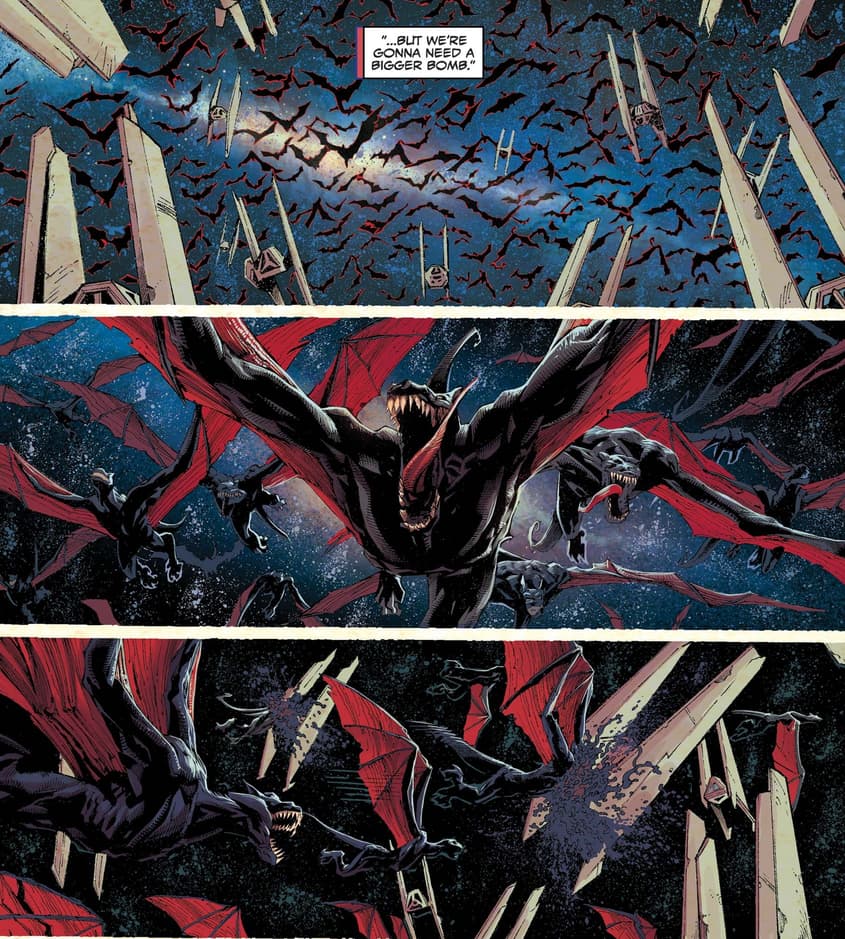 2. ENTER THE X-MEN
Charles Xavier, preeminent leader of mutantkind, calls in his X-Men to face Knull's forces head-on in Washington Square Park. Storm plays a unique role as aerial reinforcement, an assist that later comes in handy once the (actual) rain of terror begins.
While we're not surprised at the Avengers' involvement in this intergalactic assault, the X-Men have largely been living a separate life on their home island of Krakoa. But a world-ending threat like Knull requires all hands on deck.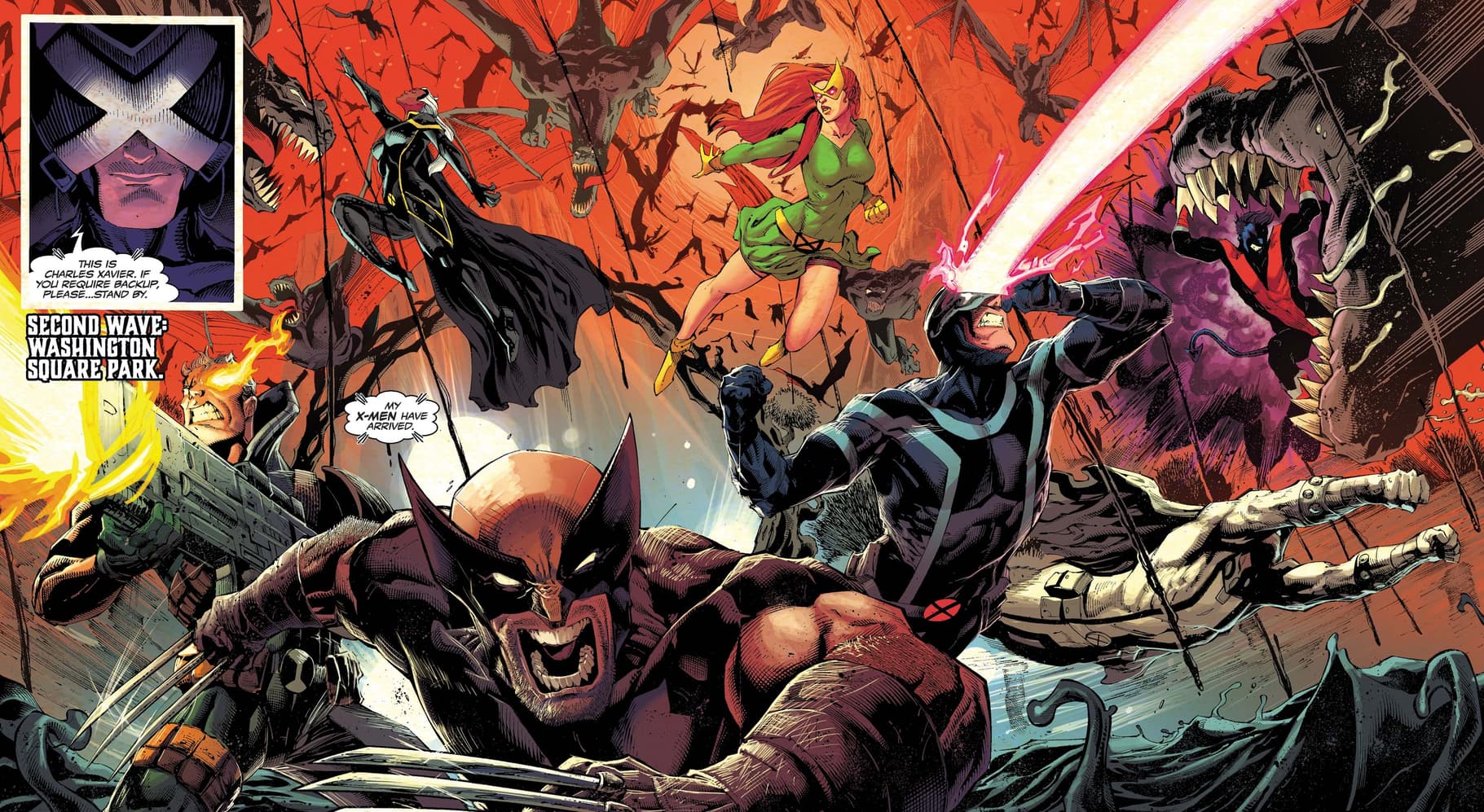 3. KNULLIFIED CELESTIALS
From dragons to Celestials! Knull armors up his arsenal by throwing a few ancient god-beings into the mix, cruising through Earth's atmosphere aboard one of his oldest enemies. To better understand the significance of Knull's influence over the Celestials, we'll need to review some key comics history first.
As explained to a helpless Eddie Brock in VENOM (2018) #4, Knull was the darkness that enveloped everything in existence until the Celestials introduced the world to their "light of creation." In response to this intrusion, Knull took a physical form and slew a Celestial, whose severed head later became the world of Knowhere. Knull then waged war on the cosmic gods with his living suits of symbiote armor, becoming an eternal scourge of the Celestials and their newly formed universe.
Although, it now looks like Knull's gotten the payback he's been craving.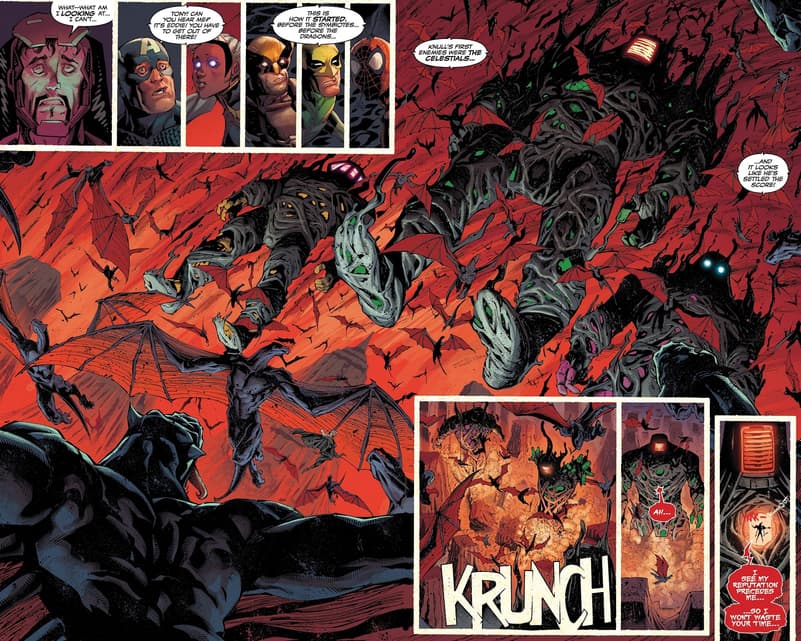 4. VERSUS THE VOID
The Sentry, an omnipotent Avenger who is as feared as he is respected, contains a vast source of power known only as "the Void." This latent urge toward chaos has left the Sentry uncontained on a number of occasions despite Robert Reynolds' best efforts to maintain the darkness within.
Unfortunately, Knull catches a whiff of that darkness and descends upon Sentry following an attack on his Celestial. The Void proves malleable to Knull, leaving the Sentry an empty husk robbed of power... and possibly his life.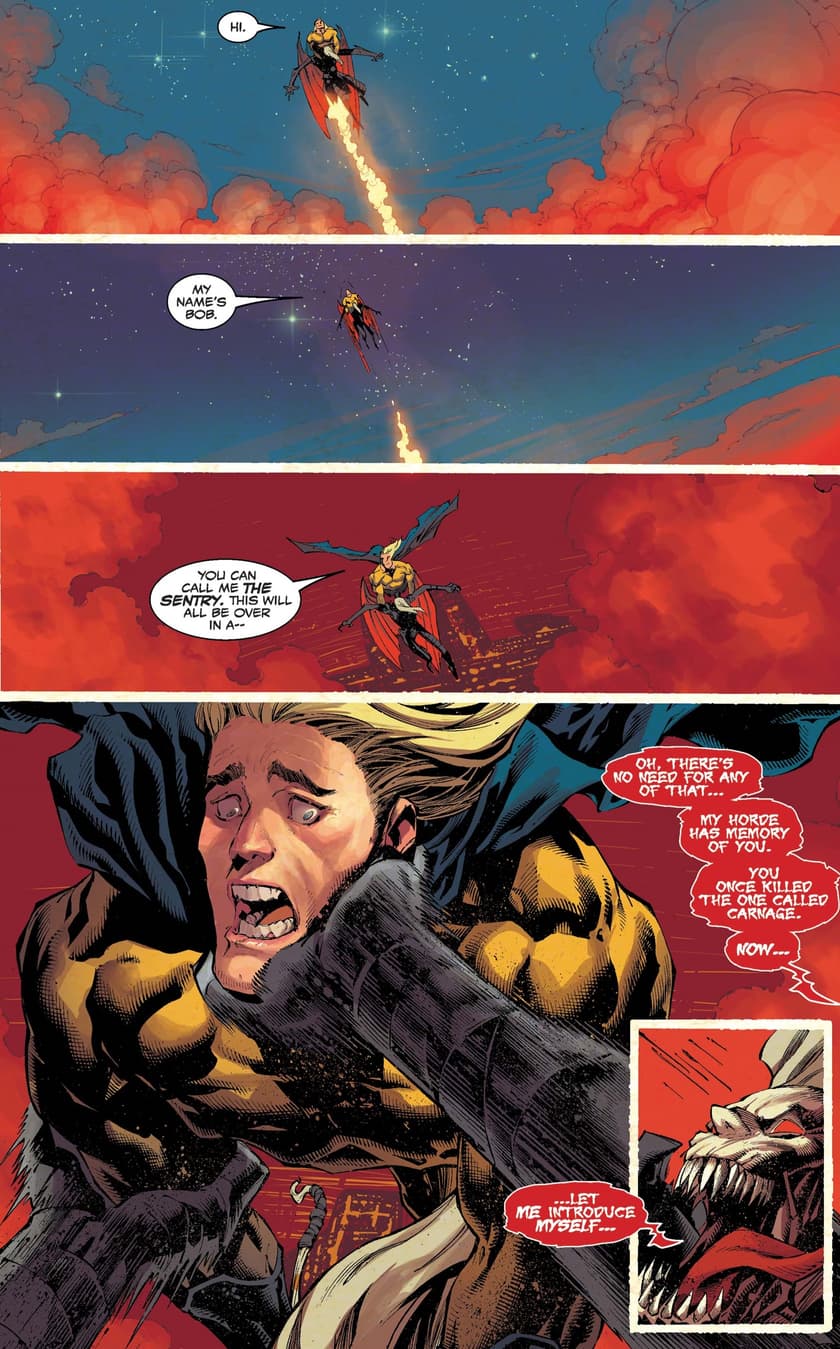 5. THE FALL OF EDDIE BROCK
What is one symbiote against an overpowered god? While Eddie Brock is able to offer the Avengers solid intel on Knull, nothing can prepare him for the battle ahead. As far back as ABSOLUTE CARNAGE, Venom, and his human host, have been awaiting the event that threatens to engulf the world in darkness. But when Knull arrives, Brock realizes too late that his symbiote may be under the spell of its creator!
Also at risk? The life of Eddie's young son, Dylan.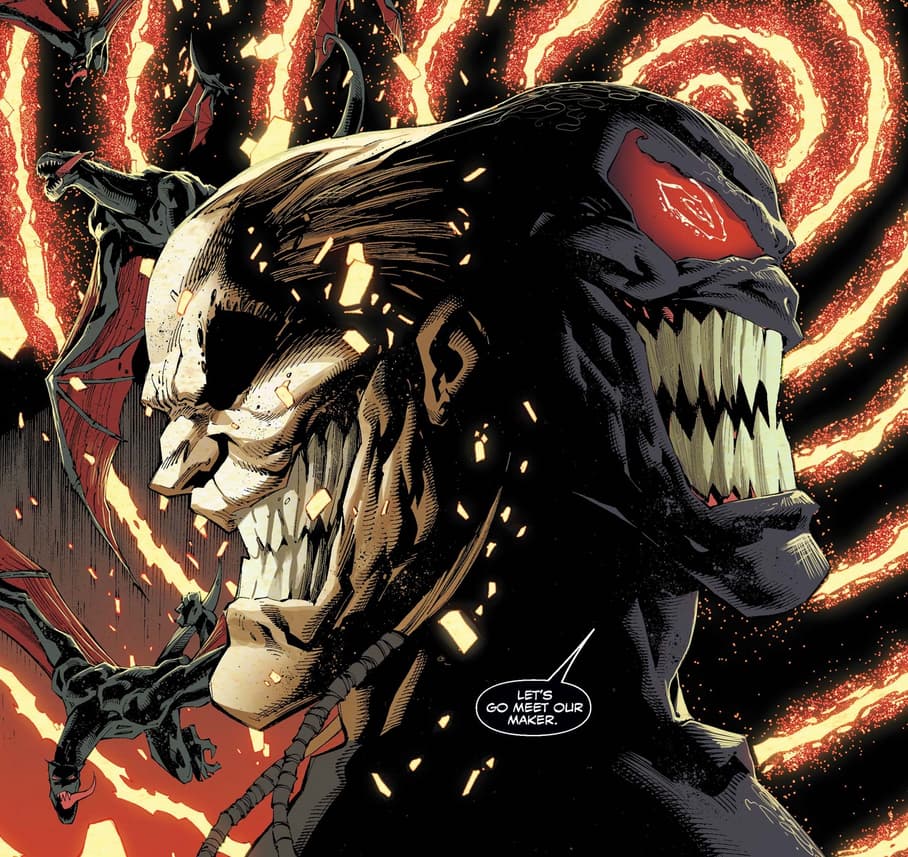 KING IN BLACK awaits! Start reading this event today, or brush up on the comics history of Knull before diving into issue #1.
Follow Marvel Unlimited on Twitter and Facebook to stay tuned in to weekly announcements, articles, and more, all at @MarvelUnlimited. Follow us today to join the conversation with thousands of fellow fans, and let us know what you're reading!
The Hype Box
Can't-miss news and updates from across the Marvel Universe!