Comics
Published November 20, 2017
Kirby 100: In Quest of the Sacred Water
Jack Kirby launches The Black Panther on another wild journey!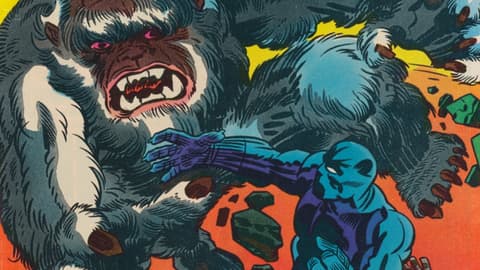 1917 to 2017: 100 years of Kirby.
Join us to celebrate Jack "King" Kirby's 100th birthday by learning about the characters and stories he created that changed comics forever. To commemorate Jack's centennial, we've sat down with the modern-day creators he influenced—and the decades of work he gifted us all.
In many ways, Jack Kirby acted as one of the best tour guides around. In addition to introducing readers to new and exciting characters, he also took us to some of the wildest places across the Marvel Universe. In the late 70s, while writing, drawing and editing BLACK PANTHER, he spirited fans to a relic-filled tomb, a new nation called Narobia, and on to the glorious Samurai City.
After returning King Solomon's Frogs to their rightful place in the tomb, T'Challa intended to leave his new acquaintances Mr. Abner Little and Princess Zanda to pursue other adventures. However, fate—and Kirby—had other plans in mind as our hero found himself battling a Sacred Samurai at the end of BLACK PANTHER #4. Zanda and her Collector allies soon revealed all of this as a test to see if the Panther proved strong enough to go to the secret samurai city and bring back the Sacred Water-Skin.
T'Challa turned them down at first, but by issue #5 he agreed to travel to the fabled city only after Zanda threatened to fire a nuclear missile at Wakanda! With that, the king and Mr. Little ventured out in a hover-craft. As they neared the secret city, though, unknown forces blasted them out of the sky! Upon landing, they first faced the peril of a raging river and then the ferocity of a yeti! Both men attempted to take the beast on in their own way, but only walked away victorious after working together. However, that safety proved short lived as they then came face to face with a Ronin named Akiro who threatened their very lives.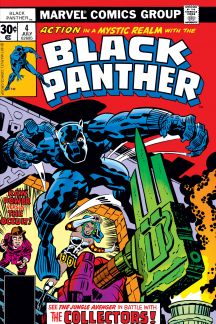 Once again, Little and T'Challa proved a resourceful duo and defeated their foe. Afterwards, Little grabbed the Ronin's sword. Upon waking up, the warrior revealed that his defeat should lead to his death. However, Black Panther told him that the Wakandan code forbade killing an unarmed enemy. To figure out what to do next, all entered the magnificent, underground Samurai City. To make good, the Panther met with their leader Shinzu and returned the Ronin's sword to him in hopes of restoring his one-time opponent's honor. To do so, the mysterious overlord decreed that T'Challa must fight another in hand-to-hand combat. Abner tried arranging it so that, if our hero won, they'd get a sample of the water of immortality, but the Wakanda king declined these machinations.
Unperturbed, Mr. Little used this distraction to sneak off and grab some long life liquid for himself. This affront to the denizens of Samurai City did not sit well and lead to yet another confrontation between the outsiders and their hosts. In the final issue of the story—#7—T'Challa revealed his true title of king, returned the stolen water, and requested a peaceful exit from Samurai City which Shinzu granted. Of course, their adventures would continue from there, but that tale will have to wait for another day…
Stay tuned to Marvel.com for more throughout Kirby Month and beyond! And join the conversation on all of our social channels with the hashtag #Kirby100.
The Hype Box
Can't-miss news and updates from across the Marvel Universe!