Comics
Published December 26, 2017
Kirby 100: Kiber the Cruel
The King closes out his run on BLACK PANTHER by pitting him against Kiber the Cruel!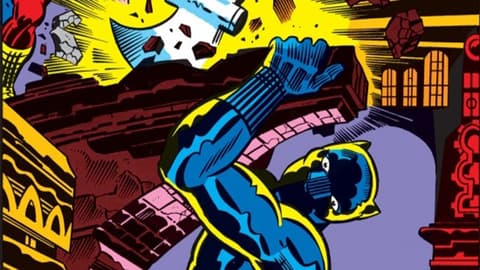 1917 to 2017: 100 years of Kirby.
Join us to celebrate Jack "King" Kirby's 100th birthday by learning about the characters and stories he created that changed comics forever. To commemorate Jack's centennial, we've sat down with the modern-day creators he influenced—and the decades of work he gifted us all.
Jack Kirby's run on BLACK PANTHER – the first ongoing series featuring T'Challa – ended in 1978 with that series' 12th issue. As you may remember from the last Wakanda-set Kirby 100, the hero king had recently returned from a trip abroad to stop his brother Jakarra from destroying the Great Vibranium Mound. In the process, Black Panther got pretty banged up, as we see when this arc began in #11.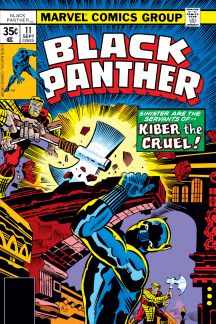 Black Panther (1977) #11
Published: September 10, 1978
Added to Marvel Unlimited: September 17, 2008
What is Marvel Unlimited?
As T'Challa dealt with his recovery and strange dreams of a new villain, his physician Joshua Itobo ran some tests and discovering something incredible. Thanks to his intense Vibranium exposure, he now exhibited mental abilities!
Unfortunately, this discovery could not save his family member – and race car driver – Khanata from an unfortunate drive through the land. Needing to let loose, the young man contemplated opening Wakanda up to outsiders, only to find some of them getting the drop on him!
At the same time that T'Challa came to understand his new powers, Khanata woke up to see his captor face to face! In an attempt to break away, he snatched a gun and blasted away at Kiber only to find that physical objects passed right through him!
Stunned and over-powered, Khanata could not resist being thrown into a holding cell with a variety of other prisoners. As T'Challa donned his ceremonial Panther garb, Khanata watched as some of Kiber's guards grabbed a young man and tossed him into a strange box that transformed the once-living person into energy that Kiber fed off of!
In the next issue, the Panther got himself captured by Kiber's goons as well. Once in the stronghold, he got a sense of the villain's plans for turning people into energy. He also used his thought projecting abilities to send Khanata a message to organize a breakout with the other prisoners.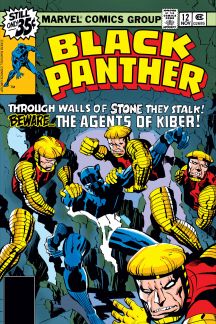 Black Panther (1977) #12
Published: November 10, 1978
Added to Marvel Unlimited: September 17, 2008
What is Marvel Unlimited?
Though it took some convincing, Khanata roused the men thanks in part to a speech that got them to action. "We're nothing but fuel to Kiber! When he's through with us he'll capture others until he destroys humanity! Must we let him do it without a fight? Must we go to our deaths like sheep?" With that, they all jumped at the door together!
The break worked, giving the prisoners the chance to get out of there and also T'Challa to figure out Kiber's game. However, Kirby would not finish the arc. Jim Shooter, Ed Hannigan and Jerry Bingham stepped in to cover the King and finish out the Kiber saga.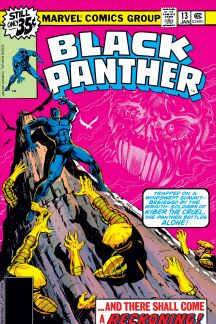 Stay tuned to Marvel.com for more throughout Kirby Month and beyond! And join the conversation on all of our social channels with the hashtag #Kirby100.
The Hype Box
Can't-miss news and updates from across the Marvel Universe!