Comics
Published October 26, 2017
Kirby 100: The Black Panther
Track the evolution of one of Jack Kirby's signature characters!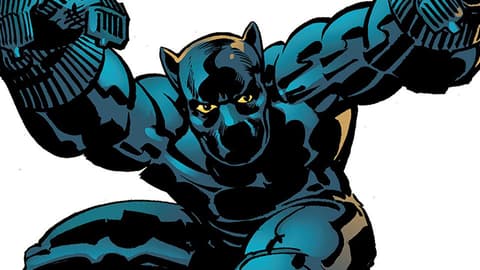 1917 to 2017: 100 years of Kirby.
Join us to celebrate Jack "King" Kirby's 100th birthday by learning about the characters and stories he created that changed comics forever. To commemorate Jack's centennial, we've sat down with the modern-day creators he influenced—and the decades of work he gifted us all.
As BLACK PANTHER enters the Marvel Legacy era this week with issue #166 by Ta-Nehisi Coates and Leonard Kirk, it feels fitting to look back to Jack Kirby's various dealings with the character over the years. Kirby worked with Stan Lee to introduce T'Challa, Wakanda, and The Black Panther to the world in 1966's FANTASTIC FOUR #52–54. In that first appearance, T'Challa brought the renowned team—and Johnny Storm's college roommate Wyatt Wingfoot—to his homeland and challenged them to a battle of epic proportions. In fact, the only reason the FF wound up on top proved Wingfoot's unexpected presence and feisty attitude.
After enjoying a feast of epic proportions, The monarch of Wakanda asked his guests for help in figuring out a problem that wound up revolving around a new villain called Klaw who would go on to become one of Black Panther's deadliest opponents. Following their eventual victory, the crew played baseball with T'Challa and his people before receiving wonderful gifts and returning home.
The Black Panther would appear here and there in the remaining issues of Lee and Kirby's renowned FANTASTIC FOUR run, most prominently in FANTASTIC FOUR ANNUAL #5 where he teamed up with the title heroes as well as the Inhumans to battle an army of super villains led by Psycho-Man.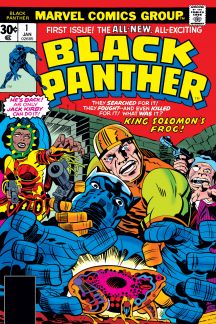 In 1968, Lee and Kirby had T'Challa fly Captain America to Wakanda in a similar fashion as he had the Fantastic Four for TALES OF SUSPENSE #97–99 and CAPTAIN AMERICA #100. After a bit of an initial brawl, the two heroes worked quickly to destroy a weapon called the Solar Heat Projector that happened to fall under Baron Zemo's watchful eye. The duo, aided by Sharon Carter, battled their way through Zemo's minions, The Destructron, and Zemo himself to eventually win the day. This adventure with Cap even led to Black Panther's entry into the Avengers not long after.
Jack Kirby would eventually return to T'Challa's adventures with the character's very first solo series in 1977 which "The King" wrote, drew and edited. This book framed the Panther as a globe-trotting adventurer of sorts, on the hunt for a wildly powerful artifact called King Solomon's Frog. BLACK PANTHER also introduced the hero and the world to a variety of interesting and wild characters ranging from Mr. Little and Princess Zanda to a Yeti and a secret society of samurai!
Stay tuned to Marvel.com for more throughout Kirby Month and beyond! And join the conversation on all of our social channels with the hashtag #Kirby100.
The Hype Box
Can't-miss news and updates from across the Marvel Universe!