Comics
Published December 1, 2017
Kirby 100: The World Shall Die
Can Black Panther stop his mutated brother from destroying the planet?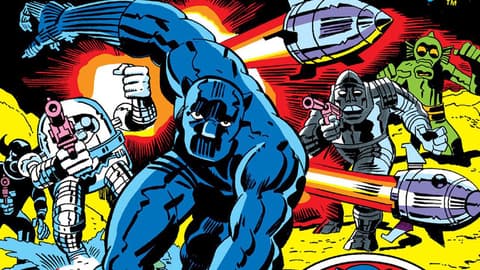 1917 to 2017: 100 years of Kirby.
Join us to celebrate Jack "King" Kirby's 100th birthday by learning about the characters and stories he created that changed comics forever. To commemorate Jack's centennial, we've sat down with the modern-day creators he influenced—and the decades of work he gifted us all.
Family remained an important factor in Jack Kirby's work throughout his entire career. He took on as much work as possible as the provider of his own clan and also wove that responsibility into many of his comics. BLACK PANTHER #8–10 from 1978 focused on these ideas as well when T'Challa dealt with problems while his own blood responded to a related threat back in Wakanda.
The first installment began with a masked man facing off against The Black Panther in Wakanda during the combat ritual which allows for any challengers to try and defeat the country's champion for supremacy. To our surprise, the Panther fell and the hooded combatant turned out to be none other than T'Challa! We then cut to our hero himself flying a chopper back to his homeland and realize we've been feasting our eyes on a flashback. We'd seen something like this in AVENGERS #87, but not drawn by "The King"! His return home delayed once more upon seeing two people floating below him in a life raft.
Meanwhile, in Wakanda, the mutated Jakarra—T'Challa's half-brother—continued his rampage throughout the nation after exposing himself to too much Vibranium. Driven mad, he decided to wage a war against his own people! Back in the copter, the men the Panther saved turned out to be less than reputable. In fact, the mobsters put a gun to the king's head and demanded he fly them to Corsica. Instead, the savvy jungle king lurched the helicopter so that they all crashed. The mafia boss' henchman perished, but Scarpa survived, leaving T'Challa questioning what he should do as he carried his unconscious attacker through the desert.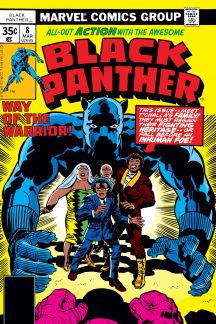 At the same time, in Wakanda, N'Gassi spoke to a quartet of T'Challa's extended family members who had been called on to serve in the Panther's stead during his absence. The group included race car driver Khanata, businessman Ishanta, Zuni, and genius youth Joshua Itobo. Though even they didn't know if they stood up to the task of stopping their rampaging cousin, the foursome soon found themselves tested as Jakarra burst into their meeting. Between their quick-thinking and brave actions, T'Challa's relatives chased the threat away, and suddenly felt a newfound desire to fight for their nation.
The rechristened "Black Musketeers" donned Black Panther-esque costumes to face off against Jakarra. Over in the desert, the actual Black Panther could not figure out why he suddenly came across robots and aliens, only later realizing he'd wandered onto the filming location of a sci-fi motion picture! After an incredibly long journey, T'Challa finally made his way back to Wakanda and just in time as Jakarra threatened to destroy the entire planet by taking his ever-changing form to the Great Vibranium Mound. Though his brethren did their best to stop the imminent danger, it took the Panther leaping into action to actually stop his brother, destroying him in the process.
Stay tuned to Marvel.com for more throughout Kirby Month and beyond! And join the conversation on all of our social channels with the hashtag #Kirby100.
The Hype Box
Can't-miss news and updates from across the Marvel Universe!