Comics
Published August 24, 2021
Kyle Higgins Debuts a New Darkhawk
The writer runs down what to expect in his riveting revival of a classic character!
30 years ago, writer Danny Fingeroth along with artist Mike Manley unleashed a new kind of armored hero on the Marvel Universe when teenager Chris Powell discovered an alien amulet empowering him as the title character of the DARKHAWK series. In the three decades since, this fan favorite has traveled to the stars and beyond, learning more about the complex legacy he has entered into.
Earlier this year in the DARKHAWK: HEART OF THE HAWK one-shot commemorating three decades of Darkhawk, writer Kyle Higgins and artist Juanan Ramirez seemingly brought Powell's journey to a close in deep space as he surrendered his amulet in a last act of heroism. Coming to your local comic shop now, however, this creative team is launching a new DARKHAWK series starring Connor Young—a different type of hero facing unique challenges.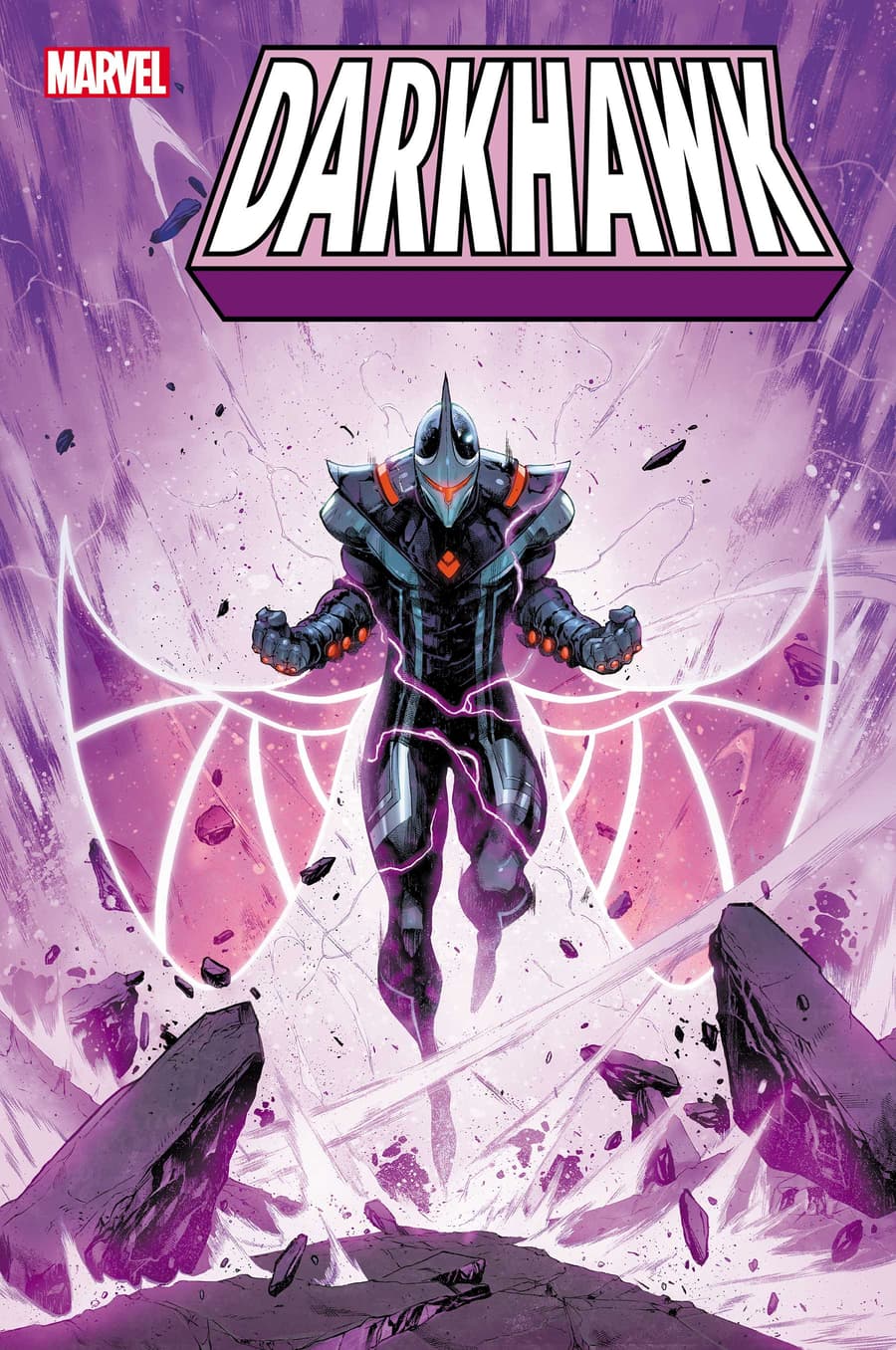 We spoke with Higgins and editor Darren Shan about what to expect from Connor's trial by fire and how they plan to keep DARKHAWK on the cutting edge of adventure!
Where did you first encounter the original Darkhawk?
Darren Shan: ​​My very first encounter with the original Darkhawk was actually in the many, many, many (many) Marvel trading cards that I bought in the '90s. I had never actually read the comics at the time, but I remember being so fascinated by this weird-looking Super Hero with the helmet!
Kyle Higgins: I had a passing familiarity with the character. The design, more than anything else. I remember seeing him in NEW WARRIORS. Then, about a year ago, I was talking to Ryan Parrott about old Super Heroes and he told me about the way Darkhawk worked. The body swap mechanic. I thought it was so cool, very reminiscent of Miracleman. Then, about six months later, Darren and [Marvel Editor-in-Chief] CB [Cebulski] reached out to see if I might have interest in building a new Darkhawk.
What about the initial Darkhawk design landed with you?
Higgins: Ryan Parrott said to me once, a long time ago, that 90% of a Super Hero or villain "working" is their design. I think his number is too low. I think it's closer to 95%. The original Darkhawk is the epitome. From the first covers alone you could tell, this guy was going to look cool. I'm a sucker for a good helmeted hero, and those really sleek lines are everything for me. Plus, the claw gauntlet... I remember wanting an action figure of Darkhawk, not really knowing who he was, just for that feature.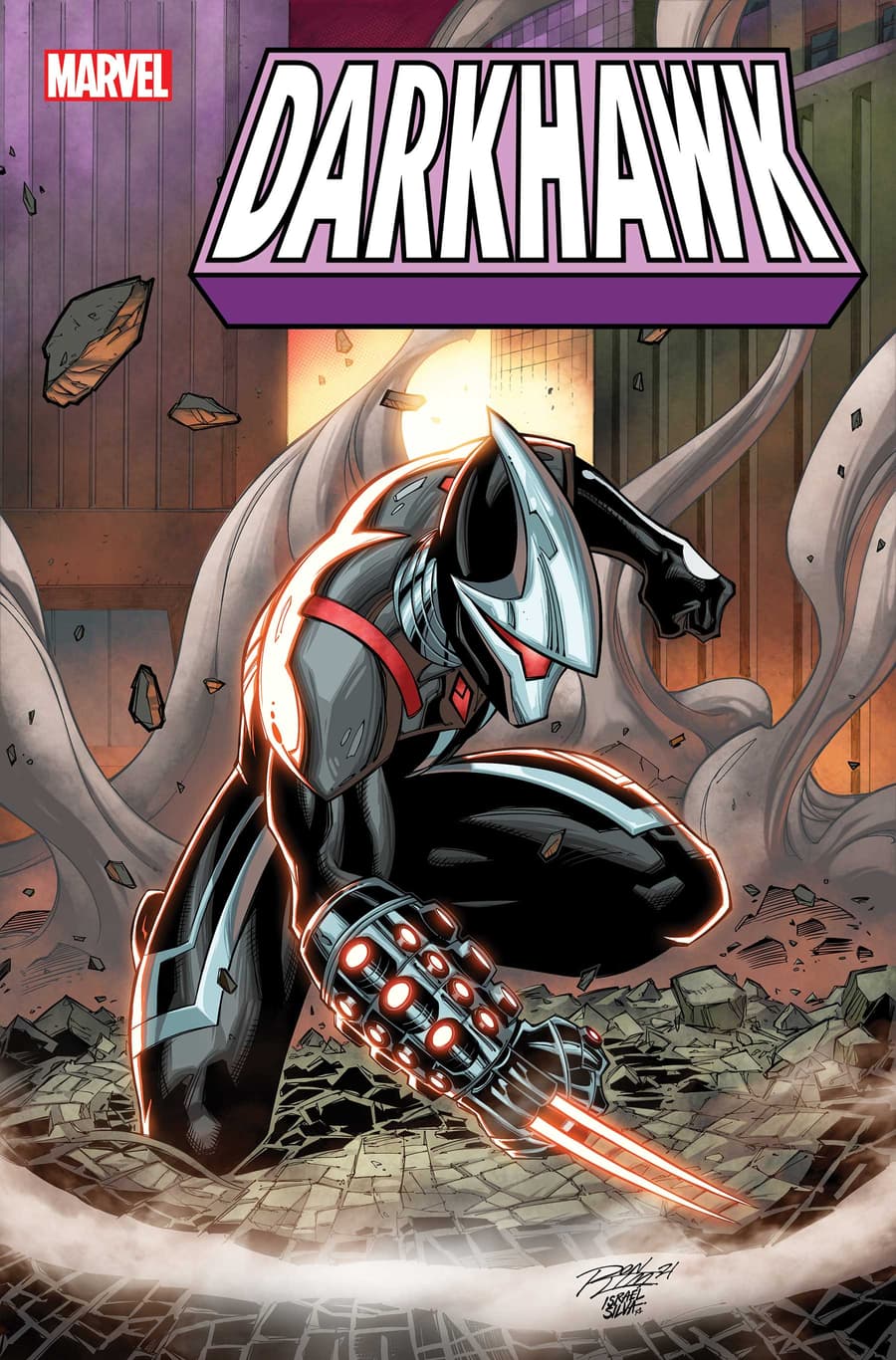 Did you pitch a new Darkhawk or was this something you were approached with?
Higgins: I remember Darren telling me that it was on the table. And that was really exciting for me. Not because I have anything against [the original Darkhawk] Chris Powell, but I do think Darkhawk was built to be a contemporary coming of age hero. So, what does that mean in today's world, was really interesting to me. And how the amulet and the body swapping control of the android are affected by his new medical diagnosis.
Talk to us about the new protagonist at the center of your DARKHAWK series...
Higgins: His name is Connor Young. He's a senior at Woodlawn High, where he's a star point guard. He's just accepted a full ride scholarship to Empire State University, to play basketball. A lot of scouts think after a year, he'll be ready to turn pro. Maybe even first overall. But then, after headaches, vertigo, and a bad fall, Connor is diagnosed with Multiple Sclerosis. Everything in his life suddenly comes under question. Can he play basketball? Will Empire State and the pros still be interested in him?
And that's all before he comes across the amulet.
Shan: We wanted to present audiences with a new hero with a very different point of view. But part of that POV also has to be an entry point for new readers. We love Chris Powell, but at this stage of his career, he's been through A LOT. But that's also not to say that we're done telling stories featuring Chris…quite the opposite, actually!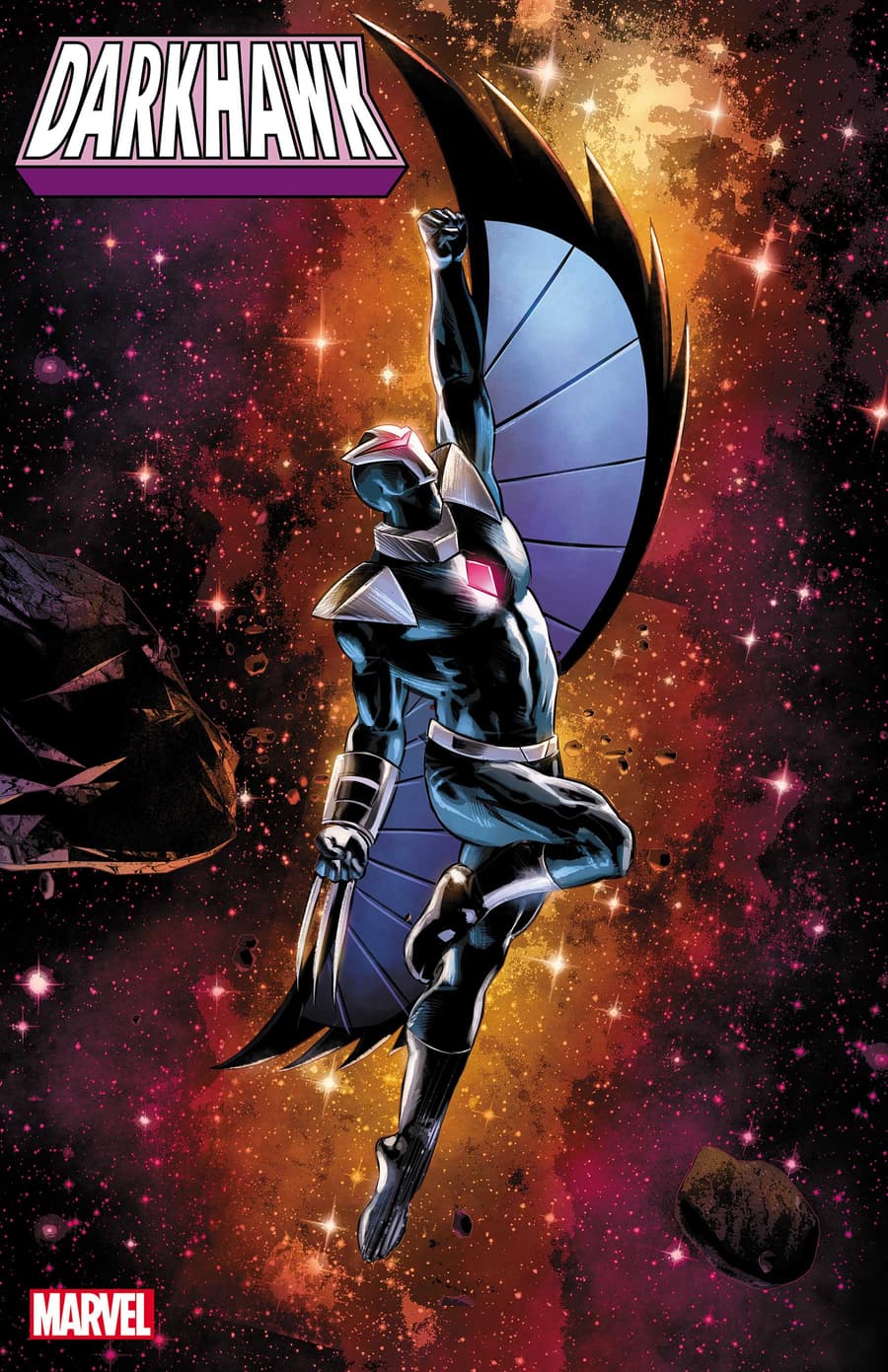 What sides of Darkhawk are you looking to explore with Connor that are unique to him?
Higgins: Well, the biggest thing is the marriage between concept and character. The body swap technology is fascinating to me. The process, how it works, is pretty unique to the character. Miracleman aside. That said, working with a character that has a neurodegenerative condition puts the entire process into question. What does being Darkhawk do to Connor's M.S.? And what does his M.S. do to being Darkhawk?
That said, from a character standpoint, Connor is someone who thought he knew what his life was going to be. Who had a clear path forward, and dreams of giving back. But suddenly, his entire sense of identity is broken. What do you do when the thing you were meant for, you no longer can do?
From initial descriptions, it seems like Connor is almost the anti-Peter Parker type, a popular and beloved athlete. Was this deliberate?
Higgins: It was, yeah. He's an everyman character in other ways, certainly, and he may be facing a few millennial takes on classic Peter problems. It's one of the things I'm most excited about with Connor. A new hero with a unique experience and point of view, with some old and new mythology behind him. He's going to be a really fun addition to the Marvel Universe.
Did any other characters or people from real life influence Connor's development?
Higgins: I wouldn't say that Connor is based on anyone, but his situation is something that I think about a lot. Both, how your life can change in the blink of an eye, how we face that, and looking at some of the things that a New York teenager might be into.
Which visual aspects are you guys looking to keep consistent and what are you updating?
Shan: I can tell you that Kyle and I gave [new costume designer Pepe Larraz] very few guard rails before he started sketching. We said that we wanted to maintain a lot of the aesthetics of the original, like the helmet, the amulet on the chest, the color scheme…Kyle was a big advocate on keeping the new design sleek too. Needless to say, Pepe only had to turn in one design to blow us all away. He's THAT good! "Hole-in-one" Pepe is my new nickname for him (of which he has no idea)!
Higgins: It's always tricky, redesigning a character. I personally love what Pepe has come up with. To me, it takes the best of the original—the silhouette, in particular—and remixes it through a more contemporary lens. Plus, there's the wings. They're so weird and bold, I love 'em. They tie everything together.
And, who's to say we won't see the original Darkhawk design again?
What steps are you guys taking as far as research and verification on the M.S. aspects of the book?
Higgins: This was something that was really important to me—to make sure that we handled this right, authentically, and with respect. I've been speaking to several people with M.S., in particular a fellow artist, Brooke Pelczynski. We met through my series, Radiant Black, and she's been kind enough to talk through different questions I've had, while sharing her experience and thoughts.
One of the things that Brooke brought up specifically, and something that she and I spoke about very early on, was that that in popular fiction, M.S. is often presented in only one form. A character with M.S. will come into a scene on a show, and they'll have a wheelchair and a caregiver. And that is absolutely some people's reality—sometimes early on, and sometimes much further down the line. But that's not everybody with M.S. So, with a story like this, we're looking to shed light on many sides of the disease, especially the ones that may not be often seen.
Connor Young's journey in the new DARKHAWK ongoing series, by Kyle Higgins and Juanan Ramirez, begins on Wednesday, August 25!
The Hype Box
Can't-miss news and updates from across the Marvel Universe!