Comics
Published September 12, 2022
Letterer Appreciation Spotlight: Ariana Maher
Meet Ariana Maher, whose lettering work spans the Spider-Verse and many titles in the X-Men lineup.
In honor of Letterer Appreciation Day, which occurs every September 1, Marvel is celebrating our mighty letterers all month long. As part of the festivities, we sat down with each member of Virtual Calligraphy (VC), Chris Eliopoulos' lettering studio, to learn more about the people behind the sound effects. Welcome to the September 2022 Letterer Spotlight series!
Meet Ariana Maher, who became a letterer at Marvel starting with EMPYRE: CAPTAIN AMERICA (2020) #1. Since then, she has traveled the Spider-Verse and set up shop on Krakoa, working on such titles as SILK (2022), SPIDER-GWEN: GWENVERSE (2022), EXCALIBUR (2019), HELLIONS (2020), MARAUDERS (2022), and beyond. Speaking with Marvel.com, she shared her road to becoming a letterer, as well as the moment she felt like a true professional. She also discussed her history with the X-Men, the way she unwinds after work, and more. Read on to learn more about Ariana in her own words!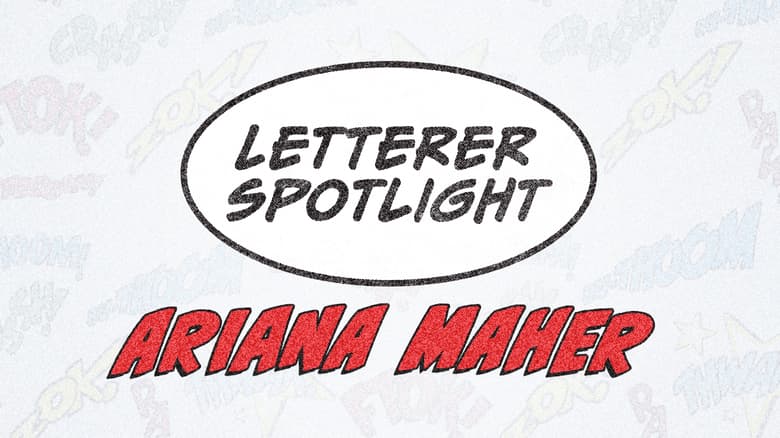 MARVEL.COM: Where did you grow up? 
ARIANA MAHER: Dad worked in the Merchant Marines as an engineer, so I grew up in D.C., Yokohama, and Singapore.
MARVEL.COM: Favorite Marvel character? 
ARIANA MAHER: Excalibur's favorite Earth Druid, Julio Richter. He's grown on me over the years and is now my favorite. Cindy Moon is fast growing to be my favorite too. Maybe I just have a soft spot for stressed out geriatric millennials like me.
MARVEL.COM: What was the first Marvel comic you ever read? 
ARIANA MAHER: UNCANNY X-MEN (1963) #303, the Death of Illyana Rasputin. I had been watching the animated series at that age, so seeing Jubilee on the cover crying into Jean Grey's arms compelled me to pick up. I was hooked ever since.
MARVEL.COM: How did you decide to become a letterer? 
ARIANA MAHER: I became fascinated by the process of making comics, especially lettering. I find the collaborative process really interesting. It started off as a hobby where I'd just learn from online tutorials, but it soon developed into a useful skill and then people started paying me for it.
MARVEL.COM: How do you unwind after a long day of lettering? 
ARIANA MAHER: My spouse and I like to play Magic the Gathering together in the evenings, particularly a variation called Commander. My favorite deck is Alela, Artful Provocateur.
MARVEL.COM: Do you listen to anything while you work? If so, share your playlist! 
ARIANA MAHER: I love listening to audio books and podcasts. I really get in the zone while binging on episodes of Connor Goldsmith's CEREBRO podcast.
MARVEL.COM: If you could go anywhere in the world for vacation, where would it be?
ARIANA MAHER: Gunma, Japan. I used to live there and one of my oldest friends is still there. I would love to visit to see her family, enjoy the hot springs, and stuff myself with good food.
MARVEL.COM: Which TV show character would you want as your best friend? 
ARIANA MAHER: Joelle from Dear White People, since I see her as the epitome of the Best Friend character on TV. 
MARVEL.COM: Favorite food? 
ARIANA MAHER: Takoyaki, but I feel bad about eating octopus, so I prefer replacing the filling with cheese instead.
MARVEL.COM: Do you have any pets? Tell us their names and something special about them! 
ARIANA MAHER: We're going to adopt a cat soon! We're thinking of maybe naming them Ames. You know, after the Ames Lettering Guide.
MARVEL.COM: What is the first thing you obsessed over as a kid?
ARIANA MAHER: It's rather predictable, but it was comics – Deadpool and Batman, but especially the X-Men. GENERATION X was my jam in the 90s and the "Age of Apocalypse" event rocked my world.
MARVEL.COM: What is the best advice you've ever received?
ARIANA MAHER: If you're getting paid to do something, you're a professional. It doesn't matter what I thought of my skills at the time, I considered myself a professional letterer once I got my first paycheck. That helped me set aside any feelings of imposter syndrome and helped me take my comics career seriously from the start. 
MARVEL.COM: What's your superpower? 
ARIANA MAHER: Patience. My superpower helps when working with so many collaborators on so many books and responding to so many e-mails. 
MARVEL.COM: What inspires you?
ARIANA MAHER: Seeing cool ideas from fellow letterers. I love picking up a comic lettered by others and discovering a whole new way of conveying an idea using lettering. It makes me excited to test out new techniques as well.
We're celebrating our letterers all month long! Stay tuned for more Letterer Spotlights throughout the month, and don't miss our Letterer Appreciation Day 2022 post, which collects all our lettering coverage so far.
You can grab these comics and more digitally or at your favorite local comic book shop. Be sure to ask your local shop about their current business policies to observe social distancing or other services they may offer, including holding or creating pull lists, curbside pick-ups, special deliveries, and other options to accommodate. Find and support your local comic book shop at ComicShopLocator.com or by visiting Marvel.com/LoveComicShops.
For digital comics, all purchases in the Marvel Comics app can be read on iPhone®, iPad® and select Android™ devices! Our smart-paneling feature provides an intuitive reader experience, ideal for all types of mobile device and tablet users! Download the app on iOS and Android now!
The Hype Box
Can't-miss news and updates from across the Marvel Universe!