Comics
Published May 9, 2019
Look Inside the First Marvel Comic Ever
See how 1939's 'Marvel Comics' #1 kickstarted the House of Ideas!
Have you tried Marvel Unlimited yet? It's your all-access pass to over 25K Marvel comics, all available at your fingertips. Sign up now.
One of the most important comics in history came out 80 years ago: MARVEL COMICS #1! Not only did this title eventually became the new name for the company, but it also saw the debut of more than one (now) fan-favorite character; this 10-cent adventure promised to introduce readers to the Human Torch, the Angel, Submariner, Masked Raider, and Ka-Zar!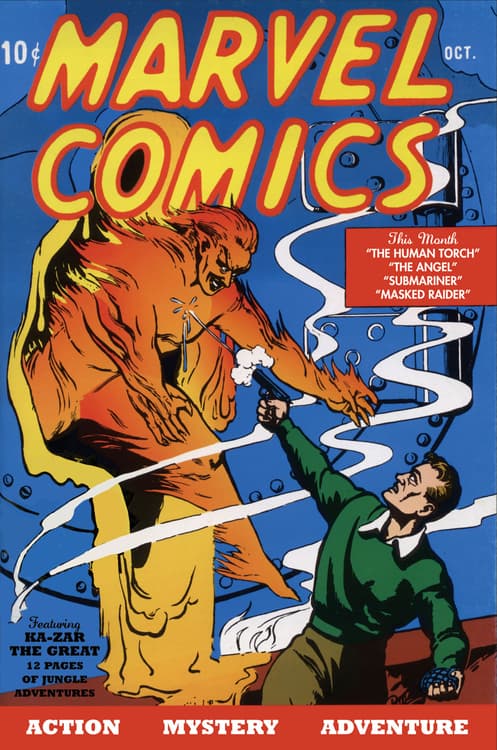 Inside, Carl Burgos welcomed the Human Torch to existence alongside his creator, Phineas T. Horton, in a 16-page barnburner! The tale began with Horton telling the press he made a mistake in creating a synthetic man that would burst into flames when exposed to air! Eventually loosed upon the world, the Human Torch struggled with his own flammable nature, unable to put himself out. 
After jumping into a pool, the Torch was captured by a racketeer named Sardo who used his fiery find to force "insurance" money out of business owners. The Torch sought revenge against Sardo, leading to the man to his untimely demise. During the conflagration, the character figured out how to control his powers and turned himself over to the police. He explained his situation, though, and the synthetic man was released into Dr. Horton's custody. However, when Horton revealed his desire to make money off of the Torch, he flew off to live his own life. 
From there, Paul Gustavson debuted the Angel, an international avenger who set his sites on a group of extortionists called the Six Big Men. The costumed crime fighter spent the eight-page story tracking them down...before realizing he'd actually been doing the big boss's dirty work all along! After catching on, he took care of them as well. 
After that, Bill Everett then presented the first Namor story in a 12-pager that kicked off with salvagers puzzled over a missing treasure from a sunken ship. Upon diving back down, they saw a figure swimming around at a depth that would kill a normal human. And as it happened, the swimmer was just as puzzled by them!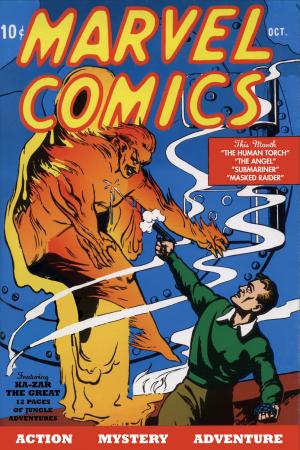 The Sub-Mariner's curiosity quickly led to violence and the deaths of the two surface men. After being spotted by a third, Namor found his prey trying to sail away, so he incapacitated the craft before presenting the bodies and gaining the praise of his mother. She recalled how, in 1920, she worked as a spy on a nearby boat and fell in love with Commander Leonard McKenzie, Namor's father. The man had no idea that the experiments being conducted on his ship were killing the undersea dwellers far below.
Devastated by the deaths, Namor's people waited 20 years for him to grow into a man so that he could lead their forces against the air-breathers. On his first attack of the surface, he and his cousin Dorma tried taking over a lighthouse and then stole a plane before crashing it in the ocean!
After that, writer Al Anders told the tale of Masked Rider, a farmer who hid his identity so he could take on local toughs in the wild west, followed by Thom Dixon's "Jungle Terror," a one-off about the dangers of digging for diamonds in faraway lands!
Then, after a prose story about car racing called "Burning Rubber", Bob Byrd and Ben Thompson unveiled Ka-Zar (though not the one still running around the Savage Land to this day). This focused on David Rand, a boy who crash-landed in the Congo along with his parents. The boy loved the jungle, but eventually lost both of his parents in it. Still, he'd proven himself to the local lion, Zar, who took the boy in, playing surrogate father and leading to David's new name Ka-Zar.
MARVEL COMICS soon turned into MARVEL MYSTERY COMICS the following month which continued playing home to the recurring heroes as they fought against injustice wherever they found it. Or, in the case of Namor, causing trouble for surface dwellers (just like he did in this week's INVADERS #5)!
Read this issue and more on Marvel Unlimited now!
The Hype Box
Can't-miss news and updates from across the Marvel Universe!