Comics
Published April 29, 2021
Comics Legend Louise Simonson Recalls Her Marvel Publishing Past
A conversation with the legendary writer and editor on her origin story as well as her insight of the comics publishing industry!
WOMEN OF MARVEL #1 is officially available on shelves everywhere, and to celebrate the release of the giant-sized special collecting tales from a lineup of incredible talent throughout the industry, Marvel's Judy Stephens sat down for an in-depth conversation with the legendary Louise Simonson, writer and former Marvel editor, who penned the forward in the issue.
In a conversation spanning her early days at Marvel, creating Power Pack, working on X-Force, and the power of the X-Men animated series, Simonson emphasized the most compelling way to attract readers—characters.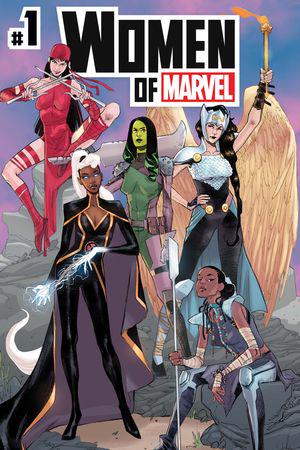 Women of Marvel (2021) #1
published

added to marvel unlimited

writer

inker (cover)

penciler (cover)

editor

inker

penciler

colorist (cover)

letterer
What is Marvel Unlimited?
"The razzle dazzle of big people hitting each other and making them fall down is all very well," stated Simonson. "That's visual fun. But it's like the 'why' — the story is what's behind the fight. And I think that women are actually pretty good at focusing on that."
Stephens and Simonson reflect on the cyclical nature of having more women in the industry due to the fact of more women reading comics, which she credits specifically the X-Men comics as well as the X-Men animated series for readers being interested in the group of misfit characters, and the X-books were centered on the characters, emphasizing the human interactions over the big fight scenes.

There has always been this misconception that women haven't always worked in comics, which is simply untrue for Marvel. There were plenty of women behind-the-scenes in the '60s, '70s, '80s, '90s, to today, including but not limited to Flo Steinberg, Paty Cockrum, Linda Fite, Virginia Romita, and Ann Nocenti. Reflecting on that, Simonson loves that there are more women in the industry, and while there weren't as many as when she was starting out, she exclaimed, "Back in the olden days, in the '80s, there were fewer women but the women were prime. That's all I can say," before sharing personal anecdotes about Virginia Romita, Marvel's former head of production.
Simonson hopes we would hear more of these anecdotes from those behind-the-scenes, who she refers to as "unsung heroes," proclaiming, "There are a lot of unsung Marvel heroes that I wish would do interviews...[they] knew where the bodies were buried."
Simonson started her career at Warren Publishing, which was known as a black-and-white horror publisher, juggling a handful of things from production then to editorial, even tackling the letters column, before heading over to Marvel on the suggestion of Jim Shooter, Marvel's former editor-in-chief. How did she form a connection with Shooter? Glad you'd ask — it was through playing volleyball!
Simonson began editing licensed books for Marvel before tackling the X-books, kicking off with the Death of Phoenix storyline. As for her hand at writing, Simonson credits Shooter there as well, not just on giving her the go ahead on Power Pack, but his overall approach, revealing, "It was it was such a weird idea that you got to give Shooter a lot of credit for actually going for it. He had been wanting his editors to do freelance work as well...because he wanted us to see what it was like on the other side of the desk."
To hear more from the conversation between Women of Marvel's Judy Stephens and Louise Simonson, listen to the podcast above! And be sure to pick up WOMEN OF MARVEL #1, out now!
The Women of Marvel podcast assembles to show how people of all backgrounds are making a powerful and positive impact on our stories. New episodes are released every other Thursday, co-hosted by Judy Stephens, Angélique Roché, and Ellie Pyle. You can find Women of Marvel on Sirius XM, Marvel.com/podcasts and Apple Podcasts.
Want to stay on top of everything in the Marvel Universe? Follow Marvel on social media—Twitter, Facebook, and Instagram—and keep watching Marvel.com for more news!
The Hype Box
Can't-miss news and updates from across the Marvel Universe!